Latest 22Bet User reviews
About 22Bet Kenya
22Bet is a bookmaker that has been in the betting industry for over twelve years now. The company started in Russia in 2007, and since then, the bookmaker has tried to penetrate various regions. Luckily, it has no country restrictions when taking players, and this has led to its rapid growth since its inception.
The growth of this bookmaker has also been owed to its availability in 51 languages. Some of these languages include English, German, Japanese, Malay, Thai, Russian, Hebrew, and Italian, among others.
Like several other bookmakers, 22Bet offers a variety of entertainment options in betting. The major sections include sports betting, virtual sports, and live sporting, among others. Each of the categories has several other options that allow the players to select what interests them.
The bookmaker has quite limited experience in serving African punters. It has only in Kenya for only a short period. Nevertheless, it has offered various competitive bonuses and odds in a bid to attract punters. It licensed under Betting Control and Licensing Board, and it operates in Kenya under License number BK 0000121.
---
How to register at 22Bet?
To bet on the 22Bet bookmaker, you need to register as it is with all other bookmarkers. The process of registering with this bookmaker shown below:
Open the official 22Bet website at 22bet.co.ke
Tap on the green registration button at the top right of the website
Fill all the details required (country, phone contact, password, and the currency)
Click on the register button
Go to My Account section and fill all the fields needed
After that, you have your account ready, and you can now make a deposit prepared to start betting. During the process of registering, the bookmaker needs you to give the correct details to avoid complications that might arise later in your account. It is this account that will bear all your information on the bookmaker's site.
---
Website Structure – Design and Navigation
A website's interface is of the essence. A friendly website will be simple to use, and customers will not have a hard time as opposed to a complex site. 22Bet Kenya website is simple. It has a considerable graphic user interface that is intuitive to the eye.

When you want to go through the information on the site, you can navigate through different pages and still find the desired information in a reasonable time. Well, the navigation is structural as one page connects you to another. This way, you have a chance of reading through useful information as you try to reach the page that you desire.

It is quite hard for you to be lost in the content within the site since the website is organized and orderly.
---
Sports Betting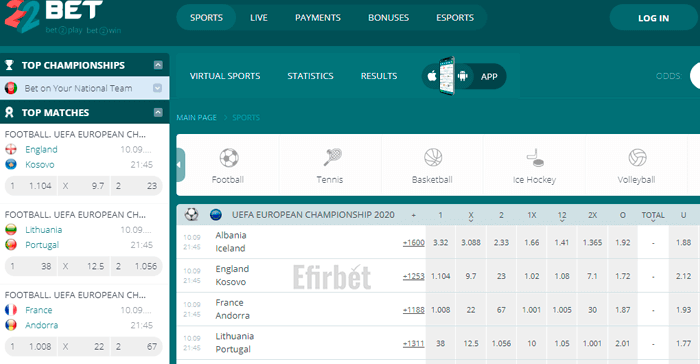 Sport is a favourite for many online punters in Kenya. Owing to this, 22Bet has invested some time and interest in availing various sports where punters can consider placing their bets.
Available Sports
22Bets Kenya has a whole section on sports betting as we have seen. Here, there are various games that punters can consider betting. On the list, we have football, handball, rugby, basketball and darts. Besides, there is hockey, ice-hockey, and boxing and golf games.

When you choose to bet with 22Bet, you have a pool of sports to choose. A careful evaluation is necessary as the platform has all these sports and odds for each awaiting your verdict.
Markets
In each of the sports that are available for betting, several betting markets are coming up. The bookmaker has a variety of leagues for the punters. Good examples include the EPL, Bundesliga, Series A, La Liga, and local leagues like Kenya Premier League. In total, the market of 22Bet composed of more than 1200 leagues plus events punters can choose. The standard betting markets include the following:
A prediction of correct scores for the full game
A prediction of the first team to score in the whole 90 minutes
Predicting the outcomes at either half or full time
Half time outcome
Handicap- Stake at the result where a team has some starting points
2-way result in a game
Double chance occurrences in the game
The score cast is where you predict who will be the first person to score plus the right score
You can consider all this and see where you can make some money. After that, place the bet and wait for the outcome.
Odds
In our review, we did not come across a bookmaker who provides odds as high as the ones on 22Bet. Probably because it is relatively new or simply because it is in its journey to stand out. The base is that its odds are incredible. 22Bet offers a variety of odds to you as the client. The types include the decimal, fractional, Malaysian, UK, US and the Hong Kong odds.
---
22Bet Welcome Offer for Kenyan Customers – 15 000 KSh

During the registration process on 22Bet Kenya, you have an option of claiming a 100% welcome 100% bonus. If you have to claim it, you are required to make your first deposit that should not be less than Ksh100. You will then receive the bonus with regards to the deposit amount. You can only receive a maximum of Ksh15, 000.
---
---
Live Betting
Sometimes you don't feel like placing a bet due to fear of losing. However, punters mostly want to see how the teams they wish to stake are fighting in the field. Afterwards, they can make some analysis and eventually place their bets. This option of placing a bet after an event has started is known as live betting.
22Bet offers the opportunity for its punters to bet on numerous live games. Under the live section on the bookmaker's website, you can browse through the in-play games and choose the one to bet. After that, you can successfully place the match on the bet slip and see how the games go as time flows.
Live betting on 22Bet enables you to follow the game, and you can sense a loss or a win from far, even before the event is over.
---
Cash Out
Sometimes you may place some of your bets in a hurry and realize later that you messed up the whole slip. In this case, you need an option to cancel the bet to avoid an overall loss after the last whistle.
22Bet Kenya has a cash-out option. It enables you to withdraw or cash out some stake before the match you had placed a bet on is over. However, you cannot cash out the exact amount you had placed as a bet. Most are the times you will make losses. But you will at least save something from the drain.
After cashing out, the amount reflects on your 22Bet account as usual.
---
22Bet Live Streaming
The 22Bet is a new bookmaker in Kenya. Maybe for that reason, the company has been not able to offer a live streaming option to its clients. The streaming allows you to watch the game as it happens hence enabling you to witness how your team is manoeuvring in the field.
Unfortunatelly, 22Bet Kenya do not give you a chance to watch different live events in diversified sports.
---
22Bet Kenya Virtual Sports Section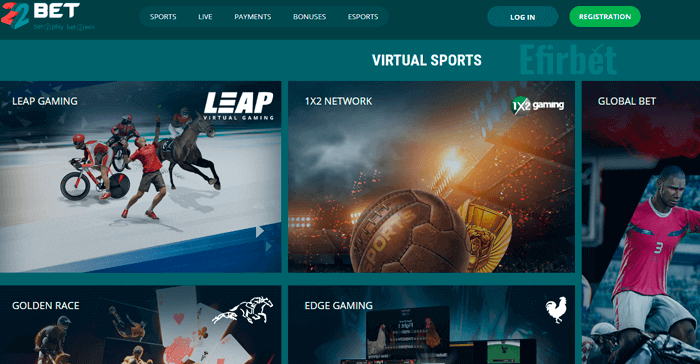 The virtual market section is another alternative for you when you want to place your bets on 22Bet Kenya. The section offers you a different taste as you have a range of games different from sports. With a combination of gaming skills, entertainment, and fun, the section takes you through the diversity of this bookmaker in the selection of games.
You can choose the online games you wish to play from several that are in the 22Bet Kenya market. Some of them include Leap Gaming, 1X2 Network, Golden Race, and Edge Gaming. Some of the games you can bet on under Leap Gaming include Instant Football, Instant Racing, Virtual Trotter, Virtual Tennis, and Virtual Racing, Virtual Football, Virtual Speedway, Grey Hounds and Velodrome.
Under the 1X2 Network, you can have fun and a thriller with games like Virtual Soccer, Virtual Rugby, African Cup, Virtual World Cup, Football Pro, Virtual Legends and Champions, Euros, and Virtual Europa League.
The Golden Race is all about the racing games while Edge Gaming is about betting on who will knock who down in fierce fights. All the above virtual games on 22Bet Kenya come with some relatively high odds for all punters who might be interested in them.
---
Deposits and Withdrawals for Kenyan Customers
22Bet Kenya supports hundreds of deposits and withdrawals methods. On this section, we shall be looking at them and attached terms and limitations on each. The methods can fit in various categories such as bank cards, e-wallets, Cryptocurrency, mobile payment systems, and internet banking platforms.
Under each of the above methods, there are several platforms and organization that carry out the payment process. This crucial information is shown on the table below:
| Payment Method | Deposit Minimum | Deposit Maximum | Time for Deposit | Minimum Withdrawal | Withdrawal Maximum | Time for Withdrawal |
| --- | --- | --- | --- | --- | --- | --- |
| Visa | 100 KES | - | Instant | 225 KES | 70 000 KES | up to 3 days |
| MasterCard | 100 KES | - | Instant | 225 KES | 70 000 KES | up to 3 days |
| Diners Club | 100 KES | - | Instant | 225 KES | 70 000 KES | up to 3 days |
| Discover | 100 KES | - | Instant | 225 KES | 70 000 KES | up to 3 days |
| Airtel | 112 KES | - | Instant | 225 KES | 150 000 KES | 15 minutes |
| M-Pesa | 112 KES | - | Instant | 225 KES | 150 000 KES | 15 minutes |
There are still other methods that are recently gaining acceptance at 22Bet in Kenya. Example include M-Pesa and Airtel Money services.
---
22Bet Mobile App
We have to agree that sometimes it is more convenient to use a mobile application for service as compared to accessing a website. The applications are friendly, give the user a personal touch and privacy as opposed to a website that might clog down due to traffic.

At a time when many bookmakers have embraced mobile app services to their punters, 22Bet has not been left without one. The bookmaker has both Android and iOS mobile applications to ensure convenience in betting with them. The 22Bet mobile app helps you to discover an excellent way to bet and have timely access to in-play games and live statistics on your target matches without visiting the bookmaker's website.

Apart from the above services, you can also access all your payment information here.

You can be able to make deposits and withdrawal requests using the application anywhere you could be and at any time.

The 22Bet Kenya mobile app comes with a friendly graphic user interface to enhance your interaction with it.
---
Affiliate Program
If you wish to become a 22Bet affiliate, you need to register an account with 22Bet Partners Affiliate Program. This way, you will become their partner and can start promoting their gambling program and earn from it.
If you bring people to 22Betting through the program, they will have a variety of privileges. According to the affiliate program, they will enjoy a wide selection of live and standard bets and convenience. To make things even better, players have a variety of payment methods to use.
The higher the number of players you bring in, the higher the commission you receive If you have between 0 and 15 affiliates, you enjoy a 25% commission while the rate increases to 30% when you have between 6 and 15 affiliates. Still, if you hit between 16 and 35, the rate goes to 35%. Anyone who achieves 35 plus affiliates given a whole 40% commission. All the commissions are calculated on the total earning the company gets from the customer who joins through your affiliation.
22Bet Company creates promotional materials. They have an array of promotional material that you can use on your website, social media platforms and emails.
Terms and conditions:
Only persons who are 18 years and above can join the affiliate program
The affiliate should safeguard their personal information including password and user names
22Bet has a right to decline your affiliate application, but it is not obligated to offer an explanation
The affiliates are provided with promotional material that is visual only, but they have a permit to use in their sites in many ways
Affiliates are not allowed to do cookie staffing
A participant in the affiliate program can only register once
---
Frequently Asked Questions
Does 22Bet Kenya offer a casino section?
No, 22Bet Kenya does not offer a casino section at the moment.
How do I activate the welcome bonus on 22Bet Kenya?
To activate the bonus, you need to enter the bonus code after making the first deposit and wager the deposit with the required odds and selections.
What is the minimum amount that I can deposit with my Visa Card?
The minimum amount you can deposit using your bank card is Ksh112.
What commission can I get with 45 affiliates?
A commission of 40% given for all affiliates above 40.
What is the maximum bonus that I can get as a welcome bonus on 22Bet Kenya?
The maximum amount of welcome bonus you can get is Ksh15, 000.
Is there a specific bonus for mobile app users?
No, there is no special bonus for mobile app users.
Apart from the welcome bonus, is there any other fixed bonus on 22Bet Kenya?
Yes, there is the Friday Reloaded Sportsbook Bonus.
---
Customer Support
The bookmaker's customer support is responsive to complains, inquiries and general comments from the punters. You can reach them via email or a live chat and their responses on email take maximum 24 hours. The live chat contact is instant.
---
Contact Details
In our review, we only accessed the following contact details for 22Bet Kenya:
22Bet Kenya also provides an online form through which you can contact them.
---
Conclusion and Rating
After a comparison with other bookmakers, 22Bet Kenya seems to offer some of the highest odds in the Kenyan gambling market. That might lead to other bookmakers working harder to remain on a fairground for competition. Some bookmakers like 22Bet Kenya are giving the country's betting scape a new form. It is a bookmaker to watch.