Palms Bet has established itself as one of the top contenders for bookmaking in Kenya since being founded in 2018. As one of Kenya's premier betting companies, punters can register via several formats. Each Palms Bet Kenya registration option is easy and quickly completed in the blink of an eye.
Here is a quick summary of the Palmsbet.co.ke registration steps:
Type in Palmsbet.co.ke in your web browser.
Click "register" Palms Bet Kenya login on the Palmsbet.co.ke homepage.
Fill in the requested details.
Accept the terms and click "Registration".
---
How to register at Palms Bet Kenya
As explained in the Quick Palmsbet.co.ke registration steps, the process is fairly simple; however, as registration involves the sharing and transmission of personal information, we felt a more thorough explanation would be helpful.
Here is a more detailed explanation of how to sign up at Palms Bet Kenya:
The first step after clicking the Palms Bet Kenya register button is entering your mobile telephone number. As your telephone acts as your username and is needed for verification, make sure you enter a valid number.
The next step is the creation of a multi-digit password. Be sure to create one that combines letters, numbers and special symbols. More importantly, once created, keep your password in a safe place and do not share it with others.
After entering your mobile and creating a password, you will need to enter your first and last names as they appear on your national I.D. This is used for verification purposes and is part of the "Know your customer" process.
The last step required while registration is entering your date of birth. This is also part of the "Know your customer" process and is used to verify your age.
Finally, you will be asked to accept the terms and conditions, verify you are over 18 and click the "Registration" button to submit the information you have entered.
---
Phone Verification at Palms Bet
After submitting the registration form at Palms Bet Kenya, you will be required to complete the phone verification steps. This verification of your phone number is a mandatory requirement that must be fulfilled prior to being able to deposit. To verify your phone number and confirm the number you registered is legitimate, you will need to do the following:
Check your mobile number for a SMS message from Palms Bet Kenya.
Enter the 6 digit code in the "Authentication" box.
Once entered, click "submit" to verify your phone number.
After verification, use your phone number and password to log in.
---
Mobile Sign up Process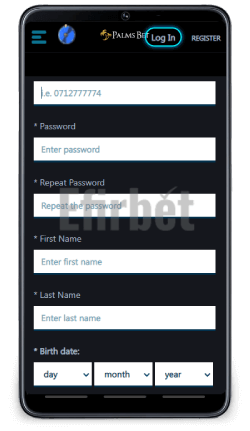 One of the sweet sides to the mobile sign up process is that it is identical to the desktop sign up process. As we have already explained this process for desktop users, a summary of what is required for mobile is included below:
Navigate to Palmsbet.co.ke using a mobile web browser.
Tap "Register" via the homepage on arrival.
Enter your mobile phone number and create a password.
Enter your first and last name given at birth.
Enter your date of birth and accept the terms.
Tap "Registration".
---
Palms Bet Kenya Verification Process
Whilst the first step to the Palms Bet verification process is entering the code sent via SMS, there are additional verification requirements. As Palms Bet is a licensed betting site, it is required to verify the identity of its customers before processing a withdrawal. Subsequently, prior to your first withdrawal being approved, the following must be provided:
Login to your Palms Bet account and navigate to "Verification".
Preview the requested verification documents (National Identity card, utility bill etc).
Upload the requested documents via the "Verification" page.
Submit your documents for approval.
---
FAQ about Palms Bet Registration
Will my personal information be safe at PalmsBet Kenya?
Yes, Palms Bet Kenya is a licensed betting site and mandated under Kenyan law to protect all transmitted information, such as your personal information, it receives.
How do I reset my PalmsBet Kenya password?
To reset your Palms Bet password, tap on "Recover Password", enter your mobile phone number and date of birth and click send. A SMS meagre will then be sent with a link you can tap to create a new password.
Must I be logged in to verify my Palms Bet account?
Yes, you may only verify your account when logged in at Palms Bet Kenya.
How do I update my personal account details?
To update your personal details, you will need to contact Palms Bet support via email. Once they verify you are the rightful owner of the account, they will manually update your account with the new details you provide.
What is the minimum age requirement at Palms Bet Kenya?
Based on Kenyan law, you must be 18 or older to legally open an account and place bets at Palms Bet Kenya.
---
Is the registration at Palms Bet Kenya worth it?
If you are an avid sports bettor or someone with a love for betting on casino games, Palms Bet registration from Kenya is not only easy but is worth it. The sports betting platform is categorically designed to appeal to the sports betting preferences favoured by most Kenyans. In this respect, we mean the sports types and the markets they tend to favour.
Likewise, with live betting and the addition of casino and virtual punting, the reasons in favour of registration only get better. Even more so, with 24-hour support and a simple registration and verification process, Kenyans would be hard-pressed to find a better alternative.