Ad disclosure
Here at EfirBet (EB) we pride ourselves on having a site that is completely ad-free. No ad blocker is needed while browsing EB. At the same time, we do use affiliate links to earn commissions (every time you click a link and sign up at a betting site). This revenue helps us deliver quality and trustworthy reviews for our readers at no additional cost to them. Read the EB
About Us
page if you want to learn more.
Tennis Betting at Bet365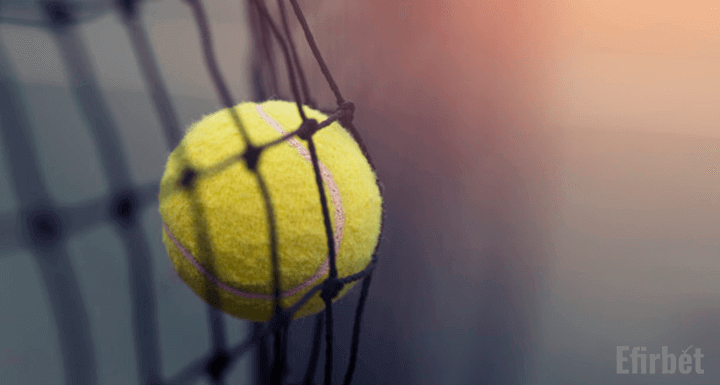 With such a reputable brand, one would expect nothing but top quality sports betting services. It is for this reason that I decided to delve deeper and do a review of the tennis betting section here. If anything, tennis is a global sport drawing in fans from all continents. In as far as sports betting is concerned, betting on tennis has an equally long history which is nearly as old as the sport itself. Over my years of doing sportsbook reviews, I have encountered plenty of sportsbooks with tennis betting sections. As such, when doing this Bet365 tennis betting review, I had more than enough to use as a measuring rod on why exactly you should choose this platform over others.
The first thing to impress me when I loaded the tennis section at Bet365 was the layout. In traditional Bet365 fashion, the main matches displayed in the midsection of the screen. These matches grouped according to the tournament or grand slam in which they played. That makes it very easy to navigate and filter to the specific match you are interested in.
Speaking of matches, I found the lineup here to be very rich in content. The tennis betting section here covers everything there is to bet on in the world of tennis. I was able to find betting options for the four major grand slams: Australian Open, French Open, Wimbledon, and US Open. And when these majors were not in play, the slot is filled in by regular season ITF matches and ATP Challenge Tour. The beauty of such a lineup is that I am assured of some tennis action to bet on all year round.
Similarly, I found the betting markets to be equally spread out to cover all significant aspects of a tennis match. I could place bets on main match results, sets, players, and even outright tournament results. The match betting options I found here include:
To win match
Set Betting
Handicap 2-way – Game won
Total Games 2-way
Go the distance
First set winner
First set handicap
Total sets
First set the player to break serve
Player to win set
That is just a brief of the market layout, and the actual betting options tend to be way more than I can list here. Any aspect of tennis betting is covered here. For tournament outrights, I had the following options:
To win outright
Stage of elimination
To reach the final
Name the finalists
In addition to these regular pre-match bets, I also had the opportunity to place in-play bets on live tennis matches. The betting lines for the in-play markets tend to follow the trend set by the pre-match markets, though for practical reasons some betting options are not available for the in-play markets. The in-play betting feature is made even more intriguing by the live streaming services which I could easily toggle on and off whenever I pleased.
Summarily, I could compile the pros and cons of betting on tennis at Bet365 as follows:
Pros:
Many betting markets
User-friendly interface and layout
Early cash out option
Live streaming services are available
Tennis news forum with loads of real-time information about the game
Has a custom coupon model allowing you to build your unique tennis coupon
Cons:
Cash out option not always available
---
Design, Menus, Navigation, and Structure of Bet365 Tennis Section
One of the main pros I have highlighted above is regarding the overall design and layout of the Bet365 tennis betting section. That is because I found it quite easy to use. Once I had logged into my account and opened the sportsbook section, I could quickly locate the tennis section from the sports list on the left panel since the games have been list in alphabetical order. Similar to the rest of the sportsbook, I found the main layout here to be predominantly grey, with the usual Bet365 green and yellow highlights. I was also able to quickly toggle the primary site language from the default English setting to other languages such as German, Spanish, Italian, and Portuguese, among a dozen different options.
As I mentioned earlier, the design has placed the various tennis matches into their respective tournament categories. I found this to be more appealing rather than bundling all the day's matches together. Alternatively, I could also filter the tennis matches based on time by clicking the tab indicated 'Next 24 Hours' placed above the mid-section. That filtered the upcoming matches that were to play in the next 24 hours. I mainly used this feature when I was planning to play some in-play bets.
Just as with the other sports, my tennis bet slip was fixed on the far right panel. The bet slip itself does come with several unique features, which I found to be amusing. For the risk takers, there is the option to switch from the standard bet slip into the Banker mode. In this mode, I could lock in on one bet, which had to go my way for the rest of the bet to be won. You should, however, take note that the banker bet needs you to have at least three selections in your bet slip for it to work.
Speaking of multiple selections, I could quickly build my custom accumulator bet by clicking on multiple choices. Once I had added these selections to my bet slip, I had the option to choose whether I should confirm it as an accumulator bet or a chain bet, depending on how I would distribute my stake money.
---
Live Streaming Feature
With the many other sports betting site I have reviewed, they all seem to be adopting the live streaming services. From my experience, however, few can hack this feature as correctly as Bet365 does. The readily accessible in-play tennis betting market accompanied by live streaming of the tennis action.

I did, however, notice that not all the tennis matches will be available, but most of the major grand slam events will be readily available. The quality of the videos is also quite impressive, as they are complete with HD audio effects and commentary. Even though the videos have a slight delay from the real live action, this is negligible as you will hardly notice it. I also liked the control features fitted on the embedded video screen, which gave me a choice to adjust the screen size, sound volume, and even stopped the video.
To use the Live Streaming service you will need to be logged in and have a funded account or to have placed a bet in the last 24 hours
---
Tennis News Section
Any serious sports betting fan will acknowledge the power of sports news and information in making betting decisions. In as much as luck has a role to play, sports betting is also greatly influenced by the events around the players and teams. I found it very easy to access such information with Bet365, thanks to the tennis news section.

That is a forum dedicated entirely to feeding you information on anything to do with world tennis. Here, I could easily find concise reports on which players were injured, which players were outstanding in the previous meets and which matches had to be called off. Such information is critical in making my predictions, especially when playing in the outright markets.
---
Mobile Service
Mobile betting is set to overtake desktop site in terms of a total number of bets placed shortly. That is because mobile devices give punters more flexibility on how they place their bets, allowing them to play on the go. You can, therefore, imagine how impressed I was to learn that Bet365 does have stand-alone apps for both iOS and Android devices. I found the apps to be quite easy to use since the design and most of the features are similar to the layout on the desktop site. For the tennis betting section correctly, the Bet365 mobile has the same array of betting markets, including the live streaming feature.

I also found out there was another alternative mobile gaming platform that did not need one to make any downloads. That is through the Bet365 mobile site version. The mobile site version even has a higher degree of flexibility than the apps since it can work with any internet enabled mobile phone or tablet. That is an excellent alternative for players whose devices might not be compatible with the downloadable apps.
---
Deposit & Withdrawal
The banking section is another essential feature I always consider whenever I am choosing a site to play on. That is because the ease of moving my cash in and out of my gaming account determines how much I can play at the site. With Bet365, I learned I could easily transact in several ways, including e-wallets, cheques, bank transfers. The minimum and maximum amount limits are reasonably low, but the actual figure will vary depending on the specific mode of payment you choose to use.

Except for cheques and bank transfers, most of the other deposits were processed instantly or in a matter of minutes. Withdrawals, on the other hand, tend to take a little longer, but not more than five working days. Just as with the amount limits, the exact processing timelines will depend on the specific mode of payment used.
---
Frequently asked questions
Does Bet365 offer live streaming tennis services?
Yes. I tested the video streaming service here, and it worked just fine with an updated internet browser. The video streaming screen embedded in the Bet365 site, so you do not need any other software for the service to work.
I am unable to stream the events hosted in my country. Why?
That is following the licensing terms given to Bet365, which prohibit them from streaming matches hosted in the same country. Using your IP address, Bet365 can tell your country of residence and thus block these services.
Does Bet365 offer any guide or tutorials on how to make tennis bets?
Yes, under the Bet365 FAQs page, I was able to find a comprehensive guide on tennis betting, including definitions of terms used in the industry. The tutorial also includes tips on how to place bets in handicap markets, which tend to sound a bit more complicated to most players.
Why do the odds in tennis in-play betting keep on changing?
As gameplay in a match carries on, various factors will change depending on the players' performance. That affects the overall probability of a particular outcome happening. As such, the odd in the in-play market will change accordingly to reflect this change in results.
Can I cancel a tennis bet once I have confirmed it?
No, based on the experience I had here, you cannot cancel a bet once it is confirmed.
Does Bet365 have a stats centre where I can view past results and trends?
Yes, I was able to find the link to the stats centre at the lower section of the home page.
How does a change of venue or schedule of a tennis match affect my bet?
According to the Bey365 tennis rules, all bets will stand if there is such a change in an event you had bet.
---
About Bet365
The Bet365 brand resonates with many avid sports betting fans around the world. That is because the company has been in the sports betting industry for quite some time now, spreading its reach from its first UK market into the global arena. To add to its popularity is the deep involvement with top tier football teams in English and Spanish leagues as a principal sponsor.

With decades in operation, Bet365 has developed an all-inclusive betting and gaming platform that brings together an online casino and sportsbook. The site can reach the expansive global markets, thanks to a license issued by the Malta Gaming Authority. That essentially means that while playing here, you can always rest assured you are playing on a legal platform that is regulated by the law.
---
Customer Care & Contacts
I liked how the Bet365 customer support team was readily available 24/7 and willing to help whenever called upon. The team was very professional in handling queries by giving timeline responses. I was able to get in touch with the support team through emails, live chat, or even the dedicated phone numbers. Also, I learned that Bet365 could contact through postal mailing services.
---
Rating & Conclusion
While doing this expert review, I put into consideration so many aspects of online tennis betting. From the variety of matches covered to the betting markets available as well as the promos, all these are important to the overall experience a player gets from a sportsbook. In my opinion, Bet365 scores highly in many of these areas. Besides, the general site design is effortless to use, an aspect that many bookmakers tend to overlook. To top it all up are the streaming services available even on mobile devices, meaning you can enjoy your favourite tennis action from wherever you are.
Rating: 9/10