Ad disclosure
Here at EfirBet (EB) we pride ourselves on having a site that is completely ad-free. No ad blocker is needed while browsing EB. At the same time, we do use affiliate links to earn commissions (every time you click a link and sign up at a betting site). This revenue helps us deliver quality and trustworthy reviews for our readers at no additional cost to them. Read the EB
About Us
page if you want to learn more.
A double chance on Bet365 is a market that reduces three outcomes of a match to two, leaving me with a win or a draw, usually indicated with a number and a letter.
When placing a double chance bet, I get the chance to combine two bets into one. In a match between teams A and B, the main outcomes include team A win while B loses, team B wins while A loses or the two draws.
---
Bet365 double chance explained
In a double chance at Bet365, I will have the chance to predict that one team will win or draw with the opponent OR that some of the teams will eventually win, and the game will not end with a draw. The available options include 1X, 2X and 12 Bets.
Double chance at Bet365 is a common bet that I consider due to its flexibility. Whether my team wins or draws, I still have something to celebrate as I got the bet right.
---
How to Place Double Chance Bets
After knowing that this is one of the bets that will help me kill two birds with one stone, I need to explore the steps of placing such a bet. Consequently, I have outlined the simple steps involved as follows.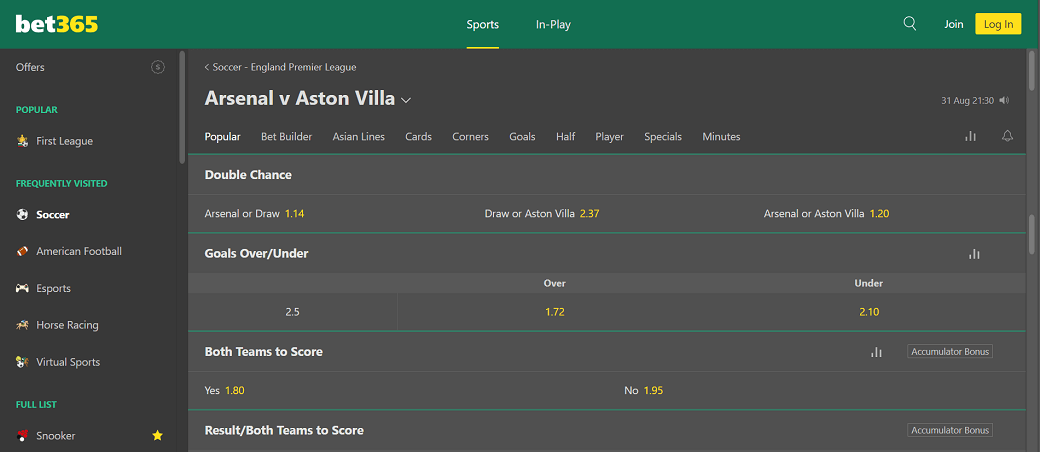 Create an account or log into an existing one at Bet365, and under the sports section, select soccer.
In my case, I will select the match between Arsenal and Aston Villa as it was active when sharing this experience.
I will then scroll down to the market options and select 'Double Chance' as my market of choice.
Next, I will check the available odds and evaluate them carefully to see which team to bet for.
After clicking my choice, say 'Draw or Aston Villa', I will get a pop-up below the bet with a place to enter my stake.
After I enter the amount, I will get the possible return on the opposite side with a 'Place Bet' indicator.
I will then hit the 'Place Bet' button and wait for the double chance outcome.
As the match goes on, I can use other services like live streaming for reliable bet stats.
---
Does Bet365 Pay Double Results?
After understanding what is double chance in Bet365 and knowing how to place it, I became curious to know if I would get the pay for the double results. And well, my guest was right! I would get returns on both.
However, the double chance odds are significantly low. This reduction is because of the low risk involved in double chance betting. Therefore, I usually can't get much from this bet compared to other bets that have a significantly high risk.
In retrospect, though, it is wise to know that although the odds are low, this bet is easy to predict, as I can gamble with two different outcomes at the same time.
---
Betting on Double Chance
Though significantly good, there is still some dark side to placing a double chance bet.
At this juncture, I will explore some of the advantages and disadvantages of placing a double chance bet. Here they are, as per my experience with this type of bet.
Advantages of a Double Chance Bet365
Higher chances of correct prediction – Unlike the traditional bet, the double chance bet gives me a higher chance of getting my prediction right as I will be betting on two possible outcomes of the same game.
Relatively lower risk – There is a shallow risk in placing a double chance bet. For the team I choose, defeat is the only thing I will be trying to avoid. I am okay if my team wins or draws.
Sizeable profit if involved teams are equal – If the teams involved are equal, I can opt to bet on the Home/Away Win and get better odds. But, I need to be certain that the match will not draw.
Disadvantages of a Bet365 Double Chance
Significantly lower odds – Due to its nature of risk which is relatively low, the odds of a double chance bet are usually low.
Not ideal when backing a favourite – Due to the low odds, the double chance may not be the best option when betting for a favourite.
---
How To Calculate Double Chance Odds
After answering the question 'what does double chance mean on bet365', I need to elaborate on calculating the double chance odds.
Usually, the calculation of these odds is simple, and I will go about it with an example of a match between Arsenal and Aston Villa. For this match, the bookmaker odds on the above-shown screenshot are as follows:
Arsenal or Draw – 1.14
Draw or Aston Villa – 2.37
Arsenal or Aston Villa – 1.25
If I placed a bet of $1000 on 1X (Arsenal or Draw) and Arsenal either wins or draws with Aston Villa, I will get a return of (1.14*1000), giving me a total of $1140.
However, I will lose the stake if Aston Villa wins the match.
If a different punter had placed a 2X (Aston Villa or draw) and then it happens Aston Villa wins or draws with Arsenal, then with a bet of $1000, the punter will get a total of (2.37*1000) that gives a total of $2370.
But if Aston Villa loses the match to Arsenal, the punter will lose everything.
Alternatively, if I am sure that one of the two teams will beat the other, I can go with the option 12 bet, without having to explicitly point out the winner.
---
FAQs
How do I win a double chance bet?
After understanding what is a double chance on bet365, I need to know how to win the bet. To win it, I need to select the team that has a possibility of either winning or drawing with the other, and that's it.
Can I bet on both teams to win bet365?
Since I already know what a double chance is in bet365, I cannot bet on both teams to win. But I can incorporate the draw option covered in a double chance bet and still get the prediction right.
Is Double chance a single bet?
Although the double chance is placed as a single bet, it is a two-in-one bet. It has the win and the draw option for each team involved in a match.
How does a double chance work?
Having answered the question of what double chance means on bet365, I understand that the bet gives a return for either a win or a draw. Thus, it is a single bet with two chances of having a correct prediction.