Ad disclosure
Here at EfirBet (EB) we pride ourselves on having a site that is completely ad-free. No ad blocker is needed while browsing EB. At the same time, we do use affiliate links to earn commissions (every time you click a link and sign up at a betting site). This revenue helps us deliver quality and trustworthy reviews for our readers at no additional cost to them. Read the EB
About Us
page if you want to learn more.
Bet9ja is evidently one of the most sought-after gambling websites in Nigeria. The 2013 gambling site offers punters different gambling solutions and fast Bet9ja payment methods that you can use to transact online.
However, before accessing any of these services, you must create your Bet9ja login information. To do so, come up with a unique username and a hexadecimal password.
The login details are vital in protecting your account from unauthorised personnel. Sadly, if the information falls into the wrong hands, it may be detrimental to your account security. Therefore, this piece will discuss how to change your password on Bet9ja as a way to keep your account safe.
---
Bet9ja Password Requirements
Like the Secure Socket Layer data encryption technology, your password is essential in ensuring your Bet9ja account is safe. Therefore, make sure you follow every requirement when creating the information.
For instance, your Bet9ja password should contain numbers, letters, and special symbols. Furthermore, it must have six or more characters.
---
How to Change Your Bet9ja Account Password
It is advisable to edit your Bet9ja password details regularly. Doing so will prevent anyone from accessing your account in case they have your old passcode. The good news is that the process of changing the details is easy. All you have to do is follow these simple steps:
Log in to your Bet9ja account
Navigate to settings
Open the "Change Password" page
Enter your Old Bet9ja password
Provide your new Bet9ja account passcode
Click the "Change Password" button
As soon as you change the information, Bet9ja will send you an email indicating your password has been changed.
---
How to Reset Your bet9ja Password
The above procedure is not applicable if you have lost your bet9ja passcode. After all, you will be unable to access your account and edit the information.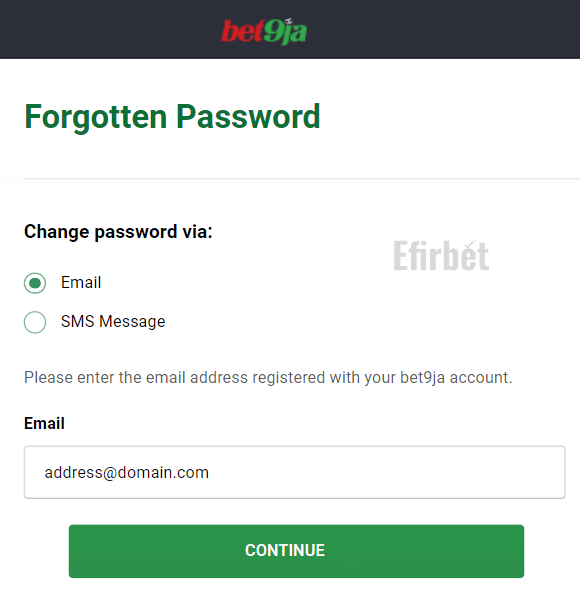 As a result, once you realise you have misplaced the passcode, continue with these Bet9ja password recovery steps:
Launch Bet9ja on your computer or smartphone
Click the "Forgot Password?" link on the top right corner of your account
Choose whether you want to change the password via SMS or email.
Enter your email or telephone number, depending on the method you pick
Click 'Continue' and follow the link sent to your email by the operator
Enter a new password and confirm the information
You can then log into your account using your username and the new password and continue betting online.
---
How to Protect Your Bet9ja Account?
Now that you know how to change your bet9ja password and reset lost information, you must know how to protect your account. This is an important aspect that will ensure your Bet9ja gambling interface remains foolproof.
With that said, read the details below to learn ways you can protect your Bet9ja account. Make sure you apply every suggestion keenly to enjoy its maximum benefits.
Change Your Password Every Once in Awhile
To protect your Bet9ja account, you must change your password every once in a while. This may be after a fortnight or monthly. Switching your passcode regularly will help you lock out anyone with your login information. Note that individuals may access your password without your knowledge and use it to log into your account.
Don't Share it with Others
Make sure you don't share your Bet9ja passcode with anyone. This applies to family, friends, and even your spouse. Once you share the details with others, you make your Bet9ja personal account vulnerable to hacks and data theft. With that said, always keep your login information private at all times.
Use Different Passwords from Your Other Betting Accounts
If you have multiple betting accounts, you must use different passcodes. With distinct password information, you will not have to worry about the safety of other betting accounts if one account is compromised. It is by far the best way of minimising risk.
---
FAQ
Can I change my username?
No, you cannot change your bet9ja username.
Can I open more than one account with Bet9ja?
No, you cannot open more than one account with Bet9ja.
Does Bet9ja offer bonuses and promotions?
Yes, Bet9ja has multiple bonus offers that you can use to extend your gambling sessions.
How do I check Bet9ja provisions?
You can check Bet9ja provisions by clicking the terms and conditions tab and going through the information provided.
Does it cost any money to register on Bet9ja?
No, it does not cost any money to register on Bet9ja. The sign-up process is completely free.