Latest BetConnect User reviews
BetConnect Review
The BetConnect business model came about in 2018 when two sports betting enthusiasts, Ben Schreiber, and Mark Weavers, saw the potential of an online betting exchange that offers a multitude of additional benefits to punters via an integral social networking platform. This type of social betting exchange platform currently is the first to intrinsically deviate from the established online bet exchange concept introduced by Betfair in early 2000.
It is the pioneer of a new era in online betting that for the first time utilises the well-developed social media technologies widely employed with massive success by all the world's largest social media platforms.
---
How to register at BetConnect?
Registering to open your own BetConnect login requires just a few short steps to submit your personal details, select your account preferences, and contact details which will take a minimal amount of your time.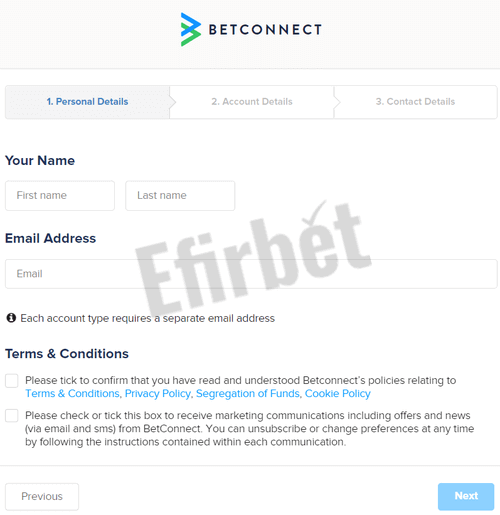 Start the process by navigating to the BetConnect homepage and selecting the bright green "SIGN UP" button located in the top-left corner. This will open the three-page application, but to get to the correct type of application you first need to decide and select whether you want to open a BetConnect Pro or Punter account.
Irrespective of your choice whether to open a Pro or Punter account, the details and application/registration remains the same.
On the first page, enter your first & last names, email address, confirm your age and promotional preference, and then select the "Next" button.
On the second page, create your username, password, date of birth, indicate your sports preferences, enter your preferred maximum liability per bet request limit and select the "Next" button again.
On the third & final page, enter your residential address, mobile contact number, select your deposit time limit period and maximum amount.
Finish-off by selecting the "Create Account" button, this will automatically and instantly create an active personal account for you as well as log you into your newly created BetConnect account.
---
Website Structure – Design and Navigation
Due to the integral social media platform, BetConnect differs markedly from any other online betting venue you may have visited or seen elsewhere in the industry. Despite these major interface, operational, and navigational differences, the interface works quite intuitively once you have spent some time to familiarise yourself with everything.
Many menu items remain easy to discern their function since most still share some commonality with online betting functions. Once logged in the menus still present themselves in generally expected locations to the top, sides, and bottom of each page with many of the services and links remaining the same, with navigational links still leading to functions such as banking, member account, settings, rules, help & FAQ, and many of the other familiar assistive services which all still work exactly the same way.
The key difference is the "BetConnect Button" located in the top centre of the home page after logging in. If you push the BetConnect Button, it reveals the first available Bet Request, which is the document whereby punters place their bets.
BetConnect greets visitors via a handsome homepage done in multiple shades of cool blue on a white background while depending on the backdrop colour, menu and other text vary between white and black to offer clearly legible reading surfaces.
---
Sports Betting
BetConnect wisely kept its unique concept and purpose clearly identified by committing themselves to solely focus on sports betting and completely refraining from offering any alternative online entertainment formats such as casino slots, table games, bingo, or scratch cards.
An independent online betting exchange offers punters an easier way to find the most profitable offers from numerous well-known online bookmaking brands. However, the BetConnect operational concept that integrates social media into online bookmaking builds even further on the betting exchange business model by allowing punters to follow Professionals based on real-time statistical analysis of their results.
Available Sports
Currently, the list of sports offered by BetConnect includes all the most popular sports punters commonly wager on but excludes niche sports types. As a result, the variety is not as wide as one would find at Betfair or one of the significant conventional online bookmakers.
Still, it allows punters to wager on sports such as Football, American Football, Baseball, Basketball, Boxing, Formula 1, Darts, Cricket, Horse Racing, Golf, Snooker, Rugby League & Union, as well as Tennis. However, BetConnect offers no Live In-Play betting whatsoever, since the highly dynamic nature of Live betting simply does not suit the nature of a betting exchange.
Markets
At BetConnect punters are reliant on whatever markets the Pros feature in their Bet requests. In contrast, Pro accounts have access to just about any imaginable betting market and should they have trouble finding any specific betting market, they simply need to contact a BetConnect support agent. Agents will then be tasked with tracking down the required market.
For example, the Football betting rules provide for 16 betting markets, including Match Result, First Goalscorer, Half-time/Full-time, Last Goalscorer and Correct Score. In addition, it provides Anytime Goalscorer, Draw No Bet, Half-time Result, To Win To Nil, Both Teams To Score, First Team To Score, Teams To Score, Team Not To Score, Both Teams Not To Score, Home Team Clean Sheet, Away Team Clean Sheet, and Asian Handicap. As is evident with the available Football markets, the same goes for most of the key popular markets in each sports discipline featured by BetConnect.
Odds
Offering better odds on lay bets than that provided by any conventional bookmaker is one of the key aspects responsible for the success of any online betting exchange such as BetConnect. It remains one of the main drawcards that keep attracting punters through its virtual doors.
BetConnect ensures this remains clearly evident since punters can see all the odds offered by other bookmakers in all received Bet Requests to allow you to make the best-informed decisions. This will enable you to place bets with bookmakers who offer odds better or equal to your BetConnect lay bet, thereby ensuring should your back bet win you stand an excellent chance of making a winning margin greater than your lay bet's cost.
---
Sports Promo for New Signees – £20 in Free Matched Bets
If they choose to participate and claim the BetConnect offer new punters have an opportunity to inflate their initial stake substantially. All qualifying holders of new BetConnect punter accounts can claim up to £20 in Free Matched Bet credits to cover any losses they incur over their first three bets if they make a qualifying deposit of at least £10. This promotional offer only remains valid until a punter has received and acted on their first three-bet requests immaterial of whether they chose to accept or reject the first three Bet requests.
---
BetConnect Lay & Follow Bets
A BetConnect punter account allows members to unlock and see Bet Requests created by Pro bettors. Bet Requests contain detailed information about a selection the Pro bettor wishes to place a bet on. Bet Requests are completely unique to BetConnect and are the manner whereby you as a punter receive bets and depending on if you are in agreement with the Pro's selection must decide to opt for one of three choices, Match to Lay, or Reject that particular Pro's bet selection.
Matching to Lay a Pro's bet selection means you agree with his selection and want to lay a bet to back it while rejecting a Bet Request is self-explanatory. Punters can also Follow and receive tips from Pros who have proven themselves via successful track records, which are easy for punters to discern via detailed statistical analysis of their betting history.
BetConnect assists you with making the best possible decision by offering a 5-minute window during which you can check and receive a complete, real-time updated overview of all the relevant odds offered by bookies online as well as which bookie actually offers them. This allows you to compare the prices offered by the Pro to those provided by the actual bookie. This means if the Pro was one of the many too keen to get his bets placed and failed to get the best prices, you have an opportunity to back the same selections at even better prices.
---
BetConnect Matched Betting – How does it work?
At BetConnect Matched Betting simply means you cover both possible outcomes of an event by both Laying the bet selection in a Bet Request as well as laying a matched bet with a bookie covering the opposite outcome of an event.
A BetConnect punter account allows you to Lay bets with bookies at their prices and make use of any of their special offers or bonuses yet pay 0% commission on such bets. The wonderful thing about doing so is a semi-automated process that allows you to personalise your account settings to match your matched betting strategy.
This ensures you only receive Bet Requests most likely to interest you. To enable BetConnect to best match your betting interest you need to indicate the sports you prefer betting on, your preferred odds, and the maximum liability you are prepared to risk when Laying a Pro's bet.
Then place your very first bet but first ensure the bookies do not offer better odds than those reflecting on the Bet Request, should you find better odds place a bet with the bookie's site. Then Lay the Bet Request by entering a stake value matching the one you placed at the bookie and select the "Match" button to confirm your first matched bet that covers both potential outcomes of an event.
With BetConnect's offer to pay 0% commission allows you to take 100% profit on bets you Lay, that together with the capacity to Match Pro Bet Requests at the exact price bookies offer or even improve on means you incur absolutely no qualifying losses.
---
Pro Betting
At BetConnect holders of Pro, accounts are responsible for creating the Bet Requests that contain the bet selections that punters will request and decide if they want to Lay, Match, or reject. A Pro receives access to bet selections at the best prices offered by bookies.
BetConnect commits itself never to close or place any restrictions on Pro accounts. The company will also not charge any commissions on Pro accounts during the Pro's first 90 days after signing up and after that will charge a commission of just 1% on Football and only 2% on all other sports types. BetConnect also offers preferential VIP commission rates to selected High-Stakes Pro sports bettors.
To create your Pro bet selection, BetConnect provides you with access to bookmaker prices updated in real-time. These cover all major sports types, and if you cannot find the market, you simply contact a BetConnect support team agent to receive assistance.
Once you have compiled you Pro Bet Request selection submit it to the multitude of waiting for punters via the BetConnect network utilising their smart algorithm and watch them match your stake in real-time.
---
Deposits and Withdrawals
As a purely UK servicing betting exchange BetConnect offers the locally most popular card-based banking brands and methods whereby Pros and punters can conveniently fund their betting accounts. At first glance, the number of options may seem restrictive, but considering the company focuses solely on the UK market, it offers a more than a sufficient number of internationally trusted finance solutions. We offer a more detailed look at each in our table below.
| Payment Method | Deposit Minimum | Deposit Maximum | Time for Deposit | Minimum Withdrawal | Withdrawal Maximum | Time for Withdrawal |
| --- | --- | --- | --- | --- | --- | --- |
| Visa | £10 | £10,000 | Instant | £1 | £2,000 | 3-5 Working Days |
| MasterCard | £10 | £10,000 | Instant | £1 | £2,000 | 3-5 Working Days |
| Bank Wire Transfer | £10 | £10,000 | Instant | £1 | £2,000 & more | 3-5 Working Days |
---
BetConnect Mobile App
BetConnect naturally utilises the latest technologies in mobile access solutions to provide its members with the best quality user exchange-betting experience while away from their desktop computers or even for those who simply prefer the interface and convenience offered by the superb BetConnect mobile experience.

Depending on their device software environment members have the option to utilise any one of BetConnect's three dedicated mobile access solutions. A mobile portal or virtual version to provide a cross-platform compatible solution without the need to download and install additional software.

Alternatively, Pro account holders and regular punters may prefer one of the two dedicated downloadable mobile apps developed to provide complete compatibility for latter-day mobile devices that respectively employ either an iOS or Android software environment.

Irrespective of your personal choice and preference BetConnect's superb apps will ensure you receive the ultimate in mobile betting experiences via their trio of full-featured apps. Each app provides all the sports, markets, services, products, assistive links, functions, and finance solutions offered by the brand's full-sized website.

After a brief familiarisation, the mobile interface's touch controls become quite natural, operating smoothly offering good positive responses, with pages loading fast and generally behaving glitch-free.
---
Affiliate Program
Entrepreneurs considering signing up with BetConnect as a partnered affiliate and earn a commission for their referrals to the brand have the ability to apply to be a partner with the BetConnect affiliate program. If accepted, BetConnect will provide a variety of marketing materials to assist its partners in achieving their goals. In return, affiliates will earn a commission based on the number of referrals they send to the company, which will be resultant on the income generated from each of those referrals. To learn more about the program, interested affiliates can visit the BetConnect Affiliate program directly.
---
Frequently Asked Questions
What is the standard commission rate charged on Pro Bet Request stakes?
The standard commission rate BetConnect charges on Pro accounts is 3%, but the company reserves the right to change it.
What bet types does BetConnect offer Pros on compiling Bet Requests for Horse Racing?
For Bet Request selections covering Horse Racing a Pro will only offer Each Way or Win markets.
How do I modify a Bet Request I have created after I submitted it?
Once a Pro submits a Bet Request for distribution, one cannot make any changes to the Bet Request.
As a Pro account holder, how do I know that they will match my Bet Requests with punters most likely to back them?
To ensure Bet Requests receive the maximum traction BetConnect distributes all Bet Requests via its proprietary developed Matching Engine that is responsible for matching Bet Requests according to Punter account preferences.
What recourse do I have if there is a dispute, and I feel BetConnect did not enforce the rules appropriately?
In any event where BetConnect fails to resolve a dispute to the satisfaction of all parties involved the dissatisfied persons can refer the matter to the IBAS which is the acronym for the Independent Betting Adjudication Service where third-party adjudicators will investigate and resolve the issue.
I just opened a punter account at BetConnect, why can I not see the full details offered by the Bet Request?
You most likely have insufficient funds in your account cover the Bet request liability.
What happens to my stake if there is a dead heat for first place?
In such rare scenarios, BetConnect divides the stake monies on the winning selection by the total number of winning bets as well as the full odds paid on its reduced stake, with the remainder of the stake considered lost.
---
More About Betconnect
BetConnect is a unique company that, in principle, offers a similar betting experience but vastly different. Founded by Mark Weavers and Dan Schreiber in 2018, the company was designed to act as a betting exchange to compete with others offering this style of betting such as Betfair. As a company, they created a unique and pioneering betting exchange technology that combined the power of social betting similar in nature to that of social media and as a result, claims to be the world's only social betting network. This unique concept and it's easy to use interface has allowed BetConnect, a company licensed by the U.K. Gambling Commission to grow leaps and build a substantial and loyal punter following. To learn more about the company, or to connect them directly, enquires can be sent to:
BetConnect Ltd., Elder House, St Georges Business Park, 207 Brooklands Road, Weybridge, Surrey, KT13 0TS, United Kingdom
---
Customer Support
To aid with the speediest resolution of queries and receive quick assistance when needed, BetConnect offers several means of contacting the professionally trained members of their friendly support team. An integrated Live Chat function allows fast, direct 24/7 contact with their agents in cases requiring immediate attention. At the same time, an extensive FAQ and help database offer solutions to issues that generally would rely on self-help. Members also have access to a full array of social media platforms such as Twitter, Instagram, and Facebook wherein BetConnect maintains an active profile.
---
Contact Details
---
Conclusion and Rating
An analysis of the initial statistical results recorded over the brand's opening months shows it as the betting exchange fastest to exceed £1 million in monthly matched bets. This and its recent achievement where the company exceeded £2 million in monthly matched bets during October 2019 earmarks the brand as the fastest-growing betting platform in the UK.
These stats paint a highly promising future for this newly hatched concept in exchange betting and since most innovative ideas have a much better chance to succeed once Joe public starts voting enthusiastically with his wallet.
However, we need to concur and state our time investigating and analysing the BetConnect brand turned into a profitable and enjoyable affair when adhering to the proper punter's sports betting protocols. During our BetConnect review, the website and services performed flawlessly throughout our duration, and the experience was a quite enjoyable time. As a result, we rate BetConnect a very solid 4.5/5, which will certainly rise as the number of sports on offer increases.