Betcris Mobile App for Android
Betcris have not yet developed an android app for its clientele on android devices. This is contrary to the current market trend where every bookie is rushing to have an independent android app. At Betcris, punters are left with the option of accessing the bookie's site through a web-based mobile website. However, from the look of things, an Android-based app for Betcris might be in the offing as the company has added flyers touting the idea on their website.
The idea of opting for the mobile website over a stand-alone app has some benefits, provided the website design is executed with skill. For instance, with the mobile website version, you will not incur extra mobile data costs of downloading an additional app, and you will also be saving up some space in phone's storage. For android user around the world, you can simply type in the Betcris URL on your web browser. The website is optimized to automatically detect you are running on a mobile device and will switch to the mobile version.
---
Betcris Mobile App for iOS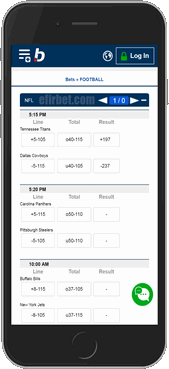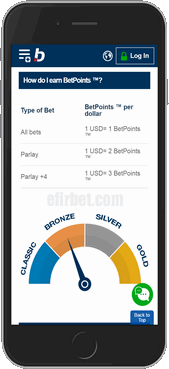 For gamers on iOS devices, the narrative is the same as that of Android users. Betcris has not developed an ios app, and therefore gamers using Apple devices will have to resort to the mobile website version. Accessing the web version on an Apple device as all you need to do is type in the website's URL in your web browser.
The layout of the website on ios devices is similar to that on Android devices. By browsing on your Apple device, you will realize the developers have maintained the neat design found at the desktop version, with tabs that make it easy to navigate from one section to another. We will expound more the mobile website's features in the next section.
---
Betcris Mobile Site Version
Since Betcris does not seem too keen on developing independent apps, gamers on mobile devices will have to resort to using the mobile website through their mobile browsers. With Betcris, the URL for the mobile website is the same as that of the desktop version, saving games the hustle of remembering too many website details.
The Betcris mobile site is a multi-language platform that can be accessed in Spanish, Portuguese, Tagalog, Chinese, Russian and Korean, among a dozen other languages. This opens the doors to gamers from virtually all over the world. Before you start playing, you will be required to register an account. The process is quite and can be completed in a few minutes. However, if you already have an account registered on the desktop version, then you do not need to create a new account as you can use the same log in details for the mobile website.
---
Mobile Site Features
One of the key outstanding features on the Betcris mobile website is the live betting option. This is a feature that allows you to make bets on sports and events that are currently being played out live. The security measures put in place by Betcris are quite impressive, ensuring your personal information is secure, while not being too intrusive.
On the other hand, some key features that are loved by punters such as live chat, live streaming and cash out option are missing from the Betcris mobile website. Instead of the live chat, customers are instead required to fill in the 'Contact Us' form, and the customer support team will be in touch. The website also seems to lack a dedicated customer support phone number.
---
Betcris Mobile Sports Betting
Betcris operates as a dedicated sports betting website. This is unlike other websites that host a hybrid of sports betting and online casino. With all the focus on sports, Betcris offers a rich market of sporting events to bet on. Here you can bet on popular sports such as football, basketball, boxing, motor racing, cricket, volleyball and rugby, among many other. You can also partake in some e-sports action by betting on the E-sports League of Legends, Dota 2, CS Go and E-sports Overwatch World Cup.
Other than the regular sporting events, Betcris offers bets on political contests such as upcoming elections, which have high odds with equally high returns. One more unique market offered by Betcris is the futures bets option. Betcris offers the chance to bet on NFL futures, NCAA futures, Soccer futures, Rugby Union futures, and Tennis Pick Winner, among several other markets.
With such an expansive betting pool, you are assured you will find an event that you can comfortably bet on and reap some good rewards. What's more, Betcris allows parlay betting where you can build a bet slip with multiple events, thus giving you higher odds.
Important to note, however, is that unlike other sports betting websites that offer detailed betting options on an event, Betcris is quite limited regarding the betting information provided for a particular event. For instance, the site will only show you the kick-off time, with no further details about the event. This to some players could be a letdown.
---
Betcris Mobile Bonuses
With Betcris, there are no unique bonuses or offers dedicated to the mobile gaming platform only. All the offers and promotions on the desktop version are still available for the mobile site. The offers you will enjoy here include a welcome bonus package that matches 25% of your first deposit up to $300. To activate this welcome bonus, your first deposit must be a minimum of $50. For the subsequent reload you make of $50 you will also get a 10% bonus.
Once you become a regular client at Betcris, you can enroll in the loyalty program that earns you Betpoints for every wager made. The more betpoints you accumulate, the higher your reward regarding play money.
Another attractive bonus we found at Betcris is their referral program. This program offers you the change to get up to $500 free money by referring someone to the website. As it is expected, this offer, as well as all the other promotions here have certain terms and conditions that include wagering requirements. For instance, the welcome bonus has a four times wagering requirement before you can cash out. It is important to read through the fine details of any promotion before jumping right in.
---
System Requirements and Compatibility
Owing to the fact that Betcris does not run on downloadable apps, this makes it very flexible when accessing the website. Virtually any mobile device with a good browser can access the Betcris mobile website. It is, however, important to ensure you have good internet connectivity for easier loading of the pages and placing of bets. This is particularly so for the live betting option which can be quite fast paced and you might miss out on some good betting odds if your internet speeds are slow.
Generally, the operating system does not affect the performance of your device when browsing at Betcris. The website is designed with minimal animated graphics and therefore is not very demanding on your device. Provided you have a modern mobile device; you can begin betting right away at Betcris. Below is a list of some good mobile devices that you can use to browse at Betcris:

Samsung S series
HTC smartphones
Huawei smartphones such as P10 model
iPhones
Samsung Galaxy tablets
---
Payment Methods
Any serious online gamer will know the importance of having a variety of payment options on offer. The wider the scope regarding deposits and withdrawals, the easier it will be for you to load and withdrawal money from your gaming account. At Betcris mobile, you will have full access to all the payments options offered at the desktop site. In addition, Betcris is amongst a growing list of online betting companies that accept payments via Bitcoin, which is touted as an alternative and secure currency, especially for online payments.
The transaction limits and processing timelines will vary, depending on the payment method selected. Below is a table that compiles all the payment methods available with their timelines and minimum and maximum payments range.
| Paymenth Method | Deposit Minimum | Deposit Maximum | Time for Deposit |
| --- | --- | --- | --- |
| Visa | $25 | $999 | Instant |
| Bank Wire Transfer | $2500 | no limit | 1-3 days |
| Neteller | $25 | $10 000 | Instant |
| Skrill | $25 | $10 000 | Instant |
| Paysafe Card | $1 | $1000 | Instant |
| EcoPayz | $25 | $1000 | Instant |
| MasterCard | $25 | $999 | Instant |
| Bitcoin | $50 | $50 000 | 24 hours |
| Paymenth Method | Withdrawal Minimum | Withdrawal Maximum | Time for Withdrawal |
| --- | --- | --- | --- |
| Visa | | | |
| Bank Wire Transfer | | | |
| Neteller | $25 | $25 000 | 24 hours |
| Skrill | $25 | $25 000 | 24 hours |
| Paysafe Card | | | |
| EcoPayz | $100 | $1000 | 24 hours |
| MasterCard | | | |
| Bitcoin | $100 | $50 000 | 24 hours |
Bitcoin, Visa, MasterCard, Skrill, Neteller, EcoPayz, Paysafe Card, Bank Wire Transfer
Bitcoin, Skrill, Neteller, EcoPayz
---
Company information
Also known as Costa Rica International Sports, Betcris is arguably one of the most popular online gaming companies in the Latin market. The company was established in 1985 and has over the years made great strides to evolve and offer a modern online gaming platform. Currently, the company is operated by TV Global Enterprises Ltd.
In terms of legal compliance and licensing, Betcris is licensed and regulated by the Malta Gaming Authority. The company has grown its operations to have a wide network that covers virtually every continent. At Betcris, players from Europe, Asia, the Americas as well as Africa can register and begin playing right away. In addition to the expansive online presence, Betcris has established more than 100 offline stores across various countries in Latin America.
With the advent of the mobile website, the company's popularity continues to grow by the day as it reaches more gamers by offering casino action on the go. This is evidenced by the fact that the mobile website is now available in almost a dozen languages.
---
FAQs
The list below compiles a list of the most frequently asked questions about Betcris and its mobile gaming platform. The answers to these FAQs will provide a quick guide on what to expect when you join the Betcris mobile gaming world.
Do I need to install additional software to play on mobile devices?
No, the Betcris mobile gaming platform is entirely web-based. All you need to have therefore is a fast web browser and good internet connectivity, and you can begin playing right away.
I own more than one phone. Can I access Betcris on any of the phones or I will be locked to only one device?
Provided you remember your account log in details, you can log in using any mobile device, place your bet, then log out once you are done.
Can I have a different account for the mobile site from the one I registered for the desktop site?
No, as it is the norm with most casinos, you can only register one account per household. This essentially means you cannot register two different accounts for the mobile and desktop sites. A breach of this condition could lead to an automatic suspension of your account.
How can I contact the customer support team while playing on mobile?
For Betcris, you can send your request to the customer support team by filling the 'Contact Us' form provided on the website and the customer support team will get back in touch with you. At the moment, there is no live chat portal for the site.
Are there unique bonuses for the mobile site?
No, the offers provided at the desktop version are the same offers you will get when playing on a mobile device.
How do I collect my winnings from the mobile website?
Betcris has put in place sufficient deposit and withdrawal methods to cater to all gamers in the various markets. Here you can withdraw using Skrill, Neteller, EcoPayz, and Bitcoin.
What currencies can I use on the mobile platform?
At the Betcris mobile website, you can transact using GBP, Euro, USD, Swedish and Norwegian Krone.
---
Conclusion and Ratings
With many years of experience in the online gaming world, Betcris has put in place an impressive website that accommodates various mobile gaming features. Although a mobile app would have offered more convenience with extra features, the optimized website does a good job of bringing online gaming to the palm of your hands. The mobile gaming platform has a simple interface with well laid out tabs that make it easy to switch from one gaming section to another.
However, some key customer support features such as a live chat portal and a dedicated customer service phone number are missing. This could be a let down to many customers looking for an instant resolution to the problems they face when playing online.
In this review, we will rate the Betcris mobile betting site as 7/10.