About Betsafe
Founded around 10 years ago in the year 2006, Betsafe is one of the most well-known online casinos in Europe. It was founded by the Swedish Betsson Group, one of the most reputable groups in the gambling industry. Betsafe has been known to have a very big presence in the sports betting industry because of its strategic partnership with Manchester City Football Club. Due to this partnership, Betsafe was able to do very well in the UK and many other countries in the continent of Europe.
Known for its sophisticated software, Betsafe has built a reputation for having a very liable online platform that is safe and very user-friendly. This is most likely because the group behind Betsafe has invested a lot in computer technicians and software developers.
---
Registration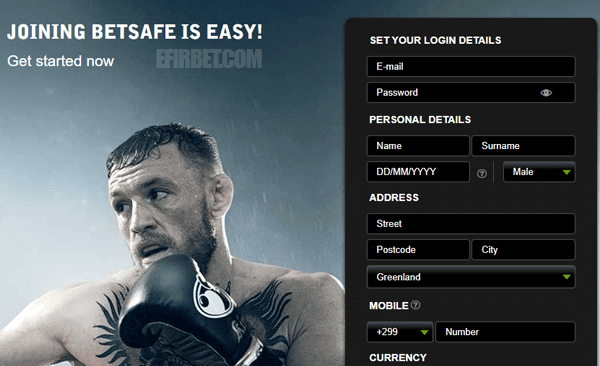 The registration process of the website is pretty straightforward and simple. Here's how:
Step 1: Visit Betsafe.com.
Step 2: Click the green CREATE ACCOUNT button at the upper right corner of the screen.
Step 3: Set your logging in details and provide your personal information.
Step 4: Read Betsafe's Terms and Conditions and Privacy Policy.
Step 5: Lastly, click the CREATE ACCOUNT button.
Activating and verifying your account?
After you have registered, Betsafe will send you an activation email with instructions you have to follow. After following the instructions, your account will be activated.
However, even after you've activated your account, you can't have access to all the features until you verify your account. Basically, the account verification is a simple identification email to see if you really are who you say you are. This is required by law. Therefore, you have to follow it. Otherwise, you won't have access to the withdrawal feature.
To verify your account, go to your profile and click on Your Details. From there, you may upload a screenshot of your ID and other documents. You need to upload your ID card (preferred is passport or driver's license) and a proof of your address (preferred is a utility bill such as a phone bill or electricity bill). Lastly, you need to upload both sides of your credit card if you are using a credit card for withdrawal.
How to restore lost password?
In the event that you lose your password, you can use the password recovery facility of the website. Click on Forgot Password on the login page and you'll be prompted to enter your email address. When you enter your email address, Betsafe will send you an email with instructions on how to reset your password.
---
Website Review – Design and Navigation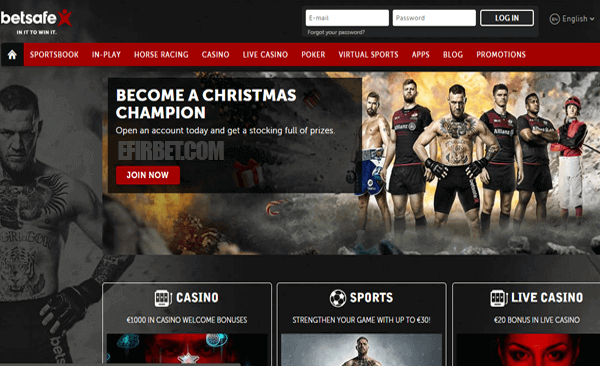 With the whole design of the website, you can see that it has a color scheme consisting of mostly black and red. This gives the website a very "eSports" feel because a lot of eSports websites have that similar color scheme. This, in itself, is quite appealing to clients because it gives a feel of excitement and hype.
With regard to the navigation, Betsafe is quite simple to use because there are not many buttons and functions. Everything is found right in front of you for you to click.
---
Sports betting
Betsafe is known for its sports betting markets with a heavy emphasis on football. For football, all the major leagues are provided. Aside from the European and South American major leagues, minor leagues from Kuwait, Saudi Arabia, and Scandinavia are all included too. There are over 70 different opportunities for football than you can choose from. This gives a variety of options to the customers.
Other than football, Betsafe offers 35 other betting options for its players. There are also basketball games from the NBA, American football from NFL, and MMA to boot. There are also betting options for rugby, boxing, tennis, cricket, and many more. Betsafe also has horse racing events, but the platform focuses more on football leagues.
As for the odds, Betsafe offers very competitive odds but only in very large markets. This allows for clients to enjoy betting when there is a big sporting event.
---
Welcome bonus – Get 100% on your first deposit up to £30
One of the best ways to entice customers is to offer bonuses upon sign up. This is what Betsafe offers with its 100% first deposit up to £30. Unlike other sports betting platforms, Betsafe offers a very simple process of activating the free bet. In order to avail of the free bet, you have to register a new account and make an initial deposit of at least £10 with odds of 1.80. After that, you'll get a bonus amount that matches your initial deposit. You can get up to £30 worth of bonus in just 24 hours.
Terms and Conditions
This bonus is only eligible to customers in UK and Ireland.
This bonus is only eligible once per customer.
Your initial deposit and bonus have to be wagered six times.
Your bonus has to be wagered at 1.80 odds or even higher in sportsbooks.
Your bonus must first fulfill the conditions before withdrawal is made.
---
Live betting (In-play)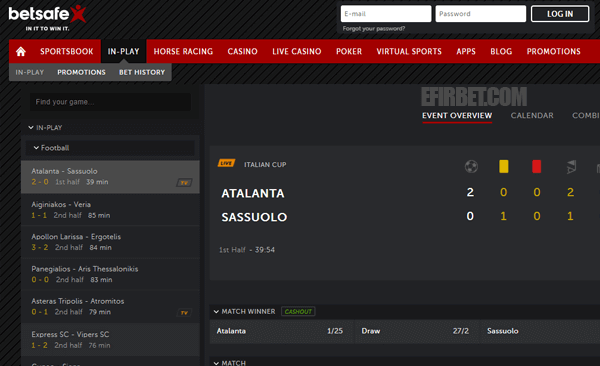 One of the coolest features that Betsafe and a lot of online platforms offer is the in play betting offer. This allows players to play and place bets in the middle of the game. It literally allows you to bet while the game is happening so that you can take advantages of opportunities in every game.
Is there Live Streaming service available at Betsafe?
There is a good live streaming option for Betsafe which allows you to watch the game while it's happening. It's like watching the game on your TV with an option for betting. The live streaming option is popular for sports such as tennis, basketball, volleyball, and other popular sports.
---
Cash Out feature
There is also a cash out feature that allows players to take out their money in the middle of the game on selected sports. Upon request for cashout, Betsafe has to approve of the cash out first before you can take out your bet.
---
Horse racing betting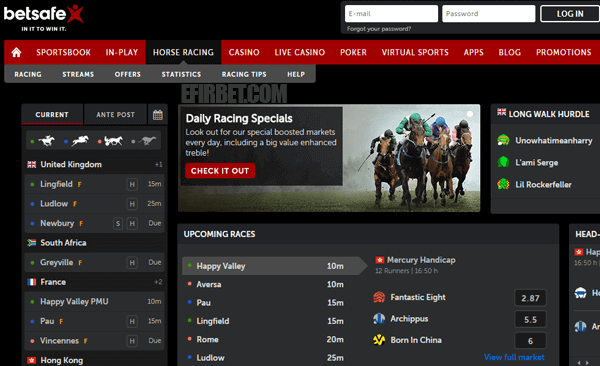 As mentioned above, Betsafe doesn't really emphasize too much on horse racing, but this doesn't mean that it is totally ignored. It does offer some sports betting markets for horse racing, but one can see that the concentration is more in other sports like football, tennis, and American football. Because of this, there is not much coverage of the sport.
---
Betsafe casino
Aside from sports betting, Betsafe also offers a range of really cool casino games in the Betsafe Online Casino. The casino has over 400 casino games including baccarat, roulette, blackjack, and slot machine games to choose from. Betsafe Casino is regulated by the Malta Gaming Authority and the UK Gambling Commission, which makes it a very reliable casino platform.
Casino Welcome Offer: Double Your First Deposit Up to £50 & Get 20 Bonus Spins
Just like the sports betting, the casino also has a welcome bonus offer to new registrants. This bonus allows you to double your initial deposits and get 20 bonus spins at the same time. To claim your bonus, you must first open an account with Betsafe casino and deposit at least £10 to £50 cash. Once you deposit, you'll double your deposit with bonus worth. If your deposit is at least £25, you will receive 20 Bonus Spins on Coins of Egypt slot game.
Terms and Conditions
The bonus should only be given once per person.
The wagering requirement is 40x of the total bonus money at Betsafe Casino.
The offer is valid for 30 days from registration. In that period you should fulfill the requirements.
Deposits with Skrill or Neteller do not qualify for this offer.
*Read the full Terms and Conditions for that offer
---
Live casino
Since it is powered by the well-known platform Evolution Gaming, Betsafe's live casino is definitely one of the best around. It offers more than 50 live casino games and gives a very good user experience. Just like the regular casino, the live casino offers a lot of gaming options for blackjack, baccarat, roulette, and poker. The only difference is that you'll have live dealers to play with you. It's like being in a real casino– only it's in front of your computer.
---
Betsafe Poker
Betsafe also has a poker option for those who enjoy playing poker. This allows you to enjoy the thrill of poker. Check out a screenshot of the Betsafe poker platform above.
Poker bonuses
Like any other betting companies, Betsafe also has poker bonuses that you can enjoy. Here are two of the poker bonuses available in Betsafe:
Welcome Deal
Players can have a welcome deal consisting of bonuses between €25 and €1,000, depending on the bonus code you get. For each sign-up, you'll get a bonus code that you can use.
Microgaming Rakeback Bonus
Another poker bonus that you can avail of is the Betsafe Microgaming Rakeback bonus. This allows you to get a flat 30% bonus rakeback for Poker Black. You will receive 10 points for every €1 rakeback.
---
Virtual sports
Virtual sports are also offered for a lot of betting markets here at Betsafe. Unlike actual sporting events, virtual sports are somehow like video games where you bet on teams playing in the event.
---
Deposit and Withdrawal options
While there are several deposit and withdrawal options, the main ones are through debit or credit card with a minimum transaction of £10, Skrill with a minimum transaction of £10, Neteller with no minimum transaction, and Paypal with no minimum transaction.
---
Betsafe mobile apps and version
What makes Betsafe great for customers is that it also offers a betting mobile app that allows you to enjoy the platform even on your phone. It can be used on iOS and Android devices. The mobile-friendly website is also an option if you don't like using apps on your phone.
---
Affiliate program
While Betsafe itself doesn't have an affiliate program, the Betsson Group has a program called the Betsson Group Affiliates wherein you can earn high commissions (from 25% to 50%) per referral to Betsafe. Join Betsafe affiliate program from this site: www.betssongroupaffiliates.com.
---
Customer care and support
Betsafe is actually known for its customer service. They offer complete FAQs to cater to customers. They also have very efficient CSR's behind the live chat and hotline options.
---
Contacts
You can contact Betsafe through:
24/7 Live Chat
Hotline: +44 808 238 0028
Email: baltic-support@betsafe.com
---
Conclusion and Rating
While Betsafe is generally a good platform, there are some things that need improvement. Let's first talk about the pros. Betsafe has a very attractive website that is beautifully designed and not cluttered. This first impression already makes players want to know more. Betsafe also has a very wide variety of betting markets for major league sports such as football, rugby, and more. Betsafe is very well known for its customer service.
As for the cons, the first is its lack of promotion and features for horse racing. While this isn't really a big deal, horse racing is a big sporting event in the UK. Nevertheless, they make it up with their sports markets.
Other than that, Betsafe is definitely a recommended platform for online gamblers. As long as you know how the platform works and what to expect, you'll have a really fun and exciting time. Overall, Betsafe deserves an 8.4 rating out of 10.
Related Articles