Baseball has been America's favourite sport throughout the 19th and 20th centuries. Recently American Football has taken over the number one spot, but baseball is still extremely popular among Americans.
---
Baseball Betting
The Major Baseball League, also known as the MLB, is the most prominent professional baseball association. This is also the league on which most baseball bets are placed.
When getting into baseball betting, it's wise to follow a guide. There's a lot of information you must be aware of before starting. You should also choose a trusted sportsbook. We'll go over our top choices for reputable baseball bookmakers below.
---
Top Online Bookmakers for Betting on Baseball
Baseball betting is much more fun when done in any of the following top-rated bookmakers.
888sport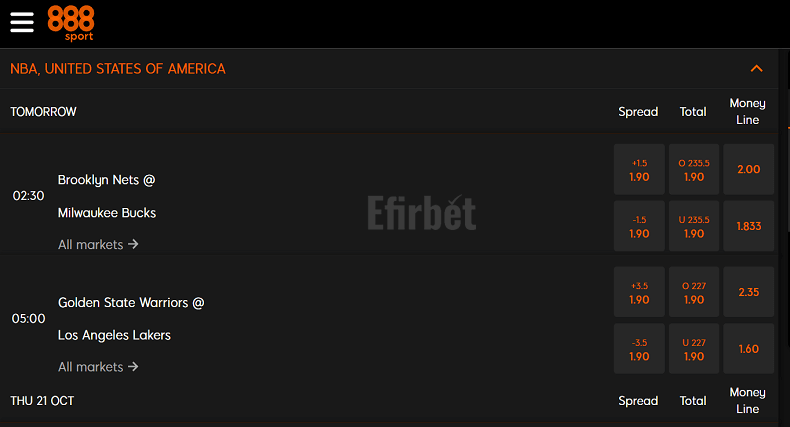 With 888sport, punters are sure of the best Baseball coverage. The sportsbook is dedicated to ensuring bettors receive baseball matches as soon as they are confirmed.
Pros
Amazing underdogs odds.
Suitable for baseball live streaming.
Offers live betting.
Provides bettors with baseball Outrights.
Cons
Few baseball bonuses.
Bet365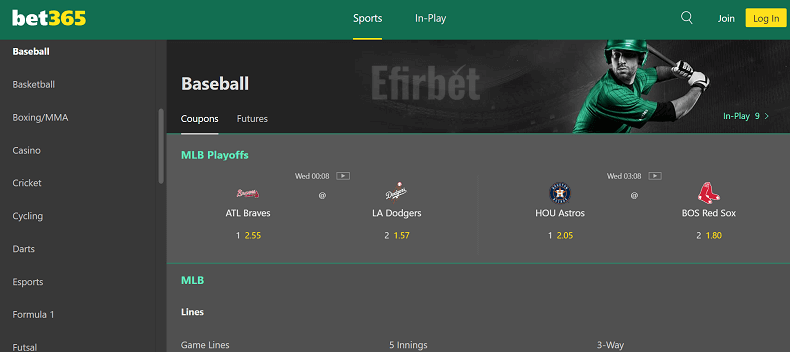 We think that Bet365 is a licensed baseball betting site that you should check out. It is suitable if you want to access MLB matches and National League events.
Pros
Has a full range of markets.
Provides punters with a bet builder tool.
Allows live baseball streaming.
Offers live baseball results.
Cons
Poor coverage of domestic leagues.
William Hill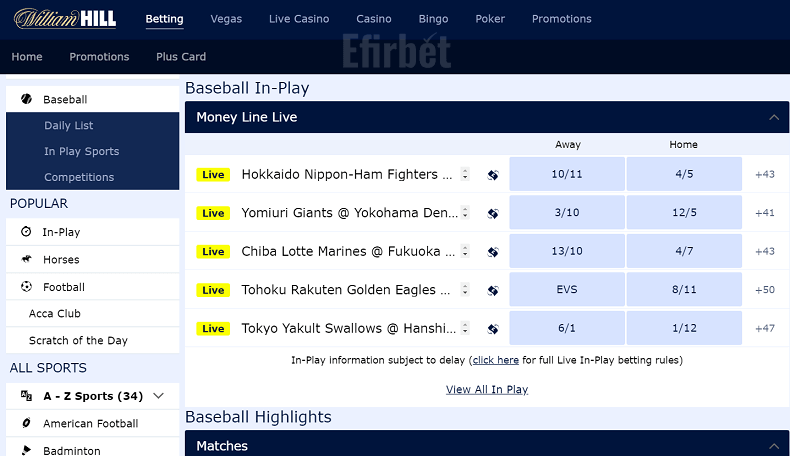 Though a UK bookie, William Hill offers punters access to the best baseball matches across the world. Each event features an amazing list of betting options.
Pros
Streaming baseball events is permitted.
Offers early odds.
Fantastic underdog bets.
Allows baseball live gambling.
Cons
Not enough baseball betting tips.
Betway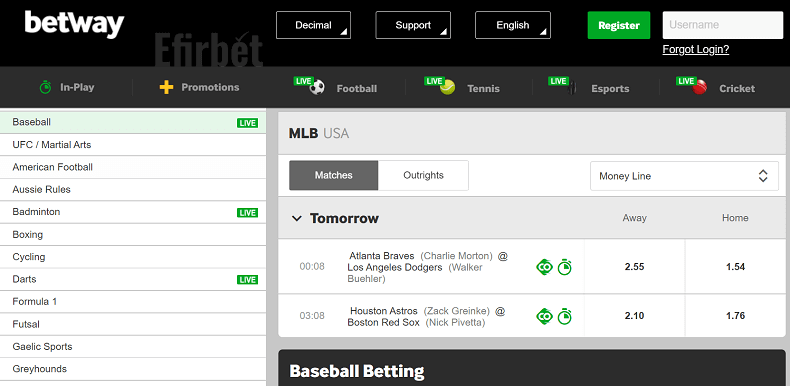 Betway is a suitable site for placing live bets and for pre-match punting. That is whether you are interested in domestic or international events.
Pros
Suitable for live betting.
Covers all top leagues.
Baseball outrights are offered.
Offers Acca insurance promotion.
Cons
Few markets on live events.
Unibet
Unibet offers gamblers the best baseball betting fixtures. The bookie gathers impressive events from KBO League and National League.
Pros
Offers baseball live streaming.
Allows cash-out of wagers.
Fair odds on favourites.
Has a bet builder for accumulator betting.
Cons
Not suitable for domestic fixtures.
---
Most Popular Betting Markets
Moneyline

A moneyline bet is the most fundamental wager. You bet on which team is going to win the game. Most beginners will opt for this betting market. The bookmaker will try to even out the odds by giving one team an advantage. One team will have a positive number, and one team will have a negative number. The positive number means how much you'll win on a $100 wager. The positive number is the team that's given the advantage. The negative number represents how much money you have to wager to make $100. The greater the negative number, the more favoured that team is to win.

---

Run Lines

In baseball, betting on the run line is betting on the point spread. Usually, the sportsbook sets the run line at +1.5 and -1.5. The team that's favoured will have to win by two runs for you to win. This betting market is favourable for those that believe a team has a heavy advantage over another.

---

Totals

When placing totals bets, you're wagering on whether the game's total score is over or under the sportsbook's line. If the bookie sets the line at four runs, you're betting on if the total score will be over or under that many runs.

---

Props

Prop, or proposition, betting is a wager that you can make using a variety of measures. There aren't specific rules that you have to follow when making prop bets. A common prop bet is if there will be a run in the first inning.

---

First Team to Score

Wagering on a team to score is just placing a wager on the fastest scorer. If the other team scores first or nobody scores, then you lose. When analyzing this bet, it's best to look at which team is the favourite, as they'll most likely score first. This type of wager is more predictable than other types and doesn't require any advanced analysis.

---

Innings Betting

Innings bets are bets that predict the winner at the end of the first five innings. When the first five innings end, the wager winner is the team with the higher score. The bookmaker will cancel your bet if either pitcher doesn't start within the first five innings.

---

Outrights

Bookmakers complete outright bets once the season ends. These wagers focus on the outcome of a player or team for the entire season. If you determine that the markets are underrating a team, you can place an outright bet for them to win the World Series. As the season goes on, the market will adjust to the team's strength, so putting an outright bet allows you to stay ahead of those fluctuations.
---
Why Bet on Baseball?
Pros
Baseball bets often charge less for commissions. Since baseball seasons contain many games, an MLB sportsbook can afford to charge less "juice" or commission.
There are 30 MLB teams and 81 games each season. MLB seasons give you many more opportunities to win due to the large number of teams and games. MLB seasons have double the amount of games most other sports have.
There's an enormous amount of data for you to analyze. ESPN provides detailed statistics on games dating back to 1870. Baseball has more historical data than most other sports. You can include this data into a model to show particular projections to improve your betting chances.
Cons
Casual gamblers shouldn't try baseball wagering. You need to be able to use models and statistics to find out flaws in the market. Baseball is statistics-driven and requires knowledge of baseball analysis.
If you want to place wagers on an intense game, then baseball isn't for you. In an average baseball game, only a minority of the time is spent in action. This downtime may be boring to the average sports bettor that hasn't watched baseball.
Some stadiums are open, meaning weather changes will affect the game. Although the weather affects both teams equally, it's still an event that could change the outcome of your wager. You can analyze the weather pre-game, but nobody can 100% predict it.
---
Important Factors to Consider
Study Team's Strengths and Weaknesses – Studying both team's strengths and weaknesses will allow you to see who has the upper hand. One team's strength may be another team's weakness. These factors don't always show up in statistics, so you must watch the footage and study individual players. Doing so may reveal a particular advantage that the market hasn't picked up on.
Watch Out for the Pitchers – Some may say that a pitcher is the central part of a team. . If a team pitcher is better than the other team's pitchers, then that team has a significant advantage. You should be looking at how a pitcher performs in specific conditions such as weather and away games.
Pay Attention to the Hitters – When analyzing baseball teams, look for the hottest hitters on each team. Some batters are more valuable than others, so you must evaluate which batters matter the most in matchups. You should follow these batters carefully and look for injuries or other factors that may hinder their performance.
Be Careful With Rivalries Some rivalries impact the game's outcome, and some don't. You have to understand the player's reaction to the other team. If the players don't have any strong emotions about their rivalry, it won't affect the game much. Some rivalries will have both teams fueled with hatred. Teams develop this tension from long-standing animosity, recent fights, or big games. As a baseball bettor, you must evaluate each matchup and determine the importance of rivalries.
Find Information About Injuries – Injuries can happen right before a game, so you must stay updated at all moments. Injuries are among the most important factors to consider since they can mean that a star player is out for the game. Then you'd have to analyze the player that's subbing in for them and determine how good they are as a player.
Why MLB Betting is the Best Choice
MLB betting is an excellent choice due to a large number of games and available data. You have more chances to profit than other sports. You can also use advanced stat tools to create models and projections to give you an edge. With hundreds of years of data, you'll be able to make reliable and accurate models. If you're an advanced sports bettor with experience using advanced tools, then MLB betting is the best choice. You can check our Baseball betting guide for more useful tips.
---
Our Final Thoughts
Sportsbook baseball betting is our top choice for sports gamblers that know how to use data and advanced tools to gain insight on which team has an advantage. Sports bettors that gamble often should also try baseball betting since the MLB has 30 teams with 81 games each.
If you're considering betting on baseball games, you should first look into factors that affect the outcome of a game. You can then find a trusted bookmaker and start placing wagers.
---
FAQ
How To Win Baseball Bets?
To win baseball wagers, look for essential factors that determine the outcome of a game. Each team's strengths and weaknesses are critical factors. Evaluate these by looking at statistics and watching the footage. You should also watch each team's roster. A team's pitchers and hitters are the most crucial players to look after. If there are injuries involved, then the odds will heavily change.
Are Baseball Bets Illegal?
Companies can't operate baseball betting sites outside legalized states. Many states are attempting to finalize laws that allow online betting.
What Are Baseball Betting Odds?
Betting odds determine the advantage given to a team in a matchup. Positive and negative numbers will represent the odds. The negative number means that the team is favoured to win, and the positive number indicates the team is the underdog. The negative number is how much money you must place to earn $100. The positive number is how much a $100 wager will make you.
Which is the Best Baseball Betting Site?
We recommend using Bovada or Bet365. If you're in New Jersey, then Bet365 is your best option because it's a licensed sportsbook that's highly trusted. It's one of the leading bookmakers out there, and many users feel safe using their money on that site. If you're anywhere else, then we recommend using Bovada. Bovada has a large fanbase that can attest to the integrity of the site. They offer bonuses, and you can use Bitcoin to wager. Out of all online baseball betting sites, Bovada is the most reputable one.
How to Sign Up for a Sportsbook and Place Baseball Bets?
To sign up for a sportsbook, go to one of our recommended bookmakers and select "Sign Up" or "Join." For Bovada, you need to fill out a form requiring only your basic information. Bet365 will require more personal information, such as your social security card. Since Bet365 is regulated, they must comply with these regulations. After you fill out the form, you should verify your registration in your email and get started. Baseball gambling sites will have a "Sports" section. Once you go on there, find the "Baseball" section, and you'll see MLB matches. Select a game to want to wager on and then the type of be.
What Are Prop Bets?
Prop bets are one of the most common wagers to make. They are wagers that don't follow any specific rules; they can be wagers on anything. A typical example of a prop bet is if there would be a run in the first inning.