Millions of people around the world look forward to the UEFA Champions League, and a good proportion of these fans engage in sports betting. Since there are many sports betting sites, you may be wondering how you should select a bookie. In this guide, we will cover the best online sportsbook and will even give you tips on how to maximise your winning potential. Before you start punting on the Champions League, you should also learn about the available betting markets, and we will cover them in this guide.
Top 5 Champions League Betting Sites
If you want to bet on the Champions League, you should sign up on one of the following websites.
Bet365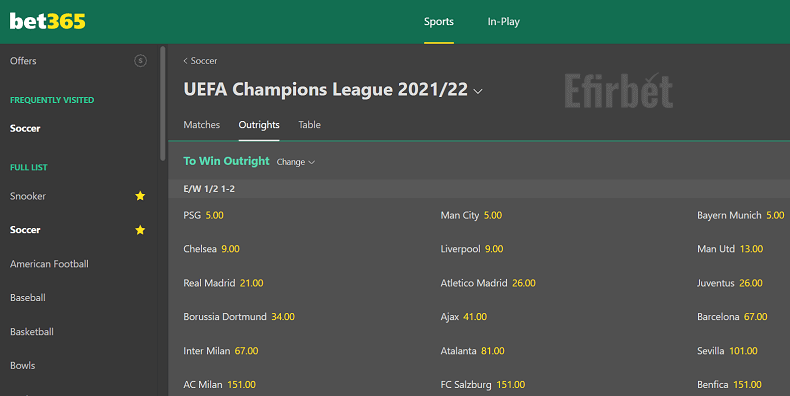 Bet365 is among the most recognisable names in the online sports betting industry. The platform of Bet365 covers the Champions League, among other famous sports events.
Pros:
The bookie offers very high odds for popular sports events, so punters interested in Champions League betting will enjoy excellent value.
Since it offers a bet builder feature, you will be able to create your own wagers.
Punters can cash out their wagers, which means you don't have to wait for the matches to end.
Bet365 is licensed by the UKGC, so it is legitimate.
Cons:
Existing customers will not get many bonuses.
Betway
This bookie was established in 2006, and since then, Betway has been able to serve hundreds of millions of online gamblers.
Pros:
It has licenses from both the Maltese and UK governments, so it's secure.
It offers 24/7 customer support, and the team can be reached either via phone or live chat.
Once you spend a certain amount of money on the site, you will be added to the VIP club.
You can watch lots of football matches on this site, so you don't have to pay for third-party streaming services.
Cons:
Betway doesn't have any reload bonuses.
Bwin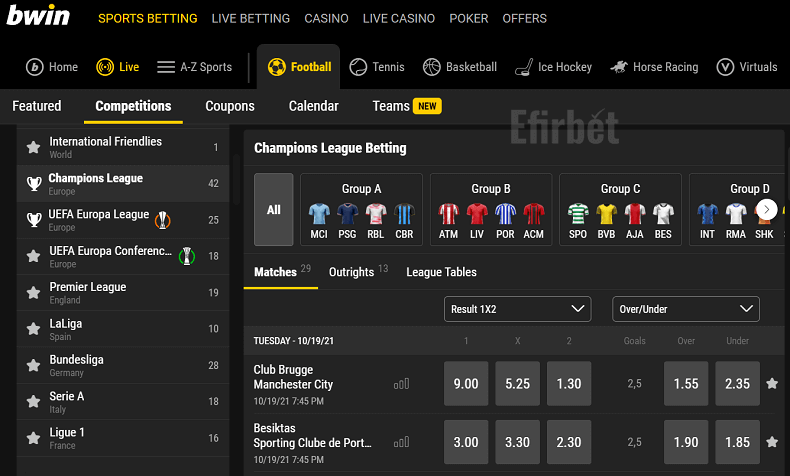 BWin was started in 1999 and was initially referred to as Bet and Win. The Austrian brand Bwin is known for its loyalty to its regular customers.
Pros:
You can download Bwin apps for either Android or iOS phones and tablets.
When you join the bookie, you will be awarded an excellent welcome offer.
The minimum withdrawal limit is €10, which is extremely low.
You can stream various matches on this bookie, so it is convenient for punters who like in-play betting.
Cons:
Although telephone support is excellent, it is not available 24/7.
888sport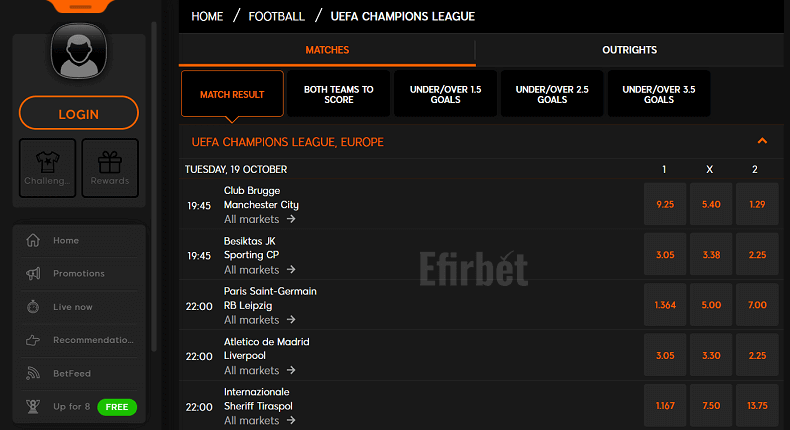 This is another industry pioneer, which means it offers a hassle-free gambling experience. The brand 888Sport is one of the leading brands in Europe.
Pros:
The support agents are extremely fast, so your issues will always be handled quickly.
It has a gambling license from the UKGC, which means it is extremely safe.
You can cash out wagers before the matches are settled.
It has a mobile betting app that can be installed on either Android or iOS devices.
Cons:
Withdrawals on the site are quite slow, and they can take up to 8 days.
Ladbrokes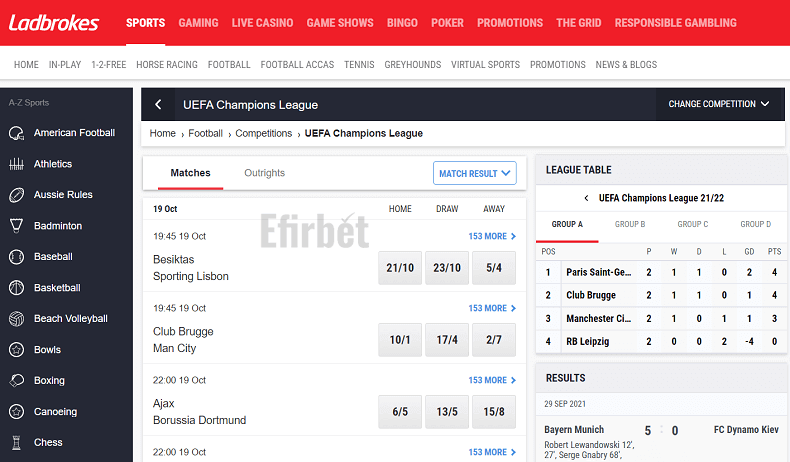 This brand is also licensed in the UK, so any serious disputes can be solved in a civil court. The bookmaker Ladbrokes stands out with its variety of betting features and markets.
Pros:
It has a generous welcome free bet.
It offers live streaming services, which can be essential for live betting.
You can install Ladbrokes apps for either Android or iOS devices.
It accepts payments made using e-wallets such as Neteller, PayPal, and Skrill.
Cons:
You cannot use cryptocurrencies to deposit funds, so your security on the site can be compromised.
---
How to Find Suitable Champions League Betting Sites?
In order to find a suitable Champions League betting site, you should evaluate the usability of the bookie, the live betting and live streaming services, the quality of the odds and the available markets. Let's look at these factors in detail.
Usability
One of the main things you should consider when selecting a Champions League bookie is the usability of the website. You should ensure that the website uses readable fonts, and the words should be written in a colour that contrasts the background sufficiently.
Live Betting & Live Streaming
A good Champions League betting site should offer live betting services. With live betting services, you will be able to evaluate the matches as they go on, and this can help you make better decisions. Another important thing to check for is the availability of live streaming options.
High Odds & Betting Limits
You should also consider signing up on platforms that offer high odds, as these will give you a chance to make more profits. If you are a high roller, you should pay attention to the betting limits. Many bookies have low betting limits as they want to lower their liability.
Available Markets
The bookies should also have a range of betting markets, including popular ones like 1X2, total goals, and half-time winner. The best Champions League betting sites also feature Asian handicap wagers, and these markets help to equalise the playing field in the games.
Special Champions League Promos
Given that the Champions League is among the most important sports events in the world, many bookies have special offers for the season. You can evaluate the pros and cons of these bonuses to see whether or not you should sign up on the platforms.
---
Placing Champions League Bets – What to Keep in Mind
The things you should keep in mind when placing bets on Champions League matches include arranging your budget, using special UEFA CL promos and not focusing only on the big teams and events.
Arrange Your Budget
Sports betting depends largely on luck, so it is essential to manage your bankroll properly. If you choose to place one big wager, you will risk losing all your money on a single bet. It is advisable to split your bankroll into smaller wagers and always prepare for the worst.
This means you should never stake money that you are not comfortable losing. You should also set limits to the amount of money you are willing to deposit and lose on the sportsbooks. Bookies will not allow you to raise these limits immediately, although you can lower them at any time.
Use Champions League Special Bets
Special bets are simply those which are a bit out of the ordinary, and they include player fouls, anytime goalscorers, penalties (yes or no), and time of the first goal. In major tournaments like the Champions League, you will be able to punt on many special bets.
This is usually done in an effort to generate more betting action. But why exactly should you use these special bets? In most cases, special bets offer more value odds compared to regular wagers. You can evaluate the markets and come up with your own odds so that you see how much value the bookie offers for special bets.
Do Not Count Out Smaller Teams
Most people focus on larger teams and the main matches of the league, but the value in these odds is usually very low. In order to make good money from your bets, you should consider betting on smaller teams. In most cases, the bookies will manipulate the odds to attract more punters to the wagers. Although it might seem easier to predict the results of matches played among bigger teams, most punters will not be able to make any useful money from such wagers.
---
Which Are Popular UEFA CL Betting Markets?
The most popular betting markets in the UEFA Champions League are the outright winner bet, teams that will reach the finals, 1X2 bets, both teams to score, and the top scorer wagers.
Teams to Reach the Final – This betting market will be available for almost the whole duration of the tournament, but the odds will go lower as the league goes on. With this market, you will simply be predicting that specific teams will reach the finals. The bookies will allow you to make multiple predictions in this market, even though only two teams will eventually make it to the finals.
Outright Winner – In this market, you will specifically need to select the team that will win the entire tournament. This market is quite popular, although it can be very hard to predict the winner at the start of the league. The outright winner will be available long before the tournament starts and will usually be kept open for the entirety of the league.
1X2 – With the 1X2 betting market, punters are able to predict the winners of specific UEFA Champions League matches. Also, you will be allowed to predict that the game will end in a draw. In some bookies, the 1X2 bet is referred to as the three-way bet.
Both Teams to Score – This betting market is also offered on specific UEFA Champions League matches, and it allows you to predict whether or not both teams will score. It will be presented in a yes/ no format. If you pick 'No', you will only win if one or both teams fail to score at least one goal.
Top Scorer – You can also make a prediction on the player who will score the highest number of goals by the end of the tournament.
---
Where to Find the Highest Odds for UEFA CL Games?
You can find the highest odds for UEFA Champions League matches at Bet365, Ladbrokes, Betway, Bwin, or 888Sport. Bet365 is especially known for offering some of the best odds, and this is why it has been able to gain popularity all around the world. All these bookies have been licensed by the UK government, which means they are authorised to provide services in the country. Also, they offer excellent coverage of the Champions League.
Since the Champions League is one of the biggest events in the UK and the world, they make an effort to include many interesting betting markets, and all of these offer excellent odds. For the best value odds, you should go for special betting markets. As noted earlier, bookies offer higher odds on these markets so that they incentivise punters to lay bets on them. You can use odds comparison services to find out which bookies are offering the best odds on the Champions League.
---
How to Properly Use UEFA CL Live Betting?
To properly use live betting in the Champions League, you should be fast enough when confirming your wagers, increase your bet size slowly as you win, and stream the matches live. Proper bankroll management is essential in live betting since many people end up placing bets with strong emotions. You should make sure you split your bankroll into smaller amounts, and you start with the smallest wagers. As you win, you will be able to increase your bankroll and can raise the stakes gradually.
The point of placing wagers fast is to try and get an edge over the bookie. If you wait too long, the bookie will be able to adjust the odds to match the latest events. The bookie will always be quick on major matches, so you can try to take advantage of smaller wagers. Another important thing to remember is to always stream the matches as this will give you an idea of the strength of each team. However, this must always be complemented with thorough research before the Champions League matches start.
---
What Are the Ultimate Betting Tips for Champions League Fixtures?
The ultimate Champions League betting tips here are to make sure you gather as much information as possible, keep records of your bets, focus on specific betting options, and follow the team news keenly.
Gather as Much Information as Possible
Before making decisions on which team to punt on, you should try to gather information on the teams and players. You should go through statistics such as the head-to-head statistics, the league position of the teams, the recent wins and losses, and goal averages.
This information can give you an idea of how strong each team is, and you will then be able to come up with a prediction on the winners of the matches. Other statistics may not be essential when placing bets, but you can still study them. These include the possession, the pass success rate, and the corner count.
Keep a Record
If you are planning on placing bets regularly, you should have a record of your bets and the results. This way, you will be able to determine whether or not you are making profits when punting on the Champions League. Records will also help you determine what is working and what doesn't work.
Focus on Particular Betting Options
It is also better to focus on specific betting options so that you don't overwhelm yourself and end up with a lot of confusion. This is especially important for punters who plan on laying in-play wagers.
Follow the Team News Closely
You should make sure you follow Champions League teams on social media so that you get the latest information on the players and teams. You can also follow trustable blogs and websites as these are usually invested in gathering the latest team news.
---
Bottom Line
The UEFA Champions League is quite popular around the world, so it is only natural for bookies to focus on it. Depending on the bookie you select, you will be able to access special promotions for the tournament. You should also select bookies based on the quality of the odds, the markets offered, and the betting limits.
At the moment, the best bookies for UK punters are Bet365, Ladbrokes, 888Sport, Bwin, and Betway. When punting on these events, you should make sure you manage your bankroll so that you don't end up spending more than you can afford to lose. Also, you should keep records of your bets, winnings, and losses.
---
FAQs
What UEFA CL Betting Sites Should I Avoid?
You should avoid Champions League betting sites that are not licensed by the UKGC since these are highly likely to be fraudulent. Also, it is a good policy to stay away from sites that have been rated poorly by most of their customers.
Which Are the Best Champions League Special Bets?
Bookies have different special bets, but the best ones are anytime goalscorer, half-time results, time of the first goal, both teams to score, total goals (odd or even), over or under bets, and penalty (yes/no).
Can I Bet on the Champions League Winner After the Tournament Has Started?
Yes, the outright winner bet will be offered throughout the tournament, so you can even place your bet on the final match.
Can I Place an ACCA Bet on Champions League matches?
Yes, you will be allowed to place ACCA bets on Champions League matches, and most bookies will give you a boost on your winnings. This boost will be determined by the number of selections included in the wager.