In democratic countries, elections are held regularly to select new leaders. Citizens of different countries may also have to vote in referendums every now and then, and bookies offer odds on the outcomes of these elections. Although elections are held in lots of countries, bookies typically focus on politics in influential countries such as the USA, the UK, France, Japan, Germany, and Italy. In this guide, we will look at politics betting in online sportsbooks.
Most recommended Bookmakers for betting on politics
Lots of betting platforms today offer bets on political events around the world, and the best ones are covered below.
888Sport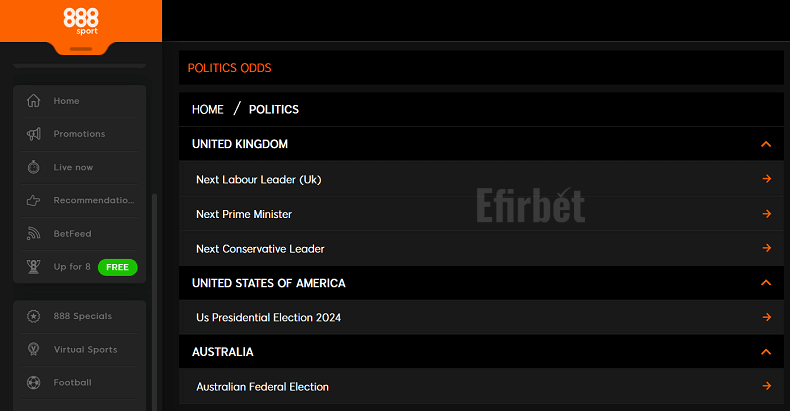 888Sport is a popular online gambling brand, and it features lots of politics bets. If you want to access the politics betting markets, you should use the menu on the left side of the website. These betting markets are divided based on the country, and these include the United Kingdom, the USA, and Australia. 888Sport has gambling licenses from the UK and New Jersey, and American members have to be at least 21 years old.
Pros:
The odds on the site can be viewed in different formats, including fractional, decimal, and American formats.
The prices for politics bets are quite high, and you will get lots of different betting options.
The site has a great design, so punters can quickly access different betting markets on the platform.
Cons:
The app does not run smoothly.
Bet365
As a new punter at Bet365, you will be able to claim bonus credits that can be used on politics wagers. The minimum deposit you can make on the platform is £5, and this payment can be sent using methods such as debit cards, e-wallets, and bank transfer. Bet365 also features a range of politics bets, and most of these are long-term wagers on major political events like the US presidential elections.
Pros:
The bookie is known for being extremely secure, so you can safely place wagers on the platform.
The minimum wagers on the platform are quite low.
Since there is a Bet365 mobile app, punters are able to bet on political events while on the go.
Cons:
The bookie doesn't have many promotions for existing customers.
Unibet
Unibet features a large number of politics betting markets, and this makes it one of the best bookmakers for politics betting. The bookie covers political events from countries such as the UK, USA, Denmark, France, and Sweden. Odds on the platform of Unibet can be viewed in formats such as fractional, decimal, and American.
Pros:
The sports betting site covers a wide range of political events in the world.
There are many special offers at Unibet, and these can be used to punt on politics.
With bigger political events, you will be able to place side bets like the overall majority lines.
Cons:
The verification process can take a very long time and will prevent you from fully using the platform.
1xBet
1Xbet has hundreds of thousands of customers from all around the world. The bookie operates with a license from Curacao. As a major international betting site, 1XBet covers political events from countries such as Japan, Germany, the USA, and France. Aside from presidential elections, the site allows punters to predict whether certain countries will make political alliances and whether various EU countries will invoke article 50 of the union.
Pros:
The bookie covers lots of political events from all around the world.
You can use the 1XBet mobile app to place wagers on your Android or iOS devices.
You can add certain political events to your favourites list, and this will give you quick access to these markets.
Cons:
The platform uses a Curacao license, and this is not the most reputable in the online gambling industry.
Bwin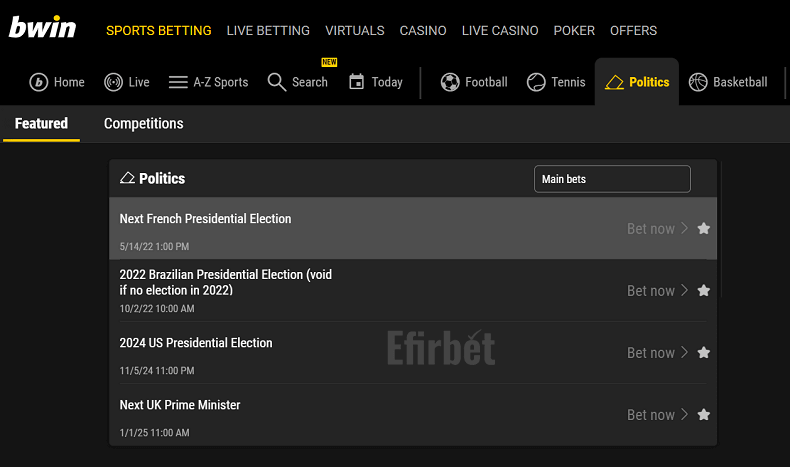 Bwin is also an excellent betting platform for politics wagers, and it mainly covers presidential elections in major countries in the world. These include Brazil, the United Kingdom, and France. The betting service has very high odds, so you will be able to make great profits when punting on the event. Bwin operates legally in many European countries since it has a Gibraltar license.
Pros:
The odds for politics wagers are very high, so punters are able to make good profits on the platform.
The bookie allows punters to use the Edit My Bet feature, which means you can add or remove selections from your bet slip.
Bwin has a price boost offer, which can maximise your winnings from specific wagers.
Cons:
The Bwin betting site can be a little slow.
---
What to consider when choosing where to bet on Politics?
There are many things you should consider when choosing a betting service for politics wagers, and they include these factors:
Political Events Coverage
The best betting sites for politics markets have wide political events coverage. They feature political events from different countries, and they also include wagers outside the presidential elections.
Odds for Betting on Politics
The odds for betting on politics should be high as this will determine the size of your profits. It is essential to compare the prices on different betting platforms before signing up, and this will allow you to find the bookie with the highest odds.
Useful features
You should also evaluate the betting features on the gambling sites, as these will make the betting experience more interesting. Since different bookies have different features, you should compare them and find out which ones work best for you.
Mobile usability
If you like gambling on the go, you should sign up on a sportsbook that has a mobile app. You can also consider using a platform that has a usable mobile site. The mobile versions should also be secure.
---
[had id="events"]Most Popular Political Events to bet on[/head]
There are many political events you can bet on, but bookies can only add a few of these. In this section, we will look at some of the most popular political events in online bookies.
Presidential Elections
Bookies typically offer wagers on presidential elections in influential countries such as the USA and the UK. Sites that have a wider target market may also offer bets on presidential elections in more countries.
Parliament Elections
You can also predict the politicians who will win parliamentary elections in different countries.
A Candidate to win a state
This betting market usually applies to US elections, and it allows you to guess whether certain presidential candidates will win specific states. For example, you can predict that Mr X will win the state of Virginia.
The Next Leader of a Certain Party
This betting market allows punters to predict the individuals who will win the leadership in specific political parties.
---
Bonuses for Betting on Politics
Online sportsbooks have lots of bonuses and promotions, and these can be used in politics bets. Let's look at some of the bonuses you can use for betting on politics.
Free Bets
Politics betting sites offer free bets to punters, and these are basically granted as free money. However, you should remember that the amount will be removed from your account when you finally place your wager. You should also note that free bets have to be used wholly, so they cannot be split or transferred.
Bet Insurances
Bet insurances are also commonly used in online politics betting. These offers are meant to lower your risk in online gambling since you will be able to get part or all your wager back in case specific events happen. For example, you can purchase insurance that will guarantee you a refund in case your selected presidential candidate loses a specific US state.
ACCA Boosters
If you like placing accumulator bets, you should sign up on bookies that offer generous ACCA boosters. With these offers, punters can receive an extra amount on their ACCA winnings. The percentage of the boost will usually increase as you add more selections to the wager.
---
Politics Betting Tips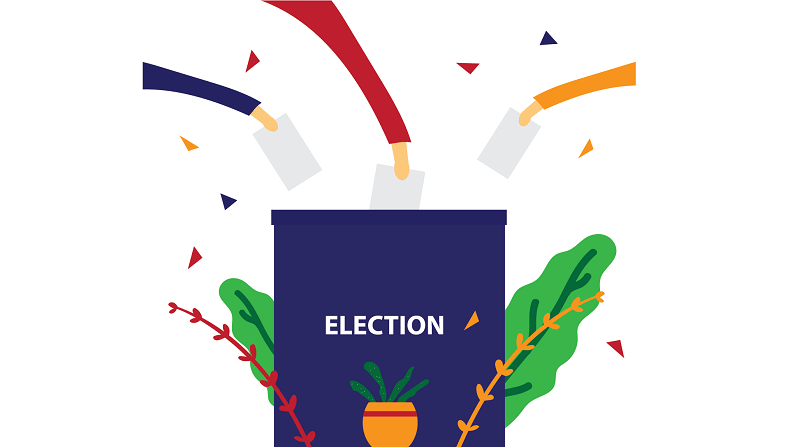 You shouldn't approach politics betting blindly since this can lead to significant financial losses. You should apply the following politics betting tips for the best experience:
Place bets long before the election days as this will give you the best odds
Don't fall for propaganda from either political party, as this will not always reflect the reality on the ground
Maintain a sober mind when choosing your politics wagers since such events may become emotionally charged. If possible, you should bet on events outside your own country as this will subject you to less bias.
Check statistics and polls from unbiased sources as this will indicate the candidates who are likely to win the elections
Avoid listening to poll interpretations from YouTubers and other news sources and instead look at the raw data itself
---
FAQ
How do you bet on politics?
On most betting platforms, you will be able to access the politics betting markets using the menu on the left side of the bookie. You can then click the markets and add the size of your punt on the bet slip. Finally, you can confirm the wager.
What is the best betting site for Politics?
The best betting site for politics is Unibet, and this is because it covers a wide range of political events from all around the world. The bookie also has reputable gambling licenses, so you will not suffer inconveniences on the platform.
Is it legal to bet on Politics?
Yes, it is legal to place wagers on politics. However, you should only sign up on bookies that are allowed to operate in your country.
Which bookmaker offers the best odds for politics?
Bet365 has the highest odds for political events, so you will make the best profits when using the service.
Which are the most common politics betting markets?
The most common politics betting markets are the winners of presidential elections, the next political party leaders, the mayoral elections winners, and the outcomes of referendums.
---
Final Thoughts
You can bet on political events on many online sportsbooks, and the best ones are William Hill, Unibet, Bet365, and 1XBet. As an online punter, you should only place wagers on bookies that have online gambling licenses, as these ones are required to operate fairly. You should also consider the mobile usability of the platforms, especially if you like placing wagers on your smartphone. Other essential factors that you should consider are the quality of the odds, the useful features offered, and the coverage of political events. In order to maximise your winnings from political betting sites, you should take advantage of bonuses such as free bets and bet insurance.