Squid Game is a South Korean television series that became one of Netflix's most successful products. Since one of the main characters in the series has gambling issues, it was a matter of time before betting on Squid Game became available to people worldwide.
Most recommended Bookmakers for betting on Squid Game
New customers only. Min Deposit: £10. First deposit matched up to £10. 1 x wagering at odds of 1.75+ to unlock Free Bet. Debit Card & PayPal deposits only. This offer is valid for 7 days from your new account being registered. Terms apply 18+ |
begambleaware.org
|
gamstop.co.uk
There are several Squid Game bookmakers you could put to the test. Check the table if you want to learn more information about each brand that stands out.
Best by criterias
Betway – Best Squid Game betting markets that are unavailable elsewhere.
1xBit – Best for betting on Squid Game using cryptocurrencies.
Favbet – Best odds for Squid Game betting.
#1 Betway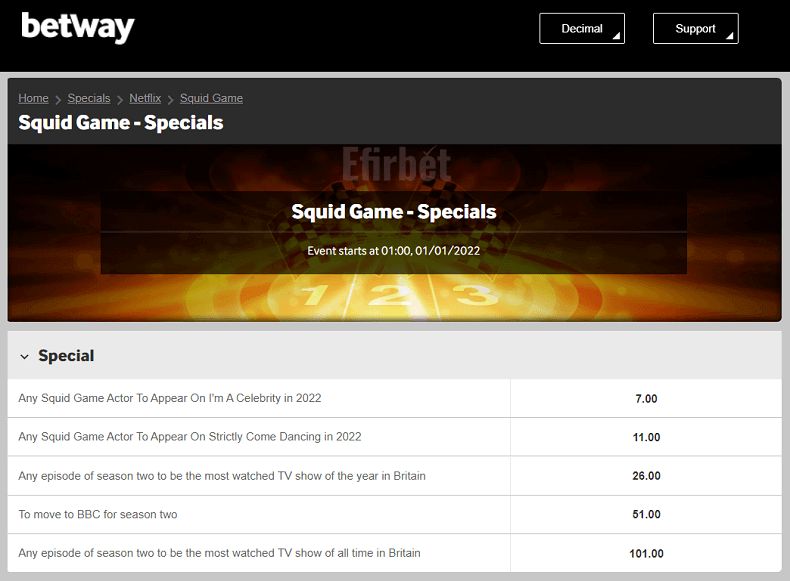 The operator Betway is one of the leading iGaming operators when it comes down to punting on sports. Despite being the go-to option for sports punters, Betway is also a place where you can place bets on "Specials". One of them is Netflix's most successful TV series so far – Squid Game. If you like the South Korean TV series, you will have several options to pick from. Interestingly, most of them can't be accessed elsewhere.
Although you may find a promo that can be used for Squid Game, make sure you choose a short-term market. Otherwise, the bonus you're interested in may expire.
Pros:
Squid Game betting markets that are unavailable elsewhere
Some of the options have among the highest odds
Betway's mobile services allow you to bet on Squid Game from the palm of your hand
Cons:
Although the markets are attractive, there aren't that many options
#2 1xBit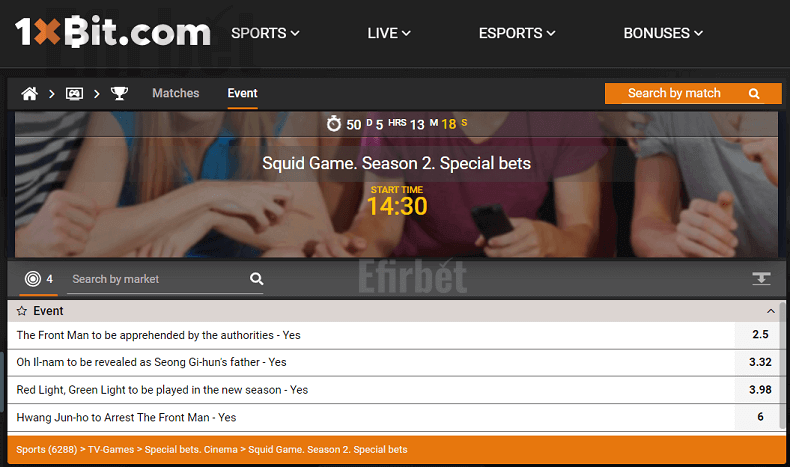 Often referred to as one of the leading Bitcoin sportsbooks and casinos, 1xBit is a brand that has a solid reputation among punters. Even though it is not available in every country, those who can access it can place bets on TV Games and other things, such as Squid Game. If you are among them, you will find a few options that shouldn't be accessible on other platforms. Interestingly, they also use the "Yes/No" format.
It is important to note that some of 1xBit's promos could be used while punting on Squid Game. However, you should check their duration beforehand because most of the markets for this TV series are long-term.
Pros:
Unique betting options for Squid Game
Besides punting on "Yes", you can also choose "No" in some instances
You can punt on this TV series using cryptocurrencies
Cons:
No bonuses for Squid Game
#3 FAVBET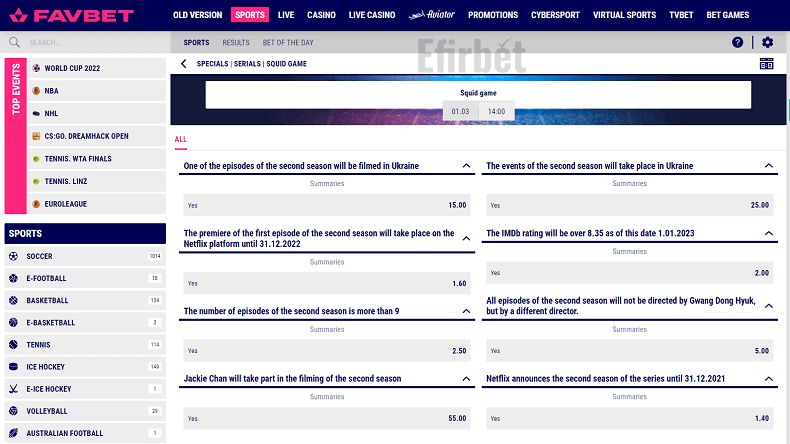 FAVBET is a Ukrainian betting company that has been a part of the iGaming industry since 1999. It is one of the few iGaming operators where people can place bets on unique options, such as Squid Game. Speaking of the devil, FAVBET offers a few intriguing options related to TV series you can bet on. They come in the form of "Yes/No" questions, which makes them more attractive. What's even more interesting is that the odds, which are higher than usual.
As for the bonuses, you may have the chance to use some of them, but only if the specific Squid Game market is short-termed. That's because each promo is only available for several days.
Pros:
Intriguing Squid Game betting markets
High odds for these special bets
You can punt on these markets even while using a phone/tablet
Cons:
Some of the "questions" you can bet on seem tricky
---
TV Series Plot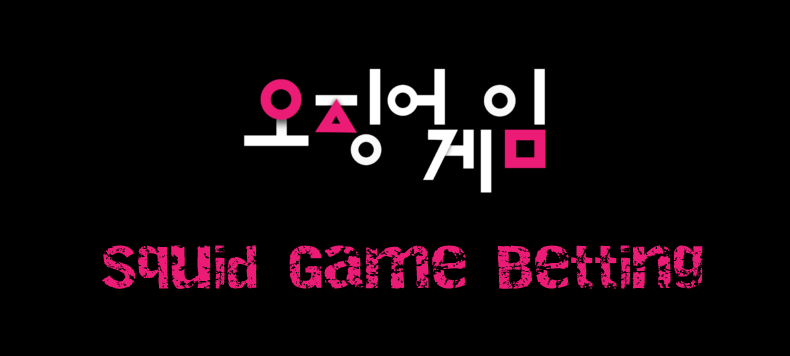 Squid Game became Netflix's most successful TV Series for a reason. Those who are yet to watch the South Korean masterpiece can learn more about it below.
Storyline
Squid Game's storyline includes a contest that consists of 456 players. Even though each player is different, all participants have some kind of financial debt that "forced" them to join this "tournament". What differentiates this event from other competitions is the price these people have to pay. People who fail the challenges or don't complete them on time have to pay with their lives.
As the game progresses, a group of wealthy people known as the VIPs come to the isolated island where the games take place to watch the action in real-time and place bets on the different contenders. Besides the main story, the series also shows that some guards use one of the players to earn and much more.
Squid Game characters
Even though this TV series includes hundreds of people, a few main characters stand out. One of them is Seong Gi-hun (player 456), a divorced gambling addict who lives with his mother.
Another important character is Sang-woo, who used to be a part of an investment firm and studied at the prestigious Seoul National University. Interestingly, Sang-woo was once Gi-hun's classmate.
Hwang Jun-ho is another interesting name that you will hear a lot while watching Squid Game. However, instead of being one of the players, this is a police officer who is searching for his missing brother. In order to find him, he sneaks into the game dressed as one of the guards.
Oh Il-nam (player 001) is one of the most important characters in Squid Game because he is the oldest contestant. He has a special role in the TV series, especially in the last episode.
Although Kang Sae-byeok doesn't look like one of the main characters early on, she is definitely one of the people that stand out. Her goal is to win the prize money from Squid Game and use it to rescue her parents, who live in North Korea.
Events to Bet on in the TV Series
Since Squid Game became the world's most popular TV series, it found its way into different online betting platforms. Most of the Squid Game betting sites will allow you to wager on things that are not related to the plot. For example, you can come across a market that will allow you to bet whether the second season will air before a specific date. However, you can find a few iGaming operators where you can even wager on hypothetical scenarios in the series, such as whether Hwang Jun-ho is alive after the fall.
---
Legally Betting on Squid Game – Is it Possible?
Yes, it is possible to bet legally on Squid Game, but only if you find a licensed and regulated online bookmaker. Legally betting on Squid Game usually means that the specific iGaming operator adheres to specific regulations that allow it to operate in your country. Many companies have a section called "Specials" or "TV", where they try to provide their users with intriguing betting options. Needless to say, Squid Game is definitely one of them.
---
Squid Game Odds & Markets
If you like the South Korean TV series and want to punt on it, you need an iGaming operator with plenty of markets and good odds. Most of the online bookies have good Squid Game Odds because they want to attract loads of clients. However, not every gambling brand offers as many markets as others.
The most common options you can bet on are related to Squid Game season 2. Usually, you can wager on whether you believe there will be a season two, which TV will have the chance to broadcast it, and morе. However, there could be even markets related to the storyline.
Show-related Markets
Squid Game to win EMMY awards
One of the episodes of the second season will be filmed in Ukraine
The number of episodes of the second season is more than 9
Jackie Chan will take part in the filming of the second season
The IMDB rating will be over 8.35 as of this date (…)
Any Squid Game Actor to Appear on I'm a Celebrity
To move to BBC for season two
Any episode of season two to be the most watched TV show of the year in Britain
Plot-related Markets
Seong Gi-hun to return to the game for the second time
The Front Man to be apprehended by the authorities
Oh Il-nam to be revealed as Seong Gi-hun's father
Red light, Green light to be player in the new season
Hwang Jun-ho to Arrest the Front Man in Season 2
Will Seong Gi-hun Enter Another Squid Game Competition?
Will Seong Gi-hun replace the Front Man?
Will Seong Gi-hun infiltrate the Squid Game as a staff member?
Let's not forget that each iGaming operator offers different betting markets, so you may find even more options.
---
Why is Squid Game Gambling so popular?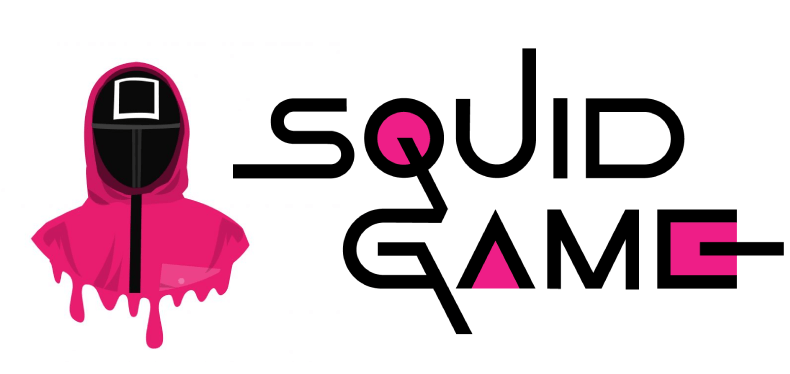 Squid Game Gambling is so popular because this TV series became the most successful one in the history of Netflix. Since the plot shows what people are willing to do when they have financial difficulties, it quickly became popular worldwide. Thanks to Instagram and other social media, Squid Game managed to surpass even some other popular series, such as Game of Thrones.
The fact that the entire world focused on Squid Game forced some iGaming companies to quickly make changes to their portfolio. As a result, some of the biggest names in the business offer their clients the option to wager on this South Korean masterpiece.
---
Squid Game Conspiracy and Fun Facts
Like other TV series, Squid Game has its fair share of conspiracy theories. Some of the information you are about to read may spoil the series if you haven't watched it yet, so keep that in mind.
Fun Facts & Clues - !Spoiler Alert!
Conspiracy theory - !Spoiler Alert!
Conspiracy theory 2 - !Spoiler Alert!
---
FAQs
What does Squid Game mean?
Squid Game is the name of a popular South Korean TV series created by Hwang Dong-hyuk.
Can I bet on Squid Game legally?
Yes, you can bet on Squid Game legally, but you need to find a licensed and regulated online betting website.
Why is it called Squid Game?
It is called Squid Game because this is a popular game played by children in South Korea.
Is Squid Game an actual game?
Yes, Squid Game is an actual game, and it is also the final challenge in the TV series.
Are there any Squid Game bookmakers?
Yes, there are a couple of Squid Game bookmakers that you could put to the test.
What do the VIPs mean in Squid Game?
The VIPs are the wealthy people that funded this deadly competition.
What is the coughing in Squid Game?
The coughing in Squid Game that Joon-ho hears is morse code which means "Number 29".
---
Final Thoughts
Everyone who watched Squid Game will probably want to learn more about the betting opportunities offered by some iGaming websites. Since the TV series became popular worldwide, you can come across different Squid Game betting sites. Although some of them offer more markets than others, the odds make this one of the preferred options when it comes down to wagering on specials and TV series. Don't forget that that most of the Squid Game betting markets are long-term, so be careful if you decide to combine them with other options.