Virtual Sports Betting
Virtual sports are a relatively new event, but despite popular opinion, they date back to before 2020, although that is when it started gaining more popularity. Virtual sports are entirely computer-generated, just like fantasy sports and e-sports. The main difference between these three games lies in that while humans or humans stats drive the avatars used in fantasy and e-sports, the entire match is computer-generated in virtual sports, without any human influence at all.
This guide on using online virtual sports betting sites will provide you with the information you need to make a smart choice. We will explain the betting options, bookmakers and markets, and what is required from you when betting on virtual sports. Let's start with a list of the best virtual sports betting sites, along with why we chose them.
---
Top Online Bookmakers for Betting on Virtual Sports
There are many online virtual sports betting sites, but the unfortunate truth is that not all of these sites are secure. Below is a list of trusted bookmakers researched by our team to ensure that they are licensed betting sites, with a decent assortment of virtual sports betting markets available, secure banking, and user-friendly.
We recommend that before you place any bets, you shop around for the best promotions, welcome bonuses, and betting odds.
Betway
The operator Betway takes virtuals sports betting to a whole new level. That is by providing punters with live streams of virtual events and multiple virtuals sports fixtures.
Pros
Covers a full range of virtuals sports markets.
Offers significant virtuals sports odds.
Provides access to virtuals live markets.
Refreshes virtuals sports events daily.
Cons
Lacks competitive virtuals sports offers.
Betfred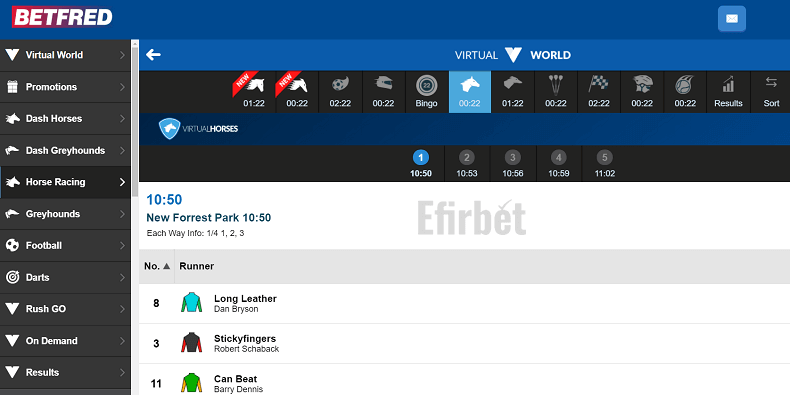 Betfred is advertised as a one-stop-shop for virtuals sports. It offers different virtuals sports, including horse racing and greyhound racing.
Pros
Guarantees significant virtuals sports odds.
Offers virtuals sports live statistics.
Allows virtuals sports accumulator betting.
Offers virtuals sports live results.
Cons
Lacks suitable live bets.
Sportingbet
With options such as Speedway, Virtual Tennis, and Virtual Football, it is obvious that Sportingbet is amazing. Besides the events, the bookie offers exciting virtuals sports odds.
Pros
Allows access to virtuals sports bet builder.
Provides helpful virtual sports live stats.
Refreshes the virtual sports events regularly.
Provides punters with appealing virtuals sports results.
Cons
Does not offer virtuals sports bonuses.
William Hill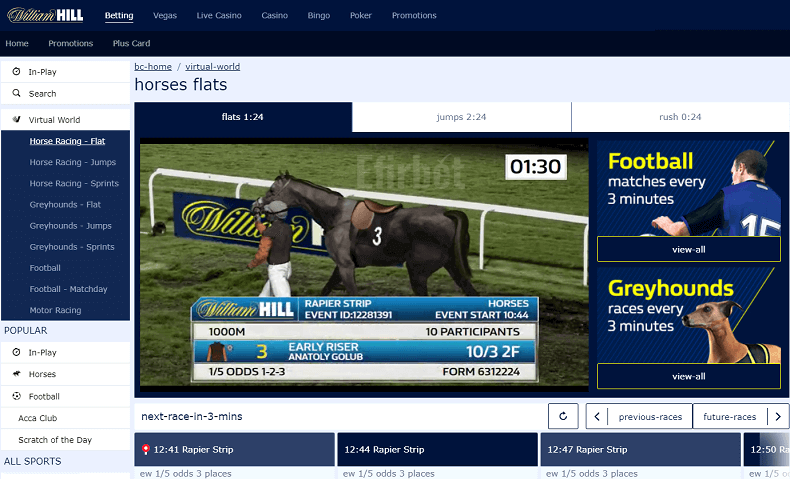 The brand William Hill offers access to new virtuals after every four minutes. That makes it the best bookie for psyched up punters.
Pros
Virtuals are available in different odds formats.
Competitive odds on virtuals.
Multiple markets.
Covers all major virtuals.
Cons
Lacks virtuals bonuses.
Bet365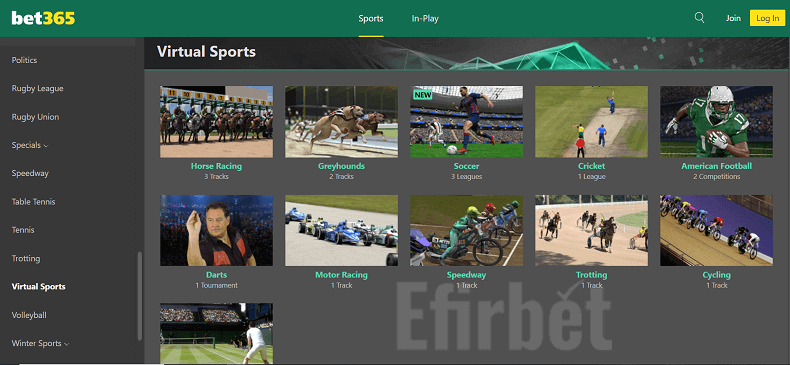 It is quite difficult to forget the role Bet365 plays in ensuring players access top virtual events. The bookie is versatile with multiple virtuals races.
Pros
Has a bet builder for virtuals events.
Offers competitive virtuals odds.
Covers different virtuals games.
Offers HD animations of the events.
Cons
You cannot punt on events once they begin.
Boylesports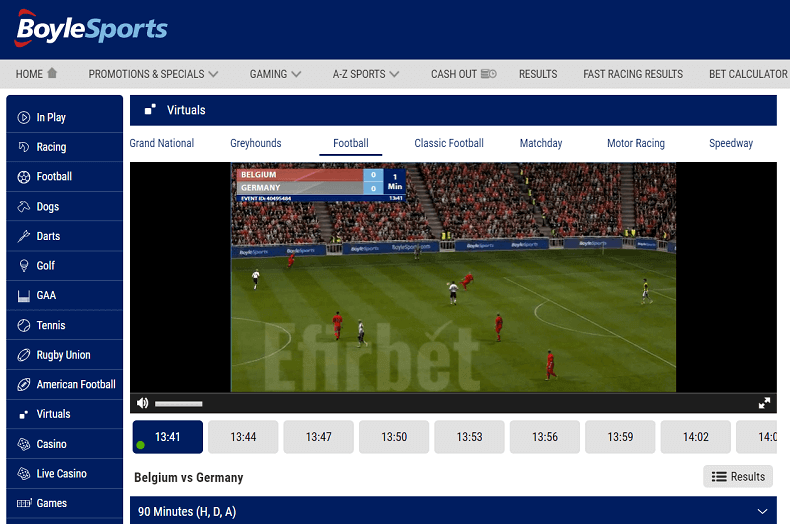 With a Boylesports account, you can easily and conveniently punt on top virtuals. That is because the bookie covers football, horse racing, and greyhounds virtuals.
Pros
Offers HD animations.
Provides punters with live results.
Covers multiple markets.
Virtuals accept mobile betting.
Cons
Does not have virtuals promotions.
Bwin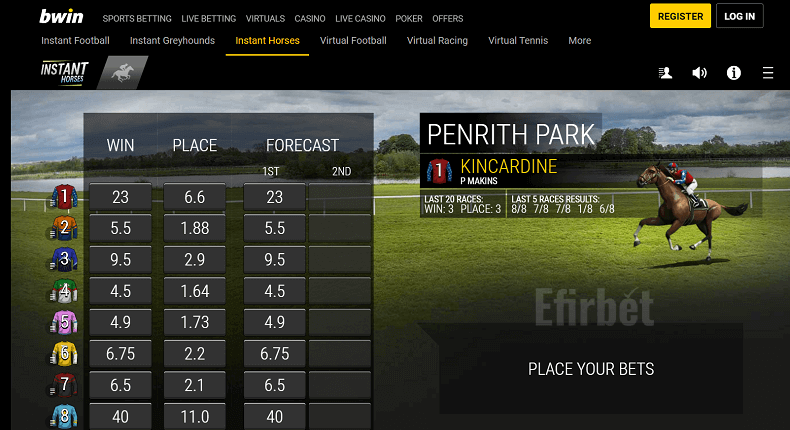 The virtual page of Bwin is comprehensive, which is why it is highly recommended. Furthermore, the sportsbook ensures gamblers get only the best odds.
Pros
Offers a full range of virtuals markets.
Allows streaming of live animations.
Offers past virtuals results.
Virtuals outcome is known after a few minutes.
Cons
Does not allow virtuals in-play betting.
Ladbrokes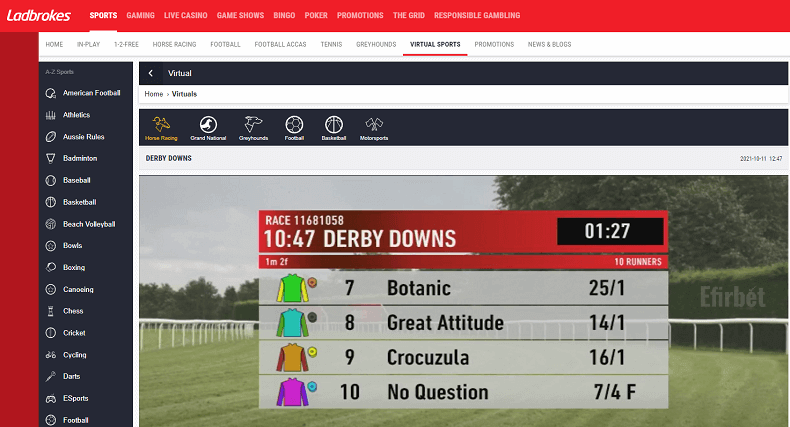 Thanks to Ladbrokes, you can finally access all the major virtuals on a special virtuals page. All you need is to be 18 years and over with a Ladbrokes account.
Pros
Offers generous odds.
HD live streams are available.
Offers live virtuals results.
Extensive virtuals odds.
Cons
Does not offer virtuals outright.
---
Most Popular Betting Markets
The best virtual sports betting sites should have many virtual sports games to bet on and include most of the following popular betting markets.
Winner of the Match/Race
This bet is a money line wager where you back one player or team to win. For example, if the odds for a tennis match are: Player A at 1.80 and Player B at 2.00, then if you bet $100 on Player A, you'll receive $180 if he wins. The same wager on Player B would return $200 on his win.
Handicap Markets
Handicap betting is where the bookmaker assigns a handicap to competitors. For example, if Soccer Team A is set at 3.50, a Draw at 3.40, and Team B is at 2.20, the bookmaker might offer these handicap odds Team B +1: 1.30, Team B -1: 4.33, and Team B -2: 11.00. The +1 means adding a goal to Team B's score for betting purposes. So the odds are reduced as Team B is the underdog and more likely to win with an added goal.
Totals (Goals/Games/Points)
Totals are where the bookmaker sets a line for the total points or goals scored in a game. You can then bet on whether the total will be over or under this. If the totals line is 44.5, you will need 45 points if you backed the Over to win.
Forecast
Forecast bets deal with who comes in first and second place of the race. A straight forecast is where you choose a name for first and another name for second place. A reverse forecast is when you select two names without any order to who comes first. And finally, a combination forecast is when you choose three or more names to place first and second.
Tricast
Tricast bets are like Forecast bets, but a tricast bet deals with the first three places, not the first two.
Double Chance
Double Chance betting gives you a better chance of winning since you can use it to cover two of the possible three outcomes.
Correct Score
A Correct Score bet is on the exact score at the end of the game. It is hard to get right, so the odds are increased, and the payout also increases, making this an attractive but risky bet.
Half-time Result
A Half-Time bet is on who will be in the lead at half-time, with odds displayed something like Team A, Half-Time 2.2, Full Time 1.61. As a punter, you will be looking for value, so the half-time odds for Team A are more appealing than Full time.
---
Why Bet on Virtual Sports?
Virtual Sports are an innovative and new form of entertainment, still in their infancy stages when compared to other forms of sports betting. Some of the advantages are that you have more betting options, and you can bet whenever you want. With virtual sports games running year-round, you can bet on a beloved sport even if it is not in season at that time. It is also easier to bet on virtual sports because you won't need to research the players, the course, or statistics.
Pros
Online virtual sports sites offer new sports listings more often, depending on the site.
Another plus for virtual sports games is that they only last a few minutes, and the stream is usually of very high quality.
Virtual sports betting sites can also teach you more about the different bets and understanding odds.
Cons
Betting on virtual sports games is not as thrilling as betting on an actual game because there is no emotional connection to the team or player.
Betting on virtual sports games does not have the complexity of betting on real sports, – which is great for the novice, – but the more experienced bettor feels like having a hand tied behind their back.
Finally, the worst of the disadvantages is that it can be challenging to manage your bankroll, and there's the temptation to spend more or increase your bets, which is not recommended.
---
Important Factors to Consider
When you start betting on virtual sports, there are a few things to keep in mind. Below we explain what factors you should consider and why they are essential.
1. Virtual Sports Do Not Have A Connection With Real Sports
Virtual sports games are entirely computer-generated; at no point in the programming of the software are human elements or stats added. There is no way to program in the weather or the course's behaviour, and teams do not have an advantage if they play on their home grounds. The odds are the most significant consideration you have when placing a bet.
2. Every Result is Randomly Generated
All outcomes of virtual sports games result from a Random Number Generator using an algorithm and seed number with the odds programmed in, which means that the numbers are random and cannot be predicted.
3. Look for Trends in the Statistics
The best virtual sports betting sites will provide the statistics and the odds, and these are the only things that can influence the outcome of a virtual sports game. Look for trends in the statistics, and use them to your advantage.
4. Try with Betting on the Underdogs
The odds are better if you bet on the underdog since you can make more if you win on a bet. Let's look at a previous example: Player A's odds are at 1.80, and Player B is at 2.00, so if you bet $100 on Player A, it returns $180 if he wins. The same wager on Player B would return $200 on his win. The profit is higher with better odds, but the risk is higher too, so remember to check the statistics first and manage your bankroll.
5. Why is Virtual Football Betting the Best Choice
Football, or soccer, is one of the most popular virtual sports games to bet on. It offers more games, has better odds, and more types of bets available than any other virtual sport. There are also Leagues and Tournaments available on online virtual sports betting sites.
---
Our Final Thoughts
Betting on virtual sports betting sites requires very little skill and is a great way for a novice bettor to learn about odds and bets. It is also very entertaining to watch the game or its highlights when it streams directly to you. Games are streaming out at all times of the day, so you don't need to wait for the game to finish before finding out if you won. It is also a way to bet on a sport that is no longer in season. If all of this appeals to you, we recommend that you give betting on virtual sports games a chance.
---
FAQ
Which is the best site for virtual sports betting?
The best virtual sports betting site is the one that offers you the sport you want, the best odds, best promotions, and the most generous bonus, as well as the betting options that suit your needs.
How do you win at virtual sports betting?
Choose the best odds, spot trends in the statistics, and be disciplined with your betting; this is entertainment and not work, so don't chase a profit and don't increase your bets.
Is betting on virtual sports legal?
One of the easiest ways to check is on the website of your largest local bookie, they tend to keep track of laws, and their license will also have information regarding legality.
Can virtual sports events be rigged?
In theory, it is possible, just not probable; RNG's are checked for interference by a third party before being certified.
Is there a house-edge in virtual sports betting?
Yes, it's built into the random number generator.
Published on 11 June 2021, last edit on 02 June 2023