Football live betting is a great option since it allows you to experience the matches before choosing your wagers. With many sportsbooks, you will be able to use features such as cash-out, live animations, and live streaming. All these can come in handy when placing in-play wagers on football. If you move around frequently, you should also consider signing up on bookies that have excellent mobile apps or websites. Another essential thing to consider is the range of betting markets. The bookie should also offer high odds when compared to other bookies.
Top 5 Football Live Betting Sites
There are a lot of online bookmakers which offer live betting, but only a handful can be considered the best when it comes to in-play betting features.
888sport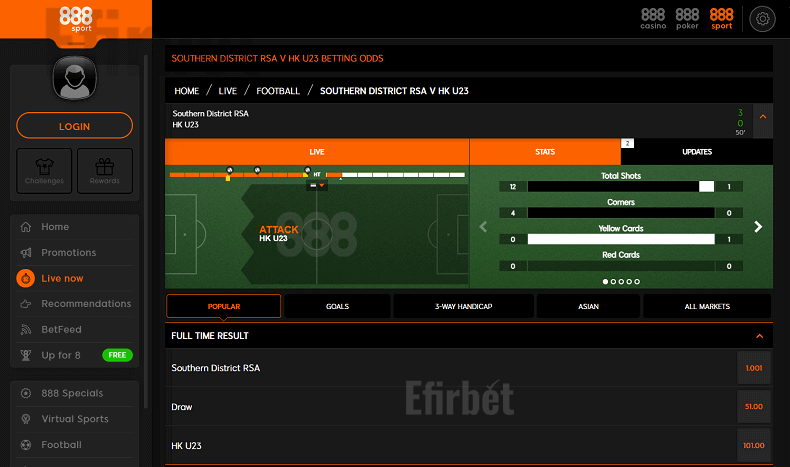 888sport primarily offers live betting options on football and tennis matches, and it has one of the most comprehensive live football betting sections.
Pros:
Most football matches can be streamed live on 888sport.
There is also a live score feature, which can come in handy when there are no live streams available.
Since it has a cashout option, you can get guaranteed profits before the end of the games.
It covers all the major football leagues in Europe.
Cons:
The live betting interface can be difficult to navigate.
Bet365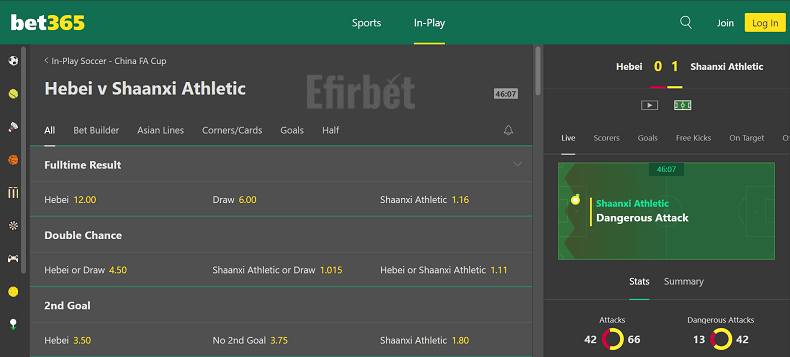 Bet365 is by far the most popular live betting platform in the United Kingdom.
Pros:
The bookie offers bets on individual players.
You can cash out part or all your wager before the game ends.
It covers almost all the major football matches in the world.
They have lots of bonuses that you can use to place live bets on football.
Cons:
The odds on niche sports are not very high.
Betway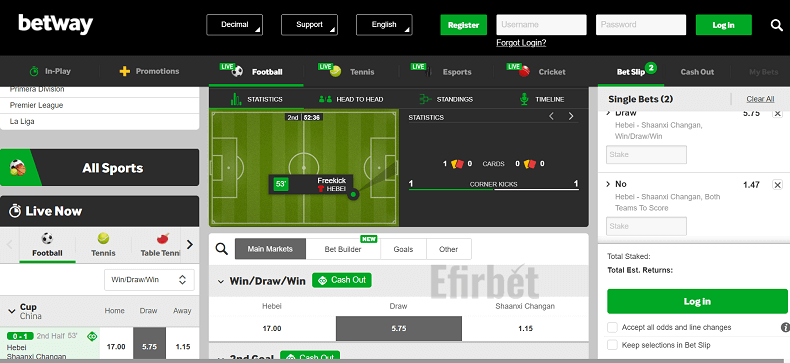 Betway is considered one of the best betting platforms due to the fact that the site provides a comprehensive in-play betting menu.
Pros:
It has a live streaming feature.
It offers in-depth statistics of each live betting option.
It has a results section that covers events from up to one year ago, and this can be essential when planning your wagers.
The in-play betting layout allows you to view the statistics as you place wagers on the website.
Cons:
If you live outside the UK, Sweden, and Ireland, you will not be able to stream matches live.
Bwin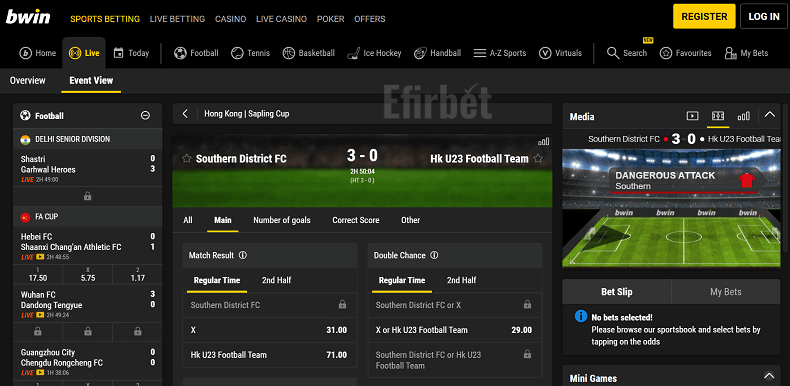 Bwin is a secure sports betting platform that currently serves more than 20 million customers. It is licensed by the UKGC.
Pros:
It has a bet builder feature.
It offers live streams of various football matches.
It gives you control of your live bets with the partial and full cashout feature.
It offers second-by-second live match updates.
Cons:
You must have funds in your account in order to use the live streaming feature.
Ladbrokes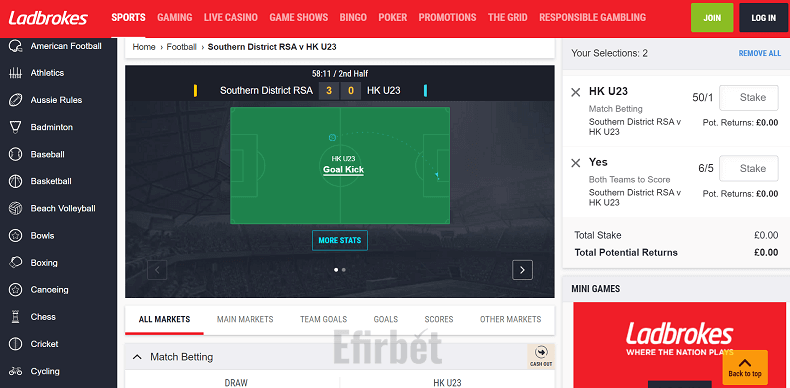 Ladbrokes is an excellent UK bookie that offers payouts of up to £1 million on football wagers.
Pros:
You can stream football matches on your PC, smartphone, or tablet.
It offers lots of live football betting markets.
Punters can add, remove, or replace selections in their accumulator wagers.
You can also use the #GetAPrice hashtag on Twitter to get odds on new markets.
Cons:
Players cannot place Asian handicap wagers.
---
What to Consider When Looking For a Bookie with a Live Betting Feature?
You should consider the following features when looking for a bookie with a live betting section:
Available Markets
It is important to evaluate the football betting markets featured in specific bookies as that will determine your flexibility on the platforms. Some of the important live betting markets include match-winner, first goalscorer, last goalscorer, and the next team to score. Over/ under bets are also quite important as they are usually fairly easy to predict.
Live Statistics
The sportsbook should also generate live statistics on the matches. On the platform, you should be able to see the current scores, the shots on target, the shots off target, the attacks, the dangerous attacks, and the head-to-head statistics of the teams. Although possession rates are important to consider, don't rely on them on their own.
Cash Out
Many bookies allow punters to cash out their wagers before the matches end. This option is typically offered on live betting markets, and it allows you to cash out the wagers partially or fully. Also, you should remember that the cashout prices are different from the initial odds and will be calculated based on the current prospects in the matches.
Live Streaming
Live streaming is still a rare feature in online bookies, but it is essential. With live streaming, you will be able to get a feel of the match before you place in-play wagers. Since you will get live feeds of the games, you will be able to place wagers before the odds change.
Live Animations
Many bookies also offer live animations of football matches, and in most cases, you don't even need to sign up to watch these games. These animations can also help you to get a feel of the matches before you place your wagers. You will also be able to determine whether the favourites are living up to their pre-match tag.
---
What Are the Best Live Betting Markets?
The best live betting markets are 1X2, over/ under, corners, red cards, and the next team to score.
1X2
The 1X2 live betting market allows you to back the home team or away team, and you can also use it to predict a draw. 1X2 bets are typically settled at the 90-minute mark, so extra time will not be factored in.
Over / Under
The over/ under market is mostly applied in regard to the total number of goals scored by both teams. Usually, you will be able to predict whether the total goals will be more or less than 2.5. It is also worth noting that the bookies may offer bets on the total goals scored by individual teams.
Corners
There are several corners markets available, but the most common is the over/ under option. With it, you will have to predict whether the total number of corners by the end of the game will be higher or lower than the given threshold. You can also bet on the team that will get the most corners, as well as the total corners for each half.
Red Cards
With this live betting market, you will be able to bet on the chance that at least one player will get a red card. It doesn't matter the team which will be given the card, as long as it is in the same match. With this wager, you should evaluate the players in the game, as well as the referees.
Next team to Score
You can also predict the next team that will score a goal in the match. If your selected team does not score the next goal, you will lose the wager, even if it ends up scoring another goal later in the match.
---
How Do Live Betting Odds Work?
Live betting odds are adjusted continually as the matches go on, and they have to reflect the latest developments in the matches. For example, if a key player in a team is given a red card, their chances of winning may go down, and this has to be factored in when calculating the odds.
Periodically, the odds will be suspended as the bookie calculates the new odds. Also, they may suspend live betting options when they believe a major event is about to happen in the game. For example, during a dangerous attack, they may be unable to offer bets since they can't determine the new odds fast enough. It is important to confirm your bets quickly, especially if you believe the odds are great. This is because they can be changed instantly, and your wager will no longer be valid.
---
Is it Possible to Place Live Bets from Your Smartphone?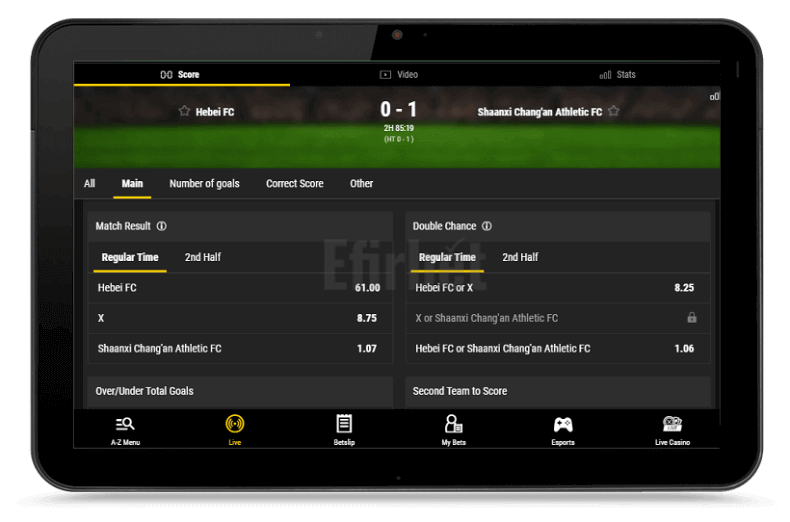 Yes, you can place live bets on your smartphone, and this option allows you to punt while on the go. This way, you will not miss any excellent betting opportunities. Before you sign up on a particular sportsbook, you should check the quality of their mobile platforms. Most punters prefer using mobile apps to place live wagers, but mobile websites are just as good. In most cases, you will be able to install web apps on the homepage of your smartphone, and this will allow you to log in faster on your browser.
The websites should be fast since time is a key factor in in-play betting. Also, the mobile version should be easy to navigate as this will affect your live betting experience. Another important thing to check is whether you can stream matches live on the mobile version of the sportsbook. If the bookie does not offer live streaming services, you should check whether it has live animations of the games. These features can help to make your wagers more profitable.
All reputable bookies use SSL encryption on their mobile versions, and this ensures that your credit card details will be held safely. If you choose to install a mobile app, you should remember to download updates regularly. This way, you will be able to avoid security issues.
---
Positives and Negatives of Live Betting on Football
Advantages:
In most cases, bookies will offer greater value odds on live betting markets. Since you will have more knowledge regarding the matches, you should also be able to place more accurate bets.
Bookies also offer a wide range of live betting markets, and some of these are fairly easy to predict. For example, with decent knowledge of the teams and players, you will be able to predict whether the total goals scored will be higher or lower than 2.5.
Live betting is also quite entertaining, even to people who don't necessarily enjoy watching football. This is because you have to stay glued to the screen and evaluate every action taken.
Disadvantages:
Since live football betting is so entertaining, it can be addictive. If you are at risk of gambling addiction, you should consider setting deposit limits.
---
Some Useful Live Betting Tips
In order to make profits while placing in-play bets, you should bet on markets you know, take advantage of free live bets, and interpret statistics properly.
Bet on Markets You Know – You should focus on specific in-play betting markets and learn how you can predict them more accurately. It is risky to start learning how a particular market works while placing wagers.
Take Advantage of Free Live Bets – You can use free live bets on various sportsbooks. These can give you a chance to try out the markets without risking your own money. It is important to remember that these offers are only meant for wagering on in-play markets and cannot be withdrawn. When you finally win the bet, the bonus will be deducted from your winnings.
Read the Statistics Correctly – Sportsbooks offer many essential statistics on football matches, but it is easy to read them wrongly. For example, one team may have had an excellent success rate, but most of its games were played against weak opponents. On the other hand, the other team may have lost many of its recent games, and these may have been against stronger teams.
---
Final Thoughts
Live football betting can be very exciting, especially if you are passionate about the sport. With this option, you will be able to evaluate the teams during the game, and this will help you make better betting decisions. Make sure you choose a bookie that has excellent live betting features, as well as numerous betting markets. One of the most important features is the cashout option, which will allow you to take your winnings before the end of the matches. If you are interested in live football betting, you should consider signing up on Bet365, Ladbrokes, 888sport, Betway, or Bwin.
---
FAQ
Why should you bet in-play?
With in-play bets, you will have the chance to evaluate the gameplay and teams before placing bets.
Can I Use the Cash Out Feature for my Live Football Bet?
Yes, many bookies allow punters to cash out their wagers, and this can either be partially or fully.
Which are the best football leagues for live betting?
The best football leagues for live betting include the Premier League, Serie A, and Bundesliga.
Why is there a delay in in-play betting?
The delays in live betting occur because the bookies have to take time to calculate new odds.