Ad disclosure
Here at EfirBet (EB) we pride ourselves on having a site that is completely ad-free. No ad blocker is needed while browsing EB. At the same time, we do use affiliate links to earn commissions (every time you click a link and sign up at a betting site). This revenue helps us deliver quality and trustworthy reviews for our readers at no additional cost to them. Read the EB
About Us
page if you want to learn more.
Today, many good bookmakers are operating out there, and as much as these bookies are looking for punters, punters are also looking for bookmakers to join.
BetWay has come up with a way of enabling you to refer your friends to join the platform. What about your friends enjoying the same thrill as you at the bookie? That can only be a great thing.
Consequently, this post will focus on how to refer a friend BetWay, methods of doing so and eventually, answer some of your questions.
---
BetWay Refer-a-Friend: Methods & Rewards
You will always be comrades in betting! Therefore, when you get a good deal or some friendly bets at a bookie, you desire to share that with your betting buddies. But looking for them and explaining everything to them might take time.
Therefore, BetWay gives you numerous quick options to refer your friends to the platform. Right now, I know you are asking yourself, how do I refer a friend on BetWay. Relax, and you will learn how simple it is.
When you refer a friend BetWay, it is not for free. You will get some rewards to give you more motivation to continue doing the referrals. However, the prizes are not uniform but different. Thus, you must keep checking the refer-a-friend promotion to know what is up on the offer.
If you are still unsure of how to use BetWay refer a friend feature and the methods, here we go.
Refer a Friend on BetWay via SMS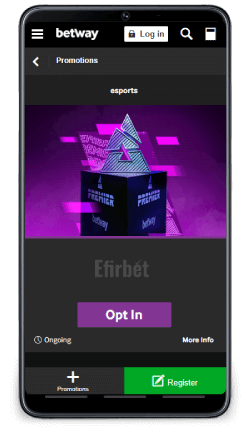 The most common method of BetWay referring a friend is by SMS. To use this referral service, you need to do the following steps:
To start with, log into your existing BetWay account or create a new one on the buttons in the far-right corner.
Secondly, go to the promotions section and under the refer-a-friend promo, fill in the available form with your friend's phone number.
Thirdly, your friend will receive a referral link on their mobile device. If they sign up with that link, you will receive your referral reward.
To benefit from this referral, ensure your friend uses the link within 14 days from when it was sent to them. Besides, there is a unique BetWay reference number that your friend should enter for you to receive the reward.
Refer a Friend on BetWay via the mobile app
The BetWay mobile app and the BetWay desktop site are the same. Therefore, referring a friend to each of the two platforms works in the same way.
In your BetWay mobile application, navigate to the promotions, and select BetWay refer a friend bonus.
Secondly, enter your friend's mobile number and proceed to send the invitation.
Your friend will receive the invitation link and should log in to join the platform within 14 days.
Besides, they must enter the unique BetWay reference number for you to earn your prize.
Using Email and Social Media Platforms
Apart from the two methods discussed above, you can copy the invitation link and send it to your friends through email or social media. Such include WhatsApp, Facebook, Instagram, and others.
BetWay Reference Number

Refer a friend BetWay is a referral system that works through a reference number. When you want to refer your friend, you need to generate a referral link with a particular number called a reference number.
The reference number is essential as it is the one that identifies your unique referrals whenever your friends join the platform. Therefore, the link is a tracking tool for how many new punters you brought on board.
This way, it becomes easy for BetWay to know how much you earned in a month through the Refer a friend promotion.