Ad disclosure
Here at EfirBet (EB) we pride ourselves on having a site that is completely ad-free. No ad blocker is needed while browsing EB. At the same time, we do use affiliate links to earn commissions (every time you click a link and sign up at a betting site). This revenue helps us deliver quality and trustworthy reviews for our readers at no additional cost to them. Read the EB
About Us
page if you want to learn more.
Waking up to a suspended Betway account or account on hold is every gambler's nightmare! But how do you get your Betway account suspended, and is there a way you can troubleshoot the problem? Well, this read will take you through some of the reasons that can lead to the restriction of your Betway account and the best way to reverse the suspension.
---
What are the Types of Account Restrictions at Betway?
Before digging deep into the topic, you should know that there are two main types of account restrictions at Betway; Termination and Breach of Policy. Here is a rundown of both restrictions in case you have no idea what they mean:
1. Termination
Account termination entails the closure of your Betway betting platform, preventing you from placing any bets. At Betway, the operator has the sole discretion to terminate your account for no reason. Despite this harsh reality, the future of online gambling is still bright as players continue to flock to betting sites.
Breach of Policies
Alternatively, a breach of policies will see the operator put your Betway account on hold. Unlike termination, Betway will give you up to 48 hours to resolve the breach before the termination of your betting account.
---
Why is my Account at Betway Suspended?
You may end up with a Betway suspended account for many reasons. Some of the key ones that may lead to this include: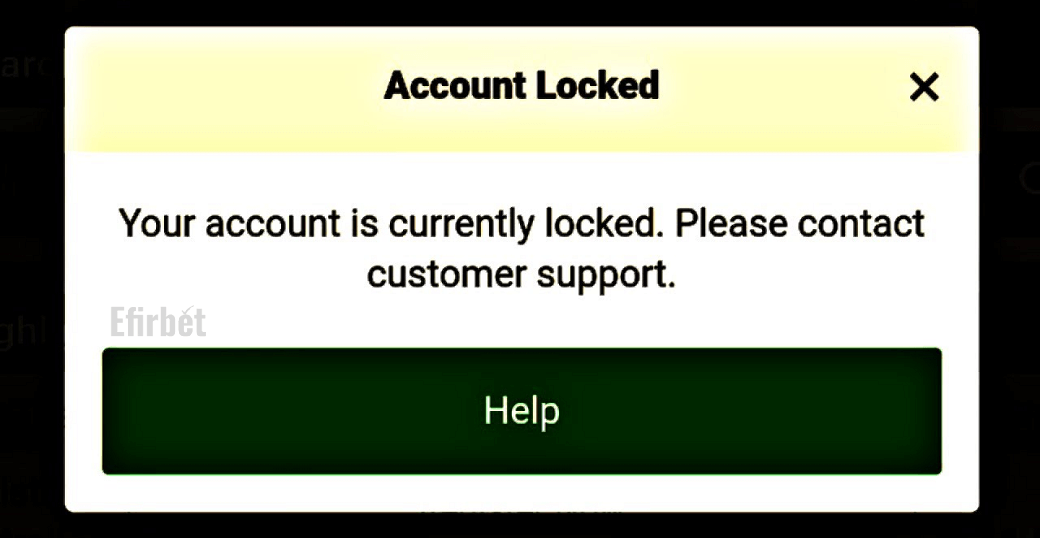 Unsuccessful Verification
Well, Betway will suspend your account after unsuccessful verification. More often than not, the operator will require you to verify your email or phone number. That is by clicking the link sent to your email or providing the code sent to you by the operator. If you don't verify the data, they will suspend your account.
Incorrect Account Details
Betway relies on online gambling KYC procedures like every brand to better understand its clients. If they find you have incorrect account details during verification, they will suspend your account.
Failed Login Attempts
The online gambling site has strict security measures preventing unauthorised personnel from accessing your account. This is by closing your gambling platform after multiple failed login attempts.
Self-Exclusion
Betway allows its clients to cool off from gambling using a process called self-exclusion. If you decide to exclude yourself for a while, the operator will suspend your account throughout the period.
Fraudulent Activities
The operator constantly monitors your activities to ensure they are reasonable. If they notice any fraud-related activities, they will suspend or even close your Betway gambling account.
Abusing Faults and Bugs
In case of a faulty account, the operator requires you to report the details as soon as possible. However, if you decide to take advantage of the faults and bugs, Betway will suspend your account.
VPN Usage
Betway is not available in every country. There are some regions where the brand is restricted. The operator does not permit players in the regions to use VPNs to access their services. If you do, the operator will suspend or even terminate your account.
Multiple Accounts
Gamblers can only hold a single Betway account. Players with multiple accounts will have their primary accounts suspended and secondary Betway accounts terminated.
Using Bots for Placing Bets
Betway does not allow players to use Bots when placing bets to guarantee fairness. Gamblers who defy this command will have their accounts terminated.
Other Reasons
Apart from the above reasons, the operator may restrict your betting account if you are found guilty of the following:
👉 Attempting to Manipulate Odds – Players who are found attempting to manipulate odds will have their account restricted, as this is not permitted at Betway.
👉 Being part of a sports governing body – You are not supposed to hold a betting account if you are a member of any sports governing body. So if the operator finds out, you will have your account terminated.
---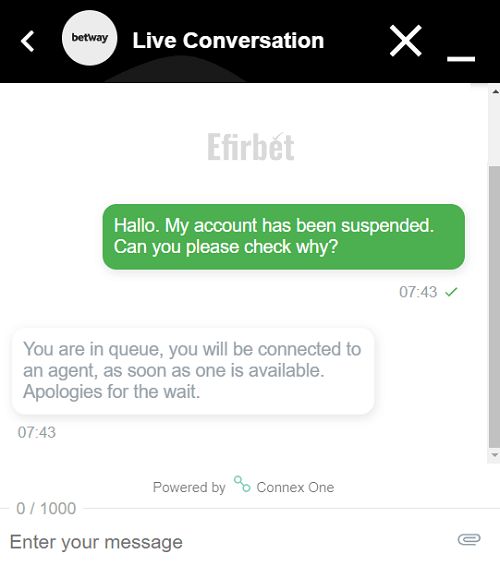 How to Restore Your Account?
If you realise the operator has your Betway account on hold, here are steps you can take to restore your account and continue gambling:
Load the live chat feature.
Browse through the chat topics: Balance Query, Withdrawal Query, Deposit Query, Password Reset, Technical Error, Unresulted Game, Jackpot, Update Details, Market Explanation, and Promotional Query.
Choose the most relevant query (which in this case is Technical Error) and proceed in the queue.
Send a message to the operator regarding the restriction.
Wait for a response on how to proceed.
Apply the solution provided.
---
What is the Difference Between a Suspended and Closed Account?
Betway account suspension means losing access to your gambling interface, so you cannot perform any gambling activities. However, you lose all your winnings, active bets, and deposited funds if it is closed.
---
FAQs
Is it legal for Betway to restrict your account?
Yes, the operator has the right to restrict your account if you breach the terms and conditions.
Can you bet on a self-excluded account?
You can only bet on a self-excluded account after the exclusion period is over.
What happens if you open more than one account?
The operator will suspend your account if you open more than one betting platform.