Ad disclosure
Here at EfirBet (EB) we pride ourselves on having a site that is completely ad-free. No ad blocker is needed while browsing EB. At the same time, we do use affiliate links to earn commissions (every time you click a link and sign up at a betting site). This revenue helps us deliver quality and trustworthy reviews for our readers at no additional cost to them. Read the EB
About Us
page if you want to learn more.
BoyleSports Lotteries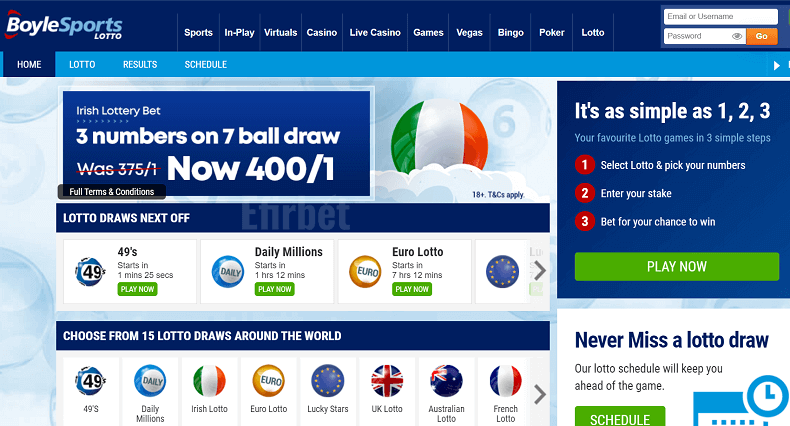 The Lotto online offerings at BoyleSports are very solid, boasting a spread of fifteen lotteries from all around the globe.
These include:
| | |
| --- | --- |
| ✅ Daily Millions | ✅ German Lotto |
| ✅ Irish Lotto | ✅ New York Lotto |
| ✅ Euro Lotto | ✅ Canadian Lotto |
| ✅ Lucky Stars | ✅ Greek Lotto |
| ✅ UK Lotto | ✅ Hong Kong Lotto |
| ✅ Australian Lotto | ✅ Spanish Lotto |
| ✅ French Lotto | ✅ Polish Lotto |
There are daily draws as well as weekly options, such as the Daily Millions Lotto, which appears alongside the national lottery menu. Additionally, the site runs offers on particular lotteries and gives special odds prices where possible.
The straight bet option just couldn't be easier, with an easy-to-follow layout in which you pick your numbers just as you would with a physical lottery ticket. The additional betting options are also there on the same screen, giving you far more choice.
You can add specific draws where available, as well as different date selections and more. Here, you can pick from your singles and doubles options, depending upon the specific lottery choice you've made.
The two tabs are right alongside each other, and a click on either of them reveals the options open to you for whichever of the lotteries you selected. From there, you input every detail you desire within a few clicks of the mouse.
The Straight Bet
This option is basically the same as when you fill in your ticket at the corner shop down the road. You select the numbers you want to come up with and mark them in the allotted spaces. Then you select your bet amount, and you're done.
Perhaps unsurprisingly, it is a very popular option for players of the lotteries. The ease and simplicity of the bet is probably the main reason for this, with players taking a quick pick on the numbers before moving onto other markets.
The Multiples
For your multiples option, just click on the tab to the right of the straight bet tab. Right away, your options for the multiples are laid out. You have a quick pick range on the left and a fuller breakdown of alternatives on the right.
The broad format for all of the Lotto options is a pick of up to five numbers out of an average of 49/50. The singles and doubles pick optional once you've made a selection so that instantly increases your range of alternatives there.
---
Lotto Promotions

There are various BoyleSports Lotto deals running for excisting customers too. Whether they're in the form of free bets or bonus odds on three Lotto numbers, there's going to be something for you.
As far as loyalty goes, BoyleSports has an opt-in scheme to reward its customers in the form of a card called BoyleXtra. There are all kinds of offers that are connected to this card, giving players really great bonuses for loyalty.
The card operates along the same lines as a coffee shop loyalty card, with players earning stamps for various transactions. Once a number of stamps have been collected, then the player can use these for selected bonus offers. It seems to work well.
---
How to sign up & Play Lotteries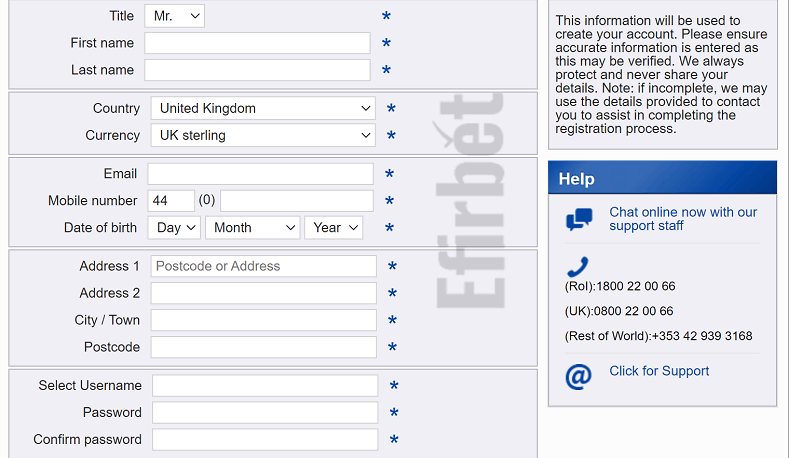 Registration with BoyleSports Lotto is a straightforward process. As you arrive on the landing page of the site, you're greeted by the overall blue-on-blue theme with everything you need clearly highlighted against the background.
The top right side of your screen is where you want to click. The sign-up function is highlighted there, with the "Join Now!" green button at the top right corner. Clicking on that, you're led to a brief registration page listing some basic information that is required of you.
All of the required info is pretty standard fare for a sign-up on any betting site out there and includes legally mandated info like your address and so forth. They also have to determine that you're old enough to play, for example.
Then, you're in. Simple as that. All that's left is to decide your deposit amount and what you fancy doing next. BoyleSports Lotto offers a general welcome bonus to customers in connection with the deposit amount.
The bonus isn't specific to the Lotto but works broadly across all the betting markets available on the site. Your first bet of £10 will earn you a free bet to the same value, and each of your following four bets can garner you an additional £20 in free bets too.
---
BoyleSports Lotto Software
Regardless of the device, you're using, the Lotto software functions well.
BoyleSports runs a very effective Lotto section, combining the elements of ease-of-use and a sensible layout rather well. Everything you need to know is there, without producing that panicky feeling of confusion you sometimes get on sites of this kind.
Mobile Lotto Version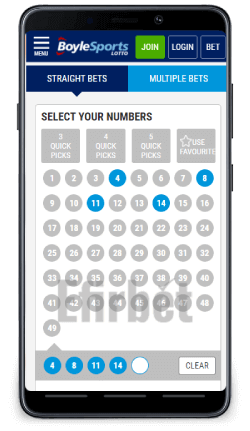 While the full site can be used from mobile devices, there's also an independent Lotto mobile version for Android and iOS devices. On the app, you're given a small screen format that really works just as well as the main desktop Lotto sections do.
Occasionally, certain Lottot offers are not available across both the main site and the mobile app. This is clearly marked below the offer itself, so if something isn't open for mobile users, you will have to log on later to take advantage.
---
Our Conclusion
The BoyleSports Lotto section is home to several lottos draws from around the world. Users can find every popular lottery that exists, such as Daily Millions, Lucky Stars, Euro Lotto, 49's, and more. Every BoyleSports Lottery has specific rules that users have to read before playing. For example, some draws take place every day, whereas others are available only on Sunday.
Regardless of which lottery you are interested in, BoyleSports will allow you to pick your lucky numbers. Once ready, decide how much you are willing to stake and wait to see what happens. Don't forget that you can bet on multiple tickets if you choose some of the BoyleSports Lottos.