Last update by Efirbet :
Buffbet Review
Buff.bet's fundamental value proposition to online gamers has modelled around e-sports and cryptocurrencies. The site positions itself as leading e-sports gaming platform where you can play with not only one but several cryptocurrencies such as Bitcoin and Litecoin. In this review, we will be delving deeper into the workings of Buff.bet. Our discussions usually do an all-around inspection of the various services offered, including bonuses and affiliate programs. We have done the same with Buff.bet to package for you the most crucial information that will guide you into the best online gaming platform.
---
How to register at Buff.bet?
Account registration is a crucial first step to start playing at any online gaming platform. Buff.bet has a fundamental and account registration process that requires you to give them your information.
Step 1: To begin the registration process, open the main Buff. Bet website then clicks the REGISTER button at the top right corner of the page.
Step 2: You will present with a brief form where you need to fill in your email address, create a unique username and password then select your country of residence and account's primary currency. Here you should take note that this information cannot be modified later. Thus you should pay key attention to provide the right information.
Step 3: After giving these details, you will get a congratulatory message that your account has been registered.
Step 4: What you will realise, however, is that most of the account's features will be inactive or blocked. This is because you are yet to provide your full details such as full name and date of birth.
Step 5: A small pop-up window will then appear, displaying various account settings options. From this small window, you can provide such details and even verify your account. We have explained the account verification process in the next section of this review.
But still with your account at this stage, you can begin exploring the various betting market and casino games offered here.
Steps for activating and verifying your account
This is a significant step in setting up your online gaming account. The account verification process unlocks some features on your accounts such as making deposits and withdrawals. Also, this is equally important to the company as it allows them to operate within the legal requirements. Account verification entails confirming that the details you provided such as your name and age are correct. The verification process also enables the company to uphold the anti-money laundering regulatory requirements.
To do this, you will need to provide Buff.bet with three types of documents. These are your proof of identity, proof of address and banking information. For the proof of identity, you are allowed to use either your national ID, passport or driving license. For the proof of address, you can use any of your utility bills, provided it bears your physical address.
Unlike other gaming platforms where you need to send these documents via email, Buff.bet has simplified the whole account verification process. No emails are involved here. To submit them the documents, click your account icon at the top right corner of the page then click 'Withdraw'. You will receive a message in a pop-up window prompting you to verify the account. In this pop-up window, you will find buttons that can be used to browse and upload the requisite documents to the KYC team.
After submitting the documents, Buff.bet does not give any specific lead-time for you to receive feedback. However, from our experience, while doing this review, you will have to wait for about 2 to 3 business days before any feedback offered on your submitted documents. Leaving this waiting window period open is not quite impressive as it would be better if gamers are sure that feedback will be provided at a particular time.
How to recover lost password?
Probably you already have an account with Buff.bet but are unable to remember your password. You need not to worry about creating a new account. You can still regain access to your old gaming account by resetting your account password.
The password reset process is quite easy as all you need to remember is the email address used to create the account. When you click the 'Log in' button at the top right corner of the homepage, you will see a link embedded right below the login fields. Click this link to trigger the password reset process.
You will then be prompted to provide your email address. Within a minute or so you will receive an email in your inbox with instructions on how you can reset your password. Depending on the mailing service you are using, sometime this password reset email might not appear in your inbox folder. You should, therefore, check under the updates, social or spam folders in the mail. If you are still getting a challenge with receiving the password reset email, it is advisable you immediately notify the support team for them to evaluate the situation.
---
Design, Structure, and Menus
Buff.bet has quite an exciting website theme and layout. For some gamers, this might not be the most uncomplicated layout and theme to navigate. However, within a few minutes, you can quickly get a grasp of it and find your way around with ease.
The general theme is base on a dark background with orange-red highlights. From the hundreds of online gaming platforms that we have reviewed, the idea of having a dark background works quite well as the colours are natural to the eye, unlike with bright or white backgrounds.
The main menu bar is placed at the very top of the site. At this navigation bar is where you will find links to various sections of the site such as E-sports, Sports betting, Casino, Live Casino as well as Virtual Sports. The menu bar remains permanently fixed in its position regardless of whatever page you are viewing on the Buff.bet website. That is a brilliant idea as it gives you a quick shortcut of jumping from one section to another.
For the sportsbook, the gaming categories and markets available are displayed on the left side of the screen. In the next section of this review, we will expound more on these sports betting market. Your bet slip appears at the bottom right corner of the page. You can choose to minimise or maximise the bet slip to occupy the entire right column of the page. From this bet slip section, you can quickly view your betting history or keep track of any pending bets.
When you switch to the casino and live casino sections, the view changes drastically. The entire upper part of the page will be occupied by some sliding banners displaying any new games or top bonuses on offer. The rest of the screen shows tiles of different casino games available. You can begin playing by clicking on the pipe with the game you are interested.
---
Sports Betting
Despite the Buff.bet brand being primarily associate with e-sports, the company also has an impressive lineup of actual sports that you can bet on. Though not one of the largest sportsbooks out there, Buff.bet still offers a good number of sports betting markets. Here you can bet on major sporting disciplines such as soccer, American football, basketball, cricket, tennis, and volleyball, in addition to a few other sports such as MMA, ice hockey, biathlon, and table tennis. The entire list of sports here consists of 15 categories only.
By most standards, this is a relatively smaller sportsbook. Regardless, the Buff.bet sportsbook still gives you the full package of sports betting features. For instance, you are allowed to change your odds format to either decimal, fractional, American or Hong Kong. The soccer section is particularly interesting as it gives you betting options on all four major European leagues namely the EPL, Spanish La Liga, German Bundesliga and the Italian Serie A. This is in addition to other leagues and tournaments from around the world such as from the USA, Mexico, Norway, and Portugal.
The matches can be filtered either based on kick off times or by the leagues. Each of these football matches will go on average over 50 betting markets. These include betting on cards, corners, half time results, and several others, in addition to the mainstream betting markets. In terms of the odds offered, there is nothing much to write home about here. We found the odds set at the usual market standards with some rare occasions where the prices were a tad bit lower.
Another sports section worth mentioning is rugby where you will have the option to bet on international rugby league and international rugby union matches.
100% Welcome Offer Up To €88
Though quite smaller in terms of the number of sports offered, Buff.bet goes big when it comes to providing bonuses. That is including the sports betting section where you will be getting a bonus meant exclusively for sports betting. This bonus offered as a welcome offer for a new signup. In this welcome bonus package, Buff.bet offers to match your first deposit 100% up to a maximum of €100. To get this free play money, you must use the bonus code GET100 when making your first deposit into the sportsbook. The bonus money automatically deposited into your gaming account.
To unlock the bonus money for withdrawal, you need to complete a ten times wagering requirement, which is computed based on the amount deposited plus the bonus offered. Only bets on odds of 2.0 or above considered as contributing towards hitting the rollover requirement. It is also important to note that the bonus money has a validity period of 30 days only. If you will not have caught the rollover, requirement within this period, then the bonus money is considered forfeited.
You can easily keep track of your bonus balance and how much time is left by clicking the 'Bonuses' section under my account.
---
Live betting in Sportsbet
The Buff.bet sportsbook also supports live in-play betting across some sports. These include live football matches, live tennis, live basketball and live hockey. You can access the live matches to bet on through the regular sports betting interface. The live events will have a red play icon labelled live. The alternative and easier way to view the live matches is by clicking the 'LIVE' tab at the main menu bar at the top of the screen.
As it is the case with other sportsbooks, the odds will keep on changing from time to time as the action in the matches or races unfolds. At some point, some betting markets will disappear or become inactive. That usually happens when the events in the match render the outcomes of such a market not feasible. If the betting markets are available for a live event, you can click on the odd to place your bet. When the market closed, the odds buttons become inactive with a small padlock placed over them.
---
Cash out option
To our surprise, Buff.bet does not have a cash-out option for the sportsbook. This means the moment you lock in your bet, that is final, and you cannot pull until the bet settled. This is quite disappointing considering many gamers use this feature to lock in their profits and reduce their losses.
---
Live streaming feature
This is also another critical feature that is also missing out from the Buff.bet sportsbook. Here you will not find any options to live stream and watch any of the sports offered. The only live streaming that Buff.bet offers is with the e-sports. We will explain more on the e-sports live streams in the next section of this review.
In place of the event live streams, Buff.bet has developed a live stats portal. That is a portal that gives your real-time updates on the events taking place in a particular match. The updates accompanied with realistic animations of the match, with small arrow-like icons showing you the direction of the game and possession percentages.
---
Virtual Sports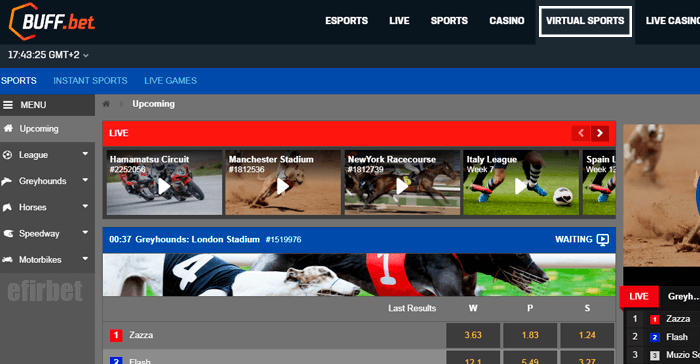 Any sports fan will tell you of the gap that is left when your favourite league or tournament is on break. To fill in this gap, Buff.bet has brought on board the idea of virtual sports. Virtual sports are increasingly becoming a great way to not only enjoy round the clock sporting action but also gives you endless betting opportunities. With Buff.bet, they offer virtual horse races, virtual football leagues, virtual speedway, and virtual motorbikes.
The virtual sports here are designed like real life sports with a pre-determined schedule of when the next match or race starts. For instance, in the virtual greyhounds and horse races, a new event starts every 2 to 3 minutes. The virtual football section is the most comprehensive of all. The leagues are modelled like real-life leagues such as the English league, Spanish La Liga, Italian League, and German league.
Though actual real-life sports inspire the events in the virtual sports book, the odds are determined independently. For instance, the performance of an English league team does not reflect in the odds assigned to its virtual league counterpart. With virtual sports, the odds computed by a Random Number Generator. You could think of virtual sports as a game of sheer luck with the same entertainment as actual sports.
---
eSports
As mentioned earlier at the start of this review, this is the main selling point of the Buff.bet site. The company has positioned itself as a leading eSports gaming and betting platform. Actually, rather than having eSports being list as part of the sportsbook, which is the norm with other sites, Buff.bet offers it as a stand-alone gaming category.
To join the eSports gaming platform, click on the eSports tab placed at the top menu bar. This will lead you to a world full of endless cyber gaming action. The games offered here are Counter-Strike, Dota 2, League of Legends, Herthstone, StarCaraft, Rocket League, Arena of Valor and Rainbow Six. This is arguably one of the best collections of eSports you will find within the same gaming platform.
The Buff.bet eSports section brings together players from all around the world. The type of bets you can place will vary depending on the nature of the game and its design of gameplay. For instance, in Counter-Strike, which is one of the most popular games here, you can bet on the outright match winner, total maps played, map advantage and even the winner in each map section.
What makes playing eSports at Buff.bet even more interesting is the fact that the events are live streamed. Whenever a game kicks off, you will see the red play icon appear alongside the players' names. When you click this icon, the live stream screen will be enlarged giving you HD quality video streams. What's more, you can place in-play live bets on these live matches.
---
Casino Section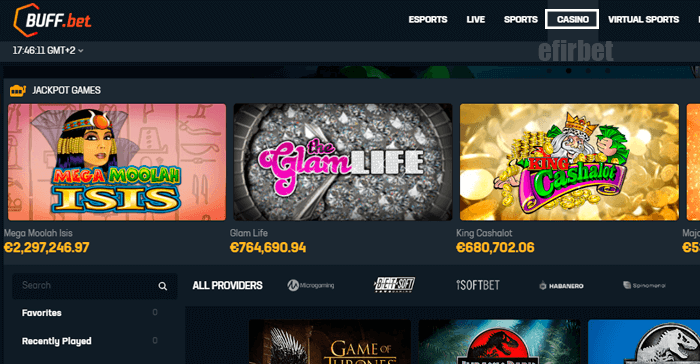 To offer a complete all-rounded online gaming platform, buff.bet has also introduced an online casino. The online casino and variety provided here are more than what we expected. The first thing to notice is that the company has brought on board more than a dozen online gaming software providers. Among them are some notable names such as NetEnt, BetSoft, Habanero, iSoftBet, Pragmatic Play, and Microgaming. This idea always works out for good as the end product is a collection of games with multiple plans and betting options.
In all, Buff.bet has nearly 1,500 online casino games. These are placed in different categories as slots, card games, table games, lottery, casual games, and roulette. As usual, the slots take the most significant chunk of the online casino, with more than 200 selections. If you are looking for a laid back gaming session with instant prizes, then you should check out the lotteries and a casual gaming section. Here you will find nearly a hundred games with instant cash prizes that require zero skill or strategy. All you have to bring on board is your luck.
The online casino also hosts a good number of progressive jackpots powered by the various software providers here. These range from multi-million jackpot games such as Mega Moolah and Divine Fortunes to smaller jackpot prize games that are relatively new in the market.
Casino Welcome Bonus

Buff.bet offers new welcome casino offer. You can get maximum €1000 from 2 deposit promotion. So let talk about each of them.
First deposit
When you make the first deposit in Buff.bet with minimum €50, you can get a 100% bonus up to €500 or amount in the equivalent currency. Your bonus code is WELCOME1000. For this offer, you must rollover 40x the deposit plus bonus within 30 days. This promotion is valid for the following casino games:
A Night in Paris
Enchanted
Dr. Jekyl & Mr. Hyde
Game Of Thrones
The Phantom of the Opera
Hellboy
Highlander
Jurassic Park
Jurassic World
Tarzan
Battlestar Galactica
HITMAN
Terminator 2
Lara Croft: Tomb Raider
Lara Croft: Tomb Raider – Secret of the Sword
Second deposit
When you make your second deposit in Buff.bet with minimum €50, you can get a 100% bonus up to €500 or amount in the equivalent currency. Your bonus code is RELOAD1000. For this promotion, you have the same rules: 40 times the deposit and bonus within 30 days. This bonus is valid for absolutely the same casino games as "First deposit" bonus.
---
Live Casino in Buff.bet
If you want to have a realistic casino experience where you interact with live dealers, then you should play at the Buff.bet live casino. The live casino has four main gaming lobbies as per the type of casino game. There is a roulette lobby with 11 tables, a blackjack lobby with nine tables, a baccarat lobby with nine tables and a Bet On Games lobby with two tables.
A different live dealer hosts each of these tables. The quality of the video and audio streams is impeccable as you get to relive a realistic casino environment. Additionally, you can maximise the live casino videos to full screen for an even better gaming experience. Another exciting feature is that you can switch the primary language of the live casino from English to up to 18 different styles including French, Italian, Turkish and Portuguese.
One thing you will notice is that with the live casino games, they are not available round the clock, unlike the regular online casino games. The live table games operate in particular schedules then close for some time. Whenever a table is locked, a notice will be published on its title indicating the operating hours.
---
Deposits and Withdrawals
When it gets to loading your gaming account, this is another area where Buff.bet intends to impress. Other than eSport, Buff.bet proudly markets itself as a crypto casino. That means they readily accept cryptocurrencies, in addition to the regular fiat currencies. If you remember well during the account registration process, you will be prompted to select the currency to use. Among the major currencies such as USD, GBP, YEN and Thai Bhat. Amongst this list also are cryptocurrencies such as Bitcoins, Etherium and Litecoin.
You can make these payments through myriad options. We have summarised most of these payment options in the table below, indicating the minimum limits as well as processing timelines:
| Payment Method | Deposit Minimum | Time for Deposit | Minimum Withdrawal | Withdrawal Maximum | Time for Withdrawal |
| --- | --- | --- | --- | --- | --- |
| Visa | €5 | Instant | €15 | €100,000 | 2 – 3 business days |
| Neteller | €5 | Instant | €15 | €100,000 | Within 24 hours |
| Skrill | €5 | Instant | €15 | €100,000 | Within 24 hours |
| EcoPayz | €5 | Instant | €15 | €100,000 | Within 2 hours |
| MasterCard | €5 | Instant | €15 | €100,000 | 2 – 3 business days |
| Qiwi | €5 | Instant | €15 | €100,000 | Within 24 hours |
| PaySafeCard Direct | €5 | Instant | €15 | €100,000 | Within 24 hours |
| iWallet | €5 | Instant | €15 | €100,000 | Within 24 hours |
| Skinpay | €5 | Instant | €15 | €100,000 | Within 24 hours |
---
Mobile version of Buff.bet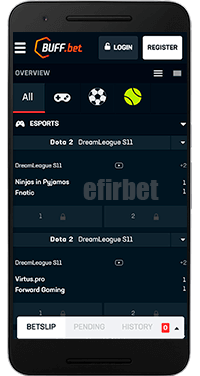 Buff.bet is yet to develop any dedicated Android or iOS mobile apps. That means if you are interested in playing with them on the go, then the only option is using the mobile version of their website. The mobile version is good enough as its favourite mirror site. You do not need any different URLs to browse on your phone. Only open your preferred mobile browser an type in the URL buff.bet.
From the mobile site, you will be able to access all the betting markets available on the main website. However, we noticed that the quality of the video streams on the mobile site tended to be slightly lower than when using the main site.
---
Affiliate program
To further develop its network of global clients, Buff.bet has a robust affiliate program. The affiliates here are paid every month, the amount of which will depend on the activity of the referred customers. There are five levels of the commission structure. If you apply at least five customers, you get a commission of 20%, 5 to 10 customers you get 25%, 10 to 20 customers you get 30%, 20 to 50 customers you get 35% and 50 plus customers you get 40%. If you want to learn more, read detailed information about Buff.bet affiliates at this following link. The affiliate registration process is natural as all you need is to provide your necessary information and the links to your internet resources. Once submitted, the application checked pending approval, which could take a few days. If your application is approved, you will start receiving marketing resources that you can use to draw in traffic, thereby earning commissions.
---
Frequently Asked Questions
Can I change my account's password?
Yes, if you remember your password and want to modify it, you can do this by login into your account, then at top right corner click on 'Manage Account'. However, if you have forgotten your password and would need help resetting it, then you can use the password reset link on the login page. Alternatively, you can contact the customer support team for assistance.
Does Buff.bet have live chat options?
No, Buff.bet does not offer customer support through live chats.
Can I cash out on sports bets at Buff.bet?
No, there is no cash out option with Buff.bet.
Are there any fees charged on deposits and withdrawals?
For deposits, the good news is that there are no fees. Withdrawals, on the other hand, incur a slight fee, which varies depending on the payment method used.
While playing on mobile, do I need to download any extra software or apps?
No, the website is designed to offer all the gaming services through your regular browser, without the need for any extra software.
Which browsers can I use to stream the games at Buff.bet?
In our review, we tried browsing using Mozilla, Chrome, and Safari and the site was working quite well.
Can I stream the virtual sports on mobile?
Yes, provided you have good internet speeds, you can stream and bet on all the virtual sports on your mobile device. However, you need to ensure your browser is enabled for streaming services.
---
Company Information
Since its launch in 2018, Buff.bet is making waves as a fast emerging crypto betting site. The company initially traded under the brand Buff88, but later transformed into Buff.bet after a short stint in the market. Their website run by the Galaxy Group Ltd, a British Virgin Islands-based company that also happens to own the brand.
Buff.bet offers a comprehensive online gaming platform that brings together sports betting, casino games, and e-sports. All these online gaming and betting services licensed under the Government of Curacao. Interestingly, Buff.bet remains accessible to quite a good number of countries and regions, including the UK, Switzerland, Spain, Slovakia, Cyprus and a large portion of Europe. The list of blocked countries is relatively shorter. Most notable among the block countries are the USA, Australia, and France.
---
Customer Care
In all that Buff.bet has developed, it has done a fantastic job. However, the biggest letdown we experienced was with the customer support section. It was quite frustrating to get any of the customer support representative to attend to your issue, as there is only one avenue of communication, which is via email.
Another disappointment is that the site lacks even a primary FAQs section, which is usually the first and foremost resource centre for most online gamers. We could not find any live chat options, nor customer support phone numbers, which raised some eyebrows regarding the quality of service rendered.
---
Contact Details
While doing this review, we could only identify one avenue of reaching out to the customer support, through the email address support@buff.bet. The company does not provide any phone numbers for contacting them through. However, the bookie already has a Live Chat that is active 24/7.
---
Conclusion and rating
In terms of the quality and variety of games, Buff.bet has done an impressive job. That is particularly so with the eSports section where you actually will find live streaming options. The online casino and live casino as well are pretty impressive, from the layout of the lobby to the variety offered. Although the sportsbook is relatively smaller, they have gone out of their way to provide more betting markets for each match, with the possibility of betting on up to 66 markets.
The biggest let down here is when it comes to customer support. The site offers very minimal assistance as you have to wait hours on end to get a response to your email. Our final rating is 8/10.
Last update by Efirbet :