Latest Cashpoint User reviews
Cashpoint Review
Cashpoint is an online sportsbook where every punter can choose from a bunch of sports. Although it might be hard to believe at first, Cashpoint Sportswetten has over 24 years of experience, making it one of the oldest online bookmakers in the world.
However, being old is not always an advantage when it comes down to gambling. So, if you want to decide whether this is the right brand for you, feel free to read our Cashpoint review. We will cover everything that you can punt on, as well as all other essential aspects.
---
How to Register at Cashpoint?
In order to take advantage of all cash point sports betting opportunities, you have to open an account. This is a pretty standard procedure, which will most likely take a couple of minutes because you have to provide a lot of information about yourself.
It all starts by finding the yellow button called "Sign Up now". It should be located in the top-right corner of your screen.
When you press it, you will immediately see a pop-up window. This is where you have to input all of the required information.
Apart from the usual e-mail and password, you also have to provide your names, date of birth, city, street, country, and so on.
What's more, you can even select the Cashpoint welcome bonus while you're signing up.
Also, don't forget to read the Privacy Policy and the Terms and Conditions. Both of them are extremely important in order to get the best possible punting experience.
Once you're done with everything, press "Complete Registration".
---
Website Overview – Layouts and Design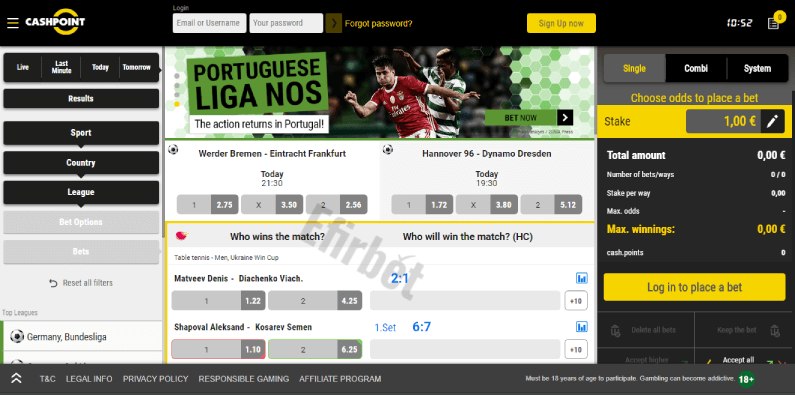 When we did a full overview of this website, we've discovered that it is even better than it looks. At first, it might seem a little bit overwhelming, especially for new bettors. However, as you start browsing through all of the menus and sections, you will quickly realize that it's super easy to punt here.
Even though you rarely find these colours among other bookies, Cashpoint chose to use yellow, black, and a little bit of white. This strange yet unusual colour combination works really well here.
Apart from the colours, another thing that's different here is the overall layout of the menus. Instead of having a "quick-access" buttons for all of the main categories, the homepage of this gambling operator immediately sends you to its sportsbook. However, if you want to learn more about its bonuses, the mobile apps, or change the language, you have to click on the menu button that's located in the top-left corner.
On the other hand, the right side of your screen is where you can find your bet slip. You just have to choose a certain event and your stake, and you will be good to go.
Lastly, if you want to learn more about this operator, click on the T&C or "Legal Info". You will find both of these options on a special menu that's located at the bottom of your screen. Keep it in mind that it will move while you're scrolling.
---
Sports Section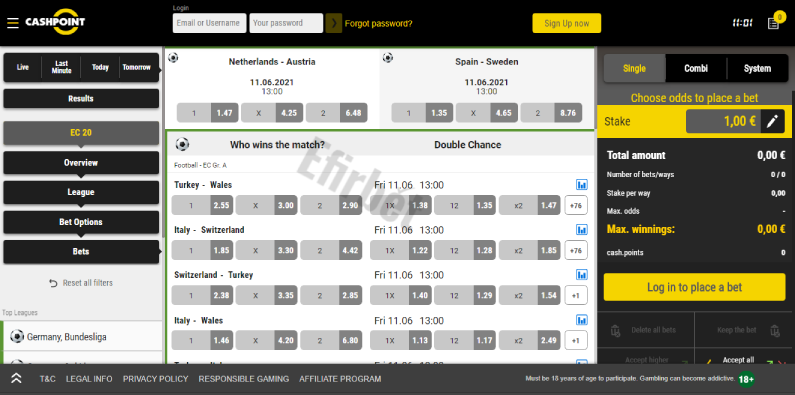 If you haven't guessed already, this gambling operator is entirely focused on sports betting. This means that you won't even find a casino section, which might surprise a lot of punters. If you're still reading this, you're probably interested in betting on sports, which is why we will show you everything you need to know about Cashpoint's sportsbook. Feel free to also look for additional information on wiki if you want to find out more.
---
Available Sports
The first and also the most important thing about every sportsbook is available sports. Usually, this is the first thing that people look at, regardless of they're experienced or not.
Fortunately for us, this online bookmaker has a fleet of great sports to choose from. However, checking all of them is more difficult here in comparison to other websites. Instead of seeing them right away, we have to use a drop menu. You can find that menu on the left side of the page, where you'll see "Sport". Once you open it, you will notice that the sports are divided into three categories – "Top Events", "Top Sports", "All Sports".
Here are some of the sports that you can come across here:
Table Tennis
Snooker
Ski Jumping
Sailing
Volleyball
Tennis
Rugby
Politics
MMA
Ice Hockey
Handball
Golf
Formula 1
Football
eSports
Darts
Cycling
Cricket
Chess
Boxing
Biathlon
Basketball
Baseball
Badminton
American Football
What's even more impressive here is that you can also bet on politics, which can be really fun, especially in some cases.
Betting Markets
After you choose one of the many sports, the next thing that you should pay attention to is available betting markets. You might be shocked at first, but some of the competitions have as much as 200+ markets, which is just mind-blowing.
Needless to say, you can find everything that you can think of. So, if you're tired of using the classic markets like 1×2, Over/Under and Handicaps, you can try out something more exciting, such as:
Which player will score (Player X to score)
Who will get more corners?
Offsides
Shots on goal, and more
Once you decide which sport you like, and you've chosen a match, you will see a number indicator on its right side. This is the number of all currently-available markets for the given event. Keep it in mind that each sport has different markets. Of course, those that are more popular will have a lot more options.
How about the odds?
Even though this brand is solely focused on sports, we couldn't find an option to change the format of the odds. This means that you will have to bet using decimals. This probably won't be a problem for many people because most countries around the world use them. However, if you're from somewhere where the primary type of odds is fractional, you might experience some issues.
As for the values of the odds, it all comes down to which sport you're into. Of course, the ones that are less popular will have better odds, similar to any other sportsbook out there.
The good thing here is that even the most popular sport (Football) has some pretty decent odds. We've compared them to some of the leading sportsbooks, and in most cases, the values were equally good or better. So, if you choose to sign up and start punting on Cashpoint, you can be sure that you will find excellent odds.
---
€100 Cashpoint Sports Welcome Bonus
So, now that we've discovered how to open an account and we've seen what awaits you in this spectacular sportsbook, this chapter of our Cashpoint review will show you the Sports Welcome Bonus.
Each new punter who decides to join the ever-growing Cashpoint family can receive as much as 100 EUR. In order to claim this welcome promo, you have to make a deposit of at least 10 EUR. Once you do that, you will be rewarded with a 100% bonus on your deposit, up to 100 EUR, of course.
Just remember that you have to make a real-money deposit in order to claim this promo. This means that you won't be able to take advantage of this offer if you fund your account with a bonus code or any other promo.
Feel free to check the full T&C of the offer if you want to learn more.
---
---
Cashpoint Betting Features
In the last couple of years, the world of online gambling saw many changes. One of those changes was the introduction of various betting features. Consequently, punters now expect to find at least the essential ones when they're deciding whether to join a given sportsbook.
Even though you won't find that many options here, those that are available are pretty neat. Don't forget that Cashpoint will release many new things as time goes on, so even if you can't find your favourite feature now, this doesn't mean that it won't be available at some point in the future.
Cash Out
It's pretty much impossible to punt in a sportsbook that doesn't have a cash-out option. Even though this feature is a few years old already, it is by far the most popular one out there. Thanks to it, millions of bettors have saved themselves loads of money.
If this is the first time you visit an online sportsbook, you probably won't be familiar with what cash out does. So, the easiest way in which we can explain it is to think of it a chance to save some cash or time.
As its name suggests, cash-out allows you to claim your winnings or a specific portion of your bet. However, what's impressive here is that you can do this while the event you've bet on is not over. So, you can make really good profits using cash out, as long as you know what you're doing, of course.
Live Streaming
Even though we've searched everywhere, we just couldn't come across a live streaming feature. This was very surprising because Cashpoint's sportsbook is one of the best ones we've seen.
Live Streaming gives every punter the ability to watch "his bet" live. When you combine this with the live betting section, you can make some serious money because you have the ability to watch and bet at the same time.
However, since this feature is not available here, you have to watch the event elsewhere.
Cashpoint Mentor
The last feature that we'll take a look it is really impressive and unique. As we all know, online gambling is one pretty good way to spend time. However, while it's pretty fun, it can also be addictive, which is why you need to be careful when you start punting.
If you're curious to find what is your "gambling behaviour", this is the right tool for you. By using the Cashpoint Mentor, you will receive a summary of the following:
the time you've spent punting in the last 24 weeks
the money you've spent on betting in the previous 24 weeks
Apart from accessing this data, you can also use this feature to receive different notifications and advice. So, even if you believe that you don't have any problems, feel free to experiment. Who knows, you might be surprised by the results.
---
CashPoint Loyalty Program – Cash Points
Cashpoint is one of the gambling operators that really appreciates its customers. Apart from the welcome bonus that we've briefly covered here, there is also a pretty intriguing Loyalty Program.
Once you sign up and verify your account, you can take part in this special program. Here, you can collect cash points, which you can then exchange for betting credits. Needless to say, the only way in which you can accumulate those points is via real-money bets.
Don't forget to use your cash points once you accumulate enough of them because they will only last for one year. If you want to find out more about this Loyalty Program, feel free to check the T&C of the offer.
---
Payment Methods
Apart from the fancy-looking sportsbook and the great bonuses, Cashpoint also happens to have one of the best selection of payment options. In addition to the traditional methods, you can also use some exciting options that aren't that common in other places.
Feel free to take a look at the table that we've prepared for you. There, you can check the available deposit options, as well as their minimum requirements. Of course, you can also take a look at each option for yourself. However, you will only access them if you create an account.
The processing time for your deposit depends on the method itself. In most cases, it happens right away, however, if you decide to use a bank wire transaction, it might take up to a few business days.
In terms of withdrawals, it's a good idea to verify your account first before you decide to make a request. Unless you do it, you won't be able able to withdrawal more than 2330 EUR. The processing time here also depends on what you use, for example, withdrawals via Skrill are instant.
| Payment Method | Deposit Minimum | Deposit Maximum | Time for Deposit | Minimum Withdrawal | Withdrawal Maximum | Time for Withdrawal |
| --- | --- | --- | --- | --- | --- | --- |
| Visa | €10 | Not stated | Instant | Not stated | Not stated | 3-5 days |
| Bank Wire Transfer | €10 | Not stated | Instant | Not stated | Not stated | 3-5 days |
| Neteller | €10 | Not stated | Instant | Not stated | Not stated | 24 hours |
| Skrill | €1 | Not stated | Instant | Not stated | Not stated | 24 hours |
| Paysafe Card | €1 | Not stated | Instant | Not stated | Not stated | 3-5 days |
| MasterCard | €10 | Not stated | Instant | Not stated | Not stated | 3-5 days |
| PayPal | €10 | Not stated | Instant | Not stated | Not stated | 3-5 days |
| Sofort | €10 | Not stated | Instant | Not stated | Not stated | Not stated |
| GiroPay | €10 | Not stated | Not stated | Not stated | Not stated | Not stated |
| Bonus coupon | €1 | Not stated | Not stated | Not stated | Not stated | Not stated |
| Prepaid cards | €10 | Not stated | Instant | Not stated | Not stated | 3-5 days |
| PayBox | €1 | Not stated | Not stated | Not stated | Not stated | Not stated |
| Skrill EPS (Netpay) | €10 | Not stated | Instant | Not stated | Not stated | 24 hours |
---
Cashpoint Mobile Аpp
After everything we've seen so far, you probably think that you already know the best traits of this bookmaker. However, this is not true. In addition to everything we've mentioned, you will also find a cash point sports betting app. It's available both for Android and iOS, which means that pretty much all bettors can access it. Nevertheless, while you can find the iOS app in the App Store, you have to download a specific apk file if you use Android.
The mobile app offers everything we've mentioned so far, but it goes even further. Cashpoint is one of the few brands that actually has a mobile-exclusive bonus for all of its customers. So, grab your phone and download the app now to claim your 20 EUR bonus.
---
Cashpoint Affiliate
Becoming an affiliate with Cashpoint is a dream come true for many businesses. It's safe to say that this is one of the most generous affiliate programs out there. There are all sorts of benefits that you can take advantage of, such as a 35% commission, fast payments, interesting advertising proposals, special tools, and more.
In fact, apart from the customers that you refer to this bookie, you can also earn a commission for each new affiliate! That's right, if you have friends who're also looking to start an affiliate business, they just have to sign up via your link, and you will also earn a commission based on their performance.
Make sure to check Cashpoint's affiliate program if you want to learn more.
---
Frequently Asked Questions
How do I verify my Cashpoint account?
Is Cashpoint legit?
Yes, this bookie has a valid license and an outstanding reputation.
Are the Cashpoint odds good?
Yes, the odds that you can find here are pretty competitive. Nonetheless, what's good for us might not necessarily be good for you, so keep that in mind.
How can I earn Cash Point?
You can earn Cash Points by depositing real money into your account. However, before you do that, please check the T&C of the Loyalty Program.
What do I need to do to get the Android app?
You have to download a special apk file and then install it.
Do I have to use a specific deposit option to claim the welcome promo?
No, you don't. Please take the time to go through the T&C of this bonus.
Where can I find an answer to my questions?
You can either check the T&C or try contacting customer support.
---
About Cashpoint
Like we've said in the beginning, this is by far one of the oldest gambling operators in the world. Unlike other brands that are entirely online-focused, Cashpoint also has many land-based shops.
In terms of its online services, Cashpoint happens to have a permit from one of the most reputable licensing commissions – The Malta Gaming Authority. Made in Austria, this bookie is genuinely amazing to play in.
---
Customer Care and Support
It probably won't come as a surprise that the customer support here is just fascinating. That's expected because this brand has to live up to its reputation. So, as long as you send your e-mail during the support's working hours, you won't have trouble receiving an answer.
However, it's really surprising that there is no live chat option. Nowadays, this is the option that most people prefer using because it's just more convenient. Sadly, Cashpoint doesn't provide it yet.
---
Contact Information
Apart from the fact that you won't find a live chat option, you also can't make a phone call either. Right now, you can only send an e-mail – [email protected].
Don't forget that people in the support team are working every day from 10 AM to 22 PM.
---
Final Verdict and Rating
Cashpoint is a truly magnificent online sportsbook. With so many years of experience, it's pretty hard to find something wrong about this place. You have loads of sports, hundreds of betting markets, and pretty decent odds to choose from. As if that's not enough, you even have two functioning mobile applications that you can download. Oh, and let's not forget the mobile-exclusive bonus, something that not many gambling websites offer.
So, it probably won't come as a surprise that we gave a pretty decent rating to Cashpoint.