Storyline
The British island of Avalon was home to heroes, mythology, and healing grounds. As legend tells it, King Arthur stowed away to this land of good fortune after receiving terrible wounds in his last battle.
Stories of Morgan le Fay, her magic sisters, and the enchanted fruit dwelling in Avalon have been floating around for centuries. Now, the mystic island is also the backdrop for a fantastic video slot by Microgaming software developers.
Avalon II takes you on a journey to faraway lands on a quest for the grail. From the Hall of Shadows to the Misty Vale, stunning animation and new objectives set this game apart from the rest. With eight thrilling bonus games to unlock, you'll plunge deep into the adventurous storyline.
---
Graphics, Sounds, and UX
Avalon II plays more like a videogame than a casino slot. The graphics are superbly designed, putting it miles ahead of other online casino games. Each character is authentic and lifelike, with legendary details driving the design.
Among the game, characters are Morgan le Fay, King Arthur, Merlin, The Black Knight, and Guinevere. A realistic map of the Isle of Avalon and surrounding territories give this video slot a truly cinematic quality.
The medieval soundtrack will fully immerse players. Developers at Microgaming were meticulous in their design process, and the outcome is applaudable. Play the Avalon II slot online free, and see for yourself.
---
How To Play Avalon II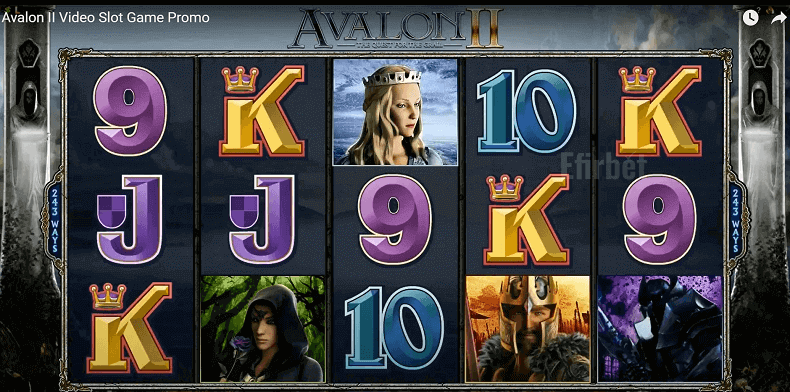 The Avalon II online casino slot is easy to play. Here's how the game works:
Adjust your bet using the side arrows
Hit the 'spin' button and wait for the reels to settle
Hit 'autoplay' to keep the reels spinning at the selected bet rate after each play
Collect winnings from character symbols in groups of three or five. Combinations of king and queen symbols across the play table will multiply your winnings.
Collect four Grail Bonus symbols and proceed to bonus levels
Make your way from Lake of Legends to the Isle of Avalon and unlock each bonus feature and multiplier.
---
Special Symbols and Bonus Rounds
This slot generates plenty of ways to win big. Aside from the standard five-reel, three-row slot format, there are eight bonus rounds to unlock, making this one of the most engaging, entertaining games in an online casino.
The game symbol, a golden tile, is one of two bonus symbols and acts as a wild card. It works as a substitute for other symbols, but it means a hefty payout when grouped in four or more.
A Lady of the Lake bonus symbol can only appear on the third reel. She is also a wild card. When she lands on your play table carrying a sword, you'll likely see some big wins.
The Grail Bonus symbol is the scatter. Four of these will unlock free spins.
The Grail Bonus will trigger a sepia-toned map across the screen. Eight bonus rounds can be unlocked for free plays and multiplied wins:
Lake of Legend, where you'll reforge King Arthur's lost magic sword through a challenging dice roll.
The Misty Vale, where you select an extra wild card to double your wins. Choose from Morgan, Guinevere, Arthur, Merlin, or the Black Knight.
Whispering Woods, where you can trade coins for shields.
Forest Falls, this level contains trailing wilds that fall to bottom rows and increase your wins.
Dusky Moor, a level that features a card matching game and provides a break from spinning reels.
Morgan's Keep, a fan favourite that keeps winning reels rolling in between spins to get your more winning combinations.
Hall of Shadows, here you face a battle with the Black Knight himself. Strike his armour and dodge his stealthy blows for extra earnings.
The Isle of Avalon, the finale. This level is home to a spinning wheel of fortune that could multiply your wins.
Play Avalon II and experience these exciting features for yourself.
---
Avalon II Volatility
Avalon II rates low in volatility. In this slot, you'll see some decent sized payouts, but smaller wins are more common.
---
Strategies for Avalon II
A couple of Avalon II strategies could help increase your winnings and enhance your playing experience.
If you want a bigger payout, avoid the bonus features that require you to spend coins. The Whispering Winds bonus round will tempt you to trade, but remember that real money is worth more than virtual shields.
Keep your bets low to moderate in the beginning, depending on your budget. You'll get more playtime this way, and you might even unlock bonus rounds for more free plays and win multipliers.
You can visit online casinos to try out Avalon II free play demos. A couple of test runs will help you get a feel for the slot and decide on a strategy that works for you.
---
Avalon II Mobile Version
You can download Avalon II for Android and iOS and play it on the go.
Avalon II on mobile is just as immersive and entertaining as playing on a desktop. Your chances to win skyrocket when you can play anywhere.
---
Frequently Asked Questions (FAQ)
Where can I play Avalon II with real money?
You can play at most licensed online casinos, including SlotsOnline Casino and Efirbet.
How much can I win from Avalon II?
By playing Avalon II, you can earn up to 120,000 coins to cash out.
How much is the minimum stake?
The minimum stake you can place is $0.30.
Will I lose my money in the Avalon II demo version?
Never, the demo version of Avalon II is free.
What is the maximum wager?
Avalon II has a maximum wager of $30.00.
How many play lines are there in Avalon II?
There are 243 ways to win playing this slot.
What is the Avalon II RTP?
The return to player rate is 95.92% in this video slot.
---