Storyline
Online casino games developed by Play'n GO have fun themes, and Baker's Treat is no exception. The confections may confound you in this bake-off extravaganza because the developers packed this slot with special features.
You'll be introduced to a hierarchy of baker's treats, with the triple-layered berry cake taking centre stage. The carrot cake and the lemon cheesecake begin to make your mouth water as they compete for your attention and with each other. Some of these treats are endowed with Flour Power and stand ready for the famed Bake Off.
---
Graphics, Sounds, and UX
The background soundtrack for this slot is a whimsical piano melody. A violin accompanies winning combinations, and a theme song plays with good combos.
You can distinguish the pastries from each other, and they're detailed enough for the purposes of the game, but they're not overly stylized.
Finding the controls was easy, and gameplay was simple and fun after some getting used to.
---
How to Play Baker's Treat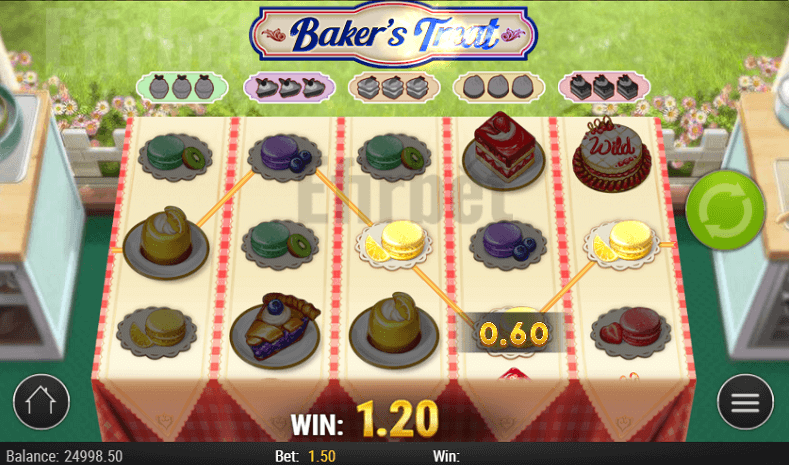 You can play for real money, or you may decide Baker's Treat free play is the way to go. Follow these steps to get playing and having fun:
Decide what you want to bet. You can wager anywhere between 0.15 coins and 75 coins.
Remember that there's an auto spin feature.
Press spin.
In this slot, it's true that you want combinations of three or more symbols to win, but you're also looking for the placement of symbols that trigger bonus rounds.
You'll discover that the assorted macarons are the least valuable symbols. The premium symbols are the cupcake, the blueberry pie, the carrot cake, the lemon cheesecake, and the most valuable Strawberry Sponge.
Keep a lookout for the special triple-layered berry cake.
---
Special Symbols and Bonus Rounds
The triple-layer berry symbol is the wild symbol in this game. Wilds will replace all other symbols.
The Flour Power bonus rounds are bound to grab your attention. Stacks of premium symbols, which function like bonus symbols, lead to the accumulation of tokens. Each reel represents a dessert, and when three tokens are acquired, each desert has a custom Flour Power free spins bonus.
Although all Flour Power bonuses include three spins, each of the five bonuses is unique:
In the Cupcake Power bonus, for instance, two reels have the same symbols.
In the Blueberry Pie Power bonus, one reel is wild.
In the Carrot cake Power bonus, all carrot cake symbols are wild.
In the Lemon Cheesecake Power bonus, all wilds expand.
In the Strawberry Sponge bonus, all macarons are turned into one type of macaron.
Get all five premium symbols to land on their associated reel at one time, and you get five free spins in the Bake Off feature. All of the Flour Power bonuses become activated and stay activated throughout the feature. If one of these symbols should stack on their reel, a free spin is added. You can get up to ten spins.
---
Baker's Treat Volatility
Baker's Treat has medium to high volatility. You know it's going to take time for the slot to warm up, but pastries have a way of whetting your appetite, and you'll not mind waiting.
---
Strategies for Baker's Treat
All of your Baker's Treat strategies will involve patience during play due to the medium to high volatility. This slot may captivate you due to its complex gameplay, so you need to watch how much you spend. There's always the option of playing the Baker's Treat slot online free as a way of familiarizing yourself with the slot.
---
Baker's Treat Mobile Version
The developers have optimized Baker's Treat for Android and iOS. The Baker's Treat on mobile looks and plays the same as the desktop version, just on a smaller screen.
---
Frequently Asked Questions (FAQ)
Where to play Baker's Treat with real money?
To use real money, you will need to find a Baker's Treat online casino. We can assist you with finding excellent casinos.
How much can I win from Baker's Treat?
The maximum payout from Baker's Treat is 5,000x your stake.
How much is the minimum stake?
The minimum stake for Baker's Treat is 0.15 coins.
Will I lose my money in the Baker's Treat demo version?
No. You'll lose none of your money. When you play the demo version, you'll play Baker's Treat for free.
Is there a progressive jackpot in Baker's Treat?
No. There's no progressive jackpot in Baker's Treat.
What is the RTP for Baker's Treat?
Baker's Treat RTP is 96.04%
When did Baker's Treat first come out?
Baker's Treat came out in April of 2018.
---