Storyline
Cashville is a 20 playline slot by Microgaming, but it may as well be considered a gambler's roaring '20s paradise. It's a town like no other, populated by slick-haired billionaires and broads with riches beyond belief.
One trip to Cashville, and you'll be hooked. Countless movies and comics have tried to capture the crime-family, cowboy-gangster genre, but Microgaming delivers on a new level. Now, it's your chance to make a buck and a name for yourself in this gilded town.
With a classic video slot setup intermingled with minigames and character features, this slot is an instant favorite that's full of amusing content. Cashville is a throwback to early 2000s choose-your-own-adventure games, but with a new twist that lets you win real cash prizes.
---
Graphics, Sounds, and UX
Cashville provides a unique online slot experience. The storyline and characters are super quirky and completely likable. While the animations are a little dated, they evoke a nostalgic feel. You'll be entertained with minigames and one-liners throughout your playtime.
The game is littered with imagery that evokes the feeling of 1920's wealth. Piles of jewel-draped cash will keep you crossing your fingers and cheering for a win. The sound effects are pretty simple, but they do keep wins exciting with exaggerated, thematic music.
You'll have the most fun during the bonus rounds, where you get to play minigames. You also get to meet the characters and face challenges that test your timing and luck.
---
How to Play Cashville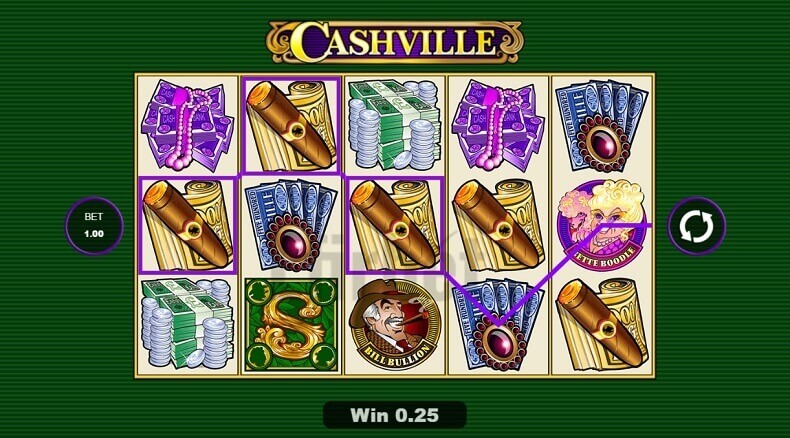 Play Cashville online at licensed casinos for your chance to win big with these eccentric town citizens. Here's how to play:
Adjust your bet with + and – buttons
Hit the button with circular arrows to start spinning the reels
Generate wins by collecting groups of symbols
Unlock the bonus rounds with the scatter symbol and gain access to more games
Win cash prizes and collect your cash out
---
Special Symbols and Bonus Rounds
Cashville has four loveable characters that generate wins when collected in groups. Think of these as the bonus symbols since they have the highest values.
You've got Bill Bullion, Dame Von Deeds, Sir Stirling, and Bette Boodle, each worth various cash amounts. You even get to play as one of these characters when you enter the bonus rounds.
The scatter symbol is the green S, and it awards free spins and win multipliers. This is also the symbol that unlocks the bonus round.
The W symbol acts as the wild card, helping you form wins even when you're missing a symbol.
---
Cashville Volatility
The Cashville online casino game rates low in volatility, so you can expect to see more frequent payouts with small wins throughout your playtime. This slot is an excellent option for new players as the risk's low.
---
Strategies for Cashville
There are some basic Cashville strategies that can better your chances while playing. For instance, start your bets low and only raise them when you feel comfortable playing the game. Bet what you can, but stick to a budget.
In the bonus rounds, you have the chance to win even more. Sometimes the excitement can distract you, so don't make your moves too quickly. Get a feel for the pace of each minigame.
For example, in the Better Boodle challenge, wait a few rounds before clicking the button to land on a cash value. If you press the button too quickly, you'll likely land on a lower value. Try the Cashville free play version to sample the game before you bet.
---
Cashville Mobile Version
Cashville on mobile is a great game to play on your lunch break or while waiting in line. You'll be able to unwind on the go while winning cash prizes in the portable, touch-screen version of the video slot.
---
FAQs
Where can I play Cashville with real money?
You can play Cashville and other online casino games at trusted casinos available on our site, Efirbet.com.
How much can I win playing?
Win up to 500,000 coins playing Cashville.
How much is the minimum stake?
You can bet as low as $0.01.
Will I lose money in the demo version?
You'll never lose money playing the Cashville slot online for free.
Is there a jackpot in this game?
Yes, it's worth 10,000 coins.
Is there a mobile version of this video slot?
Yes, Cashville for Android and iOS is currently available.