Storyline
Mr Slotty has done it again! They've provided us with a magical, land-themed slot where it seems like anything is possible. Enchanted 7s has you guessing and wondering what creature will appear next. A fairy, a wizard, and a strange man are the only characters in this slot.
The background is a forest area, and they have done a great job to make that feel like you are submerged in the depths of the forest while playing. The trees and gnarly branches are intertwined and spooky looking.
The fairy and wizard are vital to this storyline and add to Enchanted 7s slot online casino's magic feel. Any slot games we've seen that have fairies and wizards usually have you watching for some magic spell or zip of colour to flash on the screen. In the Enchanted 7s free play, there was no sign of magic on the screen, but the graphics were cute.
---
Graphics, Sounds, and UX
Try the Enchanted 7s game for free on most online casino sites. There you'll see the graphics are top-notch in this game. Although not 3D or moving, the characters had a Japanese comic-type feel. The fairy stood out. She had bright and colourful wings.
The background forest is the highlight scenery to this game. It doesn't move, but the soundtrack features nature sounds. You'll hear birds chirping and other animals quietly in the background of your game.
In the Enchanted 7s slot online free, you can still wager how much you'd like to bet, and you can play the gamble game with winnings. This shows us just how easy and fun it is to use this slot.
---
How to Play Enchanted 7s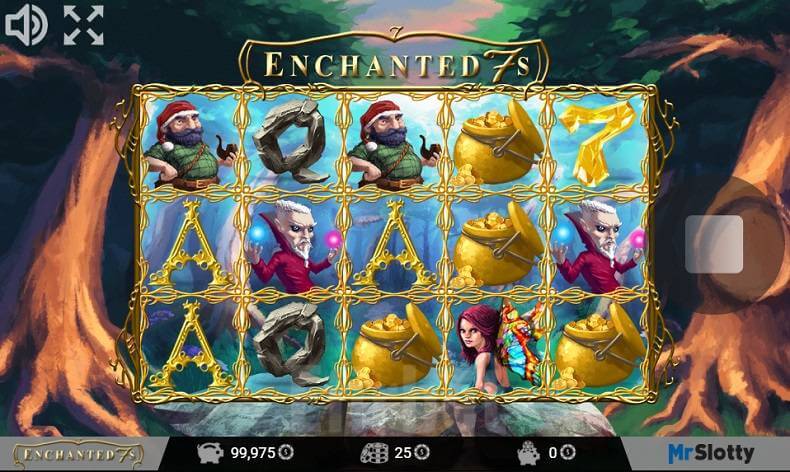 Mr Slotty has focused on the entire game in Enchanted 7s. We didn't find its graphics to be more robust when compared to the ease of gameplay or any other aspects. Follow these steps for easy playtime.
The right-hand side has a three-lined button; press it, and set your wager amounts.
The minimum bet is one coin.
The spin button is typical and easy to see on the right-hand side, but there's no auto-spin option.
Watch for the triple sevens to line up during this slot, and it'll award you with free spins.
After each win, you have the option to gamble. The button is located right above the spin button.
You can guess what colour the suit will be or what suit will show for a higher payout in gamble mode.
---
Special Symbols and Bonus Rounds
As far as bonus rounds and bonus symbols in Enchanted 7s, the triple seven symbols is key to watch for. This makes sense based on this online casino game's name.
When you land five of the triple sevens, you'll receive a max of 2,000 coins and 10 free spins. When you land three triple sevens, you'll gain three free spins; when you land three, you'll gain one free spin. The free spins are awarded immediately.
The triple seven also acts as the scatter symbol and fills in when placed correctly on the reels. Enchanted 7s of mobile has the same bonus features listed as desktop.
---
Enchanted 7s Volatility
Enchanted 7s volatility is medium. It felt like we were earning free spins at a slower rate during this game, but it could have been the low amount of sounds or outbursts.
When you start to line up the triple sevens and earn free spins, it becomes exciting and a great entertainment source. You can relax when playing Enchanted 7s and wait for your coin or free spin wins.
---
Enchanted 7s Strategy
Enchanted 7s strategies include being patient and waiting for the triple sevens to line up. The fairy, wizard, and elf are fun to watch for, but the payout isn't as high as the sevens. Line up five wizards, elves, or fairies, and receive a max of 1,000 coins. Match up three of them and receive a minimum of 25 coins.
The woodland-looking Queen, Ace, and King will get you a max of 150 coins and a minimum of 10 coins when lined up.
---
Enchanted 7s Mobile Version
Enchanted 7s on mobile is a perfect way to enjoy slot entertainment on the go. It's easy to use, and the game setup is the same as the desktop version.
The buttons did seem minor and slightly more complicated to press than the desktop version, but it was straightforward to use. Enchanted 7s is for Android and iOS users.
---
Frequently Asked Questions (FAQ)
Where can I play Enchanted 7s with real money?
You can play on any Efirbet casino slot site.
How much can I win from Enchanted 7s?
You can win as many as 2,000 coins in one spin.
How much is the minimum stake?>
The minimum stake is 0.01 coin.
Will I lose my money in the Enchanted demo version?
No, everyone should try this slot for free before placing bets.
What is the RTP for Enchanted 7s?
Is the game easy to use if I am a new slot player?
Yes, it's very easy to follow and use.
Does Enchanted 7s mimic many other games?
No, Enchanted 7s is unique. It has some similar slot features, but it's more fun and appealing.