Storyline
If you're a fan of quirky, animated friendships and adorable alien creatures, you have to play Energoonz. In this online casino game by Play'n GO, oddball extraterrestrials are blasted with energy and plasma while you try to match symbols for a win.
In Energoonz, big things come in small packages. Our alien friends might be tiny, but they are bursting with energy! Every time you win, your charge meter increases. Generate enough power to progress to the bonus rounds and use your excess power supply to recharge sleeping Energoonz.
The troublemaker characters in this video slot are almost as cute as they are goofy. Play Energoonz today and experience a silly slot full of colourful personalities and nuclear-powered wins.
---
Graphics, Sounds, and UX
Played on a 5 x 5 grid, Energoonz offers plenty of amusing happenings. A tall cylinder captures streaks of blue lightning to charge your power supply and intensify the game with each winning match. The background music is cosmic and futuristic, but laser sound effects amplify the soundtrack once you start winning.
Goofball aliens flash silly faces from their grid lines, so brace yourself for giggles and grins throughout Energoonz gameplay. For those of you who are speed demons with the spin button, you may find that these reels run a little slow. Luckily, you get an autoplay button that can help cut the time in between spins.
Even when you play the Energoonz slot online for free, you'll still be enthralled by the rolling reels and friendly characters.
---
How to Play Energoonz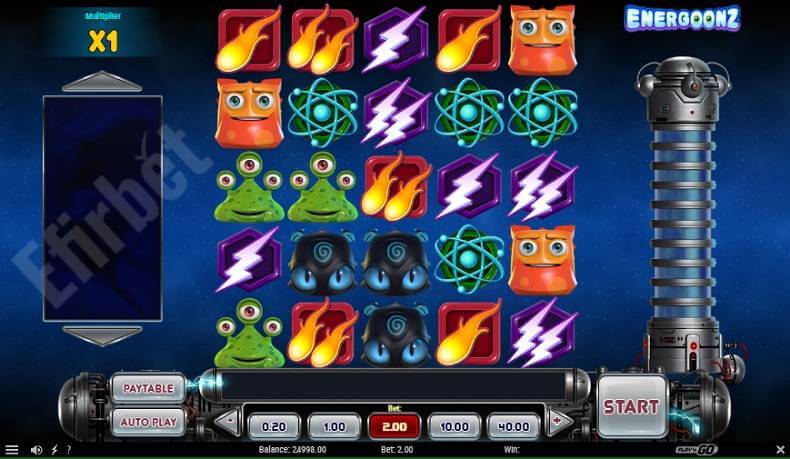 This grid slot has a typical gameplay design that's easy to follow, even for casino newbies. Here's how to play Energoonz:
Select your bet by clicking on the bet value you're most comfortable with
Hit the start button to set the reels in motion
Match three or more symbols in a row to generate wins
Clear the grid with consecutive wins to reveal the word "bonus" in one or more columns
Proceed to the bonus level and earn free spins when you collect bonus symbols
Energize every Energoon to win on a nuclear level!
---
Special Symbols and Bonus Rounds
The regular game symbols are featured in the first few levels. Three goofball alien characters grace the grid: an orange one, a black one, and a three-eyed green one. They each have their own personality, expressed through their movements and facial expressions.
Other symbols in the regular play mode include a lightning bolt, a fireball, and an atom. These tiles also appear as doubles on the play table and allot higher cash prizes when included in a win.
By clearing the grid with consecutive wins, you will reveal the word "bonus." This will catapult you into the bonus rounds to achieve higher win multipliers and free spins.
The special rounds include bonus symbols that feature new Energoonz characters. Your task is to collect groups and use the power supply to zap the sleeping creatures with bursts of energy. Once they are awoken, they become silly, animated troublemakers that add to your bonus wins.
The glowing blue ball of plasma is the wild symbol in this grid slot. It will substitute for any missing symbol to create a win.
The Energoonz online casino game is a humorous slot with hours of enjoyable playtime. The bonus rounds and cash prizes add to the entertainment value of this already enjoyable grid slot.
---
Energoonz Volatility
This game has medium volatility, so you won't have to wait too long to see some action on your playtable. This game isn't as high risk as some other slots by Play'n GO, but you should be sure that you can afford to gamble before placing your bet. If you can't swing it, try Energoonz free play by testing out the demo version.
---
Strategies for Energoonz
There are no Energoonz strategies that will guarantee wins, but there are some to help you play better and longer. Make sure you know the game rules and what it takes to get to the bonus rounds. Understanding the game design will help you make the best possible choices when betting.
Start your bets off at a modest rate. Don't blow your entire budget on the first few spins. Pace yourself, so you have more playtime and more chances to win.
---
Energoonz Mobile Version
You never have to say goodbye to these eccentric aliens when you can get Energoonz for Android and iOS. Enjoy everything you love about this slot on your smartphone or tablet. The gameplay is exactly the same as it is on desktop, although you might find that some of the words are harder to read on smaller screens because of the size. Ultimately, Energoonz on mobile is just as amusing as playing in a real casino.
---
Frequently Asked Questions (FAQ)
Where can I play Energoonz with real money?
Efirbet.com is the best platform to play online casino games, like Energoonz, with real money.
What is the minimum stake?
The lowest bet option in Energoonz is 0.20 coins.
How much can I win playing Energoonz?
You can win up to 411,561 coins.
Will I lose money playing the demo version of Energoonz?
Never, the demo version is always free.
What is the RTP in this game?
The Energoonz RTP (return to player) is 96.73%.
What is the maximum stake?
You can bet as high as 40 coins per spin.
Can I play this game on my phone?
Yes, Energoonz is available for both Android and iOS devices.
---