Storyline
Hot Fruits is a jazzy, jungle-themed slot with a fruit motif. Play Hot Fruits for free on most online casino game platforms. The background jungle theme adds a bit of brightly coloured flair to this game.
This game features a variety of visually distinct fruits. Cherries, of course, are a familiar icon for any slot player, but the game features other brightly coloured fruit like oranges, lemons, grapes, and watermelon. While some of these are typical fruit for a slot game, some icon choices are more interesting. The most unusual fruit on the roster is the hot pepper.
---
Graphics, Sounds, and UX
Since all symbols in this game are types of fruit, you can easily focus on the reels. The fruit is colourful and well displayed, but there are no 3D symbols or side videos paired with it.
The background design is of a bright jungle, an excellent match for the fruit.
The music in Hot Fruits online casino has an Asiatic sound. It's not very exciting, but it works for the basic type of slot this is.
This is an easy game to navigate, although the spin button is a little indistinct from the background.
---
How to Play Hot Fruits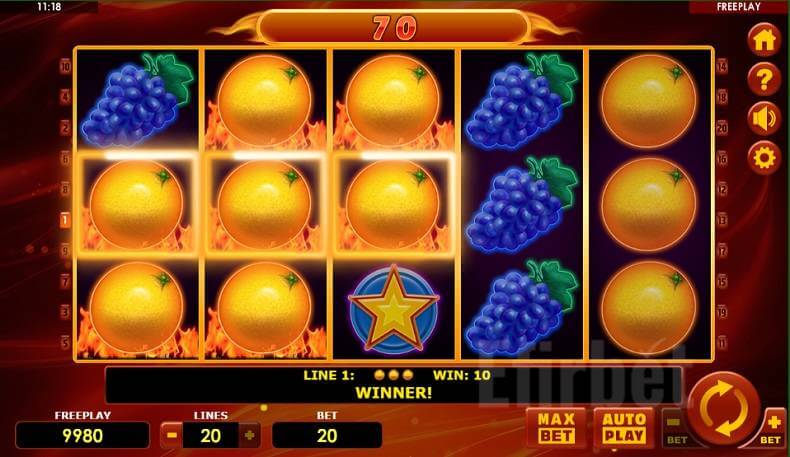 Don't research this game too intently; it's easy to play. There are no side games to understand and no extra videos. To play, follow these steps.
Play Hot Fruits slot online free in demo mode.
The spin button is not labelled with the word 'spin,' but with a double-circled arrow. Press to begin playing.
Lining up the cherries will score you free spins.
You have the option to gamble through a typical guess of the card's colour and suit.
---
Special Symbols and Bonus Rounds
Watch for the hot peppers. Since this is a fruit-based game, the pepper's presence in the lineup may surprise some; believe it or not, the pepper is, in fact, a fruit, albeit one far less sweet than the others on display here. When you line up the hot peppers, you can win up to 10 free spins. There is also a chance of a high payout when the hot pepper is matched with other symbols.
Line up three cherries for one free spin.
There are no bonus rounds, but there is a gamble option. Choose to gamble after a win and gain the chance to win more by guessing the colour or type of suit.
There are no bonus symbols in Hot Fruits.
---
Hot Fruits Volatility
Hot Fruits is a high volatility online slot game. Be sure to play the Hot Fruits online slot for free on any online casino platform.
This high volatility game is fun to play, and the payouts can be quite large if maximum bets are placed. You will have to wait in between payouts at times.
There are no side games, extra videos, or 3D pop-outs.
---
Strategies for Hot Fruits
There are no real Hot Fruits strategies as the game uses a random number generator (RNG). However, this game is easy to navigate and use.
The spin button is hard to see at first but is displayed to the right of the screen. Watch for the cherries and the hot peppers for the bigger payouts; fortunately, they are so bright, spotting them isn't difficult.
Have fun watching the colourful reels go around and try to gamble after a win.
---
Hot Fruits Mobile Version
Hot Fruits for Android and iOS is a great way to enjoy a bright slot while on the go. It's effortless to use and navigate.
The music and visual vibrancy are evident on Hot Fruits on mobile. Although the symbols and icons will be smaller on any mobile slot, it was easy to see and use.
The relevant jungle theme adds to the flair even on mobile.
---
Frequently Asked Questions (FAQ)
Where to play Hot Fruits with real money?
Most Efirbet online casinos will let you play Hot Fruits for real money.
How much can I win from Hot Fruits?
You can win up to 3150 coins on a max bet.
How much is the minimum stake?
The minimum stake is 0.01 coin.
Will I lose my money in the Hot Fruits demo version?
No, you can try Hot Fruits free play in demo mode without using any real money.
What is the RTP for Hot Fruits?
The Hot Fruits RTP is 94.4%.
What symbols should I watch for in Hot Fruits?
Look for the cherries and the hot peppers for the larger payouts.
Is Hot Fruits entertaining?
Yes, the jungle-themed fruit is fun to watch. There seem to be endless fruit symbols.