Storyline
Lady of Fortune is a luck-themed video slot by developers at Play'n GO. Starring a beautiful, red-haired enchantress, this game is a magical delight that might even grant you the good fortune of real cash prizes.
This 15 playline slot has free spins, bonus rounds, and minigames, so you'll be enthralled by more than pretty fortune-tellers. Whether you choose to trust the luck of ladybugs, horseshoes, or rolling dice, you'll get plenty of good juju playing this video slot.
It's a low key, entertaining game that's quite literally full of good luck charms. This game will attract superstitious gamblers who enjoy the thrill of mystery and magic. So cross your fingers and hope for wins! Lady of Fortune is your chance to play for cash.
---
Graphics, Sounds, and UX
Jewel tones and celestial landscapes take you to another world in this online casino game. You'll first enter the magical land in Lady of Fortune through a whirl of pink dust. A beautiful enchantress takes you to a table of odds that acts as the play table with 15 playlines.
The video slot feels like a dreamy visit to a gipsy's den, where rabbit feet and four-leaf clovers determine your fortune. Classic rolling reel sound effects accompany an eclectic, ambient soundtrack that enhances the magical quality of the game. You'll be charmed by the mystic atmosphere and even more enthralled when the winnings come rolling in.
For a video slot experience that transcends this realm, play Lady of Fortune at an online casino.
---
How to Play Lady of Fortune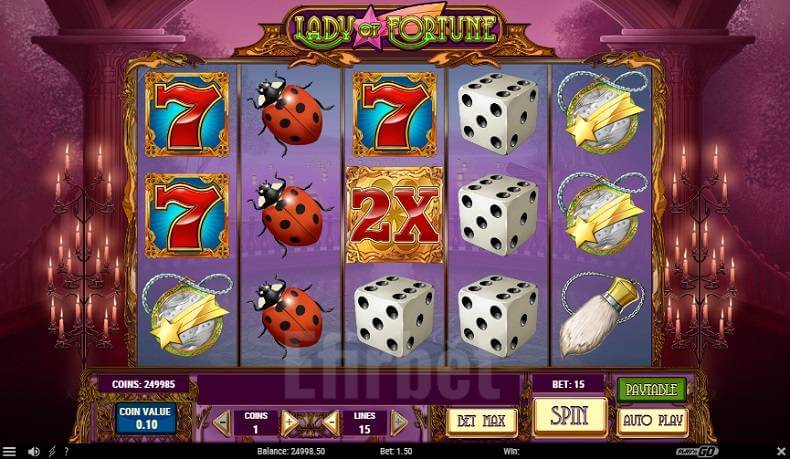 Lady of Fortune will probably be a familiar video slot to any experienced gambler. It's easy, too, so new players will catch on quickly. For practice, before you play, try the Lady of Fortune slot online free. Here's how you play:
Select your bet. You can adjust the coin size and the bet lines.
Consider the maximum bet or auto spin features if you're feeling lucky or fast
Hit the spin button when you're ready to roll the reels
Collect groups of symbols for wins
Unlock bonus rounds and minigames when you land three or more scatter symbols *
Collect your wins and cashout
---
Special Symbols and Bonus Rounds
The Lady of Fortune online casino game has a few bonus symbols that can help you score big and unlock a few minigames that will multiply your wins.
A white rabbit's foot, shooting star, horseshoe, ladybug, lucky number seven, four-leaf clover, and a six-sided die make up the symbols that award big wins. When groups of these symbols land on the playtable, they unlock other games that feature playing cards and guessing games.
The Lady of Fortune is represented by a mystic woman in a purple orb. She is the scatter symbol. Land three of these and unlock a crystal ball minigame with a potential for huge prizes.
There is also a wild symbol in this game. It's a gold square containing a number. It can take the spot of any other symbol and multiply your wins based on the number indicated in the square.
---
Lady of Fortune Volatility
This video slot has medium volatility, so you can expect to see some wins now and again. Luckily, the game is full of fun bonus rounds that will keep you amused even during the slow streaks.
---
Strategies for Lady of Fortune
Lady of Fortune is a standard video slot, so you aren't guaranteed to win, but you'll have a good time playing. The best Lady of Fortune strategies are pacing and self-control. Don't start your bets off too ambitious. Always maintain control of yourself and exercise good judgment when you're gambling.
If you can't afford to gamble, consider Lady of Fortune free play. You still get all the fun of the video slot without the financial risk associated with gambling.
---
Lady of Fortune on Mobile
If you're looking for some entertainment during the slower parts of your day, get Lady of Fortune for Android and iOS. This is a great video slot, no matter what device you're playing on, but playing on your phone and tablet will get you closer to the casino experience because it's touch-screen.
---
Frequently Asked Questions (FAQ)
Where can I play Lady of Fortune with real money?
You can play Lady of Fortune at any of the online casinos that host Play'n GO slots on Efirbet.com.
How much can I win playing this game?
The win can win up to 2,500 coins.
How much is the minimum stake?
The minimum stake is 0.01 coins on one playline.
What is the maximum stake?
Bet up to 0.25 coins on five playlines.
Will I lose money playing the demo version of Lady of Fortune?
Never, the demo version is always free.
What's the RTP?
Lady of Fortune RTP is 95.78%.
Can I play on my smartphone?
Yes, Lady of Fortune on mobile is available for Android and iOS.
---