Storyline
The word "matsuri" means "festival" in Japanese. In the Matsuri slot by Play'n GO, you see a view of a city at night from across a lake. You can see lanterns lighting up the city, reminding you of the Akita Kanto, a celebration in Akita, Japan, involving many lanterns displayed on long poles.
You see stalls selling food to the celebrants. There are "takoyaki," or octopus balls and dumplings, should you get hungry. You think about shaved ice for dessert. In one of the stalls, you find a game involving catching goldfish and quickly lose yourself in fun.
---
Graphics, Sounds, and UX
The background soundtrack for the Matsuri slot is the sound of a crowd, but it's quiet. The wheels' sound is barely heard, but winning combinations give rise to a dramatic piece of music that seamlessly merges back into the game by fading out. There are whooshing sounds to break up the monotony.
The visuals in this slot have their highest artistry in depicting three women wearing traditional kimonos, who are real-to-life and expertly drawn. The symbols animate tastefully, and you will see emanations of light around winning symbols and streaks of light that mark the winning lines.
When you play this game, you realize the creators wanted to offer a more relaxed atmosphere. The controls are easy to navigate, and understanding gameplay is a cinch. One convenient feature you'll find is that you can hover over the symbols to reveal their values.
---
How to Play Matsuri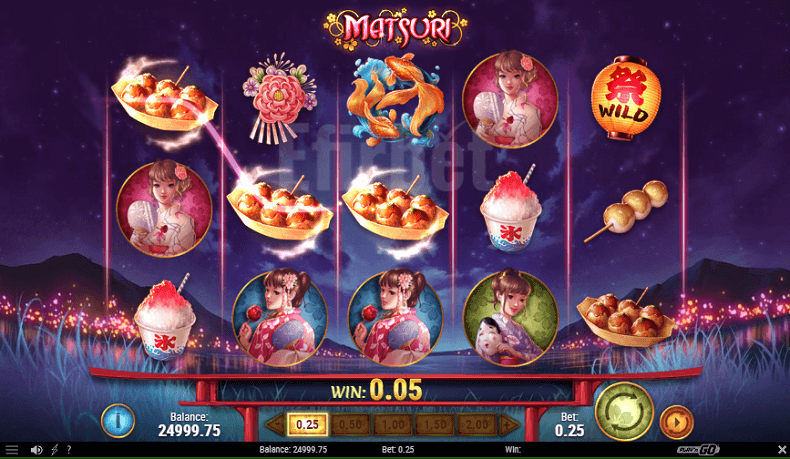 Because of the compatibility of Matsuri for Android and iOS, you may want to play on your mobile device. After deciding which device you're going to use, you can follow these steps to play:
Determine your bet size.
Remember that you have the option to use auto-spin.
Press spin.
Try to get combinations of three of the same symbol. The lower-paying symbols are various festival foods, a flower, and a hand-held fan. The three Japanese women are the premium symbols and pay more than the lower symbols.
Pay special attention to bonus symbols: two goldfish, a cat mask, and a paper lantern.
Be ready for bonus rounds with expanding wilds.
---
Special Symbols and Bonus Rounds
The paper lantern is wild. It'll replace all of the other symbols, except for the cat mask and goldfish bonus symbols.
The cat mask symbol is the scatter symbol. It'll appear only on reels one, three, and five. If you get three of the scatters, you go to the bonus round, where you obtain eight free spins.
During the free spins feature, called the Matsuri Festival bonus, every scatter symbol that comes up will add two spins to your total, and you can get as many as 20. Wild symbols will expand during this feature, creating a pole holding 24 or 46 lanterns that fills the whole reel.
The goldfish symbol acts as a bonus symbol, three of which send you to the Kingyo Sukui bonus round. Here, you scoop goldfish and put them in a bowl for prizes. "Kingyo Sukui" means "goldfish scooping" in Japanese and is a traditional game for children. In this game, your "poi," or paper scooper, is delicate and breaks eventually. The idea is to get as many goldfish as you can before that happens.
There's no gamble feature in this slot, and the lines are fixed. This may prove inconvenient for the player who likes to bring more action to a round.
---
Matsuri Volatility
Matsuri has medium volatility. You're going to be pressing spin vigorously with Matsuri because bonus wins take a while to appear. This slot demands that you stick it out to see it perform. This is the average for volatility, but it's enjoyable to scoop goldfish. Knowing you can win 20 free spins helps enliven the wait even more.
---
Strategies for Matsuri
Matsuri strategies will vary from player to player, but one idea is to master the Matsuri slot online free before doing anything else. When you're ready to play with real money, you may want to figure out ahead of time what your limit is going to be.
Knowing when to quit when playing online casino games could be wise. You can also decide ahead of time how much you have to win before moving on to another slot.
---
Matsuri Mobile Version
You'll find you can not only play Matsuri for free by using our wide-ranging catalogue, but you can put it in your back pocket, too. Matsuri on mobile is fully optimized and plays with ease.
---
Frequently Asked Questions (FAQ)
Where can I play Matsuri with real money?
To play with real money, you'll need to go to a Matsuri online casino that we recommend on our site.
How much can I win from Matsuri?
The most you can win from Matsuri is 50,000 coins.
How much is the minimum stake?
The minimum stake in the Matsuri slot is 0.25 coins.
Will I lose my money in the Matsuri demo version?
No, you won't lose your money in the demo version.
Is there a progressive jackpot in Matsuri?
No, there is no progressive jackpot in Matsuri.
What is the RTP for Matsuri?
The Matsuri RTP (return to player) is 96.17%
What is the slot layout of Matsuri?
There are five reels on this slot with three rows.
---