Storyline
Grab your camera gear and rig up for a safari adventure in this five-reel video slot by Play'n GO. Photo Safari is a game buzzing with insects and bursting with wins. It's set against an African sunset, with loveable creatures and camera rolls galore. If you're looking to see giraffes and lions, this game is your way to sneak a peek at those precious animals.
You'll get nothing but kicks when you play this online casino game. Maybe you'll get lucky and take home a caravan of wins! Photo Safari is the video slot for nature lovers, photographers, and, of course, gamblers.
Buckle up for this ride across an amber jungle landscape. You could win more than 5,000 coins that payout for real cash prizes.
---
Graphics, Sounds, and UX
You won't be clicking a camera on this spinning-reel slot, but you will be enjoying beautiful views. Have your fill of lions, elephants, and giraffes from a safe distance. Their warm smiles will reach out and invite you in a way that you'll never experience in the true wild.
You don't need to be a wildlife photographer to experience the thrill of adventurous wins! You just have to make your stake in the Photo Safari online casino game.
After playing Photo Safari, you'll be inspired to book a safari to take your own sunset portraits under baobab trees. The sound effects are full of buzzing mosquitoes and the hum of nature. Wins are accompanied by hooting horns and bongo drums for awesome, amped-up gameplay. Get the safari experience without the travel when you play this video slot.
---
How to Play Photo Safari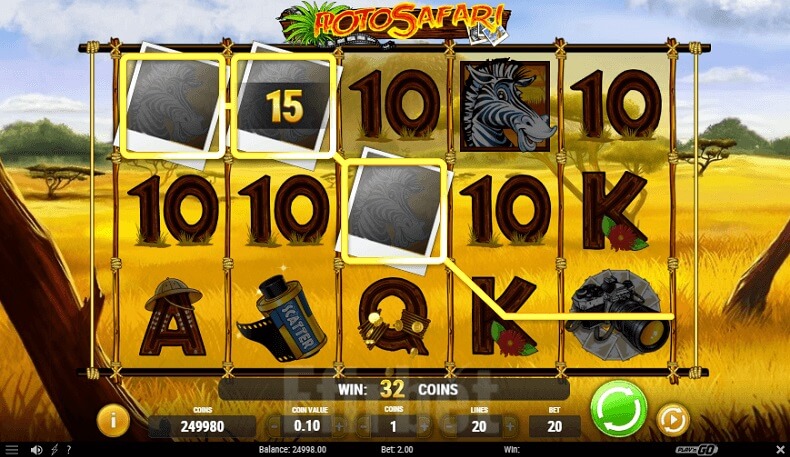 Playing this slot machine game is easier than clicking a camera! You'll enjoy free spins, bonus symbols, and wild wins when you play Photo Safari. Here's how it works:
First, stake your bet by selecting the bet values and playlines
Hit the spin button to get the reels going
Win with wild cards and groups of symbols on the playtable
Land the bonus symbol and unlock levels with huge win potentials
Cash-out your wins to gain some real money
---
Special Symbols and Bonus Rounds
Photo Safari is a classic game full of bonuses, camera rolls, and wins. The regular symbols are animals like lions, giraffes, and elephants. Even these will yield great wins!
Drums are the wild symbol, and they help form wins by subbing in for other tiles on the playtable. The scatter symbol is a roll of film. Two of these will land you wins and free spins.
The bonus symbol is the camera, and it unlocks bonus rounds with safari photoshoots and free spins! Even if you aren't winning right away, hang in there and enjoy the photography theme of Photo Safari.
---
Photo Safari Volatility
This game has medium volatility, so wins are never too far off on this safari ride. You can increase the stakes with your bet size if you're looking for a little more excitement.
---
Strategies for Photo Safari
Most of this online casino game is left up to chance, but here are some Photo Safari strategies to help boost your playing potential:
Keep Wagers Responsible
Gamble within your means. You should always know your limits before your start spinning the reels on Photo Safari. Exert self-control for a good time and the chance to win wild prizes.
Know the Rules
If you're a first-time slot player or a regular gambler, you should still take a look at the rules before playing. Get to know the slot symbols and everything the game has to offer. You can try Photo Safari free play to get the hang of things before placing bets.
Photo Safari Mobile Version
Take the excitement of this jungle game with you when you play Photo Safari on mobile. Experience the animals, photography, and feral wins involved in this five-reel slot on the screen of your mobile device. You'll want to play with headphones to get the full experience of Photo Safari.
---
Frequently Asked Questions (FAQ)
Where Can I Play Photo Safari With Real Money?
Play Photo Safari online free and with real money at Efirbet.com online casinos.
How Much Money Can I Win Playing This Video Slot?
Win up to 38,766 coins when you play this video slot.
What is the Minimum Bet?
The minimum bet in Photo Safari is 0.01 coins across one playline.
Will I Lose Money When I Play the Demo Version of This Game?
Nope, the demo version is completely free for all players.
What is the RTP?
The Photo Safari RTP (return to player) is 94.17%.
Can I Play This Video Slot on my Mobile Device?
Yes, you can get Photo Safari for Android or iOS.
Is There a Jackpot in This Game?
Yes, it's worth 5,000 coins.