Storyline
Reactoonz is another one of those online casino games developed by Play'n GO that makes sure you have fun. This slot takes you to a place where quantum forces try to turn groups of aliens into pure energy and become cash winnings for you. As the energy builds up in the Quantum Meter, various Quantum features are released, affecting the cascading gameplay.
This world is ruled by the feared Gargantoon, who is called upon when you create too much energy and successfully release all four Quantum features in one round.
It is a world of aliens that are quantum particles. Some have one eye, and some have evolved two eyes, but all of them are reacting to the ongoing experiment. They explode or transform into other symbols, sometimes releasing untold amounts of energy that mean big winnings for you.
---
Graphics, Sounds, and UX
While the user experience at first seems daunting, once you get to know the one- and two-eyed particle-sized aliens and their behaviour, you're not as overwhelmed.
To say a lot is going on in this game is an understatement. The graphics successfully distinguish all the emoji-like energized characters and high-tech experimental equipment depicted on the screen. There's a detailed Quantum Leap Meter, for instance, that displays the levels of energy being accumulated as you play.
There's an easy-going tune in the background, but this game also has silly alien voices and sounds. The Gargantoon snores when you don't press play, for instance. You hear the little aliens' voices throughout gameplay.
---
How to Play Reactoonz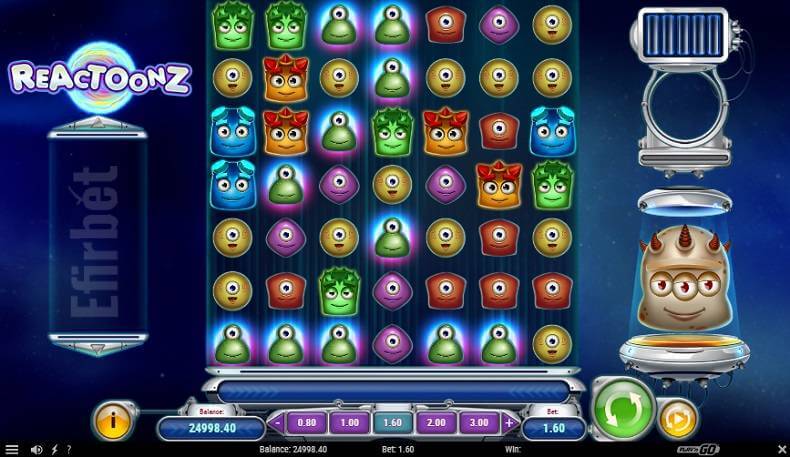 You'll first need a Reactoonz online casino from which to choose this slot. There are some easy steps you can take to get playing:
Determine and place your wager.
Decide if you want to use the autoplay feature.
Press spin.
Get to know the game process. In this slot, you have cascading symbols within a 7×7 matrix. Your goal is to make five or more combinations of the different symbols, either horizontally or vertically.
Distinguish the various aliens so you know how much you are winning. You'll find lesser aliens have only one eye while higher-ranking aliens have two.
Be ready for standard and bonus gameplay features, including meeting the three-eyed Gargantoon.
---
Special Symbols and Bonus Rounds
The Reactoonz slot is all about its gameplay. There are no free spins or bonus symbols, but there are many ways to get bonus wins. Each spin can last a long time as the alien symbols react to each other and disappear, allowing more symbols to fall and bring new combinations. There are no bonus rounds, but there's a final feature involving the Gargantoon.
Standard gameplay features
In standard gameplay, four of the same symbol will become a Giantoon when they form a square and the winning combination doubles. Look out for "Fluctuation," where random one-eyed aliens are selected for every round. If they successfully bond into winning combinations, they'll leave two wild symbols behind. There'll also be "Instability," where the Gargantoon drops four to eight wilds randomly at any time.
Quantum Leap
You'll be charging up the Quantum Leap Meter during gameplay, which will cause supernatural forces, called Quantum features, to be randomly imposed on this alien experiment. There are four Quantum Leap features, and a combination of 25 symbols activates each during a round. These features are: Demolition: All one-eyed aliens are destroyed | Alteration: All one-eyed aliens of one type are changed into another | Incision: An X is formed across the screen with a selected symbol, and the centre symbol is wild | Implosion: Three to six symbols turn into wilds, and all the symbols touching them are destroyed
Meeting the Gargantoon
If you activate all four Quantum features, you activate the Gargantoon. The Gargantoon appears as a randomly placed 3×3 wild-symbol block. Next, it transforms into two 2×2 wild-symbol blocks placed randomly, and last, the Gargantoon splits up into nine wilds.
---
Reactoonz Volatility
The Reactoonz slot has high volatility.
---
Strategies for Reactoonz
Your best strategy is to feel out the game and find out what these aliens can bring you in the way of winnings. Reactoonz strategies may involve using the autoplay feature, given the high volatility. Also, if you want to practice, you should take advantage of Reactoonz free play.
---
Reactoonz Mobile Version
The Reactoonz for Android and iOS version allows you to play wherever you want. The game is optimized, and gameplay could be as close as your back pocket. When you play Reactoonz on mobile, you'll see the game introduced as "An Alien Race for the Win."
---
Frequently Asked Questions (FAQ)
Where can I play Reactoonz with real money?
You can find a Reactoonz online casino at Efirbet to find out where to play with real money.
How much can I win from Reactoonz?
The highest payout is 4,750x your stake.
How much is the minimum stake?
The minimum stake is 0.20 coins. If you decide you want to bet higher, the maximum stake is 100 coins. If you choose not to spend any money, you can play Reactoonz for free on our site.
Will I lose my money in the Reactoonz demo version?
No, you will not lose your money when you play the demo version. You can play Reactoonz slot online free on our website.
Is there a Progressive Jackpot in Reactoonz?
No, there's no progressive jackpot in this game.
What is the RTP for Reactoonz?
The Reactoonz RTP (return-to-player) is 96.51%.
What are the Graphics Like in Reactoonz?
The graphics in Reactoonz are detailed and colourful. There are special effects involving electric bolts and energized orbs.
---