Storyline
Stardust online slot is a time warp through space, leaving you wishing for gems in the galaxy. It's a space-themed game with a retro feel.
The main prize is the galaxy will explode with beautiful gems, and you will score big. This is literally how the game works. Yes, there is a spin, and then you wait for the reels to line up, but you are also waiting for your win meter/stardust meter (located on the right-hand side of the screen) to fill up and then explode.
When the stardust meter is full, it will explode, and whatever gems are smashed upon explosion, you will win from that gem colour: free spins and bonus games.
You will love the trippy outer space feel of this slot.
---
Graphics, Sounds, and UX
Stardust, at first, looks like it is average in graphics and screen visuals, and then it keeps showing you more. So, the more you play, the more you see. The graphics are not out of this world, but they do continue to surprise, especially with the stardust meter filling on the side of the screen.
The soundtrack to this outer space slot was space travel themed. Boring and steady. However, it fits with the space theme, and you get used to the repeat of the sounds, and it will draw you in.
This game was easy to navigate. You don't need to know that the stardust meter will fill and explode, it just happens, and you only need to focus on spins.
---
How to Play Stardust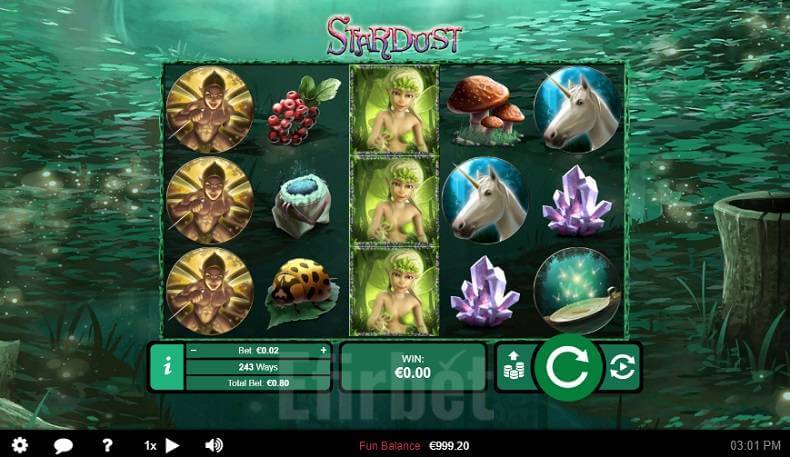 Stardust was fun to follow, and you can play following these steps. Be sure to try Stardust free online before committing to a bet.
Find an online site that you like and try Stardust free play.
Press the spin button on the right-hand side of the screen. This game also has a stop button if you'd like to stop the spin at any time.
Look for the stardust words, the stardust colours, and the gems to line up for the biggest payouts.
The playing cards are the least payouts but are still rewarding.
Play Stardust for free spins and bonus rounds and a chance to see your stardust meter explode.
By choosing Stardust online slot, you will be jumping into a retro time warp, reaching far into outer space.
---
Special Symbols and Bonus Rounds
Reel 3 is where you will collect gems to build up your stardust meter. The stardust will trigger free spins when it explodes. It explodes after ten gems are collected.
A respin feature that has you winning free spins when reels 4 and 5 line up, triggering…you got it… more free spins.
---
Stardust Volatility
The volatility of Stardust is medium. The medium volatility online casino games are fun and can have quite the payout. Jackpots are bigger than low volatility slots but not as huge as a high volatility slot.
Enjoy the fun game time as you watch the universe float by. You can earn more in this game by building up the gems. There are four different multi-coloured gems to collect and build up your stardust meter. This is another way to win more free spins in Stardust.
---
Strategies for Stardust
If lining up the coloured gems in the reels is a strategy, then that is what you need to do. Gaining more gems means you are building up your stardust meter.
Build the stardust meter for Stardust strategies up to ten gems and then explode with more spins. More spins equal more fun. More fun most likely may equal more playtime.
---
Stardust Mobile Version
Stardust for Android and iOS phone version is the same as the desktop version. The mobile version is just as simple as the desktop.
Buttons were all located in the same spots. The Stardust meter was still visible, and easy to see it fill. The only negative point was the words on the game were very tiny. Very hard to read on Stardust mobile.
---
Frequently Asked Questions (FAQ)
Where to play Stardust with real money?
You can play this slot's demo version right here on the Efirbet website. If you want to bet real money, choose one of the first-class online casinos reviewed by our team.
How much is the minimum stake?
The minimum stake is 0.01 coin. Max coins per line are 10.
Will I lose my money in the Stardust demo version?
No, you will not lose any money on demo mode.
What is the highest payout for this game?
The highest payout for this game is 1000 X your bet.
What is the RTP for Stardust?
The RTP for Stardust is 96.59%.
Is the theme of Starburst worth playing for?
Yes, It is very exciting and full of colour. It keeps you drawn in and wanting more.
Does Starburst accurately portray space?
No, this is a space-themed game with many surreal symbols and ideas. It is meant to be fun.
---