Storyline
The first slot machine dated back more than 100 years ago. Since then, casino games have only gained popularity. We're all familiar with the classic slot machine symbols: lemons, sevens, cherries, and bars. These symbols have prevailed to a new age of gambling now, and online slots are reimagining these vintage themes for more engaging gameplay.
The Ultimate Hot online casino game is a new take on the old-fashioned slot machine setup. Brought to us by game designers at EGT, it's a brilliant slot with animations that light up the screen and create a nostalgic win-to-play experience. Modern gamblers will get a kick out of this three-reel slot.
Play Ultimate Hot for a taste of simpler times, with win potentials fit for modern lifestyles.
---
Graphics, Sounds, and UX
Gamblers will have a blast playing the Ultimate Hot video slot. Flaming fruit yields blazing wins, and the sizzle of the playtable might just leave you completely parched.
This game certainly employs silence to help build the excitement when wins occur. The quiet is interrupted by chimes that accelerate with the spinning reels. Free spins only amplify the boppy sound effect. The greater the win, the faster the music gets.
Fruit becomes engulfed in flames when you hit a winning streak. Ultimate Hot's five paylines could provide cash prizes and entry into a double-or-nothing bonus round. This play-to-win experience is familiar yet surprising because you come across high-stake minigames that differ from regular gameplay.
Slot-lovers will be pleased with the classic game design and modern twist provided in Ultimate Hot.
---
How to Play Ultimate Hot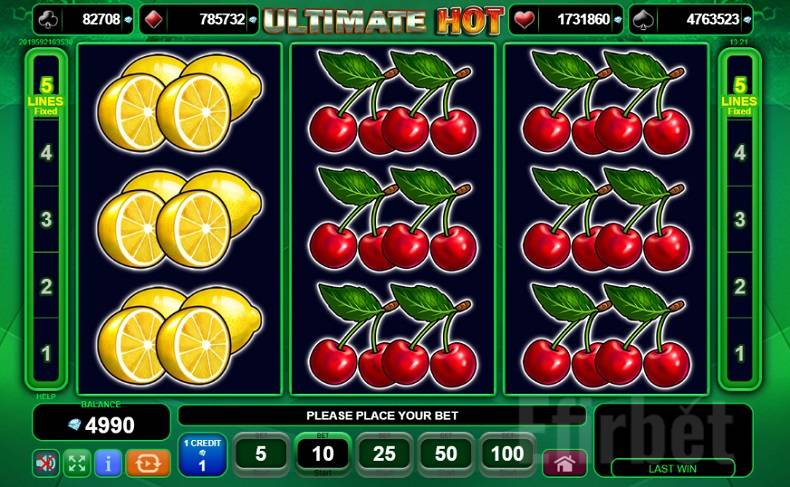 This video slot is as easy as pie. It has enough fruit for one, too! Here's how to play Ultimate Hot:
Select your desired bet value
Hit the spin button to start playing
Collect groups of symbols across five paylines to generate wins
If you hit the jackpot, you'll get the chance to bet your winnings for double-or-nothing
Collect your wins and cash out!
---
Special Symbols and Bonus Rounds
In this slot, you'll see plumbs, grapes, oranges, lemons, cherries, stars, bells, and lucky sevens. Plumbs, grapes, lemons, and cherries are the regular symbols, and these produce small wins that are still worthwhile.
The stars, bells, and oranges are worth more, but the lucky seven is the bonus symbol. Three of these will produce a jackpot bonus round, where you could win up to 60 x your initial bet.
You get the option to gamble these wins. If you choose the right colour, you could get twice as much.
Some online casino games incorporate a wild card, but Ultimate Hot has enough ways to win without needing a substitute tile. So try this slot for free to test your luck!
---
Ultimate Hot Volatility
This game has low volatility, so you can sustain longer playtime even with a low budget. If you want to increase the stakes, up your bet value.
---
Strategies for Playing Ultimate Hot
The wins in this game are determined by luck. If you take into account these Ultimate Hot strategies, you might have a better experience.
Know the Slot Objectives Like the Back of Your Hand
It's a good thing this slot is simple because it's crucial that you understand how to play. You only need to press a few buttons, but you want to be aware of what you're doing so that you don't make a mistaken wager. Do some quick research before playing the slot, and read up on the playtable before placing bets.
Always Gamble Responsiblyd
Never turn to gamble if you're in a financial pickle because it could end up making your situation much worse. Gambling is meant to be fun and entertaining, so let's keep it that way. Bet within your budget, or try Ultimate Hot free play.
Ultimate Hot Mobile Versiond
Thankfully, this instant classic has been made available for your home devices, so you don't have to play at a casino. Ultimate Hot for Android and iOS is available without data-compromising downloads or software installations. You can experience the fruity playtables right on your home screen.
---
Frequently Asked Questions (FAQ)
Where can I play Ultimate Hot with real money?
You can play the Ultimate Hot slot online free or with real money at Efirbet.com.
How much can I win playing this game?
You can win up to 6,000 coins when you play this video slot.
What is the minimum bet?
The lowest bet you can place in Ultimate Hot is five coins.
Will I lose money playing the demo version of this game?
Never. The demo will never cost you a penny.
Is this game available on my smartphone?
Yes, you can play Ultimate Hot on mobile devices wherever you can connect to wifi.
What is the maximum bet in this slot?
You can bet up to 100 coins in this slot.
What is the RTP?
Ultimate Hot RTP is 95.5%.
---