Storyline
Vikings are known to be hardened, ruthless warriors from the ancient lands of Scandinavia. Their horned, metal helmets have become iconic symbols of power because of Viking portrayals in film, television, and video games.
There are no lands off-limits to the Vikings, and now they've infiltrated the world of gambling in a new video slot by Play'n Go. Viking Runecraft is an action-packed slot designed to take your gameplay to the next level.
Developers at Play'n Go made sure that you get more than just spinning reels in this video slot. You get to journey through multiple levels and play as different characters until you reach the final round, where you get the chance to defeat the ultimate evil, Ragnarök.
---
Graphics, Sounds, and UX
The game takes place against a snowy tundra backdrop. It's not just the weather that seems harsh and brutal, though; the Viking characters are rugged and ready for battle. Their war-ready stance against the epic background music will inspire you to go full-force into the game and give it your best shot.
The cinematic score in the introduction enhances the feeling of an adventure approaching, and you'll want it to continue throughout the gameplay. It comes in doses, though, mostly during big wins. During regular play mode, standard slot sound effects intensify your wins. The best part of the game is the bonus rounds, where various Viking gods assist you in your challenge to conquer territory.
---
How to Play Viking Runecraft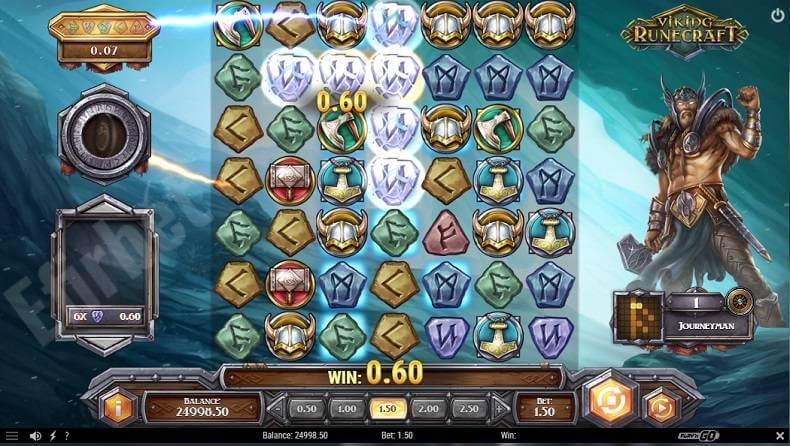 The Viking Runecraft online casino game is a bit more engaging than other video slots. You have the option to choose characters and progress through mini-challenges, but overall, the gameplay is pretty simple. Here's how it works:
Adjust your bet given the amount buttons at the bottom of the screen
Hit the circular spin button to start
Collect rune symbols in groups of five to start clearing the grid
As you clear the grid from wins, your destruction meter fills up, and you get free spins
Clearing the entire grid and filling the meter will bring you to the level of the gods
Win on a godly level and cashout to collect your prizes
---
Special Symbols and Bonus Rounds
There are four gods that make an appearance throughout the game. Although they appear off-grid, they are the bonus symbols of the game and grant you special powers. Each Viking god can endow special gifts to help you progress to the next round.
Like many online casino games, Viking Runecraft has a wild card that will generate wins even when certain tiles are missing. Wilds are generated randomly by the Viking god characters; each one puts a certain amount of wilds on the grid so you can maximize your wins.
Once you clear the grid and can't win anymore during regular play mode, you'll see that the destruction meter on the side of the screen is full. This takes you to a bonus round: the level of the gods. There is another bonus round you can reach with an end of the world theme.
---
Viking Runecraft Volatility
This game is a high volatility slot. It can be pretty risky, but if you win big, it's worth it. Try Viking Runecraft free play if you aren't comfortable with the risk of real cash gambling.
---
Strategies for Viking Runecraft
The best Viking Runecraft strategies are pacing and paying attention. Unlike other online casino games, this game requires a bit more than luck. You need to have a clear understanding of your odds and the game rules. This will help you navigate the bonus rounds better.
Try starting your bets off at a low rate and wait to raise them until you get to the bonus rounds or until your destruction meter is near full. This will ensure that you don't run out of coins before seeing much action.
---
Viking Runecraft on Mobile
Vikings are all over Netflix, the internet, and now your iPhone with Viking Runecraft on mobile. You can play on the go and still experience stunning graphics and engaging gameplay.
---
Frequently Asked Questions (FAQ)
Where can I play Viking Runecraft with real money?
Play Viking Runecraft online at licensed casinos via this site.
How much can I win playing this video slot?
Win up to 50,000 coins playing Viking Runecraft.
How much is the minimum stake in Viking Runecraft?
Bet as little as 0.10 coins per spin.
Will I lose money in the demo version?
Never, the demo is always free.
Where can I play this video slot for free?
You can find the Viking Runecraft slot online for free through Efirbet.
What is the return to player rate in this game?
Viking Runecraft RTP is 96%.
Is this video slot supported on mobile devices?
Yes, you can get Viking Runecraft for Android and iOS anywhere you get wifi.
---