Storyline
You find yourself somewhere in space when you play Wild 7 Fruits by MrSlotty. This is one of those online casino games that explains everything in its name. You set out to get fruit, 7s, and wilds. Well, it doesn't explain the spacy backdrop, but why not add stars to an already stellar slot?
The theme of this slot is off-the-cuff fun. The creators want you to experience both colour and space, but they also want to offer a retro slot that can hold its own should the serious gambler come along.
Wild 7 Fruits reminds you that it doesn't matter what planet you're from — you can get some wild action with heavenly fruit and cosmic sevens.
---
Graphics, Sounds, and UX
You'll discover a background of outer space when you beam yourself into this slot. The game screen is located in the middle of a purple, star-studded image. All of the symbols are crisp, colourful, and detailed, but they're not real-to-life.
Be ready because they packed this slot with sound. There are bongo drums in the background that set the pace for your play. You'll hear an atmospheric whirling when you press spin, and you'll find a cacophony of pops and taps accompanying gameplay.
Wild 7 Fruits has intuitive navigation, with the spin button and menu easy to see on the right side of the screen.
---
How to Play Wild 7 Fruits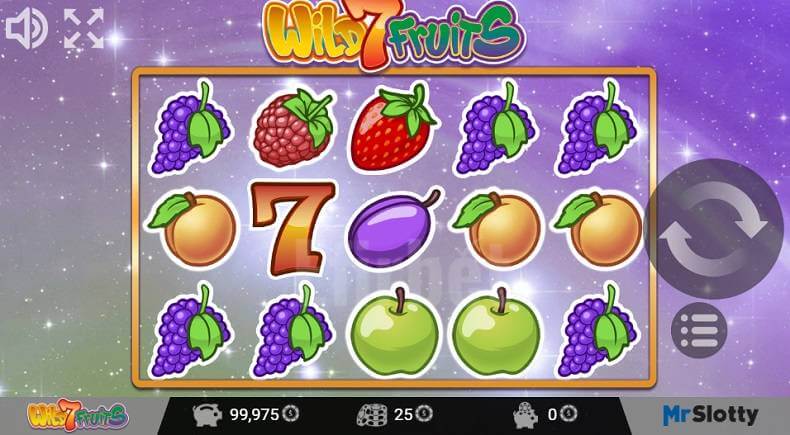 It's easy to play Wild 7 Fruits. Just follow these steps:
Determine your wager.
Choose how many lines you wish to play.
Set up auto spin, if that's your plan.
Press spin.
To win, you have to get combinations of three matching symbols. Successful combinations of apples, cherries, grapes, peaches, or plums will yield less than the raspberries and the strawberries, which pay 1,000x your stake.
Look for the wild symbols and the bonus symbols because they may help you get more winning combinations and free spins.
---
Special Symbols and Bonus Rounds
The wild symbol, which is the word "wild," can substitute for all of the other symbols except for the 7s.
The 7s are the scatter in this slot and deliver free spins to you if you get three, four, or five of them. Doing so will give you one, three, and 10 free spins, respectively.
If you're looking for a bonus rounds feature, you won't find it in this slot.
---
Wild 7 Fruits Volatility
Wild 7 Fruits has medium volatility, so you're going to have to stick it out with this slot. You should get even payouts over time. This game makes getting 10 free spins difficult. You may have to rely on the wilds to keep your monetary boat afloat.
---
Strategies for Wild 7 Fruits
Strategies for Wild 7 Fruits begin with considering Wild 7 Fruits free play. It never hurts to find out a little about a slot without betting real money if you can.
After that, you can also choose to play Wild 7 Fruits on mobile as a way of changing things up.
---
Wild 7 Fruits Mobile Version
If you wondered if there is Wild 7 Fruits for Android and iOS, the answer is a resounding "yes." MrSlotty is at the forefront of gaming technology, ensuring peak performance from its games.
---
Frequently Asked Questions (FAQ)
Where can I play Wild 7 Fruits with real money?
You can play with real money at a Wild 7 Fruits online casino. We can recommend many casinos, and we offer the Wild 7 Fruits slot online free as well.
How much can I win from Wild 7 Fruits?
The maximum win is 2,000x your stake; this requires getting five wild symbols.
How much is the minimum stake?
The minimum stake in Wild Seven Fruits is 0.01 coins.
Will I lose my money in the Wild 7 Fruits demo version?
No, you won't lose your money because you play Wild 7 Fruits for free when you play the demo version.
Is there a progressive jackpot in Wild 7 Fruits?
No, there's no progressive jackpot in Wild 7 Fruits.
What is the RTP for Wild 7 Fruits?
The Wild 7 Fruits return to player (RTP) is 94%, which is below average.
What year was Wild 7 Fruits released?
MrSlotty released Wild 7 Fruits in 2018.
---