Ad disclosure
Here at EfirBet (EB) we pride ourselves on having a site that is completely ad-free. No ad blocker is needed while browsing EB. At the same time, we do use affiliate links to earn commissions (every time you click a link and sign up at a betting site). This revenue helps us deliver quality and trustworthy reviews for our readers at no additional cost to them. Read the EB
About Us
page if you want to learn more.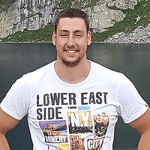 Testing Methodology
See '
How we rate bookmakers & casinos
'
Related Articles Read
10 Topic-Related Articles
Brands Compared
6 Alternative Brands
In-House Edits
Edited 4 Times by Our Experts
As one of the UK's leading sports betting operators, Coral has loads of features, including Cash Out. People interested in Coral betting can read the Coral review and see that it is among the most common sports betting features.
Since cash out allows users to have more control while gambling, it is useful in many situations. So, let's learn how to make the most of it on one of the top-tier online bookmakers.
---
How to Use the Coral Cash Out?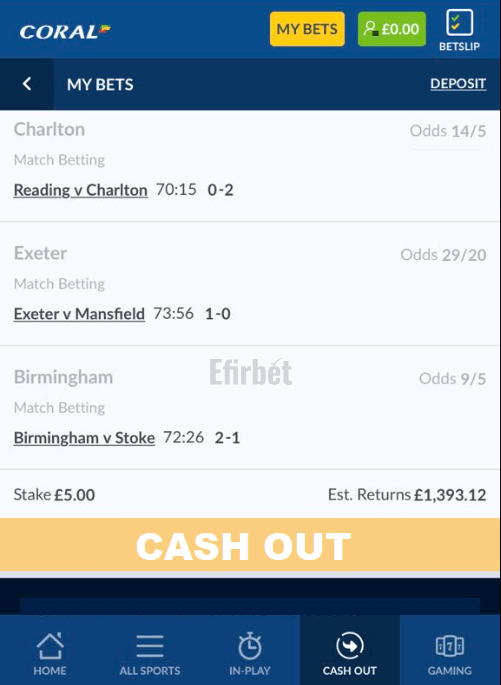 To use the Coral Cash Out feature, you must:
Open the operator's website and create an account or login.
Go to the sports betting category and place a bet.
Once ready, check the "My Bets" option, which is where you'll find if Cash Out is available.
If it is there, simply select it, and you will receive the cash out amount from Coral.
It is worth knowing that the Coral cash out betting slip option may be disabled or not available for specific matches.
---
What is Coral Cash Out & How Does it Work?
Coral Cash Out is a sports betting feature that lets people stay in control when betting. That's because the option allows punters to settle their bets before a specific event is over. By doing this, they can get a specific amount of money without waiting for the match to come to an end or save a portion of their bet. It all depends on the specific situation when they have used Cash Out.
Interestingly, Coral is among the few UK bookies that also offer a Partial Cash Out. As its name suggests, this is a special version of the regular feature that allows gamblers to pull out a portion of their bet and keep the other one active.
After you've decided to use this feature, press the Cash Out button, and the operator will show you a confirmation button. After selecting it, you have to wait for a couple of seconds until you see the "successfully Cash Out" message. If this message doesn't show up, it means that you haven't used this feature.
Keep in mind that you can always check your cashed-out bets by going to "Bet History". The latter will also show you the standard bets where you haven't used this feature.
---
Cash Out Markets at Coral
Whether you use the Coral Cash Out barcode or place a bet using the site, you can use this feature on a wide range of sports, such as:
Football
Snooker
Boxing
Tennis
Horse Racing
Volleyball
Cricket
Handball
Basketball
Some more popular sports, such as football, will give you access to loads of markets where Cash Out will be available. This includes Correct Score, Next Team To Score, Both Teams To Score, Match Betting, and more.
Interestingly, you will find the most betting markets for volleyball, with more than 75 options.
---
How do I partially cash out a bet at Coral

You can particularly cash out your bet at Coral by using the exclusive feature, which will also allow you to keep your bet active. To take advantage of this feature, you have to use the slider and decide how much money you want to take out. Users can get between 9% and 90% of their bet's value using the Coral partial cash-out feature.
Keep in mind that Coral will change the Cash Out button from orange to gold when your bet is profitable. Consequently, your job will be to decide how much money you want to get.
---
Coral Cash Out Terms & Conditions
Before you start using the Coral Cash Out online betting feature, there are specific rules you must be aware of. Although you should read everything yourself, there are a few things that stand out:
👉 Cash Out is available to mobile, online, and telephone Coral customers.
👉 The feature can only be used by punters registered in the UK or Republic of Ireland using GBP or EUR as their currency.
👉 As mentioned, the Cash Out feature will only work on pre-selected markets.
👉 If you place a multi-bet, you can only use Cash Out if all markets are eligible.
👉 Coral allows its users to Cash Out as much as £50,000 per bet.
👉 You can't use Cash Out while using any other bonus from this online betting operator.
---
Cash Out Feature & Bonuses – Do They Work Together?
Some people are probably not surprised that there are all sorts of Coral bonuses that they can choose from. Even though some of them are very interesting, the operator won't allow their clients to use them alongside Cash Out. Consequently, punters have to decide which one they want to use.
---
Can I Cash out Using Coral app?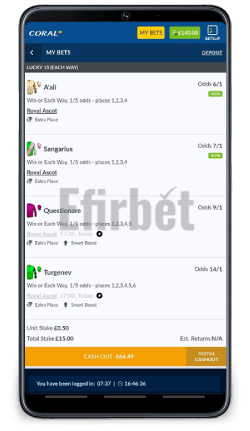 Yes, you can use Cash Out using the Coral app for Android and iOS. If you take a look at the operator's T&C, you can see that the Coral cash-out app allows mobile users to test this feature while punting. This is good news because Coral has one of the best mobile gambling services in the UK.
---
Coral Cash Out Tips
Even though this feature is straightforward to use, not everyone has that much experience. Fortunately, our team has decided to provide you with a couple of important tips that will help you maximize your winnings.
Never rely solely on this feature
As lucrative as it is, the Coral Cash Out feature won't be able to save you all the time. Besides the fact that it isn't available for all markets, the operator may decide to disable it for a specific event. Consequently, you should never place a bet that only relies on this feature.
Sometimes, it is not a good idea to wait until the end to use the feature
Many online punters who use Coral always wait until the end to make the most of the Cash Out feature. Even though there are cases where this might work, sometimes, you may get more money if you use it earlier.
Ideally, you should watch the sports event as it unfolds before using Cash Out
In an ideal situation, people who want to use the Coral Cash Out feature should watch the event they've wagered on. Access to the match itself will allow you to make better decisions regarding whether to use this feature.
---
FAQ
Can you cash out on Coral?
Yes, you can cash out your wagers on Coral, and this option is available for the online and offline betting service.
Where is cash out on Coral?
Cash Out is located inside your betslip, and you can check whether it's available after placing a bet.
How do you cashout a bet?
You cash out a bet by selecting the feature once it becomes available. Don't forget that Coral also has a Partial Cash Out.
What does it mean when Coral says that cash-outs are suspended?
Occasionally, Coral suspends the cash-out option as the system has to calculate new odds continuously. This usually happens when major events take place in the matches. Also, remember that the bookie will always suspend cash-outs five minutes before the matches are concluded.
How long do withdrawals take at Coral?
The withdrawal period varied depending on the banking method you use. For example, if you use Coral Connect Card, the payment will be processed instantly.
Do cashouts include the original stake?
Yes, the cashout will include the initial stake. However, the casino will adjust the odds to reflect the current state of the match.
Why is there no cash out on my bet in the Coral account?
There is no Cash Out on your bet in your Coral account because the market you've wagered on doesn't allow you to use it. Furthermore, the operator may have disabled this feature for the specific event.
What is a bet tracker at Coral?
Bet tracker is an option that allows you to keep an eye on a bet you've placed using the Coral retail bet shop online. You can do that by scanning the unique code available on the bet receipt.
Is Coral cash out for horse racings only available for the Win or Each Way Market?
Yes, Coral will only let you use this feature on one of these two options, at least for now. However, the site supports many of her markets for other sports, such as volleyball, football and handball.
---
Conclusion
As we've seen, Coral is one of the top-tier iGaming operators regarding the Cash Out feature. The operator offers the standard feature as well as a partial version that gives online bettors even more control. What makes Coral even more special is that it offers this option for mobile, desktop, and telephone customers.