Ad disclosure
Here at EfirBet (EB) we pride ourselves on having a site that is completely ad-free. No ad blocker is needed while browsing EB. At the same time, we do use affiliate links to earn commissions (every time you click a link and sign up at a betting site). This revenue helps us deliver quality and trustworthy reviews for our readers at no additional cost to them. Read the EB
About Us
page if you want to learn more.
Last update by Efirbet :
How to download Football Index Mobile App for Android?
Football Index understands the importance of meeting expectations and that to build upon its success, and it is imperative to provide a variety of Football Index mobile app options to its members. Resultant of that keen understanding within the marketplace, the betting index provides a Football Index android app for its UK members that offers the same level of quality as that of its desktop site and includes the full scope of its services.
To download the Football Index app for Android, interested punters need only complete the following:
Step 1: Open their preferred mobile browser and visit the Football Index website.
Step 2: Scroll to the bottom of the page and select "For Android".
Step 3: Upon arriving at the Google Play Store, press "Install" to download the app.
---
How to install Football Index .apk file?
Immediately after completing the downloading of the Football Index Android mobile app, the next step requires its installation on your smart device. To complete this and install the app successfully, follow these steps:
Press the "OK" button to acknowledge your desire to install the app on your mobile device. That will instantly begin the process of installation.
If during this process the install is interrupted with an "Unknown Sources" alert, open your settings and press "Unknown Sources" to allow the installation to continue.
Upon completion of the install, tap the Football Index icon on your screen to open the app.
Once opened, either log in with existing account details or open a new account by pressing "Sign Up".
---
How to download Football Index Mobile App for iOS?
The same consideration given towards its Android mobile device users, the Football Index iOS app is perfect for those residing in the United Kingdom. It features an identical level of integrity and quality to ensure its Football Index for iPhone app meets the expectations of iOS users. To download the Football Index mobile iOS app, the process of near-identical and requires that these few steps completed. That includes:
Step 1: Opening your mobile browser and navigating to the Apple App Store.
Step 2: Searching it the navigation bar and typing in "Football Index – Bet & Trade".
Step 3: Pressing "Install".
---
How to install Football Index .app?
The steps required for installation of the iOS app are painless and involves little to no efforts to complete due to the process being automatic upon selecting its downloading to your iOS device. However, upon its successful downloading and installation, members will need to complete the following:
Locate and press the Football Index iOS app on their mobile device top open it.
Enter the pre-existing Football Index account information, or if a new player, press "Sign Up" to register a new account.
---
Benefits of Football Index's Mobile apps
The benefits of the mobile apps offered by Football Index are quite broad and are perfectly suited for those who prefer a more extensive product that allows them the freedom to quickly navigate and freely carry out all functions, irrespective of whether buying shares, trading shares or utilising the cashier and support services and their respective options.
In addition to the benefits mentioned, each of the mobile apps, and for that matter, the mobile website allow users to follow their stocks, monitor their value and receive instructional content through the Football Index academy and form.
---
How to use the Apps?
Football Index is not like most traditional bookmakers, and therefore, its apps operate in a slightly different manner. Instead of seeing a list of sports as seen in a traditional sports app, the Football Index mobile app displays and provides access to its football stock market.
It, in essence, performs and functions in the same way that a regular stock market does in so far as each share will fluctuate based on certain conditions, in this case, the performance of each player versus an actual stock.
To use the app, members need only to select the name of a player (stock) they are interested in and purchases the stock by pressing the "Buy" option or is already in possession of a particular player stock, the "Sell option".
In addition to the buy and sell options, those purchasing stocks have multiple viewing options such as by name, team, country, position, alphabetically, can view media rankings, match day rankings, view their portfolio and if interested, the option to place them in a 24-hour watchlist.
---
Football Index Mobile Website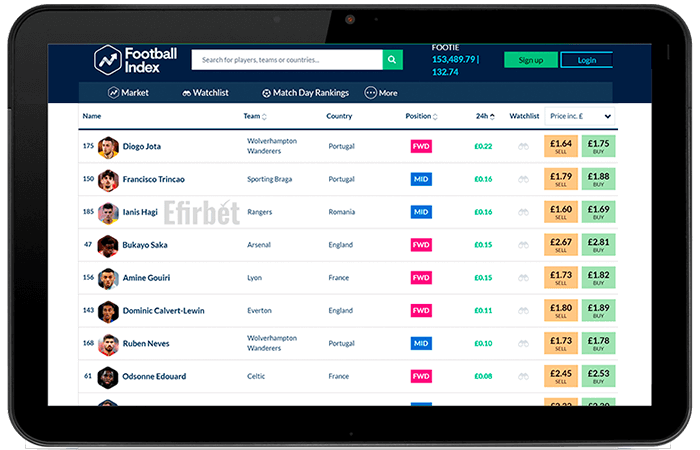 Football Index, in its effort to meet member demands for equal access, offers a brilliantly created mobile version of their desktop site that features the same high-quality design and dark blue on white colour combinations.
Fully optimised to meet the viewing capabilities of all devices accessing it, members will find an identical range of options for buying and selling of stocks. Furthermore, members will enjoy the ability to view their portfolio, view media and match day rankings, individual players or teams and if preferred, viewing all alphabetically.
In addition to the range of options it provides, the mobile site includes multiple assistive links that direct members to explanations about the company, what a Football Index is, its help centre and its terms and conditions.
Besides, direct links to its game rules, responsible gaming policies, forum, learning academy and several others that in place to make members experience as informative as possible.
---
Mobile apps' features
The importance of providing a flexible mobile app or website that is functionally compatible with most major mobile smart devices is critical to the modern-day mobile betting sites success. The value it generates is something that operators have not only embraced but perfected in their pursuit to ensure their long-term success and the needs of their customers met.
To that end, Football Index has implemented various features to increase the value it delivers through careful consideration on how those features will enrich the overall bettor experience. Those deemed most popular, and value noted and explained in the sections below.
Media Dividends
Focused on increasing the profitability and maintaining traditional trading practises, in the case of Football Index, the use of dividends are in place to provide a rich and fulfilling experience through potential daily payouts. Currently, Football Index offers three dividend variants:
Match Day
Media Rankings
In-play
It further allows dividend opportunities to win for the La Liga, Bundesliga, UEFA European Championship Qualifiers, Premier League, Europa League, Ligue 1, UEFA European Championship, Champions League, World Cup and Serie A.
Match Day Dividends
Traders wishing to maximise their odds of winning have the opportunity to participate daily whenever a match is one with the Match Day Dividends. Those who elect to do so will find each footballer taking the field ranked according to a scoring table whereby payouts will be dependent on each player's performance and if they earned an assist or scored a goal in addition to other variables.
---
Mobile Betting
The inclusion of mobile betting has transformed the world of sports and casino betting as more people choose to use their mobile devices for their entertainment pleasure versus the more traditional desktop PC. It is in part due to the flexibility it affords in what is quickly becoming a fast-paced life.
Resultant on the increase in mobile usages, or more so, the volume of people turning to their mobiles for the majority of their time spent on recreational entertainment, mobile betting has spiked.
Therefore Football Index, similar to virtually all sports gaming venues, offers a variety of mobile betting services, which anticipated to continue to see growth in the coming years ahead.
TOP 200
A favourable betting tool that designed to assist traders in their pursuit of stock appreciation, the TOP 200 list provides valuable insight into the top players on the site and those that carry the highest value. This valuable feature includes the ability to review the current club each player plays for, the price of their shares and likewise, the amount each share can sell for.
Squad Players
Traders interested in reviewing all footballers currently listed on the site can utilise the Squad Players options which will include all, and not simply those most popular or those that listed in the Top 200. Each is available for matchday and media dividends, which as a betting tool, can be used to increase profitability for short term and long term gains.
Live Rankings
As a live footballer stock trading option, the Live Rankings section is perfectly suited as a tool that helps measure a player's value and how they are ranked. In addition to proving valuable information, traders can view each player rank based on both media and match day and depending on which players ranked at the top, and traders can review and determine if they will receive dividends based on those rankings.
---
Mobile apps vs Mobile Website
Today's mobile technological advances being as they are, most who use mobile apps or mobile websites will not detect any noticeable differences.
While true in how the software performs, there are subtle differences, that depending on personal preferences may sway, which is the preferred choice for accessing the Football Index site via a mobile smart device. These include:
Mobile Apps
Pros
No cost to download or use
Offers full access to the Football Index site
Cons
Some smartphones not compatible
Uses valuable storage space
Mobile Website
Pros
Requires no additional software to use
No cost to use
Cons
Uses a fair amount of data
Must log in each time to access account
---
Is there a mobile-specific bonus?
A previous popular addition to a sportsbook or casinos promotional line-up, mobile bonuses has since been replaced to allow all who are interested in claiming to participate in the value they provide. Therefore, like most others, Football Index has opted not to create a bonus that is targeted directly towards its mobile customers.
---
System requirements and compatibility
While the general approach to today's mobile smart devices is such that the overwhelming majority will be fully compatible with either a mobile app or website, at times, for those with older or recently released mobiles, it could be a concern.
If using an older model device, it recommended that the latest operating system or update installed, and baring that, few other compatibility issues will arise beyond slower speeds, which ultimately will be dependent on the devices connection speed.
However, to reduce any concerns, we have included a small list of those newer models known to be completely compatible with the Football Index mobile site or either of its mobile apps.
Huawei P10, Mate P20 and all Pro models
Samsung S5, 6, 7, 8, 9 and all Plus models
iPhone S6, 7, 8 and all X model series
Samsung Galaxy S8 and Tab S6 or older
Huawei Mate 10 or older
LG G3 or older
Sony Xperia Z2 or older
---
Mobile payment options
Mobile payment options are an important part of a betting sites ability to cater to its customers and provide the options they require to quickly and effortlessly process payments into their account, and subsequently, withdrawal from their accounts.
While Football Index does offer two of the world's most popular credit cards for this purpose, they currently have chosen not to expand upon those options and do not provide any e-wallets or direct banking alternatives.
As a measure of convenience, a table representing those options and their deposit/withdraw limits and payment processing times provided.
| Payment Method | Deposit Minimum | Deposit Maximum | Time for Deposit | Minimum Withdrawal | Withdrawal Maximum | Time for Withdrawal |
| --- | --- | --- | --- | --- | --- | --- |
| Visa | £10 | Not specified | Instant | £10 | Not specified | 2-5 working days |
| MasterCard | £10 | Not specified | Instant | £10 | Not specified | 2-5 working days |
---
FAQs
Was the app ever not working?
To date, there have not been any reports relating to either the Football Index Android or iOS mobile app not working.
What if the app won't install?
In the event, the app will not install, check your settings to ensure the "unknown sources" button is checked and try installing again. This should correct any installation issues, however, if they persist, try uninstalling the app and then re-install it.
Can I change the odds from fractional to a decimal using the Football Index mobile app?
Unfortunately, this is not an offered option with Football Index as they only offer odds in the fractional format.
Is there a maximum number of shares I can purchase in any given transaction?
The maximum number of share per transaction is capped at 300. However, those wishing to purchase larger volumes are free to make multiple transactions.
Is it safe to access the Football Index site using my mobile smartphone?
The Football Index site is a licensed and regulated betting site and therefore operates to the highest standards as part of their licensing responsibilities. Therefore, yes, the site is 100% safe.
Am I able to join the Football Index forum, or is this for reading purposes only?
The Football Index forum operates in the same manner as any other forum whereby those interested are free to register an account and select their own unique user name.
If I no longer wish to be a trader at Football Index, am I able to close my account?
Yes, this is an option offered to all who register. Simply forward an email to [email protected] advising that you wish your account to be closed. The support department will carry out your request and notify you upon completion.
---
Company information
Established in 2015, Football Index is a Jersey-based company that has been issued operational licenses by the Jersey Gambling Commission and United Kingdom Gambling Commission.
Owned by BetIndex Limited, it provides a unique betting platform that operates under the same principles as the stock market whereby instead of selling stocks in the traditional sense, it sells stocks on footballers whose value determined on their performance.
Catering to the UK, Ireland and Canada, the site features multiple mobile, support and banking options and offered in English. To contact Football Index and its parent company, enquires can be sent to BetIndex Limited, Charter Place, 23-27 Seaton Place, Jersey JE1 1JY.
---
Contacts
---
Apps Rating and Conclusion
Our evaluation of the mobile apps and website resulted in a positive experience in so far as the use of both being quite easy to use, both in understanding the unique platform and its subsequent navigation.
The added tutorials for both mobile points of access made understanding how its footballer exchange worked painlessly. For those with a preference for desktop use, the apps are the perfect alternative. While it would be nice to compare it to other sites catering to this unique way of betting against footballers, the reality is, none exist and that makes this site unique and in our opinion, attractive, especially if passionate for football.
Therefore, based on our findings, and the various assistive tools featured within this site, we rate the mobile products offered by Football Index a very respectable.
Football Index is available on these devices
| Brand | Models |
| --- | --- |
| Apple | 12 Pro, 13 Pro, 13 Pro Max, 14 Pro, 14 Pro Max, iPad, Air, Mini, Pro, iPhone 5, 5S, 5C, SE, 6, 6S, 7, 8, 8 Plus, X, XS, XR, 11 |
| Samsung | Galaxy Z Fold, Galaxy Z Flip,S21, S22, S22 Ultra,S10, S10e, S10+, S20, S20+, Tab, Edge, Edge+, S6, S7, S8, S8+, S9, S9+, Note, Mini, A41, A71, A51, A90, A3, A5, A7, A8, S, pro, Xcover 3 |
| XIAOMI | Mi 10 Lite, 10 Pro, 9 Pro, Redmi 8, Redmi 9, Redmi K30 Pro, MIX Alpha, Note 10, 10 Pro, Note 9S, Note 9 Pro Max, 8A Pro, 8A Dual |
| LG | G5, G6, G7, G8, Q6, Q7, Q60, Q Stylus, V30, V40, X Power, mach, K8, K9, K11, K40, K41, K50, K61, Q60, LTE, X cam, screen, Flex 2, V10, Class, 5X, Mini, G Pads 7.0, 8.0, 8.3, 10.1 |
| Sony | Compact, Premium, Compact, Plus, Xperia M5, 1 II, 5, 10, Z5, ZR, E5, V, L, SP, ZL, XZ, X, XA, XA2, Ultra, XZ2, Tablet Z4, Z3 |
| Motorola | Moto e6, One Zoom, One Action, razr, G power, g stylus, edge+, edge, Moto E, moto g fast, one fusion+, one, moto g7 play, moto z4 |
| HTC | Nexus Series, One mini, max, A9, A9s, S9, 10, Dual SIM, U11+, U12+, U Ultra, Play, Lifestyle, Desire 19+, 12, 12+ |
| Huawei | Mate S, XS, 30 Pro, P10, P30, P40 Pro, P40 lite, P9, lite, Mate 10 Pro, 20 Pro, plus, Y6, Y6s, Y7, MediaPad T5, M5 |
| OnePlus | 8 Pro, 8, 7T Pro, 7T, 6T, 5T, 3T |