Ad disclosure
Here at EfirBet (EB) we pride ourselves on having a site that is completely ad-free. No ad blocker is needed while browsing EB. At the same time, we do use affiliate links to earn commissions (every time you click a link and sign up at a betting site). This revenue helps us deliver quality and trustworthy reviews for our readers at no additional cost to them. Read the EB
About Us
page if you want to learn more.
Last update by Efirbet :
Mobile app for Android
For that moment there is no KTO mobile app for Android devices. Having become one of the latest entrants to the online entertainment arena KTO benefits from all the most recent advances in HTML5 based sportsbook development. BetConstruct, a leading industry provider acknowledged at the IGA as Innovator of the Year and the EGR for Best Customer Service, provided the KTO mobile sportsbook & casino, renowned as a stable, fully scalable gaming platform capable of facilitating top-tier mobile portal solutions aimed at delivering the ultimate mobile sportsbook-user experience.
As a result, the company made the logical call to offer just a singular cross-platform compatible mobile access solution in the form of a fast, highly stable HTML5 based mobile portal to provide members with the best possible online sportsbook and casino experience. That negated the previous requirement for online gambling entertainment venues to develop, maintain, and update several unique dedicated mobile apps for each popular mobile OS environment.
In keeping with its technological advantage, the KTO mobile portal provides complete mobile access featuring all the sports types, betting markets, betting products, and finance solutions offered in its desktop site. Despite the reduced screen real estate of most mobile smart devices, the mobile portal sports a feel and layout quite similar to that experienced in its full-sized parent.
The initial sportsbook access process is notably more straightforward and more comfortable when compared to the protracted process needed to download, install, and set up dedicated installable apps. To access the site, launch the preferred mobile browser, type in URL of the website, wait for the page to load, and you're all set to start betting.
To achieve the same level of quick, direct access convenience provided by dedicated apps, bookmark the KTO website in your browser, allow your browser to remember your login details, and create a home-screen shortcut for the bookmark on your mobile device.
---
Mobile app for iOS
For an iOS user, the situation is the same. There is no KTO mobile app for iPad, iPhone or other iOS devices. Avid owner-users of Apple's highly popular iOS-based mobile devices enjoy the same level of quality, speed, and convenience as their counterparts on non-iOS devices when accessing the KTO sportsbook and casino via their mobiles. An added advantage is HTML5's capacity to accommodate the iOS native browser Safari to provide similar levels of full cross-platform compatibility while continuing to remain serenely fast and stable during your extended sports betting or casino gaming sessions.
While enjoying themselves at KTO, iOS mobile users have access more than 40 unique sports, with globally popular sports such as football and basketball at the fore this bookmaker astoundingly broad betting coverage. Moreover, the sportsbook delivers 65,000 plus pre-match events which receive a further bolstering from over 30,000 live matches every month, both factors that are certain to continue improving and keep punters on iOS mobile spoilt for choice.
---
KTO Mobile Website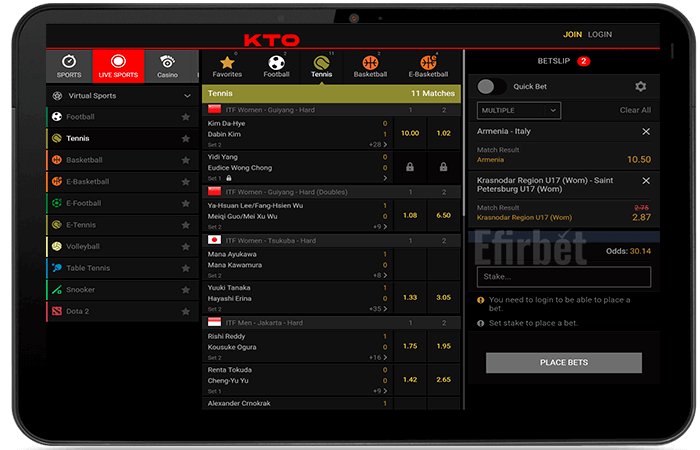 Despite employing a colour palette quite popular in modern casino design the KTO mobile portal still manages to emphasise its uniqueness with a singular look and feel contained within its slick, swanky interface. Muffled greys contrasted by crisp white text with striking splashes of colour used in specific focal areas draws attention, where it is most required while managing to refrain from appearing gaudy or brash. Overall the site creates an uncluttered, stress-free environment that remains instantly informative when required while it still allows punters to pay attention to where it's most needed.
Navigational menus and links appear in all the necessary required locations to ensure those new to the site will easily find their way to their desired destination. A comprehensively inclusive main menu at the top of pages provides quick solutions to the most popular destinations, aided further by lists for sports. The bet slip flows down the right and left sides to culminate in the expected links to assistive functions and features across the bottom of each page. All combine to deliver one of the best sports betting experiences any punter could expect at an online sportsbook.
---
Mobile Features
For a punter to perform at his or her peak, while in a busy, pressurised betting environment provided by the ten of thousands of potential betting opportunities available at the KTO mobile sportsbook, they need certain basic, essential, and assistive betting products to avoid any possible errors. Below we discuss highlight and assess any positive or other qualities they bring to the proverbial mobile betting table.
Live betting
In recent years, having a quality Live or In-Play betting section has become an absolute must-have for a bookmaker with aspirations to achieve any form of success in the online sportsbook industry. This fact holds doubly true when factoring mobile access into the equation as independent market research has shown punters displaying a prevalence for Live Betting also prefer using a mobile device for discerning In-Play opportunities and actively placing wagers. The challenging, dynamic nature of Live Betting causes most punters to closely follow the action and results of matches or events on which they placed a bet. Mobile access proves the most convenient method that allows them to remain on top of their interests from moment to moment as the game changes. It further provides the perfect tool to quickly find more betting opportunities as they arise and be in-time to place additional bets.
Live streaming
Having just discussed the dynamic nature of Live Betting, it goes without saying that an excellent Mobile Live Streaming service presents punters with one of the perfect additional tools to follow matches on which they placed a bet in real-time while in transit or away from conventional televised coverage. Moreover, it allows them to quickly see favourable opportunities as they arise or even before they occur.
Cash Out
The Cash-out option is another product that at times, have proven itself the punter's best friend. The system generated Cash out feature will at specific moments during a match appear on your mobile screens next to your bet on the bet slip. The Cash out feature allows punters to sell their bet slips back to the company in full or partially at a cost. In essence, it provides the punter with an opportunity to prevent further potential losses or the ability to lock down a certain win. That instantly has their monies credited to their sportsbook account, leaving them free to place other profitable bets before the opportunity disappears.
Virtual Sports
Virtual sports offer punters an exciting opportunity to find additional events to place bets on irrespective of the time of day or night. As a computer-generated activity occurring purely in a virtual world, virtual sports events follow an extremely abbreviated timeline where a football match requires only three minutes from kick-off to the final whistle. Also, virtual athletes never tire or need rest meaning one match will follow the other throughout the day without fail. Also, recent advances in online video streaming technology instilled such an aspect of realism into the sport, that in many instances, has become increasingly difficult to tell the real from virtual mobile online sports betting world.
---
Sports betting
A top-shelf mobile sports betting product provides punters with the perfect tool to continue conducting their regular sports betting activities. Irrespective of their physical location, they will still have the full scope of sports types, betting markets, and betting products at their disposal at all times. Naturally, it still requires an active mobile data plan and cellular reception.

The mobile sportsbook offers all the essential and creature sports betting comforts found in its full website and still allows punters to access the full complement of more than 40 different sports via a betting platform that delivers over 30,000 Live events and 65,000 or more pre-match games and events month after month.

Moreover, it offers the same impressive variety of casino gaming action in a smooth unflustered, glitch-free manner hour after hour during extended gaming sessions. Available mobile banking options include a satisfyingly large number of popular internationally recognised banking brands and methods.
---
Mobile Casino
A factor that inspires a further healthy dollop of confidence in the brand's diligence to become counted as one of the iGaming industry's favoured online brands is the genuinely impressive quality and quantity of the slots and other casino games that make up its entertainment library.

The extensive list of premier class industry gaming developer/providers that contribute to the success of the casino also bears testimony to the statement. The library includes many products from luminaries like NetEnt, Evoplay, Playson, Endorphina, Evolution, and Habanero amongst numerous others. Featured gaming classics offer up titles such as Starburst, Dead or Alive I & II, The Invisible Man, Twin Spin, and Gonzo's Quest in addition to branded favourites Guns n' Roses, and Narcos, Planet of the Apes.

One of the casino's most impressive entertainment products is its fantastic array of Live Dealer games on mobile that encompasses the full spectrum of live entertainment with multiple variants in each type incorporating blackjack, to roulette, baccarat, poker, Monopoly, and Dice. Most also feature an all-important social aspect where players can freely communicate both one another and the dealer.
---
Mobile bonus offer
KTO offers no specifically mobile targeting promotional products, which is quite understandable considering the bookmaker provides all of its sportsbook and casino promotional products to mobile users as well, making no distinction between the two formats to create an eminently fair betting environment. That essentially means all members, regardless of their type of preferred access, now have the same bonus opportunities available to them including sportsbook & casino Welcome bonuses, and a healthy number bonuses aimed at existing players.
---
Compatible devices
One of the highly impressive aspects of a modern mobile portal is its capacity to provide full cross-platform compatibility to a vast range of new model mobile smart devices. Generally, if your device runs any Apple OS version from iOS 7 -12 or Android 5 through 9, you are pretty much guaranteed your device will allow you to access the full riches of the KTO mobile portal.
It will accommodate all later model Android-based models and brands; our list below offers up a tiny fraction of all compatible devices:
Apple's iPhone and iPads – iPhone 6 through 8, X, XR, XS, XS Max, iPad mini, Lite, Air, and Pro
Sony – Experia 1 – 10, Compact & Plus sizes, Z, L as well as R model ranges
LG – W, Q, Thin, K, V, X, and the G Pad II & III
HTC – Desire, U, Pro, One, including all models in each range
---
Payment methods
As one of the fast-rising young online sportsbook entertainment brands KTO features quite the collection of financing and payment systems all focused on delivering the most convenient way of funding your online sportsbook and casino accounts. The brand boasts a player base hailing from all corners of the globe, and as a result, the company continually expands its range of available options as it enters new markets. We provide additional information on some of the available banking methods below.
| Payment Method | Deposit Minimum | Deposit Maximum | Time for Deposit | Minimum Withdrawal | Withdrawal Maximum | Time for Withdrawal |
| --- | --- | --- | --- | --- | --- | --- |
| Visa | €10 | €5,000 | Instant | €1 | €10,000 | 12 hours |
| Neteller | €10 | €10,000 | Instant | €20 | €5,000 | 2 hours |
| Skrill | €10 | €10,000 | Instant | €20 | €5,000 | 2 hours |
| Paysafe Card | €1 | €10,000 | Instant | €30 | €5,000 | 24 hours |
| EcoPayz | €10 | €10,000 | Instant | €20 | €5,000 | 2 hours |
| MasterCard | €10 | €5000 | Instant | €1 | €10,000 | 12 hours |
| Skrill 1-Tap | €10 | €10,000 | Instant | - | - | - |
| Rapid Transfer | €10 | €10,000 | Instant | - | - | - |
| Neosurf | €5 | €10,000 | Instant | - | - | - |
| MuchBetter | €5 | €10,000 | Instant | €10 | €5,000 | 24 hours |
| Bank Wire Transfer | - | - | - | €100 | €5,000 | 24 hours |
| Pay4Fun | €5 | €10,000 | Instant | €10 | €10,000 | 12 hours |
---
FAQ's
Why will my phone no longer load the KTO website?
Without a lot more information, we cannot pinpoint the cause of your problem. However, the following might solve the issue you're having. Clear your mobile browser cookies as it may have become corrupt. Check your mobile's parental control settings & make certain it is still in the off position. Make sure your browser and other software are entirely up to date.
My account won't allow me to log in; how do I resolve this?
Your account might be blocked for some reason or other. Therefore, contact the KTO support team via the onsite Live Chat feature to quickly verify and resolve any issues.
How do I go about changing the displayed odds from fractional to American on my phone?
Navigate to the KTO home page, find & select the gear icon in the top left corner, a drop-down menu will appear listing all the available odds formats.
How do I use my phone to place a bet with KTO?
Simple, login, find the event and betting market you wish to wager on and select the listed odds under the bet type you prefer. The bet will then automatically appear in the bet slip window, check your bet, enter the value of your stake, and select the "PLACE BETS!" button at the bottom of the bet slip.
Does the KTO mobile sportsbook offer different layouts?
No, the mobile portal only features the standard mobile viewing option.
Is there a cost involved to maintain my mobile sportsbook account?
No, in fact, KTO value your patronage so highly they will hand you free bonus money if you choose it as a joining option.
If I forget my login details but have to change phones, is there a way whereby I can retrieve my account?
Yes, navigate to the KTO main sportsbook page and select the login button, this will reveal the standard login window, select the "Forgot Password" link at the bottom of the menu. That shows a second overlay menu, enter your registered email address to receive an automated response. Follow the on-screen instructions.
---
About KTO
In contrast, many of the other young sportsbooks in the industry KTO offers a surprisingly well organised, attractive online entertainment platform. The fantastic array of betting markets and options becomes even more amazing when one considers the massive amount of work and dedication KTO must have invested in this project and how successful they have become in the interim.

KTO is the culmination of the spirit and co-operative efforts of the team that built and made it into the success it is today. The company head office is registered to an address in Willemstad, Curaçao and currently operates internationally under a licence obtained from the Curacao government with short term plans to apply for an EU issued a license.
---
Mobile Rating
Despite some minor omissions (a lack of pre-match Horse Racing and a Virtual Football product) and after spending some time with KTO the seriousness of its commitment to achieve success and deliver a quality sportsbook and casino entertainment product becomes quite apparent. Usually with most new sportsbooks, the deeper you dig, the less you like what you see in terms of unfinished products and betting options. However, KTO differs completely in these aspects, having already refined and polished their product into something approximating a sportsbook several years it is senior. We experienced just a few dead links which might quite possibly still be under development. Its sportsbook features a massive options list when it comes to betting markets and products to make a punter's life as easy and profitable as possible, and that's why we rate this fast-maturing sportsbook and casino a solid score.