Ad disclosure
Here at EfirBet (EB) we pride ourselves on having a site that is completely ad-free. No ad blocker is needed while browsing EB. At the same time, we do use affiliate links to earn commissions (every time you click a link and sign up at a betting site). This revenue helps us deliver quality and trustworthy reviews for our readers at no additional cost to them. Read the EB
About Us
page if you want to learn more.
Horse Racing Betting at Ladbrokes
Horse racing is one of the oldest sports to have some form of betting. To many industry experts, horse racing played a critical role in the growth and development of sports betting as we know it today. Luckily for Ladbrokes, they have been involved in horse race betting for quite a long time now, dating way back to the late 1800s. Even as we watched sports betting transition to online marketplaces thanks to the growth of internet connectivity, Ladbrokes has remained consistent in their participation of horse racing betting.
Currently, Ladbrokes runs quite an interactive racebook featuring horse races from around the world. The races featured here are primarily from the UK, Ireland, France, South Africa and also Dubai. This gives you a broad enough scope of markets to play around with when building your race cards. Also, the Ladbrokes horse racebook comes with some extra features such as in-play betting, live streaming, and a 'Best Odds Guaranteed' offer, which gives you higher payouts. For a detailed comparison of the Ladbrokes horse racing betting section with other competing sites, we have summarized the pros and cons of the Ladbrokes site below:
Pros
Offer live streaming of horse races
Has a 'Best Odds Guaranteed' feature
Supports cashing out on horse races
Supports mobile betting through either the Ladbrokes app or mobile site
Allows placing of in-play live bets
Features a long list of horse racing markets
Cons
Live streaming not available for all races
Cash-out option not available for all races
The website user interface might seem complicated to some players
---
Design, Menus, Navigation, and Structure of Ladbrokes Horse Racing Section
Despite being an old dog, Ladbrokes sure does know how to keep up with the market trends. With the evolutions of online betting, Ladbrokes has developed an interactive website that serves as a comprehensive gaming portal with everything from casino games to sports betting and horse racebooks. Design wise; the Ladbrokes website might come across as being a bit too busy, especially for those who are still new to the world of online betting. But with a few minutes on the site, everything kind of falls into place and you easily navigate your way around.
For more straightforward navigation to the horse racing section, use the second menu bar right below the red top banner with the Ladbrokes logo. From this menu bar, click the 'Horse Racing' tab to jump right into the action. The horse racing page itself appears better organized. The first thing you will notice is a large banner displaying the key attractions here, such as upcoming races or promos. Below this promos banner is the lineup for the various horse racing markets open for betting.
The races are placed in five major categories based on the racing schedules. You will, therefore, find a Next Races tab for those about to start, followed by Horse Racing Today, Horse Racing Tomorrow, Future Racing and Racing Specials. This chronological arrangement makes it easier to navigate and make your betting selections.
Generally, the horse racing section appears way better than the other sports sections at the Ladbrokes sportsbook. The compact design simplifies the whole process of building your race cards and placing the bets. Also, the white background with light grey highlights makes the interface appear brighter than most sports betting sites which usually take on a darker theme.
---
Ladbrokes Horse Racing – Bet slip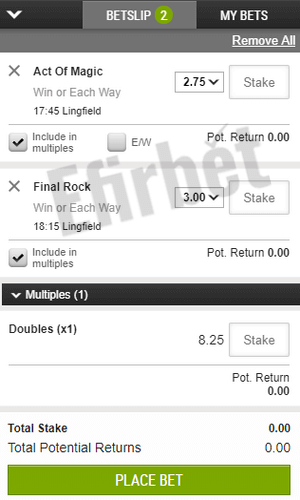 As it is with the rest of the Ladbrokes sportsbook, the bet slip in the horse racing section is also placed on the right side of the page. There is a small arrow that can be used to either minimize or expand your bet slip. With Ladbrokes, you are given a chance to build your racecards, which is just as easy as placing any regular bets.

The first step to placing your horse racing bet is by login into your account. Once you have logged in, scroll to the horse racing section and click on the drop-down arrows for the various race schedules. To place a bet, click the odds displayed alongside the name of the racer you are betting on. You will notice that the odds button turns green. This selection is added to your bet slip on the right-hand panel. You can repeat this process severally to add multiple choices and build an accumulator bet.

After adding all your selections to the bet slip, click on the small empty box indicated 'Stake'. Here you will be required to type in the amount of money you wish to lay down as your stake. As a general rule, a higher stake has the potential to yield higher payouts. But remember you can only stake amount that is already deposited in your Ladbrokes account. As you add or remove selections from your bet slip, the total potential returns are automatically computed and displayed at the lower section of the bet slip.
After you are satisfied with your selection and amount staked, you can then click the green 'Place Bet' button to confirm your bet. It is important to remember that you cannot cancel a bet once confirmed thus one is advised to double check their selections before confirming the bet.
It is also worth noting that often while placing a bet, odds might change based on the volatility of the markets. Whenever such a change in odds occurs, and you are yet to confirm your bet, you will get a notification on your bet slip with a blue highlight. Depending on the changes experience, you are at liberty to either accept the changes and proceed with placing the bet or cancel and remove the event from your bet slip.
---
Horse racing Results
To any sports betting fan, the results of a particular race or match mean much more as they determine whether the bet was won or went down the drain. Ladbrokes has a results page that makes it very easy to track the performance of your horses. The results page gives a detailed breakdown of results going way back up to 30 days. By default, the page loads to show the result for today. The second tab shows results for yesterday; then there is a third tab that shows the results from the last three days. If you would wish to view results going further back, you can click the 'Pick a Date' tab then scroll to the date you want to see.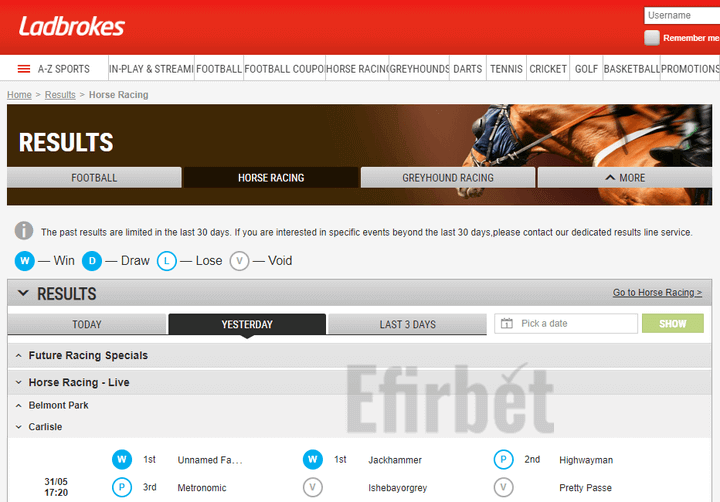 Even though we have mentioned that these results will be shown up to the past 30 days, it is possible to get results from races older than that period. This will, however, require you to call the customer support team to obtain such information. There will be an extra premium charge to such calls, in addition to the regular carrier rates.
You will notice the results here are displayed using four main symbols to simplify matters:
W – Win
D – Draw
L – Lose
V – Void
---
Horse Racing News section
This is a resource centre within the Ladbrokes sportsbook that feeds you with all the information regarding horse racing. Placing bets is not only about selecting your favourite racing horse, but making informed decisions from analyzing information. This is where the news section comes in handy. The page is regularly updated with information on upcoming races, cancelled or rescheduled races, injury reports, and even pro betting tips.
There is a 'Latest Horse Racing News' section within the new page that is updated daily. This is a section updated with the latest information about horse racing meets and tournaments that are featured in the Ladbrokes racebook. It is worth noting that although the information is provided in real time, the odds highlighted in the betting tips are only valid at the time of publishing the new reports. As we mentioned earlier, these markets to be volatile at the time and therefore, the odds are likely to change when you are placing your bet.
---
Mobile Services

Ladbrokes has a very robust mobile gaming platform that is available in both a downloadable version and a non-download version. If you are using an Android or iOS smartphone, then you can opt for the download version. This is through apps that can be downloaded from the respective app stores. But before you get the apps, you need to check on compatibility whereby the android app works with Android OS 5.0 and above, while the iOS counterpart works with iOS 9.3 and above.

If the phone or tablet you are using does not meet such compatibility requirements, then you can opt for the alternative mobile platform through the Ladbrokes mobile website. The mobile site is the desktop site having been optimized for mobile browsing. This means the mobile site works just like the desktop version, albeit some slight changes in the design and layout.

Whichever mobile platform you opt to use, you are guaranteed to access the Ladbrokes horse racing page in its entirety in the palm of your hands.
---
Deposit & Withdrawal
Money transactions at Ladbrokes are made easy thanks to a lineup of several payment methods. These modes of payment combine both e-wallets and cards. It is impressive to note that most of the deposits here are made instantly and you will have the money in your account within minutes. For withdrawals, they tend to take between 6 hours and three business days, depending on the mode of payment used.
| Payment Method | Deposit Minimum | Deposit Maximum | Time for Deposit | Minimum Withdrawal | Withdrawal Maximum | Time for Withdrawal |
| --- | --- | --- | --- | --- | --- | --- |
| Visa | £5 | £99 999 | Instant | £5 | £30,000 | 3-5 Days |
| MasterCard | £5 | £99 999 | Instant | £5 | £30,000 | 3-5 Days |
| PayPal | £10 | £10,000 | Instant | £10 | £10,000 | Up to 2 Days |
| Neteller | £10 | Not specified | Instant | £10 | Not specified | Up to 2 Days |
| Skrill | £10 | Not specified | Instant | £10 | Not specified | Up to 24 Hours |
| Paysafe Card | £5 | Not specified | Instant | N/A | N/A | N/A |
| ApplePay | £5 | £99 999 | Instant | £0.01 | £30 000 | 1-3 Days |
In addition to these online payment systems, players can also make deposits through the brick-and-mortar Ladbrokes shops. This would be practical for the UK gamers where Ladbrokes operates a series of such outlets.
---
Frequently asked questions
1) What are the rules regarding the postponed or abandoned races?
The horse racing rules here state that if a race is postponed or abandoned, all bets are void.
2) Does Ladbrokes offer any tips or guides on calculating bets?
Yes, the latest news section can come in handy in giving you tips on how to calculate the bets. Alternatively, you can rest easy and make use of the Ladbrokes bet calculator, which makes things much easier for you.
3) Can I cash out on any horse race?
While the cash out option is available at the Ladbrokes racebook, it will not be active on all horse races. To confirm if the cash out option is available, scroll to your bet slip and check if the cash out button is activated.
4) Is the Ladbrokes betting exchange market open for horse races?
Yes, the exchange market is available for horse races as well.
5) Can I get suggest to bet on a race that is not listed on the Ladbrokes racebook?
Yes, this is one of the most impressive features on Ladbrokes horse racing betting. As a player, you can request to have your race included in the market if it is not already there. To do this, send a tweet to the Ladbrokes twitter support team using the hashtag #GetaPrice. The request is considered and a price for the odds determined. You should take note that the maximum payout you can get from such a custom bet is limited to £25,000.
6) Does Ladbrokes have any offers or promotions targeting horse racing fans specifically?
Yes, the Ladbrokes horse racing section is loaded with a series of offers and promos. Some of these promotions, such as the Best Odds Guarantee, are longstanding and will remain available for some time. There are also brief but equally rewarding offers every week.
7) Other than the news section, does Ladbrokes have a stats centre for the horse races and various jockeys?
Yes, there is a stats centre where you can analyze the statistics and trends from previous races. If you are good with such analysis, this can also be an excellent source for essential tips before making your bet.
---
About Ladbrokes
Ladbrokes is, without a doubt, quite a reputable brand in the sports betting industry, especially in the UK. The company traces its history way back to 1866 when they started their operations as commission agents for horses. Over the years, Ladbrokes has evolved into a giant sports betting company with interests across diverse sporting disciplines. The company is licensed by the British Gambling Commission under license number 1611. But for offshore betting services, Ladbrokes operates under a license from the Gibraltar Gambling Commissioner.
With such a rich history in horse racing, it is expected that Ladbrokes should be a leader in the category of sports betting. In this review, we will be evaluating how good the Ladbrokes horse racing betting section is.
---
Customer Care & Contacts
Whenever you need some assistance with the Ladbrokes horse racing section, you can always turn to their details FAQs page. In addition to giving the rules and terms and conditions about horse racing, the FAQs page gives detailed explanations on nearly any topic of interest in as far as horse racing betting is concerned. To make things easier for players, there is a search option where you can type in keywords on any topic you are interested in.
Alternatively, you can reach out for support through the contact details below:
---
Rating & Conclusion
With such a long history in horse racing betting, many would expect Ladbrokes to have a flawless racebook. By most standards, Ladbrokes does live up to those expectations. Be it the wide selection of horse races or the prices assigned to the odds, everything here seems to be going quite well. Even though some players might find the website's user interface different, it does not make it any hard to use as the menu bar gives all the short cuts need. Also, the ability to bet on the go through the Ladbrokes mobile platform just makes things much more comfortable, especially now that most people access the internet through their phones.
The icing on the cake here is the bonuses and promotions targeting the horse races, giving punters something extra to gain.
Rating: 10/10
Published on 01 June 2019, last edit on 06 October 2022