Ad disclosure
Here at EfirBet (EB) we pride ourselves on having a site that is completely ad-free. No ad blocker is needed while browsing EB. At the same time, we do use affiliate links to earn commissions (every time you click a link and sign up at a betting site). This revenue helps us deliver quality and trustworthy reviews for our readers at no additional cost to them. Read the EB
About Us
page if you want to learn more.
Approved by Nayden Panayotov
Lead Editor
Testing Methodology
See '
How we rate bookmakers & casinos
'
Related Articles Read
8 Topic-Related Articles
Brands Compared
7 Alternative Brands
In-House Edits
Edited 4 Times by Our Experts
Ladbrokes is one of the top online gambling sites with a turnover of more than £130 million yearly. The site's success is not just because of its satisfying sports betting services or casino gaming solutions but also its exciting lotto draws.
If you are interested in playing lotto at Ladbrokes, here is a comprehensive guide to Ladbrokes Lotto and the steps to placing lotto bets at the bookie!
---
How Does Ladbrokes Lotto Bettin Work?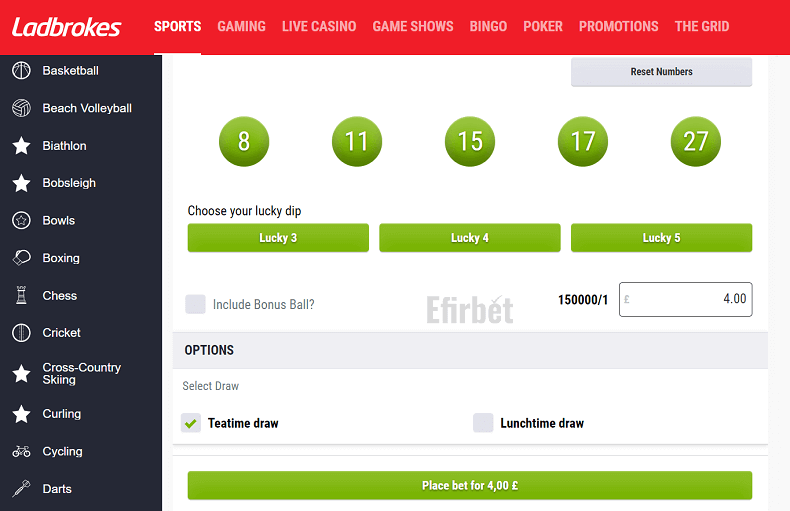 Ladbrokes lotto allows you to play different lotteries in the comfort of your home instead of going to the shop. The form of gambling entails selecting a couple of numbers that should appear on the final draw to win.
For example, if you want to bet on six numbers, Ladbrokes will give you odds for your bet. If the numbers appear on the final draw, you win the stated amount.
---
How Do You Play Ladbrokes Lotto?
Now that you understand which lotto types are available, how do you play lotto at Ladbrokes? The process is simple since you just need to access the site on your computer and continue with these series of steps: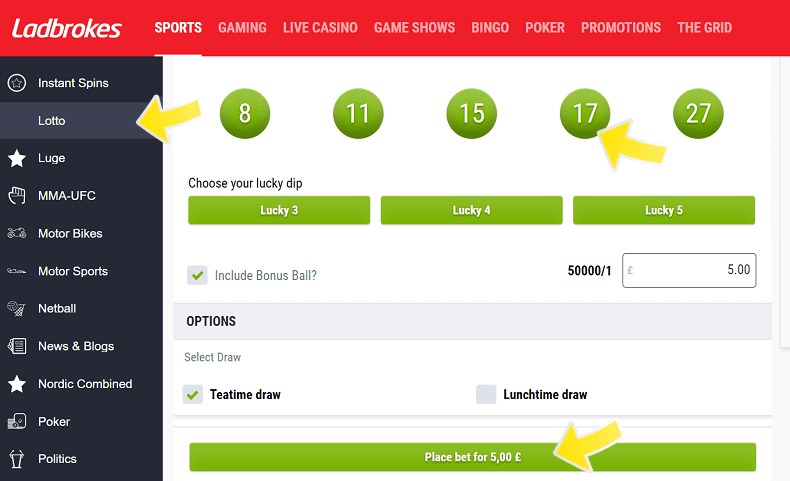 Sign in to your Ladbrokes betting account.
Fund your account with some cash & navigate to the lotto section. You will find it in the sportsbook – among the enlisted disciplines.
Choose which lotto-type you wish to play.
Select the ideal draw.
Go for your lucky dip.
Carefully pick the numbers you think will appear on the final draw.
Enter your stake and submit the draw.
Ladbrokes lotto allows you to decide whether to include the bonus ball or not. If yes, simply check the bonus ball box and continue.
---
What Are the Lotteries Offered?
The gaming site has a broad lotto section with more than 30 daily draws. So far, the lotteries are classified into three:
49's
Irish lotto
Daily Millions lotto
Note that the 49's lotto comes with the Lunchtime and Teatime draw. On the other hand, the Irish lotto comes with Wednesday first, second, and third draw, not to mention Saturday first, second, and third draws.
However, if you decide to opt for the Daily Millions lotto, you will have more than 25 draws. Each lotto draw allows you to include or exclude the bonus ball.
If you are a frequent gamer, you should subscribe to daily or weekly draws. This will minimise finding the ideal draw every time you want to play.
Overall, the lotto options are diverse enough to keep you entertained online. Also, if you wish to take a break from the lotto, Ladbrokes has multiple games that you can consider. For instance, Ladbrokes contains bingo, table games, and numerous slot machines.
---
Lotto Software at Ladbrokes
Ladbrokes uses first-class lotto software that operates flawlessly without any glitches. The software features a simple structure with high-quality graphics making every component, including the buttons, stand out.
The controls are responsive; you will not have any problems navigating the Ladbrokes lotto section. All these elements combined will see you have the best gaming experience on the site.
Another aspect to keep in mind is that the software allows you to place a bet five minutes before the draw. You will find a timer on top of each lotto you pick to guide you on the remaining period to submit your draw.
With the timer, it is nearly impossible to miss your betting window.
---
Ladbrokes Lotto Bonus Offers
It is prudent to remember that Ladbrokes has a full promotions page with many offers. However, if you scrutinise the section carefully, you will realise that there's no lotto offer among the Ladbrokes bonuses for new or registered players.
Therefore, you will need enough bankroll to participate in numerous lotto draws. But then, it is advisable to keep visiting Ladbrokes promotions page in case the operator decides to add lotto bonuses.
If you are lucky to find one, make sure you go through the bonus terms and conditions to determine the promo's suitability.
---
Lotto iOS and Android App for Ladbrokes Punters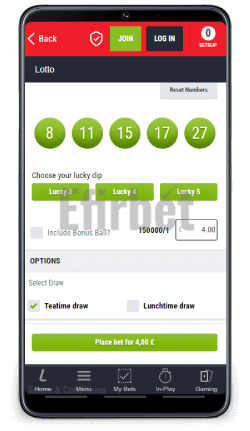 Playing lotto games on the desktop version can be quite tiresome since you are limited to a particular location. The good news is that Ladbrokes offers the desktop version and an alluring mobile app.
Ladbroke apps are designed to operate on iOS and Android devices with enough RAM space. Furthermore, they require the smartphone to be powered by the latest operating system.
Once you are certain your mobile phone meets the requirements, feel free to download and install the resource and start playing lotto on the move.
In addition to the mobile app, Ladbrokes has the best smartphone in-browser website that you can use to gamble online. The site does not require any RAM space but rather a compatible mobile browser like Google Chrome or Mozilla Firefox.
With the mobile browser, you can access 49's Lotto, Daily Millions Lotto, and the Irish Lotto, regardless of your location.
---
Ladbrokes Lotto Security and Customer Support Service
It is hard to imagine Ladbrokes lotto site being insecure. That is because Ladbrokes is one of the safest gambling sites with operational security systems.
For instance, Ladbrokes is SSL-secure which implies your communication and important details are encrypted. The site uses HTTPS protocol that protects you against Man-in-the-middle attacks, popularly known as MitM.
The security measures also ensure hackers don't still have private information for malicious use. Finally, Ladbrokes is fitted by a firewall system that is regularly updated.
The system ensures the absolute privacy of clients while playing their favourite lotto games.
Apart from being foolproof, Ladbrokes has customer support methods that you can use to make inquiries. So far, the top methods provided by the operator include:
Every contact option provided is safe and secure, with most such as live chat having fast response.
---
Final Thoughts
After a thorough analysis of Ladbrokes lotto page, it is clear that the betting site offers exciting lotto gaming services. Even with the lack of lotto promotions, Ladbrokes still stands out as an ideal platform to play Daily Millions Lotto or 49's Lotto.
Each category gives you access to numerous draws from across the globe. Furthermore, the gaming site allows you to play on the move courtesy of the incredible mobile apps and in-browser site. All these aspects make Ladbrokes lotto commendable.
---
FAQs
How much does Ladbrokes pay on the Irish lottery?
Ladbrokes pays different odds on the Irish lottery depending on the number of balls.
How do I play 49s lotto on Ladbrokes?
To play 49s lotto on Ladbrokes, you need to choose the number of balls you wish to try ranging from 1 to 5. After that, select numbers from 1 to 49, stake, and submit your bet.
Do I need a different Ladbrokes account to play lotto?
No, you don't need a different Ladbrokes account to play lotto.