Legolas Review
In this review, we will be making a deep dive into the various gaming and betting services offered by Legolas.bet. Our review will start from the very basics of design and layout then delve deeper into the types of the games provided, betting markets and even how the Legolas.bet affiliate program work. We will then do an unbiased rating of the website in contrast to other leading brands. Read on to get a good grasp of what Legolas.bet is all about before you commit to playing here.
---
How to register at Legolas?
Before you even start exploring the betting markets offered, the very first step is setting up a gaming account. The easier this process is, the better for you as a gamer. As such, this is where our reviewing journey started. Setting up a Legolas.bet account is a three-step process that is quite simple to get by.
To start, open the Legolas.bet site on your browser then scroll to the top-right corner of the page. Here you will find two buttons – LOGIN and SIGN UP. If you have previously played here before, then you can use the login button to access your account. However, if it's been a while and you are unable to remember your password, worry not as we will explain the password reset process in the next section below. But if you are entirely new to Legolas.bet, then you should click the Sign-Up button.
The first step of the account creation process is where you will be prompted to give your email address, phone number, and country of residence, then choose your language and currency. At the time of doing this review, there were only two currency options – Euro and Swedish Krona. At this first step, you can tell if your country is allowed access based on the list of countries provided.
The second step is where you create your account username and password.
The third and final step entails you giving more details about yourself such as full name and year of birth.
Once you have done with providing all these details, you will then get an email confirming that an account has registered. It is important to note that Legolas.bet does not allow modifications of account details and thus you should be keen on the features you are providing not to make any errors.
Steps for activating and verifying your account
Immediately you register an account, it already activate, and you can begin playing the various casino games or betting at the sportsbook. But for you to access the withdrawal options, then you will have to verify your account. Account verification is a KYC process that allows the site to play within the anti-money laundering laws. It also helps them check the personal information you provided as a right.
For the account verification process, you need to have a set of documents with you including your national ID and proof of physical address. In the absence of a national ID, you can use your driving license or passport. For the proof of physical address, get a utility bill detailing your physical area of residence. The bill should not be more than three months old.
Once you have these documents at hand, uploading them is simple as you do not have to send them via any emails. Just login to you Legolas.bet account then scrolls to the 'My Documents' section. Here you will see a list of the various documents required with an upload button placed alongside each. Click 'Upload' for you to select the document from your files and send them.
After sending the documents, they verified by the KYC and team, and you will get feedback if your account is all good to go. Now, this is where Legolas.bet hits the first bump. There is no definite timeline for the verification process, which means you could wait days on end for feedback. While doing this review, we got feedback via email within 72 hours. It would be better if there were clear communication of how long one would have to wait for the entire verification process.
How to recover a lost password?
As mentioned earlier in this article, if you previously held an account and are unable to log in, you do not need to set up a new account. Legolas.bet only allows one account per person, household or IP address. To regain access to your old account here, all you need to do is click the 'Forgot Password' in the login page.
You will get a prompt to feed in the email address you used to register your account. An email will then be triggered and sent to you, containing a link that you can use to reset your account password. In our test run, the password reset email automatically generate and posted almost immediately. If you are unable to get this email in your inbox, you should first check other mail folders such as spam or updates before requesting another email.
---
Design, Structure, and Menus
Having set up a gaming account, it is time to explore what the Legolas.bet website has to offer. The first thing you will notice is that the site is available in English, Suomi, and Svenska. Based on the selection of languages, you can tell the kind of market Legolas.bet mainly focusses. For a broader market penetration, it would be nice to see more languages being included, especially from the European region.
The site has taken a straightforward and neat approach in designing the main layout. It is quite a basic structure of a white background with blocks and strips of dark text and highlights. Legolas.bet makes use of the predominant red colour in highlighting the website. The animations and graphics are geometric, perhaps to be in line with the main Legolas.bet logo.
Although not too catchy, the website is generally simple and very easy to navigate. Every betting category is set apart under its menu. The main navigation menu is the red bar placed at the very top of the homepage. From this menu bar, you can access the various sections here such as Sports, Live Odds, Trotting, Casino, Live Casino, Promotions, VIP and Blogs. The mid-section of the home page populated with sliding tabs highlighting the key attractions in the promotions, casino, and sportsbook.
The lower end of the homepage is where the quick links to various sections of the site place. These include links to the terms and conditions, support and about us sections. In this area, you will also find the links to the various Legolas.bet social media pages.
---
Sports Betting
Legolas.bet markets itself as a sports betting platform. That is primarily so in horse races and trotting. The company has such a massive interest in trotting that they have set is apart as its stand-alone betting category. For this reason, we will also review the trotting category separately later in this article. But first, let us now delve deeper into the other sporting disciplines available here.
The Legolas.bet sportsbook is merely satisfactory. They have made moves to cover nearly all major sporting categories here, including:
football
basketball
boxing
cricket
rugby
tennis
The sportsbook here includes some alternative sports betting markets such as MMA/UFC, snooker, table tennis, and bowls. There is also an e-sports category offering betting markets on games such as Counter-Strike Go and League of Legends.
The sports are arranged in alphabetical order on the left panel of the screen, making it very easy for you to scroll through and isolate what you are interested in. Your bet slip place on the right-hand board of the site. You can choose to change the type of odds displayed from decimals to either fractional or American.
The football betting section is perhaps one of the largest in this Legolas.bet sports betting catalogue. It was quite impressive to find them featuring leagues and tournaments from around the world. In addition to the usual big European leagues such as EPL, Bundesliga and La Liga, here you can also bet on the South African League, Romania Liga 2, Russia Premier League and Rwanda National League among dozens of other football leagues. Legolas.bet gives you access to a worldwide catalogue of footballing action. On any given day, you will surely have more than a hundred football matches to bet.
For the football fans, there is also a mini-jackpot here called the Match10. In this mini-jackpot series, you need to predict the outcome in a 1X2 format for ten pre-determined matches. If you get 9 or 10 of these correct, you get rewarded with a bonus or jackpot prize money respectively.
---
Up to €100 Sports Welcome Offer

In addition to developing quite an impressive sportsbook, Legolas.bet has lined up some bonuses and offers to keep you hooked all through your playtime. To start you off, as a new sign up at the sports betting section, you would be able to choose from three different welcome promotions. What's better than that?
Bonus 1 – 100% Match Up
As you can probably guess, with this promotion Legolas.bet offers you to fully match your initial deposit. The maximum amount of this bonus is €100 and it comes with a wagering requirement of 10 x.
Bonus 2 – 50% up to €10 Match up
Your second option is to receive a 50% matched up bonus for your first deposit. The promotion can't go higher than €10. The max amount is not that big but the main advantage here is that this offer comes with no wagering requirement. You have to play the promo funds just once on sports events with odds 1.50 or greater.
Bonus 3 – Deposit €10 get €50
The third welcome promotion of Legolas is a bit different than the previous ones and it's the perfect choice for the customers, who want to test the platform's options, without having to risk a great amount of money. If you credit 10 Euro into your account, the bookie will match 400% of your initial deposit. However, keep in mind that the wagering requirements here are 15 x.
These three bonuses are applicable only if your first deposit is €10 or more. Despite the different wagering requirements, the minimum odds stated in the terms are the same – 1.50.
It's essential for you to remember that you will have to choose only one of these three proposals.
Live betting in Legolas
The Legolas.bet sportsbook supports in-play bets on live events. This betting option cuts across different sports, and you can place live bets on not only football but also basketball, ice hockey, tennis and any other sports betting market offered here. What makes in-play betting interesting is the movement of the odds in real time to reflect the actual possibility of an outcome. You will also realise that some markets in the live betting section will get deactivated as the game plays on, based on the feasibility of such bets.
To view the events currently available for live betting, click the 'LIVE ODDS' tab in the main navigation menu at the top of the homepage. Alternatively, from the main sportsbook section, on the left panel is a tab indicated 'Live.' You can use this tab to filter through the games that are currently offering live betting markets.
Legolas.bet has gone a step further and made it easier to bet play live bets by offering a 'calendar' that shows the line-up of various sports that are about to kick-off. That is an excellent way to keep tabs on the betting markets as you can easily tell how soon the event you are interested in will kick off.
---
Cash out option
From the look of things, Legolas.bet does not have cash out option. This is an integral part of sports betting especially football. In the absence of cash out option, then it means you will have to capitalise on the in-play betting markets if you are to reap big wins here.
---
Live streaming feature
Despite having a well elaborated in-play live betting section, Legolas.bet does not have a live streaming feature for any of these matches. Instead, the site offers an animated simulation of the live events. In these simulations, you will show the action on the live matches in the format of graphics highlighting the key aspects of the game such as ball possession, injuries, areas of the field with the most action and attempts on goal. There is bobbing pin on the animated field that moves in tandem to the actual ball movement in the real match.
Although this in no way brings the same level of entertainment as watching the actual match, it is still an excellent way to keep track of the action on the field. That is could be an essential tool especially for live betting fans, but not necessarily as a source of entertainment.
---
Trotting
Since their inception, Legolas.bet have associated mainly with horse racing, particularly trotting. It is no wonder their logo has a geometric representation that closely resembles the head of a horse. Legolas.bet takes trotting with so much emphasis that they have set this sport apart from the rest of the sportsbook and offers it under its standalone category.
For those still new to this, trotting is a type of a horse race in which the horses have a two-wheeled cart harnessed no their back. In this racing format, the jockey rides in the cart, rather than on horseback. Trotting is an age-old sport that has been offering gambling markets for many years. Legolas.bet offers to bet on trotting in either pool bets or fixed bets. The races are primarily from the Swedish horse racing tournaments. For the trotting pool, there are five different betting markets you can partake in.
The first is the Pick76 pool in which you have to select a winner from 7 different races. Bonuses from the pooled money are paid out for seven or six correct predictions.
The second is the Pick54 in which you predict the winner in 5 different races.
The third pool is the Pick3 where the aim is to bet the winner from three races.
Then there is the Pick2 pool in which you predict the two racers that will win from two races.
The last pool is the Pick1 in which you predict the winner in one race only.
In the trotting pools, the pooled money distributed amongst the number of winners with the correct predictions. If there are no such winners, then the money is usually refunded to the participating players. The house commission ranges between 25% and 30%, depending on the pool you are playing in.
---
Casino Section
In addition to the action-packed sportsbook, Legolas.bet is also home to a very exciting online casino. The online casino brings on board a collection of various type of casino games such as video slots, table games, and jackpots. Net Ent powers the online casino games here. Rather than going the multi-software way, Legolas.bet opted to use only a single casino software provider. Their choice, Net Ent, is quite reputable following their year of success in this business. However, using a single software provider still to some extent limits the gaming variety and options as it would be the case with a multi-software platform.
The Legolas.bet online casino is still satisfactory to a great extent. There are over a hundred video slots, comprised of both classic three reels and modern multi-reel and multi-payline games. The table games section is relatively smaller, featuring nine games only. These are different versions of poker, blackjack, and roulette. Some of the familiar titles you will find here are Jacks or Better, Punto Banco, American Roulette, and Single Deck Blackjack.
One interesting aspect here is that all these games are available in a trial free play mode. That is an essential element as it gives you room to try out the game for free before committing your money.
A casino would be incomplete without a jackpot or two. Legolas.bet have gone a step further and added a jackpot lobby that gives you ten ways to have a shot at some jackpot money. These jackpot games are the networked Net Ent jackpot slots. Some of the popular titles you will find here are Mega Fortune, Divine Fortune, and Basic Instinct.
All in all, Legolas.bet online casino is just an online casino offering some online gaming services that are quite good. If you are looking for a simple approach to online gaming without too much going on, then you should try playing here.
Up to €1000 Casino Welcome Package & 125 Free Spins

As it is the case with the sportsbook section, the Legolas.bet online casino section also loaded with many impressive bonuses and promos. The rewards not only give you more playing time but if utilised wisely, could translate to more wins in the long run. The most notable of these, especially for new sign-ups, is the welcome bonus package.
This offer gives every new player a reward for each of the first three deposits. To get this bonuses you need to activate them by depositing at least €20. The bonus money will be automatically deposited into your gaming account. In addition to this free play money, your account will also be credited with free spins the day after you receive the promo funds.
For your initial deposit, Legolas will reward you with a 100% bonus of up to €250 + 25 Free Spins in Divine Showdown.
The second time you wish to fund your account, you will have the chance to get a 50% matching offer of up to €250. In addition, Legolas will credit 50 free spins in Coins of Egypt in your account.
Your third deposit will bring you the jaw-dropping 100% matching promo of up to €500. But that's not all. The very next day you will get 50 free spins for the Guns'n Roses slot game.
There are a few key pointers about this bonus that are worth noting before you commit. First, you can only lay claim to the bonus within 30 days from the day you registered at Legolas.bet as a new user. The bonus money comes with a 40X wagering requirement, which should meet within 30 days. This is by most standard quite a high rollover requirement. Also, you should also take note that the winnings from your free spins (if any) have to be wagered 35 times.
---
Live casino in Legolas
As hinted above, Legolas.bet also has a live dealers section. There two ways to access the live casino lobby. You can either click on the 'Live Casino' tab at the top navigation menu or enter through the regular casino section.
Similar to the online casino, the live dealer games also powered by NetEnt only. In all, there are 18 different tables hosted by live dealers. The live casino games are different types of roulette and blackjack. It was quite odd to find no live poker games, which is one of the most sought after casino games.
For the 18 different live roulette and blackjack tables, you will have the chance to catch all the action through HD video streams. The live dealers are quite an interesting lot, and they can be very entertaining.
---
Deposits & Withdrawals
When it comes to loading money into your account or cashing out your hard-earned wins, there are some different payment methods to use here. These include e-wallets, bank transfers, and credit and debit cards. What you will realise, however, is that the cashier section here is relatively slimmer in terms of payment options. You can only transact using five methods. Nonetheless, these few payment methods guarantee secure payment into and out of your gaming account.
In the tables below, we have summarised the payment options with their respective amount limits and processing timelines.
| Payment Method | Deposit Minimum | Deposit Maximum | Time for Deposit | Minimum Withdrawal | Withdrawal Maximum | Time for Withdrawal | Taxes |
| --- | --- | --- | --- | --- | --- | --- | --- |
| Visa | €10 | €40,000 | Instant | €10 | €30,000 | 2-3 banking days | 0 |
| MasterCard | €10 | €40,000 | Instant | €10 | €30,000 | 2-3 banking days | 0 |
| Bank Wire Transfer | €30 | €150,000 | 2-10 banking days | €30 | €50,000 | 2-10 banking days | 0 |
| Trustly | €10 | €50,000 | Instant | €30 | €50,000 | Instant | 0 |
| Neteller | €10 | No limit | Instant | €30 | €10,000 | Instant | 1.45% - deposits only |
| Skrill | €10 | €40,000 | Instant | €30 | €10,000 | Instant | 1.45% - deposits only |
---
Mobile version of Legolas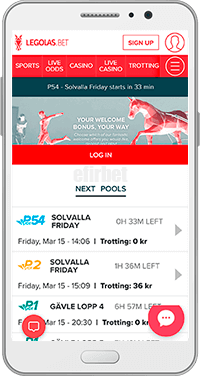 Legolas is yet to develop any downloadable mobile apps for neither Android nor iOS devices. Still, you can enjoy the Legolas services through your mobile phone, by making use of their mobile site version. All the betting and online gaming services are available through any up to date mobile web browser. Since the website has been optimising for mobile browsing, you need not to have any unique URLs. Just open your favourite mobile browser and type the Legolas URL. The site will automatically detect your device and switch to the mobile version.
The mobile version grants you full access to the sportsbook as well as the online casino. The NetEnt powered casino games can easily stream through your mobile browser, provided it supports browsing video contents. In our review, we did a test run of Chrome, Safari, and Opera and found all these browsers working quite well with the Legolas site.
---
Affiliate Program
Legolas.bet offers an elaborate affiliate marketing program that has an expansive network across the globe. The Legolas.bet affiliate program is quite easy to join as all you have to do apply online through the link affiliate.legolas.bet. After registration, feedback generally is given within 72 hours, but this could be longer depending on the number of applications done and background checks that have to do.
The commission here is paid out in a structured format based on the net revenue generated from the referrals an affiliate makes. One thing you will notice here is the commission on the revenue share from trotting is relatively lower than the casino and sportsbook. For trotting, the commissions distributed in four tiers ranging between 10% and 25%. The sportsbook and casino on the other hand offer four tiers of commissions ranging between 25% and 40%.
The Legolas.bet affiliate program has a dedicated support team that can be reached through the email address [email protected].
---
Frequently Asked Questions
Will I get a welcome bonus as a new sign up here?
Yes, Legolas offers a very lucrative welcome bonus package for both the online casino and the sportsbook sections.
Can I cancel or opt out of a bonus once I have received it?
No, once you have accepted a bonus, you cannot backtrack and cancel the bonus.
Other than the welcome bonus, does Legolas have other promotions and offers?
Yes, Legolas has an impressive lineup of other weekly and daily offers. More details on these offers provided in the promotions page. There is also a VIP program for the elite clientele, where you can get access to even more rewarding offers.
Am unable to find the Legolas app on the app store. How do I play on mobile?
Legolas had not developed any native mobile gaming apps. As such, playing on mobile is only through the mobile version of their website.
Can I close my Legolas.bet account?
Yes, you can request to have your account permanently closed by contact the customer support team.
My account registered in a permitted country, but I am travelling to a country where Legolas.bet is restricted. Can I still access my account and play?
No, if you are travelling to a restricted country, access to your account will be blocked until you are back to a zone where Legolas.bet operate. Legolas has published a list of restricted countries on their website under the terms and conditions page.
Can I withdraw directly into another person's bank account?
No, you can only withdraw money to a bank account bearing the same details as those on your gaming account.
---
Company Information
Legolas.bet is a relatively new entrant in the online gaming market. The site was launched mid-2018, with more focus being in the Swedish market. In the few months, the company has been in operation, we have seen them expand their presence, and they are gradually making entry into more territories in the Central European markets. Currently, Legolas.bet site accepts players from several other countries outside this region such as Samoa, New Zealand, Cote' d'Ivoire, Venezuela, and several other South American countries. Curiously, the site misses out in other big betting markets such as the UK.
Legolas.bet is owned and operated by the Legolas Invest Limited. The is a relatively small company revenue-wise with its headquarters in Malta at the Vincenti Buildings. Legolas.bet is licensed and regulated by the Malta Gaming Authority. Probably the company would have deeper penetration into more gaming markets if they obtained an extra license from another regulator as well.
---
Customer Care
Legolas offers customer support through email and live chat only. Interestingly, there are no dedicated phone numbers for customer support, which is quite disappointing. Another let down with the customer support team is their availability. The team is not available round the clock, and instead you are required to drop them an email then they will get back in touch, which would typically take up to 24 hours. The customer support is available in both English and Swedish.
---
Contact Details
The only way to reach the Legolas team is through emails and chats. For the live chats, the window will pop-up at the bottom right corner of the page.
For customer support, the email address to use is:

[email protected]

If you have another marketing or partnership related issue, then you should use the email address

[email protected]

.
Alternatively, you can reach out through their social media platforms on Twitter, Facebook, and Instagram where the brand seems to be quite active.
---
Conclusion and rating
Though relatively new in the market, Legolas seems to be making moves in the right direction. The first pro here is when it comes to the sportsbook, which is quite impressive. The odds as well are not that badly off compared to the market average rates. The concentration on trotting makes this site an excellent place to check out for horse racing fans.
However, there are a few areas that we noticed need some improvement while doing this review. For instance, the lack of 24/7 customer support and phone numbers is a significant drawback. Also, the cashier section is not too flexible. Our final verdict is 7/10.