Latest Marathonbet User reviews
Marathonbet Review
In recent years, Marathonbet has focused on football. It has gathered many sponsorships from Spain, Scotland, England, and Russia. It was also a commercial partner of Hibernian FC, Manchester United FC, Dynamo Moscow, and CF Malaga football clubs. Although it is based on the South Coast of England and is licensed in Curacao, Marathonbet's biggest client is Russia.
---
How to open an account?
Signing up with Marathonbet.com is simple. You just need to follow the process below:
Step 1: Go to www.marathonbet.com.
Step 2: At the top right-hand corner of the page, you will find the Join Now button. Click it.
Step 3: You will see a form that you need to fill in. Fill in your personal details including your name, address, and e-mail add. Create your own password and nickname.
Step 4: Decide whether you want to receive bonuses and promos from Marathonbet.
Step 5: Read the terms and conditions.
Step 6: Click the Join Now button.
How to activate your account? How to verify it?
After you've made an account, Marathonbet will send you an e-mail. Once you receive this e-mail, click the link provided. Then, your account will be automatically activated. You can start depositing money and start making bets.
You are responsible for verifying your account. If Marathonbet has any concern about your identity or card details, it will require you to submit ID documentation. Verification of accounts is done in line with the guidelines set by the Financial Action Task Force (FATF).
What to do if we forget our password?
If you lost your password, you only have to click the Lost Password? link below the log-in bar. Provide your account number, e-mail address, or nickname. Then, verify your date of birth. Click Confirm. A password recovery option will be sent to your e-mail address. Just follow the instructions given to you.
---
Website review – Design, Structure, and Navigation
The Marathonbet website is known for its striking yet simple design. They lack a homepage, but individual pages are informative enough.
At the top of the page are links to other areas of the site. Highlights of upcoming sports take a big chunk of space. There are also odd details and a list of available markets. In-play markets run in the middle of the screen so you can take a closer look at the game.
You don't need to continually look for your betting slip as you can easily find it at the top right-hand of the page. If you need help, you can click the Services tab below the main menu. There, you'll find the Help and the Contact Us link. Next to the Services tab in the Settings tab. You can use it to personalise your view of the website.
At first glance, it may seem like the website is boring as there is a vast lack of graphics. However, it is actually easy to use. Moreover, the site loads quickly. Beginners will have no trouble navigating around the different areas of the site.
---
Betting on sports
The odds offered at Marathonbet are extremely profitable. In fact, they are considered to be the best in the industry. Pair this with a wide range of betting selections, and you get a highly competitive sportsbook.
Marathonbet is considered as one of the most innovative bookies. It allows you to switch to an Asian view, both on the live betting and pre-match sections.
Available markets and betting options
Marathonbet personally boasts having great market selections, and they don't disappoint. Their markets include alpine skiing, baseball, biathlon, boxing, cricket, chess, curling, cycling, darts, hockey, skating, floorball, futsal, golf, greyhounds, handball, horse racing, hurling, rugby, snooker, ski jumping, volleyball, water polo, and more. However, its most popular markets are football, tennis, basketball, and ice hockey.
They cover minor and major tournaments from all around the world. They also have links to basic stats of each game, especially with football.
Pre-match markets also offer excellent betting range. The Champions league offers 23 handicap markets with score cast.
What about the odds?
Compared to most online bookmakers, Marathonbet has the lowest betting margins. Their overall betting margin is at 2.3%. Their football and tennis margins are at 1.5%. American football is at 2.4% while hockey is at 4.5%. These low betting margins are the highlight of Marathonbet.
Because of their good betting margins, Marathonbet doesn't need to add their own value to bets. The maximum winning per day is £250,000.
The only downside of Marathonbet odds is that limits are placed routinely on accounts in terms of the maximum bets permitted.
---
What bonuses Marathonbet offers?
Unlike its competitors, Marathonbet lacks real promotions. Unless you click the Bonuses link, you will not even know about their bonuses at all. This lowers the value of the site. Among their few offers, there are Advancebet and Free Bet.
Advancebet

Advancebet is a bonus that you can avail of only if all your bets are settled. It is not a credit facility. However, it allows you to place bets even when you have an insufficient account balance.

If the Advancebet amount you've used to place a bet is higher than the amount you've received from any bet settlement within 48 hours, then Marathonbet will take responsibility for the liability of that amount.

Your Advancebet can be seen on the My Account tab. Any bets that you've made and settled within 48 hours after placing your Advancebet will be used to pay your outstanding Advancebet.

You can place Advancebets on live events and events that are due in the next 48 hours.

Free Bet

From time to time, Marathonbet will offer a free bet. They will announce this via e-mail or via the Bonus tab. When you avail the Free Bet, you must place it as a win on a single event of your choice. If the Free Bet is successful, then you will be given your winnings. The stakes for the bet are not included in the returns though. If the Free Bet is a non-runner, then you can replace it with other selections.

The Free Bet can only be used once per account, person, and IP address. Those who are found creating more than one account can't withdraw the winnings of their Free Bet.
---
Live Betting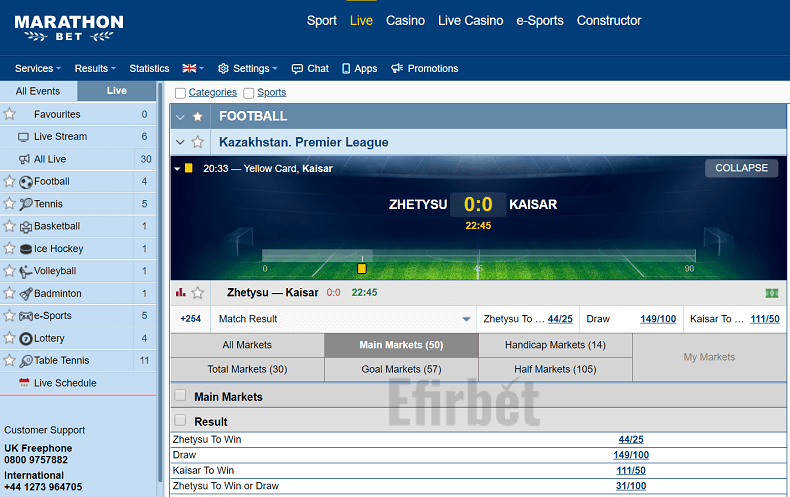 When it comes to Marathonbet live betting section, you'll have a wide range of choices. The number of bets available will depend on the league of your choice. Some markets offer more bets. If you like popular markets like football and tennis, then you will find Marathonbet live betting agreeable. Other markets do not provide exciting opportunities though.
You can bookmark your favourite markets in live betting. There are also checkboxes that you can quickly click if you want to make quick bets. There are no complicated features to distract players. Overall, live betting is basic but operates quickly.
---
Live Stream Service
It may come as a surprise, but this well-established bookmaker still lacks a live streaming feature. Marathonbet's live betting services are still in the most basic form. They display live scores and results. However, they don't let you watch the game live. This said it can't compete with other bookmakers yet.
---
Horse Racing and Greyhounds Betting
Marathonbet offers odds on Irish and UK horse racing. On certain races, they offer starting and early prices so you can take early odds. You can also take the SP if you're afraid that the odds will be longer than what's currently offered. You can avail ante-post odds on the most significant racing events including King George VI Chase.
---
Cash Out Function
Cash out is an option you can take if you want to protect your stake before the bet is settled. Unfortunately, Marathonbet is lacking this feature. It is something that they still need to improve on.
---
Marathonbet Casino
Marathon casino is decent enough. However, there's nothing about it that stands out from other online casinos. There are few games to play, and the lack of bonuses can be discouraging.
The games in Marathon casino are mainly from Microgaming, an established company, most famous for their slot games. This said, there are about 25 slots in the casino. Aside from Microgaming, Marathonbet uses 14 other game providers including NextGen Gaming, Leander Games, and Genesis Gaming. Their best casino games include roulette, blackjack, baccarat, and video poker.
---
Live casino with real dealers
The games in Marathonbet's Live Casino are provided by Evolution Gaming. The setup is generally fine. There are branded tables that attract players and a full range of games. The stake levels are high enough to suit entry-level players. The playing interface is good and will suit your internet connection speed.
---
CONSTRUCTOR
The Marathonbet Constructor is a bet where you choose two virtual teams participating in real matches. Then, you place bets on the possible outcomes of these teams. Your bet will be settled based on the total points the team has won in the real match.
The virtual teams you create should follow the rules below:
You can't choose opponents in the real game to be on the same virtual team.
You can only include a player once in the team.
Your virtual team should have one to five players.
Only single bets are accepted in the Bet Constructor. If the real match is interrupted or cancelled, then all bets on the said match become void.
---
Virtual Sports
One of the exciting options at Marathonbet is the e-sports section. The electronic disciplines became widely popular in the last few years, and Marathonbet certainly knows how to follow the hottest trends.
On this platform, you will find the essential e-Sports, such as CS:GO, WarCraft, DOTA 2, etc. The bookie will allow you to bet on the most significant events in the world of electronic sports.
The markets are pretty cool, as well – they vary according to the specific agenda in the different games.
---
Deposits and Withdrawals
The payment section of Marathonbet is practical. They offer all the common ways to deposit and withdraw money.
Deposit Methods
Withdrawal Methods
| Payment Method | Deposit Minimum | Deposit Maximum | Time for Deposit | Taxes |
| --- | --- | --- | --- | --- |
| Visa | £5 | no limit | Instant | Free |
| MasterCard | £5 | no limit | Instant | Free |
| Maestro | £5 | no limit | Instant | Free |
| Neteller | £5 | no limit | Instant | Free |
| Skrill | £5 | no limit | Instant | Free |
| Trustly | £10 | no limit | Instant | Free |
| Paysafe Card | £5 | no limit | Instant | Free |
| EcoPayz | £5 | no limit | Instant | Free |
| PayPal | £5 | no limit | Instant | Free |
| Payment Method | Withdrawal Minimum | Withdrawal Maximum | Time for Withdrawal | Taxes |
| --- | --- | --- | --- | --- |
| Visa | £5 | no limit | 3-5 days | Free |
| MasterCard | £5 | no limit | 3-5 days | Free |
| Maestro | £5 | no limit | 3-5 days | Free |
| Neteller | €5 | no limit | up to 24 hours | Free |
| Skrill | £5 | no limit | up to 24 hours | Free |
| Trustly | £10 | no limit | up to 48 hours | Free |
| Paysafe Card | £5 | no limit | up to 24 hours | Free |
| EcoPayz | £5 | no limit | up to 24 hours | Free |
| PayPal | £5 | no limit | up to 24 hours | Free |
---
Marathonbet Mobile Site and Apps
The simplicity of the website is reflected on the mobile site. Because there's nothing that can distract you from the most important links and features, the mobile site is considered user-friendly. Though some punters lack the same level of engagement as the website.
Aside from the mobile site, you can also install Marathonbet app on your Android or iOS device. Every service available on the site can be seen on the app. There are also special offers limited to mobile and app users.

With the Marathonbet mobile site and app, you can place bets on your chosen markets anytime, anywhere.
---
Affiliate Program
The Marathonbet affiliate platform has built a flawless reputation and a strong presence in the online betting market. They currently have about 1.5 million customers across 188 countries. They are known for their businesslike yet open relationship with their clients.
Those who are interested in the Marathonbet affiliate program can gain access to their tools, get 30% revenue share, and ask advice from the team. The brand is one of the most trusted in the industry.
---
Customer Services
Marathonbet's customer service has a high rating. It is available 24/7 and is accessible in four different channels. The live chat is available from 7 am to 10 pm. It also has an extensive FAQ section. However, the lack of a search box can make it difficult to navigate around their Help section.
When talking to their customer support, you'll feel how much Marathonbet values their customers. There's not much negative feedback in the way they handle complaints and inquiries. If you have an issue with depositing and withdrawing, their customer support will readily assist you.
---
About Marathonbet
Marathonbet is an international online sportsbook operator. It has been running across Europe since 1997. It operates through four different internet gaming licenses and offers live betting and pre-match markets with a wide range of sports events. Its Casino and Live Casino are developed in-house.
Marathonbet.com is registered under the domain names of Panbet Curacao NV with a license issued by Curacao Government. Panbet Curacao NV boasts about having more than a million customers from over 175 countries around the world. All of its products are independently tested to confirm their fairness and integrity.
Marathonbet aims to create an online space where people can enjoy themselves. In 2013, the sportsbook operator launched a mobile version of its website. The mobile app is available for iOS, Android, and tablet users.
---
Contacts
There are three ways to contact Marathonbet's customer support:
---
Rating and Conclusion
Marathonbet has the lowest margins among major bookmakers. They also offer very good odds. Add these to their extensive list of markets, and you'll see that the sportsbook is not lacking. However, its casino and other services can still be improved. The customer service is good enough. Overall, Marathonbet is a bookmaker that is worth trying. It deserves the rating 8/10.