Comprehensive Guide to Playing Poker and Its History
Poker is a game where five cards are used to make a winning hand. It involves forming a hand that ranks higher than your opponents, as well as bluffing and betting. It has evolved over the years, but the first mention of poker as we know it today was recorded in American literature in 1829.
There are several variants of the game, but before you can understand those, it is essential to grasp the basics. We will set out everything you need to know in this comprehensive guide.
---
Where Can I Play Poker Online?
You can check out lists of operators with online poker. It does depend on what you want to play. If you want to sit at a virtual table with other players, then you will need a poker room. If you want to work on your strategy or beat the dealer, then casino poker or video poker at online gambling sites will work for you.
All
Live Streaming
Poker
E-Sports
+
Sory By

Rating
Starting Bonus
They have a mirror link
Various payments

Rating
High odds
Great markets
Superb support
100% up to £10 welcome bonus
New customers only. Min Deposit: £10. First deposit matched up to £10. 1 x wagering at odds of 1.75+ to unlock Free Bet. Debit Card & PayPal deposits only. This offer is valid for 7 days from your new account being registered. Terms apply 18+ |
begambleaware.org
|
gamstop.co.uk

Rating
Big range of sport betting options
High odds
Casino games
Money back with Back-up Bet
18+ | New UK players only | Min deposit req. £10 | Certain deposit methods excluded | Pace 1 sport bet (3+ selections) } Excl Horse Racing| Min stake £10 | Max stake £20 | Min odds 1/5 (1.5) for each selection | Max FreeBet £20 for football only | FreeBet valid for 7 days | FreeBet stake not returned | T&Cs apply |
begambleaware.org
|
gamstop.co.uk

Rating
Convenient payment methods
Bonus up to £/€30 in Free Bets
#ad •
+18
Min deposit £10 • A qualifying bet is a 'real money' stake of at least £10 • Min odds 1/2 (1.50) • Free Bets credited upon qualifying bet settlement and expire after 7 days • Free Bet stakes not included in returns • Casino Bonus must be claimed within 7 days and expires after 14 days • Bonus valid on selected Casino games only • Bonus wins capped at £500, excluding Jackpot wins • You must wager Bonus amount x40 – this requirement varies by game Full
T&Cs apply
|
|
gamstop.co.uk
| Play Responsibly

Rating
High odds bookie
Lots of sports
Amazing bonuses
18+. UK Customers (Excluding NI) only. Cash stakes only. Min £10 stake required for initial £5 free bet. Min odds ½. Max £25 in free bets. Subsequent free bets equal 50% average of each 3 £5 max qualifying bets. 13 settled bets required to receive full £25 free bet. Qualifying bets must be placed on sportsbook within 30 days of opening account. Cashed out bets will not qualify towards your average stake. One free bet offer per customer, household or IP address only. Free bet expires after 7 days. Payment method restrictions apply. T&Cs apply |
begambleaware.org
|
gamstop.co.uk

Rating
Great odds
Speedy payouts
Multi live streaming
Get €130 Bonus for New Players

Rating
Good live betting section
Various sports available
Superb casino

Rating
Good Welcome Bonus
Attractive Offers for Registered Players
Useful SWAP Feature
100% up to €200 Sign-up Promo

Rating
Good bonuses
Big range of sports betting options
Different casino games
New customers only. Min deposit £10. Money back as bonus if first bet loses. Wagering requirements: sportsbook 3x at min. odds of 1.40 (2/5), casino 50x. Unless forfeited the sportsbook bonus must be wagered before using the casino bonus. Bonus expires 7 days after opt-in. No deposit required for NI customers. Call 08081699314 to claim. Full T&Cs apply | 18+ |
begambleaware.org
|
gamstop.co.uk
| Play Responsibly
---
Poker Card Game – What Are the Basics?
The aim of poker is to win the pot, which is made up of all the bets from players in that hand. The basics of a poker card game include:
Poker strategy
How to win
Poker rules
Age limit for poker
Number of players for a poker game
Poker Strategies
Players usually adopt and develop one of many poker strategies. The main element of any poker strategy is knowing the odds and the winning hands. The harder it is to form a hand, the higher that hand is ranked. For example, there are only four ways to make a royal flush, making it the highest-ranked hand.
Knowing the value of your hand, the likelihood of a player having a better hand, and what your opponents will do will help you make a decision. Observing the attitude and playing style of others is a crucial part of a strategy. It means you need to think on your feet as the situation changes for each hand. You can watch for patterns, including whether a player is likely to bluff or hesitate when they have mediocre cards.
Observing and processing all of this information helps you apply your strategy. You have several options in front of you in terms of how you bet. Once you've determined the variable elements at the table, you use your strategy to push for a win, bet conservatively and get more information. Or accept a loss, which is an inevitable part of poker.
Winning at Poker – How to Do It?
To win poker, you need to form the highest-ranking hand or make a bet that no one calls. If another player or other players have an equal hand, you tie and share the pot. Depending on the poker variant, players might contribute to the pot before the deal and also at betting intervals throughout the hand.
To remain in the hand, players need to place a bet. Betting starts from a designated position, and each player following must equal or bet more than the player before. If you choose not to, you 'fold', which means you stop playing with that hand and can no longer win that pot. An essential element of knowing how to play poker is forming a winning hand.
You form a winning hand from five cards. In draw poker, you receive those five cards face down, and then you bet. For stud poker, you are dealt face-down cards, known as hole cards, and some face-up cards. Betting intervals take place between the deal until players have all five or seven cards, depending on which version is being played.
In community games, you are dealt some hole cards, there are betting intervals, and the rest of your five-card hand is formed by face-up cards that are dealt in the middle of the table and used by all players. In variants with face-up cards, you can judge your hand against what you think other players have to place your bets and win.
What Are the Rules of Poker?
The rules of poker vary depending on the version being played. However, there are some similarities between all games. Every game of poker has betting intervals. Betting starts from the designated player and moves to the left. The first bet is made, and after that, players must call (which means betting the same chip value), raise (which means betting more chips), or fold if they do not wish to continue.
The poker hands, going up in value, are:
No Pair: Your five cards do not contain any matches or cards in a sequence of several of the same suit. It means you have nothing, which can happen very often in poker. This hand has no value.
One Pair: A common hand that has some value but is ranked low. You will have two cards the same, such as a pair of acks, while your other cards do not match or follow in rank.
Two Pair: You will have two cards of one rank, such as two queens, and two of another rank, for example, two fours, and one other card that does not match.
Three of a Kind: In this hand, you will have three cards of the same rank, such as three sevens and two other cards that do not match.
Straight: This hand is formed of cards in a sequence, such as 8, 7, 6, 5, 4. The cards in a straight are not the same suit, so they can be a mix of spades, clubs, diamonds and hearts.
Flush: These cards will all be the same suit but don't form a sequence. If you have 10, 7, 3, 5, Q, and all your cards are diamonds, you have a flush.
Full House: When you have one pair, and your other three cards make three of a kind, you have a full house, such as three twos and two tens.
Four of a Kind: A rare and valuable hand, four of a kind means having all four of one rank and a fifth card that could be anything else, for example, four fives and a king.
Straight Flush: This hand means you have a straight and a flush combined; it is a sequence of cards all of the same suit, such as 10, 9, 8, 7, 6, and they are all hearts. It is a rare and very high-value hand.
Royal Flush: The rarest and highest value hand that you can obtain when playing with a standard deck and no wild cards is a royal flush. If two players have a straight flush, the higher value cards will win. The highest version is known as a royal flush as it includes A, K, Q, J, 10.
Five of a Kind: Some poker games include wild cards, such as the joker, which means you can form five of a kind, for example, with four aces and a joker. In that case, it is the highest value hand.
To know the rules of poker, you also need to know:
The age limit
How many players are needed
What Is the Age Limit for Playing Poker?
Poker involves gambling, as bets are made with chips, which have a monetary value. The minimum age for poker is the same as that for gambling in your jurisdiction. Typically, you need to be at least18 21 to play poker.
How Many Players Are Necessary for Playing Poker?
You can play poker with a minimum of two players and a maximum of 14 or 22 for some variants. However, the ideal number of players is six to ten. Most tables have seats for six to nine players.
What Are Some Common Mistakes Poker Players Do?
Poker is a game of skill and takes practice. As a result, it is common for beginners to make these poker mistakes:
Playing out of position:
During the betting intervals, there is a sequence for betting, and your position in the action could put you at an advantage or a disadvantage. For example, the later you bet, the more information you have about what the other players have. Many players misread when it is their turn to bet or do not take into consideration that they are in a weak or strong position.
Misunderstanding bet sizes:
Betting in no limit and pot limit poker takes time to master. Not only do you need to keep the table limits in mind, but you have to pay attention to your hand, the bets before you, and the players that will come after. Go in too low, and you give those after you a cheap option; too high, and you could be overvaluing your hand. After playing several games, you will understand how to maximize the amount you could win without losing too much.
Playing bad hands:
When playing poker, you want some action, especially if you're just getting started. However, many hands are not worth playing, and you will waste your bankroll pursuing them. Accepting that you will often need to fold is part of becoming an experienced poker player and not a sign of failure.
Relying on bluffing:
Poker does involve some bluffing, but it is a tool to choose to use when you need to. If you try to mislead your opponents on every hand, they will soon recognize that and will always know that you are bluffing.
---
Most Famous Poker Players
Players with strong personalities, style and big wins have become famous. You can find out more about the top 20 poker players, but here are five of the most well-known:
Phil Ivey: He became famous through televised games in the early 2000s. The secrets of his success still remain a mystery, but we know that he has won over $20 million online and 10 World Series of Poker (WSOP) bracelets.
Doyle Brunson: Known as the Texas Dolly, he is now retired but earned his place in poker history thanks to his 10 WSOP bracelets, two books on poker strategy, and his numerous appearances at the final table.
Daniel Negreanu: A more modern player on the poker scene, Kid Poker was the face of PokerStars for 12 years. The Canadian has won six WSOP bracelets and two World Poker Tour championships.
Vanessa Selbst: With around $12 million in career earnings, she has seen success in tournaments and cash games. She retired in 2018 but still makes occasional appearances.
Phil Hellmuth: His career spans decades, and he is still active today. Known as the Poker Brat, he has 15 WSOP bracelets, and his performances at live tournaments mean there is always room for number 16.
Poker Tournaments Explained
When you play in a poker tournament, it's different from a cash game, where your chips represent your money. You pay a fee or buy-in for a tournament, and everyone is given a chip stack to bet with, so you have a limited amount to use.
The prize for a tournament is made up of a pool of entry fees. In some cases, you can rebuy to get more chips or reenter a tournament if you are eliminated, but rules vary. The biggest prize goes to the winner of the tournament, and there are often smaller amounts for runners-up.
Tournaments can be played at a single table, although many are multi-table tournaments (MTTs). Most have a set start time and will list buy-ins, blind level structure, prizes, and the starting chips. The tournament plays until one player remains with all the chips. It starts with tables of several players until it moves to the heads up phase between two until one is declared the winner.
---
What Is the History of Poker?
Like many card games, poker has a long history that can make the origins and one single inventor hard to track. Some say that it dates back as far as the 10th Century in China, while others link it to a 16th Century Persian game called As Nas.
There are references in literature from 1526 to a game called la prime in France or primiera or primero in Italy and Spain. It was only a three-card game, but the aim was to get a pair, three of a kind, or a flush, then known as a flux. Around 150 years later, the game had developed to include elements of bluffing and betting. It was called brag in England, and pochen, meaning to bluff, in Germany.
In France, the game was called poque, and it was played in New Orleans in French America. After the Louisiana Purchase in 1803, the game spread to English-speaking territories of the US, where it was called poker. A description of the game in an 1829 memoir shows that it had developed into a variant similar to the poker we play today.
---
Which Are the Most Popular Poker Terms?
Poker terminology shows that it is more than a game; it has its own language, and we now use many words in everyday conversation. It's useful to know the different words that you'll hear in live poker tournaments and online games.
Bet: a word usually used for the opening bet of a round.
Blind: Big and small blinds are mandatory bets made by players next to the dealer in certain types of poker.
Call: A type of bet; when you call, you are matching the previous bet or raise.
Check: When you check you are delaying betting, you can still check or raise after the betting has opened.
Cut: Your cut could be the amount you get from a prize pool. You can also cut cards, which is splitting the deck to reveal a card. Cutting cards can be used to determine the seating order or the dealer.
Dealer: In informal poker games, the dealer position moves around, and each person takes a turn at dealing the cards. In formal and online games, there is a professional dealer, but a button is used to signify the dealer position, and it moves around the table to determine the order of play.
Fold: When you do not want to play your hand and make a bet on your cards, you fold.
Raise: If you want to bet more than the amount previously bet, you raise. Often in limit games, there is usually a set amount that you can raise by and a certain number of times that people can raise.
Shuffle: One deck of cards is used to play poker; a machine, the dealer, or another player (in informal games) shuffles the cards to ensure they are random in order.
What Does a Set Mean in a Game of Poker?
Set refers to the hand three of a kind. You might hear this term used for a hand that has three of a kind, particularly when the two hole cards of a poker game make up two of the three matching cards.
---
Poker Point System Analyzed
There are two points systems in poker. One is used for games, while the other can be used for tournaments and leagues. If you are tracking points across multiple games, then a point system could be used to rank players. Points are often awarded based on how many players that person beat, as well as taking into consideration the buy-in.
The scoring in a game depends on the ranking of the player's hand. The higher the ranking, the better the score. Some forms of poker that don't involve bets with chips or money keep score based on the hand ranking instead. For example, one pair would be worth one point.
What Are the Poker Hand Rankings?
The lowest-ranked hand in poker is no pair; it has no value but can be ranked based on the highest card to compare it to other players' hands. The deck is ranked from two or deuce as the lowest to ace as the highest unless it begins a straight or a straight flush, where it is considered low. A no pair hand with a king would be called king high.
The rest of the poker hand rankings, from the best to worst, are five of a kind (if playing with wilds), four of a kind, flush, royal flush, full house, straight flush, three of a kind, straight, and one-pair.
For any hand, it will also be ranked on the highest value card to compare it to similar hands. If you have a straight Q, J, 10, 9, 8, it will be a queen-high straight and would beat a jack-high straight.
---
What are the Types of Poker Card Game?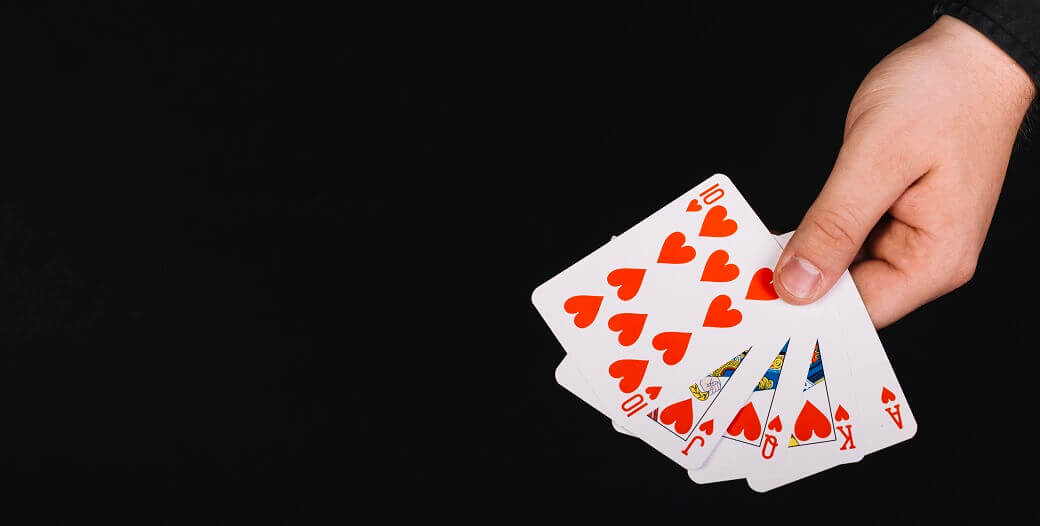 There are several variants of the game. The most popular poker types are community games like Texas Hold 'Em and Omaha. You can also find casino poker, which is usually the draw or stud kind. A slightly different variant is video poker; find out more about each type below.
1. Seven Card Stud
Seven-card stud is another popular type of tournament poker. It suits those who can adjust their strategy quickly and think on their feet as there is a lot of information to process. It's similar to Texas Hold'Em, but there are even more face-up cards on the table.
Before a game, each player pays a nominal amount, known as an ante. Two hole cards are dealt face down, and one face-up card and a betting round follows. Players are dealt another three face-up cards and one more face-down card with betting intervals between each new card.
Players choose their five best cards to form a hand. You will often find high-low or low variants of the game. In high low, the pot is split with one half going to the best winning hand and the other to the best low winning hand, usually formed with cards lower than eight. Although the on-the-spot calculations can make it challenging, the fact that there are two chances to win makes this type appealing.
2. Five Card Draw
This kind of poker is not as popular as it once was. Five Card Draw closely resembles video poker but is played at a table with others. An ante is paid before the hand starts. Five cards are dealt to each player, and a betting round follows.
Starting from the dealer's left, each player can discard one to three cards. It's known as the draw. Once complete, there is another betting round. If more than one player remains, there is a showdown, where the opponents reveal their cards to show who has the winning hand.
The game is simpler, as your strategy mostly focuses on your hand. You can try to read players as they get their draw, but there is not as much information to use. Only two betting rounds and no knowledge of what the other players are holding mean the game is limited in how you can improve and strategize.
3. Hold 'Em
Texas Hold 'Em is a community poker game, which means that players are given two hole cards, but they complete their hand of five cards with some central face-up cards that everyone at the table uses too.
It's the most popular kind of poker, especially at tournaments, as the community cards allow you to build a strategy based on what you know the other players have access to. The main challenge is getting used to the betting rounds.
There is no ante, which you find in other types of poker. Instead, you have a small blind (usually half the minimum bet) made by the player to the left of the dealer and the big blind to the left of them. Two face-down cards known as hole cards are dealt to players.
A betting round starts with the player to the left of the big blind. Once betting concludes, one card from the top is burnt, meaning it is dealt face-down and not used. The next three cards are dealt face-up as the community cards. This part is called the flop, and another betting round starts from the small blind.
Once betting has concluded, another card is burned, then a fourth community card or fourth street is dealt face-up. A betting round follows, another card is burned, and then the fifth card or the river is dealt face-up. The last betting round takes place, and any players still in the hand make their winning hand using their hole cards and the community cards.
4. Video Poker
Video poker is a format that comes from five-card draw poker. However, it's played online or at a terminal like a slot machine. The biggest difference to other versions on this list is that there are no other players; it's just you against the dealer.
You determine your bet before you begin, and most video poker games payout more for the best hands with max bets. You are dealt five cards and are given the option to discard one or more and receive new ones. Unlike a five-card draw, you can discard the whole hand. If you form a hand that matches the combinations in the paytable, you receive your payout.
Most paytables start with an even money payout for a pair of jacks. The hands and their rankings are otherwise the same as table poker. You will find different versions of video poker, including the classic Jacks or Better or Deuces Wild, where twos are wild and stand-in for other cards.
The game is less sociable, but players enjoy working on their strategy and find games with a low house edge. Tactics focus on knowing which cards to keep and which to discard to get the maximum payout.
---
The Difference Between Online Poker and Offline Poker
While you can play many of the same types of poker online and offline, there are some significant differences. The main distinction is that live games are much slower than online ones. Many people who choose to play online have multiples games occurring at once, but in person, you have one table, and the action takes a lot longer.
Online poker can move to high stakes and get competitive pretty quickly, as you encounter different qualities of players than you would in a local game. Players need to think carefully and adjust their betting strategy for online games. Online poker also takes away the element of the game where you read the other players. You can note their betting action, but you cannot see their faces or body language.
The rake, which is a percentage of the pot taken by the poker room, is usually higher offline, as actually facilities are being provided. Plus, online casinos are more likely to offer promotions or rake back opportunities through loyalty schemes. Finding a seat at a table and getting playing is usually faster online.