Company information
For people whose sole betting interest lies in racing, Racebets is the best, as the amount of race offers in the area of horse and greyhound racing, that they offer their racing punters, is unrivalled. This is because being focused on this particular market, they have created highly competitive odds. Now, they provide bonuses that are area specific to the racing market.
Racebets was originally under the well-received bookmaker Bet-at-home, which was established in 2006. However, in 2009, Racebets decided to become independent. Apparently, the decision was not a mistake as they have had favourable results since then. They further established their independence by transferring their base of operation to Malta. This was done to enable their company to take full advantage of the taxation given to the companies that offer gaming. They have obtained their gaming licenses under the Malta Gaming Authority (MGA) and the British Gambling Commission.
As of today, Racebets has a full access to the horse racing markets of Ireland and the United Kingdom, the two biggest markets in Europe. They are becoming a trusted brand name for race betting punters. The betting company further expanded when they opened their site to players from 40 different countries, catering not only to Europeans or Americans but also to Asians.
Racebets app for Android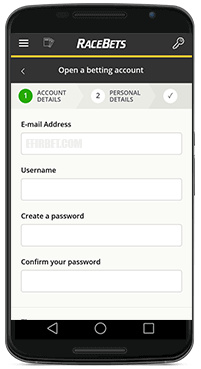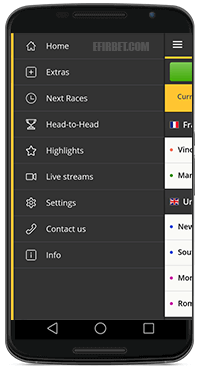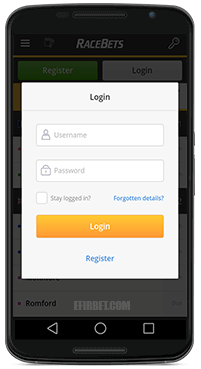 Racebets does not have a dedicated mobile app. This means that they are not available in Google Play for you to download and install. However, you can still access them on your mobile device through your mobile browser. And because Racebets focus on horse racing, their mobile site is fairly uncluttered, making it easy and simple for you to navigate. The site is a lot like its desktop counterpart with all the features available and their signature colours of black and yellow. The mobile site version also has an easy swipe function that makes you feel like you are inside a Racebets mobile app, instead of just being on a mobile site.
How to download and install Racebets App for Android
As aforementioned, Racebets can't be found in Google Play. However, for Android users, you have the option of downloading an .apk file. To do this, follow the simple and easy steps below:
Step 1: Go to your Android device's Settings.
Step 2: Look in the Personal Section menu for the button labelled Security.
Step 3: Toggle the Unknown Sources on.
Step 4: Proceed by pressing "okay" and install your .apk file.
Step 5: Install the .apk file to create a shortcut button that will take you to Racebets' mobile site.

Download RaceBets app for Android
Android users have the option to use the mobile site through the installed .apk file, which basically lets them create a shortcut button on their homepage that takes them easily and directly to the Racebets mobile site.
Racebets app for iOS (iPhone and iPad devices)
Racebets for iOS is much like the Android version. There isn't any available Racebets mobile app in the App store, but the Racebets mobile site has a feel that is much like that of an app. There are no visible differences with the Android mobile site, and this, by far, is the reason why Racebets, having no dedicated app as a bookmaker, still works in their favour. Both Android and iOS users see the same features and go through the same delightful experience in using a site akin to a Racebets mobile app.
How to download and install Racebets app for iOS (iPhone and iPad devices)
iOS users do not need to download anything as they can just access Racebets mobile directly through their browser. They simply need to bookmark it for easier access the next time they log in.
Open RaceBets app for iOS
Racebets mobile horse betting
Because Racebets focus on horse racing, their mobile version is not overcrowded, making it very simple to navigate to place your bets. Players from 40 countries around the world have the choice of over 200,000 different types of races to choose from. With an ante-post section and a live streaming option, it's a guarantee that a punter shall be most delighted with his gaming experience.
Moreover, Racebets offers a full access to the biggest European horse racing market, which is the United Kingdom and Ireland, and the global market encompassing the United States of America, Canada, and even Asia.
The odds offered by Racebets are very sensible, and the best part about it is that punters have the ability to convert the statistics from metric to imperial measures or vice versa.
Racebets Mobile Site Version – Review
As mentioned beforehand, there is no Racebets app for both Android and iOS devices, which is probably why the company has invested in making their mobile site feel like one is navigating through a mobile app. Despite having no dedicated app, the Racebets mobile site version makes up by being totally user-friendly. It is packed with all the features that the website has.
There isn't even a need to worry about the site being slow because since there is little traffic on the site's server, the mobile site can load instantaneously without lagging. In addition to its compact and functional design, Racebets mobile site also has an easy swipe feature for simple and fast navigation.
Differences Between Mobile App and Mobile Site Version
A mobile app and a mobile site version differ a lot simply because a mobile app can easily be accessed as it has already been installed on your device. In simple words, it's always there. A mobile site version, on the other hand, requires the use of a mobile internet browser. It is browser-based with HTML pages that are linked to form one single content.
Basically, a mobile app is designed for mobile use, meaning the size of the screen is smaller and the layout is organized to fit on a small screen of a mobile device. The mobile site version is also designed for mobile use. However, it may not be as responsive as the app.
Racebets Mobile Bonus
The mobile bonus of free £50 worth of bet upon registration is only available for new members. This means that if you already have an existing Racebets account, you are no longer qualified to receive this bonus.
To get the bonus, you simply register using your mobile device and deposit a minimum of £10. After completion, you will need to place a bet of a minimum of £10 to qualify. When you are done placing your bet, provided that it is £10 or higher, Racebets shall automatically send you a code. Enter this code in the bonus section of Racebets mobile site to activate it.
It is of utmost importance to take heed of the rules governing this free £50 bet bonus. Be aware that only one person per account can avail the bonus, and abuse of this promotion may lead to Racebets managements taking disciplinary actions. This entails that a home address, an email address, a telephone number, and a payment detail can only be attached to a single account. If a breach of the term is proven, Racebets has the right to hold the bonus claim of the guilty party and declare it as invalid. They may also charge an additional penalty fee that is equal to the bonus amount, plus, an additional payment to cover administration costs.
Furthermore, if they deem an account dodgy, Racebets holds the right to demand any document of authentication from a player before crediting any bonus amount. Insufficient and/or invalid documents may result in Racebets declaring the bonus null and void. And, they can outright refuse service to players proven to have violated the site's terms and conditions.
This Racebets's mobile bonus can't also be used together with other offers. Players who deposit money through Neteller, Skrill, and PaySafe are not qualified to avail of the bonus, except for those that are from Japan and India. The maximum bonus amount that one can claim is £50, and it is only valid for 45 days. To withdraw, the bonus must have rolled over 5 times and bets with less than a 1.5 odds are not included in the rollover requirement.
System Requirements and Compatibility
There are no system requirements for Android and iOS device users as Racebets does not have any apps for their users. They, however, have a mobile site version which players can use if they are on their mobile device.
Racebets mobile payment methods
Racebets offer a variety of ways for their players to deposit money into their account, from credit or debit cards option to direct bank transfers. They do not charge their players any fees upon depositing. However, the player's banks or respective payment facilities do, and the fees vary depending on the player's choice of payment facility. Racebets do, however, have an established minimum deposit and limits for their players.
Payment Method
Deposit
Withdrawal
Visa Cards
Minimum Deposit: £10
Maximum Deposit: £5,000
Minimum Withdrawal: No
Master Cards
Minimum Deposit: £10
Maximum Deposit: £5,000
Minimum Withdrawal: No
Skrill
Minimum Deposit: £10
Maximum Deposit: £20,000
Minimum Withdrawal: No
PayPal
Minimum Deposit: £10
Maximum Deposit: £5,000
Minimum Withdrawal: No
Neteller
Minimum Deposit: £10
Maximum Deposit: No
Minimum Withdrawal: No
PaySafe
Minimum Deposit: £1
Maximum Deposit: £1,000
Minimum Withdrawal: No

POLi
Minimum Deposit: £10
Maximum Deposit: £20,000
Minimum Withdrawal: No
Bank Transfer
Minimum Deposit: £5
Maximum Deposit: £25,000
Minimum Withdrawal: No
FAQs
I already have an account in the desktop version of Racebets. Can I create a new one to avail of the free £50 bet upon registration on the mobile site?
As stated, no duplicate accounts are allowed in Racebets. This means that if you are already a member, and you have had the pleasure of enjoying the welcome bonus, you are no longer eligible to avail of the welcome bonus again. When accessing Racebets through your mobile, you only need to log in and you're good to go.
When can I withdraw my winnings?
You can only withdraw your winnings if your identity has been confirmed by Racebets and if you have accumulated an amount of more than £2,300.
How can I place multiple bets?
You can place multiple bets by simply using the Accumulation Betslip in the race market. It is fairly easy to spot as this option is highlighted in orange.
Do Racebets have a feature where it can allow me to close my account or control my bets?
Yes, they do. If you want to control your bets, you can choose to have the Self-Exclusion Option for you to be able to limit the amount you bet. This is a guarantee that you do not spend too much and waste your hard-earned money.

If you ever want to close your account, you can choose the Normal Closure option. The great thing about this option is that you can reopen your account in the future should you wish to. For both options, you will need to contact Racebets' support team to help you with the execution.

Can I customise the language to suit my own?
Yes, you can. Just tap on your username, and in the drop-down menu, choose the display language option. There, you can pick what language you prefer to see on your Racebets site.
Where do I pass my complaints if I ever have one?
If you ever meet a problem with using Racebets mobile site or the desktop version, you can contact their customer support team, and you will be pleased by their fast and accommodating response.
If I forget my login details, do Racebets have a way for me to retrieve it?
If you ever forget your login details, in a similar manner with complaints, you can contact the Racebets customer support team and they will be glad to assist you with the retrieval of your login details. Or, you can do it on your own. Just tap or click on the "Forgotten details?" and you shall be redirected to a page that gives you the option to retrieve your username or create a brand new password. Simply follow the instructions.
Verdict and Apps Rating
Racebets mobile "app", being far from being a real app, actually works to their favour as all users are able to see the same version of the mobile site without having any OS requirements. The clever and aesthetically appealing design and the swipe navigation option are sure to make a delightful gaming experience for players on the go. Plus, their focus on horse racing is playing in their favour, too. Having only a dedicated game in horse and greyhound racing, they are able to create a mobile site that is uncluttered. What's more is that the games load instantaneously, adding to the feel of accessing Racebets through an app. These points earn them a rating of 8.5 out of 10.
Visit RaceBets mobile