About RaceBets
RaceBets is an online bookmaker that has recently launched as a sports betting company in the industry. As its name suggests, it solely focuses on horse and greyhound races. Despite being a rookie in the online betting industry, it has amazingly created an outstanding reputation throughout the years.
RaceBets was originally a renowned bookmaker called Be-at-home which was founded in 2006. For almost 3 years, they stayed beside Be-at-home until they decided to become independent in 2009.
The results have become favorable for Racebets for they have been soaring high since then.
Upon becoming independent, their operational base was transferred to Malta so they could take full advantage of the taxation on the companies that offer gaming. Their license was issued by the Maltese Lotteries and Gaming Authority. Moreover, the German Racing Association partly owns them as well. With this, RaceBets had the opportunity to expand more.
Today, RaceBets has established its name in the greyhounds and horse racing industry with an incredible growth in just a short span of time.
---
Registration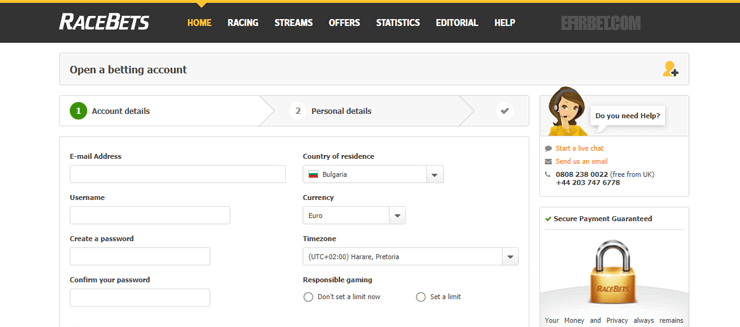 To be eligible for using the services that RaceBets offers, you must first apply for an account and then register online. This must be done personally to avoid any misinformation. There are also things you might want to consider before applying for an account. Here are as follows:
You must be of legal age (18 years old). Keep in mind that gambling under the authorized age is a violation of the law.
The account that you are to have will be for your personal use only and is prohibited to be used commercially.
You must not be a resident of the United States of America neither a citizen of the said country. Accessing RaceBets' sites and services under a governance which prohibits betting and gambling shall never be tolerated.
You, as an account holder under RaceBets, shall be responsible for any payment, record, and obligation in certification of any charges, taxes, and fees under your jurisdiction regarding the services offered.
It is also your responsibility to ensure that your personal information is correct, complete, and updated. Once there is a change, it must be immediately updated and notified.
RaceBets reserves the right to request or ask copies of particular documents once you register.
Withdrawals that have cumulatively exceeded the amount of 2,300 Euro shall only be permitted to be processed once the client's age, identity, and residence are confirmed.
A customer shall only be allowed to have one account. Multiple accounts will be closed.
---
Activating and Verifying your Account
In order to follow some regulations, RaceBets is requested to validate their customer's identity. They have the right to ask for copies of particular documents such as valid photos or identity cards, passport, driver's license, and other documents that state the legality of one's age. Bank statements and references will also be requested.
The implementation of this process is done by the regulator. In the UK, this would be done by the UK Gambling Commission. In other countries, the Maltese Gaming Authority (MGA) shall be responsible in the verification of each client's identity.
Forgotten Password
The easiest way of retrieving your RaceBets account is to contact the customer service team via phone or via email so they could assist you for further procedures.
Moreover, you can also do the retrieval of your password by yourself. You can simply go to RaceBets' official website and click the Login button at the upper right corner of the website's homepage. A popup box will appear. From there, click Forgotten details? below the yellow Login button. You will then be redirected to a page where you can either request for a new password or retrieve your username. Simply fill in the boxes on this page with the necessary details and you will be able to retrieve your old details or use a new one.
---
Website Review – Design and menus
RaceBet's official website has an attractive black and yellow theme. The tabs are cleverly organized at the top part. The layout of the website is simple, making the website very easy to navigate. In a nutshell, the simplicity of RaceBet's website makes a great advantage.
What is it?
RaceBets is a renowned and trusted bookmarker for online horse and greyhound racing. It offers markets in 40 countries around the world. With a goal that sets clear message to offer good and quality betting experience, RaceBets guarantees an extraordinary betting experience.
---
Betting Markets
As said, RaceBets offers a huge number of markets for betting. Here are some of the features RaceBets offers under these markets:
Ante-post
This is the price offered on the day of the race. This is offered prior to the event and on the event. The bet has a chance to be voided if you leave the odds on the website during the Ante-post Entry.

If your selection failed to participate, you will be clearly marked as Non-Runner No Bet (NRNB) on your market

Early prices
Early prices are mostly offered in Ireland, Germany, South Africa, and in the UK. They are usually used when odds are present.
Head-to-head offerings
Head-to-head offerings can be offered on particular races when there is an available match-up. Fixed odds will be offered once either of the horses reaches the finish line ahead of another one.
Special bets
Special bets are bets that are posted with fixed odds. The rules of each special bets may vary depending on how clear the outcome will be.
---
Are the Odds Higher?
There are different odds in a horse betting event. Here are the common odds in RaceBets events:
Fixed odds
These types of odds are offered for special races and on selected kind of races. You will surely receive a price even if the bets are shortened when the bet has been done.
Starting prices
At the time when the race has begun, these types of odds are offered when a horse has prevailed on the course. This fixture applies in Ireland, United Arab Emirates (UAE), and in the UK. You may be unaware of the odds you are about to receive when you make a starting price. The odds may not be revealed until the fixture is successfully underway.
Tote odds
These are wagers that are transferred by RaceBets to the Totalisator pool. This is also known as the Parimutuel Betting. This is the type of betting when together, bets are placed into a pool

.
Similar to SP, you will be unaware of the odds you are about to receive. Odds that are displayed on the column of the Tote serve as a guide on the current market.
---
RaceBets Bonus Deposit: 100% up to £/€ 50 Terms and Conditions

RaceBets' bonus deposit of up to £/€ 50 may be too good of a deal to be true, but it's actually legit.
Terms and Conditions:
A minimum of £10 must be made for the qualifying deposit. Deposit via Neteller, Paysafecard and Skrill doesn't qualify for this type of bonus, except in India and Japan. Pre-paid credit cards don't qualify for this bonus.
To be able to avail of the bonus in making a bet, play using the amount of the qualifying deposit. Then, enter the code WELCOME upon entering the section of the bonus in order to activate the cash for the welcome bonus. You are eligible for this bonus within the time period of 45 days from the starting day you have made your account. Also, please note that all the initial bets made beforehand must be settled to be able to claim the bonus. The bonus cash must be wagered within 30 days upon the activation of the bonus cash. Failure to meet all the time period for the bonus shall be forfeited.
Only the people who reside in the following countries shall have the right for this offer: United Kingdom, Switzerland, Sweden, Norway, Mauritius, Malta, Ireland, India, Germany, Finland and Austria.
Existing account holder shall not be qualified for this bonus.
The bonus can't be used in conjunction with any other offered accounts that are open.
You must wager your bonus 5 times in order to be able to withdraw the amount.
Bets which contain a selection of odds that are less than 1.50 or half shall not be considered as a roll-over requirement.
The rollover requirements should be completed in 30 days after the activation of the bonus.
RaceBets has the right to declare the bonus as null and void once the terms and conditions are breached. There may also be a charge of 100% as an administration fee to cover all the expense of the administration.
All the offers raised by RaceBets are intended solely for recreational players. RaceBets also has the right to limit the eligible individuals upon registration once a suspicion arises upon the verification of the documents. An account shall only have distinct name, address, email, telephone number, and such.
---
Horse Racing
The horse racing odds in RaceBets are genuinely good. However, odds can be changed between fractional and decimal amounts. Moreover, the most significant feature in RaceBets' horse racing is the users' ability to convert the stats between metric and imperial measures.
---
Greyhounds
RaceBets has a huge variety of greyhound racing markets. For greyhound racing, players have a €25,000 maximum winning limit. Certainly, this is an abundant winning limit.
---
Live Betting
A horse race can never be exciting if there are no bets placed upon the runners of the race. Betting is simple as it only requires you to think of what the outcome of the race should turn.
---
Live Streaming Feature
Before, you had to have a television and a good channel to watch a race. Fortunately, with the advent of technology, things have become more convenient for the audience. RaceBets has a live streaming feature that allows players to watch the matches they have put their bets on.
---
Cashout option
RaceBets has a closed loop policy to secure their customer's account. This requires the funds to be withdrawn back with the exact method you used in depositing. So meaning, if you have used Skrill in depositing, then use Skrill in making your cash out.
---
Deposits and withdrawal limits
RaceBets takes responsible gaming seriously. They allow customers to personally limit their bets. You can see this in the limits and exclusions tab accessible in the website. It would begin from the moment you set them of the basis of rolling. You have the choice to set them daily, weekly, or monthly. Once they reach the limit, they are set back to begin again.
---
Mobile version and apps
The mobile app of Racebets is a convenient way to monitor your account on RaceBets, so you won't be able to miss out a chance of winning. The live stream feature is also an inclusion for the mobile version where you can easily watch matches.
---
RaceBets affiliates
RaceBets' affiliate program provides banner media in different languages and tracking links. They offer a commission of up to 35% of the affiliate's net revenue.
---
Customer service
Should you have any questions or concerns, you can reach RaceBets' support team at support@racebets.com. Simply fill out a bet slip question and they will contact you within 24 hours.
---
Contacts
You can contact RaceBets in many ways. However, their customer service isn't available 24 hours a day. Nevertheless, you can contact the management via:
Telephone: 44-203-747-6778
Email: support@racebets.com
---
Conclusion and Rating
With the overall review of RaceBets, one can conclude that it is a reliable betting company. It may not be as great as any other betting companies, but it certainly offers satisfactory services. Still, RaceBets lacks in a number of aspects. Unlike other websites, it only offers racing events. Also, this betting company does not focus on their customer service. For players, this is a heavy setback. Overall, RaceBets deserves a 8.3/10 rating.
Related Articles