Intro
Not surprisingly, sports betting company SkyBet has had their app in Apple's UK App Store since 2011. While there has also been a SkyBet mobile android app for some time, with Google repealing its earlier ban on all gambling apps just in August 2017, we think it's high time we review both iOS and Android SkyBet apps. And, as we're already on this, why not do one on the SkyBet mobile site, too?
SkyBet is the sports betting division of Betting and Gaming, a wholly owned subsidiary of British Sky Broadcasting Group plc (Sky).
A major player in the UK, well rightly an institution, SkyBet has had a massive following since 2002. It has been a proud sponsor of the entire English Football League for 5 years. The company and the EFL recently extended this sponsorship deal until the summer of 2024.
To be able to watch one's favourite matches as well as bet on them whenever and wherever is every punter's dream. To this end, SkyBet satisfies the desire to bet-on-the-go with its SkyBet iOS and Android apps as well as its SkyBet mobile site version.
Mobile App for Android
We were able to download an earlier APK version of the SkyBet Android mobile app. In its ease of navigation and cleanness of look, it is identical to SkyBet's iOS app. Certainly, SkyBet's extensive markets, exceptional features, and excellent promotions are also very easy to take in at a glance. With this version though, login is still through the use of a Quick Pin.
In August 2017, Google decided to relax its ban on real-money gambling apps, allowing apps like slots, casino games, and most especially sports betting on the Play Store in the UK, Ireland, and France. With this, SkyBet has also announced that its Official Android App is now also available on Google Play. As SkyBet reports, this Version 2.0 already has fingerprint login, comparable to the iOS app's Touch ID login.
How to Download and Install Skybet App on Android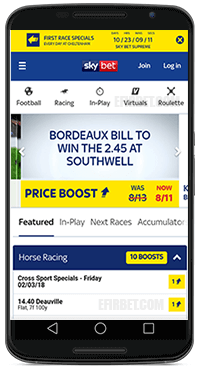 With its announcement that the SkyBet Android app would now be available on Google Play, one would expect the same ease of locating the app as on the Apple's App Store. Here's a step-by-step process on how the download and installation of the Skybet Android app is done.
Step 1: Using your mobile device's browser, open SkyBet's official website.
Step 2: Below SkyBet's logo is a neon green DOWNLOAD button. Simply click it, and the apk file will be downloaded.
Step 3: Your mobile phone will notify you when the download is done. Click on the notification. Alternately, look for the sky-bet.apk file in your device's 'File Manager', and click on the file.
Step 4: An 'installation blocked' message may appear. Just follow the directions on the pop-up. Visit your mobile's Settings. Under Security, switch on 'Unknown Sources' to allow installation of applications from both trusted and unknown sources.
Step 5: On the app's top menu, scroll to 'Downloads' and you'll see the banner for 'SkyBet Download Completed'. Clicking this banner installs the SkyBet Android app on your mobile phone.
Download SkyBet app for Android
SkyBet App for iPhone and iPad
Whether on the iPhone or the iPad, SkyBet's iOS mobile app is quick and trouble-free to navigate. Aesthetically, it's quite easy on the eyes. Done in SkyBet's distinct royal blue and white theme, the interface shows all sports markets at a glance. All SkyBet Price Boosts are on the right side of the screen, highlighted in bright yellow. Should this be too overwhelming, just click on the tribar menu icon on the topmost left of the screen. Choose the market you wish to see, and the app hides the rest from view. This clean layout proves extremely useful when checking every available Price Boost offered. You can choose your game and check the odds and all the available betting options.
Of course, the #1 feature we adore on the iOS app is we can get into it with just Touch ID. No need to remember a lengthy password or even a PIN if you have a Touch ID-capable device! All you have to bring is your fingerprint. This technology becomes even more advantageous when making an Apple Pay deposit to your SkyBet account. Touch ID authenticates your authorised fingerprint before the cash transfer.
How to Download and Install SkyBet App for iOS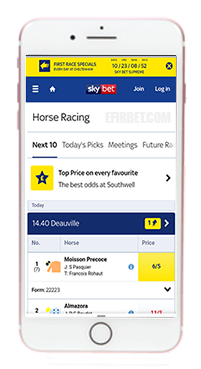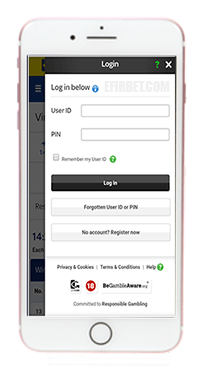 As with all iOS apps, SkyBet is available to download on your iPhone, iPad, or iPod Touch through the App Store. The app is easily searchable there.
Step 1: Click here for direct access to the App Store's SkyBet app page.
Step 2: Beside SkyBet's logo is a blue GET button. Simply click the button, and the app will download and install on your iOS device.
Step 3: For registered users, use your Touch ID to log in. New customers can also register to SkyBet via the app.
Download SkyBet app for iOS
SkyBet Mobile Sports Betting
With the exception of Exclusive Price Boosts that are available to SkyBet mobile app users, all price boosts, promotions, and bonuses are offered to SkyBet mobile site users.
SkyBet especially excels in its bet offerings in Football. That's why it's no surprise that their Live Streaming choices of football matches are some of the most excellent and extensive ones. Aside from the EFL, they also stream most of the MLS matches live. You can watch German, Dutch, Portuguese, and Brazilian football matches as well.
On the other hand, SkyBet does offer live streams of UK and Irish horse racing, but you need to access these through SkyBet's 'Bet and Watch' feature with a minimum bet of £1.
Every day, SkyBet offers a huge selection of In-Play markets in almost every sport. They have an extensive live betting service, providing in-depth In-Play match stats directly from SkySports. With this nifty feature, you can keep track of in-play stats, check on your cash out while you are on the win.
Mobile Site Version Review
If you're the kind of bloke who prefers to go straight to his mobile browser than spend any precious moment on a SkyBet mobile app download, the good news for you is the Exclusive Price Offers available only to app users. SkyBet's brilliant features and ace promotions carry over to the SkyBet mobile site, too. Again, the no-frills interface is a breeze to navigate, showing you upfront all available matches and Price Boosts.
Differences Between Mobile App and Mobile Site Version
Many people are confused about the differences between a mobile app and a mobile site version. In this section, let's make a comparison of the two with their disadvantages.
Mobile App
Advantages:
Login is easier with iOS's Touch ID and Android's fingerprint login.
Home screens are customisable to highlight your favourite sports.
Offers Boosts which are exclusive only to app users.
Gives great notifications on casino games and betting events.
Disadvantages:
SkyBet's Android app needs to be downloaded and installed first using an Android Package (APK).
Apps also need to be constantly updated.
Mobile Site Version
Advantages:
Immediately available and easily accessible on any mobile browser.
Does not require download, installation, or updates.
Does not take up much storage space.
Disadvantages:
The site's home screen is not customizable.
Exclusive App Only Boosts are not available on the mobile site version, but users still have so many of the regular price boosts to put to use.
Notification function is not possible when using the mobile site version.
SkyBet Mobile Bonus
Any first-time user of SkyBet can qualify for their new customer offer. You can choose between 'Free £10 Bet' or 'Bet £5 Get £20'. The website will give you the freedom to make your choice.
Should you prefer the 'Free £10 Bet', SkyBet will automatically put in your account £10 upon registration. You will not need to make an initial deposit! On the other hand, should 'Bet £5 Get £20' feel like the better choice to you, you can deposit into your account and bet with £5 on any market. You will receive £20 in free bets! Of course, there are certain T&Cs that go with each choice, but as punters, we'd appreciate any bonus that helps get us ahead of the game, right?
On top of those choices of new customer offers, you can also cash in on other price boosts, promotions, and bonuses offered to all SkyBet customers. As written on SkyBet's iOS app page on the App Store, these are some of the bonus-related features you can enjoy on the app:
Exclusive App Only Boosts: Watch out for exclusive offers for our app users around the biggest events and games.
SkyBet Club: £5 Free Bet from SkyBet Club every week when you place £25 of single or accumulator bets on any sport.
Soccer Saturday Price Boost: Packs three of the day's big games into one bet with supercharged odds!
Free Bets: Each month, we give away £5m of free bets. Don't miss your share of £60M every year!
Price Boosts: Boosted odds, bigger returns. Win extra with boosted odds on over 250 markets every week. Just look for the Price Boost symbol.
System Requirements and Compatibility
In order for one to be able to successfully download SkyBet's mobile app on an Android or an iOS device, he will need to make sure that his device is completely compatible with the app. Read on to know SkyBet's system requirements.
for Android
Version 2.0 is the most updated version and should be available on Google Play. Only Version 1.0 is available on Aptoide, and it requires Android 4.0.3+ (Ice Cream Sandwich).
for iOS
Version 6.5.1 requires iOS 10.0 or later. It is compatible with iPhone, iPad, and iPod Touch.
Compatible Devices
Here are some Android and iOS devices that can run the SkyBet app:
Android Devices
Sony: Xperia E5, Xperia X Compact, Xperia XZ, Xperia X, Xperia XA
HTC: 10, One A9S, Desire 530
Samsung: Galaxy S5, Galaxy S7, Galaxy S8, Galaxy Note, Galaxy J3, Galaxy J5, Galaxy Note 6
LG: G5 SE, Nexus 5X, G Flex 2
Huawei: P9, P9 lite, P9 Plus, Y3, P8 Lite, P8
iOS Devices
iPhone X
iPhone 8
iPhone 7
iPhone 6 and later versions
iPhone SE
iPhone 5 and later versions
iPad (2017)
iPad Pro (12.9-inch), iPad Pro (9.7-inch)
iPad Air 2, iPad Air
iPad (4th generation)
iPad mini 4, iPad mini 3, iPad mini 2
iPod touch (6th generation)
SkyBet Mobile Payment Methods
There are several convenient deposit and withdrawal options available at SkyBet. All payment methods are quick and easy to set up. Once you have input your information into the system, these are saved in your account for any future deposit or withdrawal. As for limits, minimum deposit amounts differ from method to method, though the minimum withdrawal amount is a standard £10 across all methods. At the moment, SkyBet does not impose a limit as to maximum deposits or withdrawals.
Deposit
| Payment Method | Minimum Deposit | Maximum Deposit |
| --- | --- | --- |
| Credit or Debit Cards | £5 | None |
| PayPal | £10 | None |
| Apple Pay | £5 | None |
Withdrawal
| Payment Method | Minimum Withdrawal | Maximum Withdrawal |
| --- | --- | --- |
| Credit or Debit Cards | £10 | None |
| PayPal | £10 | None |
FAQs
Before you contact Skybet's customer support for questions, you can read some FAQs to get your questions answered.
Why do I need to enable Location Services before a SkyBet mobile app download?
Currently, SkyBet is licensed to operate in the United Kingdom, Ireland, Gibraltar, and the Channel Islands. Enabling Location Services on your devices allows the SkyBet app to check if you're accessing download from these permitted gambling areas.
How do I switch on Location Services on my iPhone and iPad?
On your iPhone or iPad Settings, under Privacy, set Location Services to ON and check if that option is set to WHILE USING or ALWAYS for the SkyBet app.
How do I switch on Location Services on my Android phone and tablet?
On your Android mobile or your tablet's Settings app, under Privacy, set Location to ON. Go to Applications, proceed to Application Manager, and then click SkyBet. From there, check if SkyBet is able to receive your approximate location or that if it is able to access your mobile's GPS.
Is the SkyBet Android mobile app available on Google Play Store?
Google has repealed its ban on gambling apps, and SkyBet is now available on the Play Store for download. Should you encounter problems with this link, submit your query by clicking the LEAVE US FEEDBACK button at the bottom of SkyBet's home screen.
Why am I logged out whenever I minimize the app on my device?
This is the default setting set by your device for security reasons. To change this, go to your device's Settings, proceed to Applications, and check under Application Manager. Uncheck 'do not keep activities'. This will let you remain logged in even when the app is running in the background.
Can I play Poker on Skybet's mobile app?
Yes, you can. Most of the casino games available on the website are also available on the mobile app.
What are the available payment methods on SkyBet's mobile app?
There are various payment options for bettors to choose from, including Credit or Debit Cards, PayPal, and Apple Pay.
Verdict and Apps Rating
There are a few aspects in betting that Skybet needs to improve on. Live streams can be better advertised, and more payment options can be added like Skrill or Neteller. Still, SkyBet did a good job with both their iOS and Android apps. That's why SkyBet gets a rating of 8.7 over 10.
Visit SkyBet mobile