Latest ThunderPick User reviews
ThunderPick Review – Social Crypto Betting
Due to the fact that there are new sports betting operators being released every day, it can be challenging to find one that you can relate to. Luckily, we came across ThunderPick, which is one exceptional gambling platform.
This ThunderPick analysis will show you what makes this bookie so much better than the rest. Apart from the world-class eSports betting section, we will also make sure to show you everything else that's important. So, expect to learn more about the payment options, security features, contact methods, and so on.
---
How to register at ThunderPick?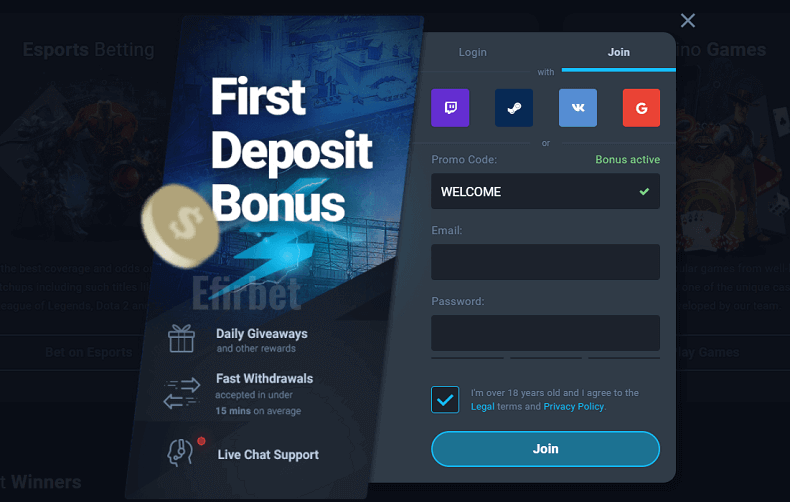 Before this ThunderPick eSports review shows you the ins and outs of the sports section, it is time to check how to open an account. Registered members can enjoy betting on sports and using all of the fantastic offers.
Although you probably won't have to use the step-by-step guide below, we've decided to include it. After all, some people reading this may not have any previous online betting experience.
Load this online bookie's website and press "Join".
You will notice that the platform lets you use your Twitch, Steam, Google, and VK accounts to sign up.
Those of you who don't feel like using their accounts can complete a standard registration procedure. To do that, you have to provide your email and password.
The bookie will also provide you with a promo code, which you should use in order to get the welcome offer.
Tick the last box after skimming through the T&C, and you are good to go.
---
Website Overview – Layouts and Design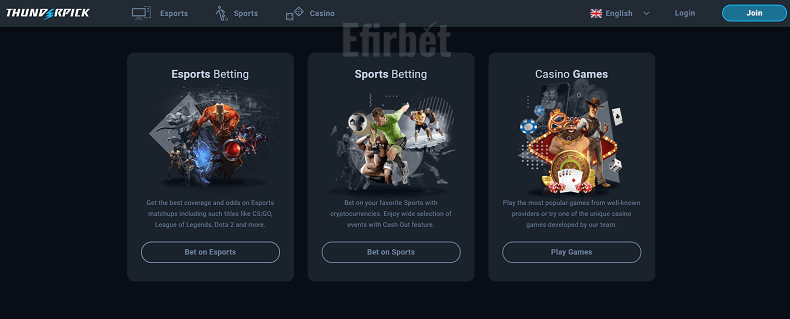 After opening the website for the first time, you will see that it uses a dark theme. This shouldn't come as a surprise because every betting site that wants to have a contemporary look uses darker colours.
The more important thing we'd like to point out in this review of ThunderPick eSports is that the site is a joy to use. Instead of having to go through several menus, everything that is important is just a few clicks away. After choosing your preferred betting section, the left side of your screen will provide you with the different subsections. In other words, this is the place where you will find additional sports, casino games, rewards, and more.
Despite its user-friendly interface, inexperienced punters may have some difficulties finding what they want. That's why ThunderPick also has a Live Support button located in the bottom-right corner.
---
ThunderPick eSports Betting
Even though there are many things that make this bookie special, the eSports section is probably the most important one. That's why this Thunder Pick review will go over most things you must know regarding this section.
Available Sports
Everyone who takes a look at the eSports section will see that this brand is not shy with its offerings. Unlike other betting sites, Thunder Pick offers a large selection of computer games that can satisfy every punter.
StarCraft 2
Dota 2
League of Legends
NBA2K
Rainbow Six
Valorant
Call of Duty
CS: GO
Overwatch
Heroes of the Storm
FIFA
Betting Markets
The most important thing you need to look for when choosing an eSports bookie is the available markets. Most brands manage to include a decent selection of titles, but they fail to provide a lot of betting opportunities. Luckily, ThunderPick is not one of those places because you will find many things to punt on.
However, it should be noted that some of the regular sports may have more options than the most popular computer games.
How About the Odds?
The eSports section has some of the best odds in the iGaming industry. After testing several top-rated eSports bookies, we have to say that ThunderPick has some of the best options.
Unfortunately, people who want to use this bookie's services have to learn how to use decimal odds. At the time of writing this review, ThunderPick does not support any other odds formats.
---
5% up to €500 eSports Welcome Bonus
Usually, people who open an account decide to visit the bonus section before they start betting. If you also do that, you will find this ThunderPick welcome bonus, which could give you as much as €500.
To get this offer, you must use one of the deposit options and add a minimum of 1 EUR to your account. Before you do that, though, make sure to use the bonus code "WELCOME" during the registration process. Once ready, ThunderPick will grant you a 5% bonus.
If you want to pull out your winnings, the bookie will require you to wager the bonus and the deposit amounts at least two times. Don't forget to go through the T&C for more information.
---
---
Sports Betting Section
If you want to try something else after having an amazing ThunderPick eSports betting experience, head over to the regular sportsbook. Despite not offering as many sports as other bookies, this brand has every popular option you need. Here are just some of the things you can bet on:
Baseball
Cricket
Darts
eSports
Football
Ice Hockey
MMA
Rugby
Tennis
Volleyball
One of the intriguing aspects we found was the numbers located next to each sport. They indicate the number of events you can bet on. After you find something interesting, don't be surprised when it turns out it only has several markets to choose from. For some reason, ThunderPick does not offer as many options as other online bookies.
---
Live betting
Since this is one of the few online bookies with a sportsbook and an eSports section, it also has a pretty cool live betting category. Once you read this ThunderPick overview and decide to bet on live events, you must choose one of the two sections. Then, select "Live", and you can check every match. If there are loads of options, use the search bar to find a particular selection.
One of the things that should be noted about In-Play betting is that you will find plenty of cool markets. Most of them are not available in the regular betting section, so the only way to put them to the test is by punting on live matches. Besides the options that are available all the time, you may have the chance to use several markets that become available when something happens within the event. For example, there are unique live markets for each map in a Dota 2 match.
Despite not offering that many markets, the Live Betting section has a few cool things that make it special. There is a dedicated live stream for almost every eSports event, and you even have something called "Live Mode". The latter will show you the stream, as well as some of the markets, allowing you to bet and watch simultaneously.
---
ThunderPick Betting Features
Whether you have a ThunderPick gift card or decide to use one of the deposit options to bet on this platform, you will find different features. We decided to summarize the things we found during our review, so let's check them out.
Cash Out
Since ThunderPick is one of the premier destinations for eSports punting, it allows its clients to use Cash Out. This feature lets you receive funds even if the market has not closed yet. The amount depends on many things, such as whether it is likely to predict your bet.
Live Streaming
Every top-rated eSports bookie has a live streaming feature, and this one is no exception. Although you will be able to watch the hottest computer games in real-time, this option won't be available for most regular sports. Therefore, you may not be able to follow the latest football and tennis events.
Thunder Race & Leaderboard
One of the unique features we found during our ThunderPick overview is called Races. This is something that you can take advantage of without the need to do anything specific. All you need is to place bets and earn points, which will help you rank higher on the leaderboard. Needless to say, this will allow you to win different kinds of rewards.
Blog
The last feature is not available on many other betting sites, which makes it even more interesting. Apart from providing its users with loads of punting opportunities, ThunderPick also has a blog, where you can read various information. Besides that, you can also find the latest information regarding some of the hottest eSports titles.
---
ThunderPick Casino & Bonuses
While it is true that this brand is famous for its eSports section, there is also a fully-fledged casino section. Once you read this ThunderPick review and decide to play casino games, you will find numerous award-winning titles. Since the operator offers loads of different games, it has a search bar, which you can use to find something in particular.
Another intriguing thing is the numerous subsections. Besides slots, live casino titles, and jackpots, users can also avail themselves of the following:
Spin
Crash
Poker
Cards
Roulette
Blackjack
Video poker
Craps
Casual
Before you decide which of the thousands of casino titles you'd like to put to the test, check the "i" button. It will show you the RTP rating, which is great because you can choose the game that could provide you with more winnings.
Lastly, ThunderPick also has a demo version of some of its games.
---
Payment methods
One of the reasons some people visit this site is the ThunderPick crypto betting experience. This platform is notorious for allowing its users to try out all sorts of digital currencies. So, expect to find options like Bitcoin, Ethereum, Ripple, and so on.
Deposit Methods
Withdrawal Methods
| Payment Method | Deposit Minimum | Deposit Maximum | Time for Deposit | Taxes |
| --- | --- | --- | --- | --- |
| Bitcoin | €1 | Unlimited | Instant | 0.00 % + 0.0004 BTC |
| Litecoin | €1 | Unlimited | Instant | 0.00 % + 0.006 LTC |
| BitcoinCash | €1 | Unlimited | Instant | 0.00 % + 0.003 BCH |
| Ripple | €1 | Unlimited | Instant | 0.00 % + 3 XRP |
| Binance Coin | €1 | Unlimited | Instant | 0.00 % + 0.000375 BNB |
| Payment Method | Withdrawal Minimum | Withdrawal Maximum | Time for Withdrawal | Taxes |
| --- | --- | --- | --- | --- |
| Bitcoin | €35 | €15,000 / month | 5-30 Minutes | 0.00 % + 0.0004 BTC |
| Litecoin | €10 | €15,000 / month | 5-30 Minutes | 0.00 % + 0.006 LTC |
| BitcoinCash | €10 | €15,000 / month | 5-30 Minutes | 0.00 % + 0.003 BCH |
| Ripple | €10 | €15,000 / month | 5-30 Minutes | 0.00 % + 3 XRP |
| Binance Coin | €10 | €15,000 / month | 5-30 Minutes | 0.00 % + 0.000375 BNB |
---
ThunderPick Мobile Аpp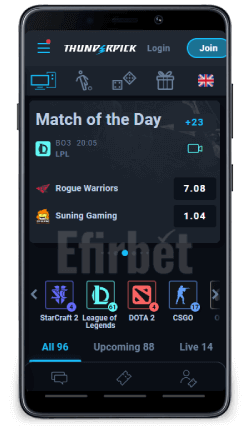 There are several reasons why our ThunderPick rating may disappoint some of you, and the lack of a mobile app is one of them. Despite being one of the more innovative brands, you won't find any special ThunderPick mobile application for Android and iOS.
Luckily, this bookie's mobile website is compatible with pretty much any mobile device. Whether you are into sports, casino games, or eSports, you can bet on the go without downloading and installing an app.
What's even more impressive is that your mobile browser will let you create a web application. This home screen shortcut will let you access the given betting operator with just a single tap.
---
ThunderPick Affiliate
Once you go through the ThunderPick Reddit or read this in-depth review, you may decide to become one of the affiliates. Similar to other top-rated gambling sites, this one offers you a way to monetize your traffic. Depending on how many people you have managed to bring over to ThunderPick, the bookie will grant you up to a 50% commission.
Apart from the lucrative commissions, the affiliate program of ThunderPick will pay you using cryptocurrencies. This is great for those of you who don't want to use e-wallets and bank transfers. If you have any questions about this program, send them to [email protected].
---
Frequently Asked Questions
How do I verify my ThunderPick account?
The quickest way to find an answer to this question is by going through the Terms and Conditions. The account verification process is essential, and you have to complete it sooner or later.
Is ThunderPick legit?
Despite being one of the few eSports online bookmakers, ThunderPick is a legit website. It has different betting categories and various security features that we will look at in the following paragraphs.
Is ThunderPick the best site for eSports betting?
It is difficult to point at a given site and say that it is the best because every operator has its pros and cons. Despite not being perfect, ThunderPick is definitely an excellent option for every eSports bettor.
Can I bet on regular sports and eSports using the same account?
Yes, you don't have to sign up multiple times to use this brand's betting sections. Just don't forget to take advantage of your ThunderPick code during the registration process to use the welcome offer.
How can I watch some of the eSports matches in real-time?
This is one of the online bookies where you won't have to look for a third-party live streaming website. ThunderPick works in conjunction with the most advanced eSports live streaming platform.
Where can I learn more information about the different eSports titles?
ThunderPick has a blog section where you can read a lot of information about some of the available eSports.
Which are the digital currencies that I can use to make a deposit?
Whether you want to make a deposit or complete the ThunderPick withdrawal process, you will find plenty of alternatives. Although Bitcoin is the most popular one, the bookie also offers Ripple, Bitcoin Cash, Litecoin, and more.
---
About ThunderPick
Besides being one of the best eSports betting platforms globally, ThunderPick is also among the brands that offer loads of cryptocurrencies. This makes it the preferred option for many punters.
The bookmaker is operated by Paloma Media B.V, and regulated by the laws of Curacao. This explains why the site supports several language options.
---
Security & Regulations
Since a company in Curacao powers this betting platform, it is regulated by the local gambling authority. What's even more impressive is that the website uses some of the most popular digital currencies in the world. Thanks to them, it can offer its users the chance to make safe deposits and withdrawals.
Besides the safe payment process, ThunderPick also uses SSL encryption technology. This helps protect users' personal information from any unauthorized access.
---
Contact Information
Many people forget to check the customer support department when choosing a new online bookie. Sure, it might not be as important as other things, but it is definitely a good idea to find a brand with a top-notch support team.
Despite not offering the best customer service, ThunderPick's support agents will help you when needed. Besides the ThunderPick Twitter profile, you can access them using one of the contact options below.
Regardless of your query, make sure to access the FAQ section before you start punting.
---
Final Verdict and Rating
Following our analysis, we can safely say that ThunderPick will be one of the leading betting sites in the future. This brand has a good selection of features, several betting sections, and amazing offers.
However, there are some negatives that should be pointed out, such as the lack of multiple betting markets. What's more, there isn't any mobile application, which is strange considering the bookie uses the latest tech in the industry.
We are confident that many bettors will be happy with what's available on this platform. That's why it gets 4.4/5.