Last update by Efirbet :
Unibet App Android Download Process
In this chapter, we review the latest version of the Unibet Android app v. 5.1.7 for 2022. Unibet has developed an android app. Unibet has a total of three android apps, each dedicated to serving a specific section of their online gaming platform. You will find sports betting app, a poker app, and a Casino and Live Casino app.
In addition to these dedicated betting apps, Unibet also has some other betting related apps, which are designed mainly to offer analytical information about various sports. For instance, they have a Unibet Hockey Experts app which focuses on ice hockey.
In this review, we will mainly focus on the three betting apps. The apps are quite similar in design, with the only difference being the nature of betting service offered therein.
How to Install the .apk file for Unibet Mobile App for Android?
The download and installation process for each of the apps is the same. The android apps not listed on the Google Play store, and the only way to get them is by downloading the .apk files. There is a different link for each of the apps. To access these links, open your regular web browser and type in the URL: www.unibet.com
From here you can view the designated tabs with the link to each app's .apk file. You can then follow the step-by-step guide below to install the apps:
Step 1: Click on the respective tab for the app you are interested in. If sports, click on the tab indicated 'Sports App'.
Step 2: From the new page displayed, click on the download button with the Android logo. The .apk file will be downloaded to your phone.
Step 3: Before installation, you will need to modify the phone's settings to allow for installations from non-playstore apps. To make this change, go to Setting > Security > Unknown Source. Ensure to restore this setting to the default setting once you are done with the installation.
Step 4: Go to your downloads folder and click on the .apk file for installation.
Step 5: Once the app is installed, you can now launch it and start betting on your favorite market.
---
Unibet App Download for iOS
Learn how to get the latest Unibet v.5.38.3 app for iPhone and iPad in this chapter. Similar to the Android platform, iOS gamers are also presented with dedicated Unibet apps for gambling on their favorite games. All the apps available on the Android version have iOS counterparts. The iOS versions are quite similar to the Android version, with the only difference being the background code that allows installation on iOS devices. Other than that, the theme, layout, and nature of betting markets offered are quite similar.
How to install the UniBet application for iPhone?
Another notable difference between the two apps is in their installation process. Unlike the Android version, the Unibet iOS apps are readily available in the Apple app store. This makes the installation process quite easy and similar to the normal installation process for any other iOS out there. The step-by-step guide can be used as a reference point for installing any of the Unibet iOS apps:
Step 1: Launch the iTunes app store in your iPhone or iPad.
Step 2: In the search bar, type in Unibet and search. Filter through the results depending on the type of app you are interested in. For instance, if you want the sports betting app, click on the one highlighted as 'Unibet – Live Sports Betting.'
Step 3: Click the download button, and the app will automatically be downloaded and installed
Step 4: Once the installation process is completed, click the Unibet icon in the app drawer to launch the app and start playing.
---
Unibet App & Mobile Site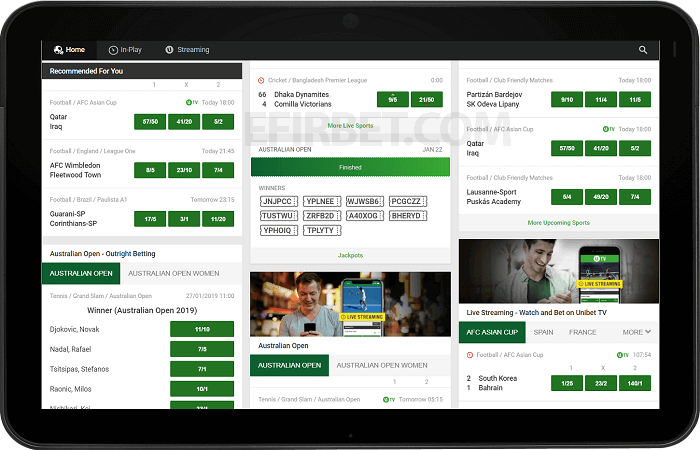 In addition to having such diverse betting apps, you can also play at Unibet without having to go through the hustle of installing the downloadable apps. That is made possible by the Unibet website which has been optimising for mobile browsing. The optimisation means the site is designed to adjust depending on the device being used to browse automatically. As such, whenever you type in the Unibet URL: www.unibet.com in your mobile browser, the site will automatically switch to the mobile version.
The mobile version is just a miniaturised version of the main desktop site, with all the betting features remaining intact. You will notice the iconic Unibet green theme is replicated on the mobile site as well. The only difference is in the general layout where some tabs and navigation button have been repositioned to allow for easy use on mobile devices. Other than that, you will have full access to Unibet's betting markets through the mobile site version.
---
Unibet App and Mobile Features
Each of the Unibet mobile apps loaded with its own set of extra features. Some of the features here are unique, while others are common with other mobile betting apps as well. We will highlight some of the outstanding features across the Unibet apps. Since the app dedicated to serving a particular market, you will realise the features in one differs from those of another.
Multi-language platform
With all the three Unibet mobile apps, you can switch the language from English to several other languages such as Italian, German, French, Dutch, Swedish and Finnish. This makes it easy for gamers from several regions to conveniently use mobile apps.
Placing a Bet via Unibet's App
First and foremost, go to Unibet mobile login. After you sign up or sign in, you can head for the sportsbook. After you find the sports event you want to wager on, browse the markets. Select the ones you want, add them to your mobile betslip and confirm your bet.
Live Streaming via Unibet App
Primarily found in the sports betting app, this is a feature that allows you to stream live matches and events through the Unibet app. On any match day, the app will select a number of events that will be available to stream for free.
Virtual Sports
The Unibet sports betting app allows you to bet on virtual football and basketball. This is still a relatively new addition to the app, and we hope it will feature more virtual sports in the near future.
Cash out
Still, on the sports betting app, there is a cash out feature that allows you to claim your prize money mid-play, without having to wait for the completion of the bet event.
Live Betting
With the Unibet mobile app, you can place in-play bets on current live matches. This essentially means you can join in the fun at any minute of the game.
Live Casino
Aside from the features in the sports app, the casino app also has something to offer. You will find a live casino lobby here that features a good number of live table and card games, all hosted by live dealers. The quality of the live casino enhanced by the HD video streaming services offered here. We will delve deeper into the type of games available in the live casino in the next section of this review.
---
Unibet Mobile Sports Betting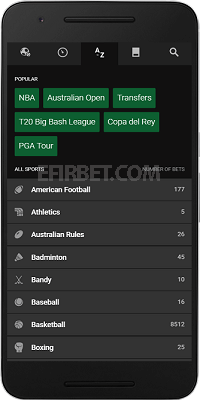 There are three avenues of accessing the Unibet sportsbook through your mobile device; through the android app, the iOS app or the mobile site version. Regardless of the avenue, you choose to use; you will find hundreds of events to bet on at the Unibet sportsbook.

Unibet has over the years grown to be quite a popular brand in the sports betting industry around the world. A look at the sportsbook makes it clear why the company has drawn a global clientele from all around the world. Here you will find myriad sports markets to bet. Aside from the usual bet markets such as football, basketball, cricket, and tennis, Unibet has also introduced a number of other unusual markets. Here you can bet on WWE Pro wrestling, Sumo, Cyclocross, bandy, squash, and athletics, amongst many other events. The sportsbook also features a politics, TV and Novelty section where you can bet on various issues in current affairs and entertainment such as upcoming elections, referendums, and TV shows.

This impressively different sportsbook enhanced by some unique features offered through mobile platforms such as live streaming. Also, Unibet has some of the best odds you will find in the market. In our review, we found the site offering a good number of events with odds averaging slightly above the market prices.
---
Unibet Casino Mobile App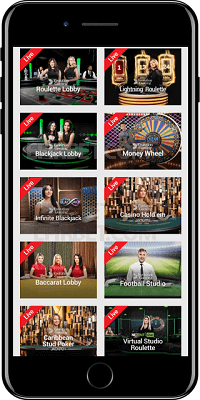 As hinted earlier, Unibet has a dedicated Android and iOS app offering mainly online casino games. This app does a good job of bringing together over 600 casino games from some of the industry's leading casino software providers.

Besides, Unibet has thrown in some proprietary games, especially in the mobile slots section.

Through the mobile app, you can play on more than 500 slots, about a dozen table and card games and several jackpots including popular titles such as Mega Moolah, Divine Fortune and Mega Fortune.

Other than using the downloadable apps, you can still access all that Unibet casino has to offer through the mobile site version. That is welcome alternative mobile gaming channel especially for gamers using devices that are incompatible with the Android and iOS apps.
---
Unibet Poker Mobile App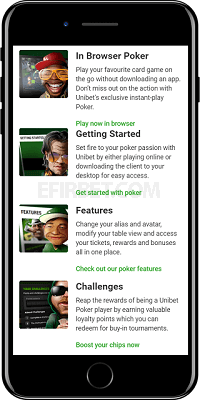 For the fans of this age-old casino game, you will glad to know Unibet has an app designed to exclusively offer poker games. The app is available for both Android and iOS platforms.

Through the Unibet mobile poker app, you will have the chance to play against hundreds of other players as well as try your luck in the synced poker tournaments.

The Unibet mobile poker room can also access through the mobile site version, without having to download any extra apps.

However, from our review, we found the mobile app to be offering relatively better graphics and loading speeds thus giving a better poker experience than the mobile website.
---
Differences between the mobile app and mobile site version
There are quite a few differences between the usability of the mobile app and the mobile site version. These differences primarily arise by looking at the pro and cons of using either of these platforms. You will realize that while both platforms offer convenience, one gets beaten by the other in various aspects. We will breakdown the advantages and disadvantages of using each of the platforms to properly bring out these differences:
Mobile app Advantages
Secure login and account verification features
Better graphics with the live streaming and live casino
Better user interface
Faster in loading the games and bets
Mobile app Disadvantages
Takes up considerable storage space in your phone, especially if you are to install all the apps together
The initial installation process can consume quite some mobile data, making it expensive
Having separate apps for each betting service makes it complicated for most gamers who would rather have a one-stop-shop betting app
Mobile Site Version Advantages
Unlike the mobile apps, the mobile site offers all the betting services in one platform making it easier to switch from one to the other
Much faster and easier to access as no downloads are required
You do not need to tamper with your android phone's security settings to access, unlike the mobile app
Mobile Site Version Disadvantages
The site version is not as secure as the mobile app
The graphics are poor, and streaming services can be easily interrupted
Loads relatively slower especially when launching the online casino games, unlike the mobile app
---
Unibet Mobile Promotional Offers
Unibet has quite a lot to offer in the promotions and bonuses section. However, it is important to note that the company does not offer any bonuses for downloading or playing on the mobile apps. Instead, you will be treated to the same type of bonuses as the main site clientele. For example, you can get a £10 In-play mobile free bet or any other active offer.
The Unibet Mobile Casino Welcome Bonus package includes a 200% match on your first deposit up to £200. At the sportsbook, you will also find a £40 Welcome Bonus, which offered as a cash back package. If you lose your first stake on a sports bet with odds 1.4 or higher, you will be refunded your stake up to £40. There are more Uniber mobile offers so keep on checking our review for updates.
---
Unibet Mobile System Requirements
For you to install and use the iOS mobile apps, you need to ensure your Apple mobile device has iOS version 9.0 and above. On average, the apps take up about 40MBs each of storage and so you need to ensure your device has ample memory space, especially if you are to install all three apps.
For the android apps, your phone or tablet needs to have Android version 4.4 above. However, if your mobile device does not meet any of these system requirements, you need no to worry as you can use the mobile site as an alternative. The mobile site version does not have any system restrictions, and all you need is a functioning browser and good internet connection.
Below are some mobile devices that you use to play at Unibet mobile:
Samsung Galaxy Series smartphones
Sony Xperia smartphones
HTC Desire series
Huawei Mate 10
Huawei P20 Lite
iPhone 5 and above
iPad Air
---
Unibet App Banking Options
To move your money in and out of your gaming account, Unibet has lined up a good number of payment options. The table below breaks down some of these payment methods with their respective transaction timelines and limits. However, it is important to note that some of these payment methods might not be available in some geographical locations:
Deposit Methods
Withdrawal Methods
| Payment Method | Deposit Minimum | Deposit Maximum | Time for Deposit |
| --- | --- | --- | --- |
| Visa | €10 | €13,000 | Instant |
| Bank Wire Transfer | No limit | No limit | 1-3 working days |
| Neteller | €15 | €13,000 | Instant |
| Skrill | €15 | €13,000 | Instant |
| Trustly | €5 | €6,000 | Instant |
| Paysafe Card | €10 | €1,000 | Instant |
| EcoPayz | €15 | €13,000 | Instant |
| MasterCard | €10 | €13,000 | Instant |
| WebMoney | €15 | €13,000 | Instant |
| Instant Bank Transfer | €10 | €10,000 | Instant |
| Direct Bank Transfer | - | - | - |
| Payment Method | Withdrawal Minimum | Withdrawal Maximum | Time for Withdrawal |
| --- | --- | --- | --- |
| Visa | €15 | €50,000 | 1-3 working days |
| Bank Wire Transfer | €15 | No limit | 3-5 working days |
| Neteller | €15 | €13,000 | up to 12 hours |
| Skrill | €15 | €13,000 | up to 12 hours |
| Trustly | €10 | €100,000 | 3-5 working days |
| Paysafe Card | - | - | - |
| EcoPayz | €15 | €13,000 | up to 12 hours |
| MasterCard | €15 | €50,000 | 1-3 working days |
| WebMoney | - | - | - |
| Instant Bank Transfer | - | - | - |
| Direct Bank Transfer | €10 | €100,000 | 3-5 working days |
---
FAQs
How to get Unibet app?
The best place to locate the latest Unibet APK file and the iOS app is on the official site of the bookie. Go to Unibet.com mobile for more information.
What is the latest version of the Unibet app for 2022?
The latest versions of the Unibet app are v.5.1.7 for Android and v.5.38.3 for iOS.
Can I register different accounts for the different apps?
No, you are only allowed to register one account across all the Unibet platforms.
How to use Unibet mobile app?
Mobile Unibet is easy to use as it mirrors the PC version of the bookmaker.
Can I still play on mobile if I am not using an Android or iPhone?
Yes, if your mobile phone is not compatible with the apps, you can play using the mobile site version through your regular mobile browser.
Is it possible to encounter Unibet problems on my mobile?
If your app is not updated it may lag or have bug issues.
I did not get the Welcome Bonus when I registered. What do I do?
First, check if you have met the minimum deposit requirements for the bonus to be triggered. You also need to opt in the bonus by clicking the bonuses page. You can also contact the customer support team for further assistance with this.
What happens if you lose internet connection while placing my bet?
Your gaming progress automatically updates when you reconnect.
Can I take advantage of Unibet mobile betting if I live in Denmark?
Use the site unibet.dk mobil which is specially designed for players residing in Denmark.
Are Unibet mobile site and app accessible in Italia?
Use the alternative site unibet.it which is a mobile branch of Unibet mobile Italia.
Can I play Bingo on the Unibet apps?
Yes, you can play Unibet Bingo through the casino app. You can also access the bingo room through the mobile site version.
How long does it take to process my deposits on the mobile apps?
This will depend on the payment method used. For card payments and e-wallets, the deposits are normally instant while bank transfers can take up to 3 business days.
Can I set deposit limits on the mobile app?
Yes, you can set daily or weekly limits on the amount you bet to control your betting habits.
---
Company information
Founded way back in 1997, Unibet is part of the Kindred Group, a giant betting company that is behind about a dozen other popular online betting sites such as 32Red and RoxyPalace.

Unibet launched their website and subsequently mobile apps, which have allowed them greater penetration into the iGaming industry.
Unibet primarily offers its services to the UK and greater European market, although the site has recently expanded its reach to other territories in Asia, Africa, and South America. The Malta Gaming Authority licenses international online betting services.
---
Apps Rating and Conclusion
Generally, Unibet has done a good job of offering reliable mobile betting platforms. However, the use of different apps for each betting market might be a bit too much for some gamers who prefer having an app with everything localized within.
Unibet is available on these devices
| Brand | Models |
| --- | --- |
| Apple | iPad, Air, Mini, Pro, iPhone 5, 5S, 5C, SE, 6, 6S, 7, 8, 8 Plus, X, XS, XR, 11 |
| Samsung | S10, S10e, S10+, S20, S20+, Tab, Edge, Edge+, S6, S7, S8, S8+, S9, S9+, Note, Mini, A41, A71, A51, A90, A3, A5, A7, A8, S, pro, Xcover 3 |
| XIAOMI | Mi 10 Lite, 10 Pro, 9 Pro, Redmi 8, Redmi 9, Redmi K30 Pro, MIX Alpha, Note 10, 10 Pro, Note 9S, Note 9 Pro Max, 8A Pro, 8A Dual |
| LG | G5, G6, G7, G8, Q6, Q7, Q60, Q Stylus, V30, V40, X Power, mach, K8, K9, K11, K40, K41, K50, K61, Q60, LTE, X cam, screen, Flex 2, V10, Class, 5X, Mini, G Pads 7.0, 8.0, 8.3, 10.1 |
| Sony | Compact, Premium, Compact, Plus, Xperia M5, 1 II, 5, 10, Z5, ZR, E5, V, L, SP, ZL, XZ, X, XA, XA2, Ultra, XZ2, Tablet Z4, Z3 |
| Motorola | Moto e6, One Zoom, One Action, razr, G power, g stylus, edge+, edge, Moto E, moto g fast, one fusion+, one, moto g7 play, moto z4 |
| HTC | Nexus Series, One mini, max, A9, A9s, S9, 10, Dual SIM, U11+, U12+, U Ultra, Play, Lifestyle, Desire 19+, 12, 12+ |
| Huawei | Mate S, XS, 30 Pro, P10, P30, P40 Pro, P40 lite, P9, lite, Mate 10 Pro, 20 Pro, plus, Y6, Y6s, Y7, MediaPad T5, M5 |
| OnePlus | 8 Pro, 8, 7T Pro, 7T, 6T, 5T, 3T |