Ad disclosure
Here at EfirBet (EB) we pride ourselves on having a site that is completely ad-free. No ad blocker is needed while browsing EB. At the same time, we do use affiliate links to earn commissions (every time you click a link and sign up at a betting site). This revenue helps us deliver quality and trustworthy reviews for our readers at no additional cost to them. Read the EB
About Us
page if you want to learn more.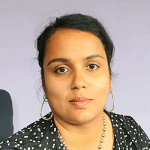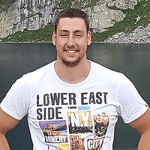 Testing Methodology
See '
How we rate bookmakers & casinos
'
Related Articles Read
10 Topic-Related Articles
Brands Compared
8 Alternative Brands
In-House Edits
Edited 5 Times by Our Experts
Vie.GG Mobile Android App
If you are an eSports fan, this is definitely one of the gambling websites that you need to visit. Here, you will find pretty much all popular games that have some sort of eSports scene. However, what you won't find is a Vie.gg Android app.
Unfortunately, you can only access Vie.gg on Android if you use your mobile browser. Thanks to the developers, Vie.gg's mobile site works fantastic, regardless of what kind nf Android device you're using. Of course, it's better if it's newer, but that's not a must.
Before we move on with our review, don't waste your time trying to find an apk file. Vie.gg is not one of the bookmakers that have one.
---
Vie.GG Mobile iOS Mobile App
Even though some gambling operators tend to have an app for your iPhone, the Vie.gg iOS app is nowhere to be found. You can try to go through the App Store, but you won't be able to find it because it's not released yet.
So, the situation here is the same as if you're using Android. This means that you can access Vie.gg on iOS if you use your mobile browser. It can be either Safari or a third-party one, it doesn't really matter.
Nonetheless, make sure that everything works properly before you start punting. If everything is fine, you will quickly see why so many mobile bettors like this site.
---
Vie.GG Mobile Website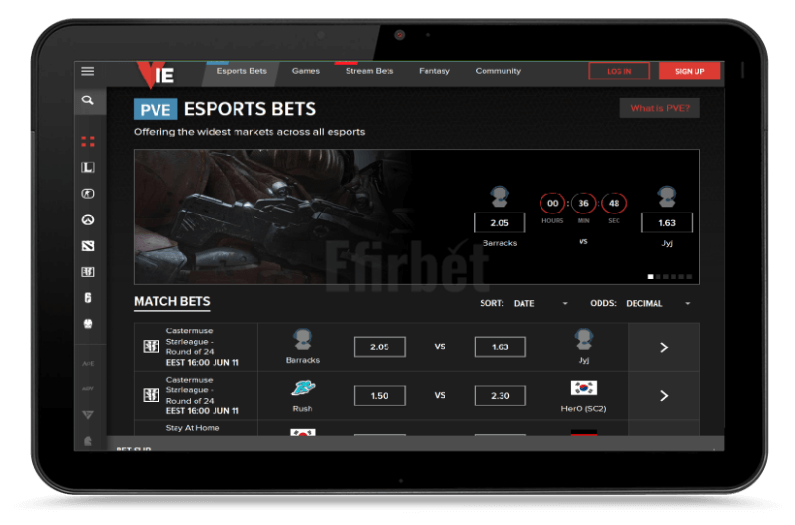 As we saw, if you want to punt here, you have to use the mobile site. Once you choose your preferred browser and load it, you will be pleasantly surprised by how great everything is. The design is the same as the desktop site, which is good because it looks stylish and functional, which is pretty rare.
So, in order to visit Vie.gg, each punter has to do the following:
Type vie.gg in your mobile browser or in Google.
Wait for the website to load. This can take a few seconds, depending on your internet speed.
You can either sign up or log in to your account by clicking on the top-right corner of your screen. Nevertheless, if you want to take a look at what you can find before that, press on the menu button. From there, you can check out the different eSports Bets, Stream Bets, and more. There is even a special tab called community, where you can learn a lot of valuable information.
If you're interested in finding out all of the available games, you can do that by pressing on the last option, "Filtered by Game". Apart from that, you can learn more about this brand or change the language if you go to the bottom of the page. This is pretty standard, which is why you can find it on other betting sites as well.
A neat feature of this mobile site is that you always have access to your Bet slip. It's located at the bottom of your screen, and it will move whenever you scroll, allowing you to quickly access it whenever it's needed.
---
Mobile Features
If you want to make the most out of your Vie.gg eSports bet on mobile, you have to try out at least some of the features. Since this bookie is entirely focused on eSports, the features that you will find here are unique and can't be found anywhere else. However, this also means that you won't come across some of the most popular betting options, such as cash out, for example.
PVP Stream Bets
The first bizarre feature can be precisely what you and your friends needed to make your betting experience unique. Generally speaking, the term PVP is used to describe a scenario in a game where a player has to play against another player.
Needless to say, this is also the case here, however, it also involves a live stream and a bet. Think of this as a place where other players determine the odds based on their wagering.
There are always different matches that you can try out here, so definitely check this feature out. In order to access it, you need to press on "Stream Bets PVP". Even though you will be betting from your smartphone, you can still take advantage of this fantastic feature.
Vie.GG Fantasy Pools
The second offer that every punter needs to try at least once is called PVP Fantasy or Fantasy Pools. This is another unique option that allows you to make wagers that correspond to the performance of certain players that play in a given event.
In order to begin, you have to create your own team from the list of all available players. Then, depending on how a certain player performs, he will give you a specific amount of "score". The goal is to be the person with the highest score once the event is over.
Currently, this option is valid for CS: GO, Dota 2, LoL, and HotS. If you want to see how the points are determined, please take a look at this promo up close. You can do that by visiting the special section.
Vie.gg Live Streaming
The last feature that you can also get if you punt on your desktop is an HD live stream. This is something that's really common among the bookies that offer eSports, so you shouldn't that surprised.
There are all kinds of live games that you can find here, so try looking for the one that you're interested in.
---
Vie.GG Mobile eSportsbook
Although you won't find mobile apps for two of the most significant OS in the world, the mobile site will show you everything that Vie.gg's eSportsbook has to offer. In order to take a look at it, you have to open the mobile site and click on the menu button. Once you're there, click on eSports bets, and you will instantly see some of the matches.
Nonetheless, if you want to take a look at each game specifically, just use the "Filter by Game" option. There, you will find some of the following eSports:
Counter-Strike: Global Offensive
Dota 2
Overwatch
Rainbow Six
League of Legends
Starcraft 2
Call of Duty
You can also come across other titles, like Age of Empires, Artifact, FIFA, Halo, and more.
If you don't like the decimal odds, you can switch them to either fractional or American. It all comes down to personal preferences.
---
Mobile Casino Games
Unfortunately, if you're looking for a mobile casino, you won't find it here. As we've mentioned in the very beginning, this bookie is entirely focused on eSports. If you like the dynamics and the unpredictable nature of the most popular eSports in the world, this will be the best place for you.
Nonetheless, if you also want to place occasional bets on different slots, you should look elsewhere. On the other hand, there is a section called "Games", where you can find some pretty fun casino-like titles. However, you won't be able to play on all of the table games that you're probably used to.
---
Pros & Cons of Vie.gg Mobile Site
Although Vie.gg's mobile site is fantastic, it still has some room where it can improve. Despite that, we can safely say that the positives are way more than the negatives. If you don't really care about the fact that you won't be able to use a separate application, you will quickly fell in love with this site.
Here are a few advantages of having an app that are worth pointing out:
Pros
Vie.gg's site can be used without the need to install anything.
You don't have to update the site, only your browser.
All features that you can find on the desktop site are also available here.
Cons
Some features might use a lot of mobile data, so keep that in mind.
In order to open Vie.gg with just a single touch, you have to create a web app.
---
Mobile Bonus Offer
Apart from the lack of a casino section, another thing that you will probably notice is that you won't find a Vie.gg mobile bonus. While the absence of casino games is surprising, that's not the case when it comes down to mobile bonuses.
The vast majority of betting operators tend to avoid releasing such a promo. Although we at Efirbet covered tons of companies, we are still surprised when we come across something like this.
The current number of mobile bettors is more than ever before, so we can only hope that Vie.gg will soon have a special reward for all of them.
---
Compatible devices
We've said several times throughout this review that you won't find a Vie.gg Android app, nor an app for iOS. The biggest advantage of this is that you don't need to think about the system requirements.
As you know, most smartphones are basically pocket computers. As a result, some apps won't run on them unless they have the latest hardware. Luckily, that's not the case when it comes down to most mobile apps. And since you won't find any apps here, you don't have to worry about this problem at all.
Despite that, it's still worth checking out whether everything runs smoothly. Needless to say, you shouldn't put up with any delays or anything like that.
Here is a list of example devices that will have no problem running the website:
iPhone 7
Samsung Galaxy S7
Huawei Ascend
iPad Air 2
Samsung Galaxy Tab 4
HTC desire 10
---
Payment methods
Vie.gg is a gambling website where you can find some of the most popular ways in which you can make a deposit. Nonetheless, don't expect to find all kinds of options.
If you're curious to see what's available in your country, you have to sign up. This process is pretty fast and will most likely take just a few seconds. However, you will have to confirm your e-mail once you're done.
Here are the currently available payment options. Each of the deposit options has a minimum requirement of 10 EUR and a maximum of 200 EUR per transaction. On top of that, all of them are instant.
Nonetheless, most withdrawal options have some sort of processing time. Other than that, they also have a 10 EUR min requirement, but the maximum per transaction is just 100 EUR.
Deposit Methods
Withdrawal Methods
| Payment Method | Deposit Minimum | Deposit Maximum | Time for Deposit |
| --- | --- | --- | --- |
| Visa | €10 | €200 | Instant |
| EcoPayz | €10 | €200 | Instant |
| MasterCard | €10 | €200 | Instant |
| Bitcoin | €10 | €200 | Instant |
| Skrill | €10 | €200 | Instant |
| Payment Method | Withdrawal Minimum | Withdrawal Maximum | Time for Withdrawal |
| --- | --- | --- | --- |
| Visa | €10 | €100 | 2-3 banking days |
| EcoPayz | €10 | €100 | Up to 72 hour |
| MasterCard | €10 | €100 | 2-3 banking days |
| Bitcoin | €10 | €100 | Instant |
| Skrill | €10 | €100 | Up to 72 hour |
---
FAQ's
Can I download Vie.gg on Android?
No, the only way in which you can access Vie.gg on your Android device is via your mobile browser.
Can I get Vie.gg for iOS?
Yes, despite the fact that you won't find a Vie.gg iOS app, you can still use the mobile site and play from your iPhone or iPad.
I really like CS: GO, can I find this game here?
Yes, as one of the leading eSports bookies, there are various CS: GO matches here.
Do I need to use Safari to punt here?
No, you can use all sorts of mobile browsers.
Can I sign up from my tablet?
Yes, you can create an account from any device that's capable of loading Vie.gg's mobile site.
Is there an apk file for iOS?
No, this brand does not have an apk file for iOS nor for Android.
Is the Fantasy Pools feature going to be available to me if I want to punt from a tablet?
Yes, this feature will be available.
---
About Vie.GG
Many people might think that Vie.gg has something to do with Valve, but that's not the case. This site belongs to EGG N.V, which is a company in Curacao. That's why Vie.gg has a license from the gambling commission of this place.
If you love eSports, this is one of the best places that you can visit. So, if you want to try your luck on some of the leading games, just sign up.
---
Contact Details
When it comes down to contact methods, this might not be the best operator. Even though reaching out for help is not hard, there are only two available options:
---
Mobile Rating
The rating that we will give to this brand is not really that important here because it comes down to personal preferences. If you like eSports, this is an easy 10/10 because it just can't get any better. Nonetheless, if you don't like betting on games, this is not the place for you.
We think that Vie.gg's mobile services are good and deserve close to perfect rating. Whenever the mobile apps arrive, we can bump this rating even more.