Last update by Efirbet on :
31 July 2020
Vie.gg Review
Vie.gg is one of the operators that's exclusively focused on eSports. That's why our Vie.gg review will show you everything that you need to be aware of before you sign up here. After we do that, we will give Vie.gg rating based on our overview of this site.
This operator is a clear sign that eSports are becoming more and more popular. If you have no idea what they are and how to make money off them, this review of Vie.gg is definitely or you.
---
How to Register at Vie.gg?
The first part of our in-depth Vie.gg review will show you how to sign up. Generally speaking, this is a pretty straightforward process and shouldn't be that big of a deal for all of you who used to punt on other betting websites. Nevertheless, there are always people who're new to this, so here is how it works:
Open the Vie.gg website via any browser.
Once everything loads press the red button called "Sign Up".
You will be required to provide specific information about yourself. This is a standard procedure among all bookmakers, so don't worry.
Apart from your e-mail and password, you will also be required to provide your username, full name, date of birth, and more.
When everything is ready, make sure to read the T&C and then press "Get Started".
Lastly, don't forget to confirm your registration by going to your e-mail's inbox.
Although this process might seem long, it will take just a couple of minutes at most. While we did our Vie.gg overview, we couldn't find a faster way of signing up.
---
Website Overview – Layouts and Design
So, now that you've signed up, let's check the overall design before you begin betting on e-Sports. Perhaps one of the things that we were astonished by while we were doing our Vie.gg overview was the style of this gambling brand. Even though some of you might not like it, the design of this brand looks really appealing. Sure, the colors that are used here are not that flashy, but almost every punter out there likes this, at least from our experience.
Apart from the design, our Vie.gg analysis has shown that it has a pretty innovative menu layout. In fact, if you take a look at its mobile site, you will find a lot of resemblances. So, it won't come as a surprise that you can access all essential sections directly through the home page.
Nevertheless, if you want to take a more in-depth look at each of the available games, you have to press the menu button. This will give you access to over 100 games, which is just mind-blowing. No wonder the Vie.gg ranking is so high among eSports bookies.
Finally, similar to any other gambling website, all of the additional info about this place is located at the bottom of the page. This is where you can learn additional things about the different policies and more.
---
Vie.gg eSports Bets
So, now that we've gone through the "boring things", it's time to take a look at how eSports betting is like. As we've said several times in our Vie.gg review so far, this bookie is all about betting on games. So, if you like punting on some of the most interesting names in this rapidly-growing industry, keep reading.
---
Available Sports
Before we list all of the eSports, it's worth mentioning that we couldn't come across any other types of sports while we did our Vie.gg overview. What this means is that you will only find eSports here.
However, if you are into this, you will feel as if you've hit the jackpot. This is the eSports operator who happens to have one of the biggest selection of titles out there.
These are some of the games that you can find here:
Dota 2
Overwatch
CS: GO
Hearthstone
LoL
FIFA
Starcraft 2
Arena of Valor, and more.
---
Betting Markets
One of the worst things about the other betting sites that are not focused on eSports is the betting markets. In most cases, they will offer just a few of them because they're not really that familiar with the different games.
However, this is not the case here. Since Vie.gg is all about the latest and greatest eSports titles, you can find various attractive markets to punt on. Having said that, some of the games here might have more options than others, so keep that in mind.
---
How about the Odds?
It's really hard to find better eSports odds out there. Even though some websites might offer some occasional deals, we believe that Vie.gg has some of the most attractive odds when it comes down to electronic sports.
In addition to that, you even have the option to change the format of these odds. Feel free to check out what alternatives you have.
---
Vie.gg Welcome Bonus
You're probably going to be as surprised as we were while we did a full Vie.gg overview. Although it took us some time, we managed to find the pretty cool Vie.gg welcome bonus.
Much like the offers that other brands have, you can take advantage of this if you make a deposit. Vie.gg will reward each new customer with a 100% bonus that can go up to 50 EUR.
Apart from that, you will also have to complete a 10x rollover requirement. If you have any previous betting experience, you will instantly notice that this is significantly less if you compare it to other websites.
In addition to the bonus wagering, you also need to wager your deposit at least once before you can make a withdrawal. Don't forget that you can always contact the support if you have any questions.
---
---
Vie.gg Stream Bets
As the name of this section clearly suggests, Stream Bets gives you the opportunity to place a bet on events that are live. However, it also has a little bit of a twist to it because the odds here are determined based on the different bets made by other punters.
This is a pretty innovative section that you can't really find among other betting sites. While it's true that not everyone will like it, if you find it interesting, you can even have fun with a friend who's also punting here.
Keep it in mind that there isn't always a live tournament that you can bet on. Luckily, once you enter the section, you will be able to see when is the next event.
---
Vie.gg Betting Features
Usually, in order to get the best possible experience, you need to use some of the betting features that a certain bookie offers. However, in this case, you might be a little bit disappointed because Vie.gg doesn't have what most other brands do.
Cash Out Option
If you like to bet on sports, there is no way that you haven't heard of this option before. Cash out is what every sports fan is looking for because this feature gives him the freedom to do whatever he wants with his bet.
Unfortunately, this is not something that you will find on this gambling website. Even though you can bet on eSports, you can't cash out on those bets, which is a little bit disappointing. We can only hope that Vie.gg will release this feature sooner or later.
Live Streaming
Unlike cash out, this feature is not so popular among the betting websites. However, most places that offer eSports also have a live streaming option because the vast majority of tournaments are broadcasted from a website called Twitch.
So, you probably won't be surprised to find this feature here. However, it's not available all the time, so make sure that the game and the match that you're interested in has it.
---
Fantasy Section
It's safe to say that this is one of the most innovative and addictive sections that you will find on this website. Apart from being fun, you can also win some pretty fancy rewards here.
Fantasy Pools is a feature that was first released from Valve for their game called Dota 2. However, it turned out to be so successful that some other brands decided to use the idea, hence, you can find it here.
By using this section, you will have the option to create your own team from a certain group of players. Each of these players will give you a specific score, based on his overall performance. The idea is to try and get the highest score.
You will be able to create your team as soon as the players are announced. Before you're done, make sure to set your tiebreaker. This is needed so that Vie.gg can determine who will win whenever you have an identical score with another player.
---
Vie.gg Games Section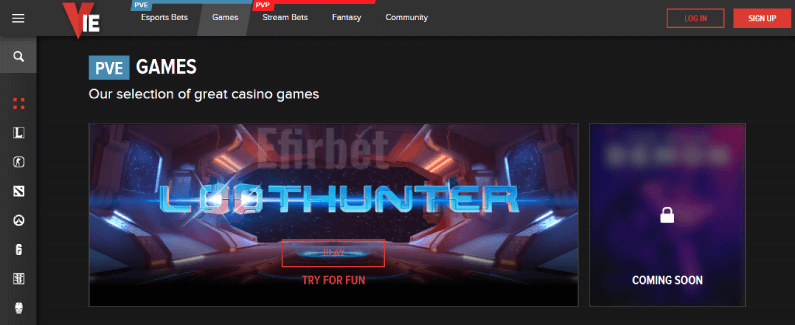 In addition to all fancy eSports we've covered, this brand also has a pretty impressive section called "Games". Here, you can find some innovative titles that are not available anywhere else.
These games resemble some of the casino slots that you can find on other websites, but they are different. Luckily, you have the option to try them for free, so definitely take advantage of it if you can.
This section is slowly but steadily improving over time. So, make sure you visit it on a regular basis because there will be even more games soon.
---
Payment Methods
If everything that you've read so far interests you, you will probably also be eager to know what the available payment methods are. In order to do that, you will have to create an account (and also confirm your registration via your e-mail).
However, if you just want to take a sneak peek at what you can find here, check below. There, you will notice that each deposit and withdrawal option can be used with as little as 10 EUR, which is excellent. What's even more impressive is that all deposit options have no processing time at all, and they are limited to 200 EUR per transaction.
On the other hand, the maximum withdrawal that you can do is 100 EUR for a transaction. Sadly, each option there has some sort of processing time, so keep that in mind.
Deposit Methods
Withdrawal Methods
| Payment Method | Deposit Minimum | Deposit Maximum | Time for Deposit |
| --- | --- | --- | --- |
| Visa | €10 | €200 | Instant |
| EcoPayz | €10 | €200 | Instant |
| MasterCard | €10 | €200 | Instant |
| Bitcoin | €10 | €200 | Instant |
| Skrill | €10 | €200 | Instant |
| Payment Method | Withdrawal Minimum | Withdrawal Maximum | Time for Withdrawal |
| --- | --- | --- | --- |
| Visa | €10 | €100 | 2-3 banking days |
| EcoPayz | €10 | €100 | Up to 72 hour |
| MasterCard | €10 | €100 | 2-3 banking days |
| Bitcoin | €10 | €100 | Instant |
| Skrill | €10 | €100 | Up to 72 hour |
Visa, MasterCard, EcoPayz, Bitcoin, Skrill
Visa, MasterCard, EcoPayz, Bitcoin, Skrill
---
Vie.gg Mobile Аpp
In addition to the fact that you won't find a welcome bonus nor a cashback offer, this brand also doesn't have a mobile app. So, it doesn't matter what kind of mobile OS you're using. Currently, you can only enjoy Vie.gg on your mobile device if you use your mobile browser.
Luckily, accessing Vie.gg's mobile site is a piece of cake. You just have to choose a browser and load the site. There is no need to download anything, which saves you a lot of time.
---
Vie.gg Affiliate
In addition to being fun, Vie.gg can be a good business partner if you want to get involved in affiliate marketing. Once you become one of the affiliates, you can start making money for each new client that you refer to this bookie.
Just like any other program, you will be rewarded with a certain commission. Of course, there are also different tools that will be given to you so that you can maximize your winnings.
If you're curious to learn more, try to contact the support team. They should be able to provide you with the answers you're looking for.
---
Frequently Asked Questions
How can I deposit money in my Vie.gg account?
Can I bet on football here?
What do I need to do in order to start punting here?
Do I need to download any external software in order to bet on eSports?
Can I make a fantasy team in CS: GO?
Can I cash out on my Dota 2 bet?
---
About Vie.gg
Despite being a relatively new player in this business, Vie.gg quickly became popular among games, and for a reason. With its massive amounts of available eSports, this is one of the best places if you want to make some cash from your favorite game. Sure, some aspects might still be missing, but this will change as time goes on.
Of course, apart from being fun, being safe is also really important for every operator. That's why Vie.gg has a license from Curacao's gambling authority, which ensures that you will be safe.
---
Customer Care and Support
Although there are some pretty cool aspects of this brand, the customer support needs a little bit of refinement. Despite the fact that we eventually got the answers we've wanted, it took some time before that happened. Of course, this wasn't always the case, but we're just putting this here so that you can be prepared.
The good thing is that the support team is pretty knowledgeable, so you will find the answers you want.
---
Contact Information
One of the things that you need to keep in mind once you start punting here is the fact that you only have one contact option. Unfortunately, there is no live chat or call-back option, which can be a bit disappointing. Currently, you can only use the following:
---
Final Verdict and Rating
Vie.gg is an excellent choice for everyone who wants to find one of the leading eSports gambling brands. Nonetheless, if you're not one of those people, this just isn't the operator for you.
There are all kinds of games that you can find here, including some pretty innovative sections. However, the lack of a casino section, as well as regular sports, is something that you need to keep in mind. So, we believe that Vie.gg deserves a 4.3/5 for its products.