Last update by Efirbet on :
12 May 2019
Is there an Android .apk Application?
YoBetIt does not have an Android app for their players right now. This is something they have in the pipeline, and we hope they will have one for their players soon. All in all, they have a mobile site that you can access from your Android mobile device's browser. The mobile website is excellent and will provide a range of services that you will find in their desktop site version. The only thing is that you will be accessing the site from your browser and not a dedicated app from your device.
It would be a good idea for YoBetIt to have a dedicated Android app because most of the devices nowadays are powered by Android and it would be great for bettors to have an app on their phone unlike having to log in every time from the browser. With an app, some things would work great when offline. Let's hope that they will stay true to their word that they will have an app soon for their Android players.
---
What About Mobile App for iOS?
From a lot of statistics online, most of the traffic to websites is being generated from hand-held devices. This is why online business has no reason but to make their sites mobile friendly. With YoBetIt, they are mobile friendly, but they are yet to develop a mobile app for iOS mobile users. Even without the mobile app, it is possible to access the platform from your iOS-powered device through your Chrome or Safari browser.
Why would it be important for YoBetIt to have a mobile app? People have different preferences, and this is the reason they will love to have an app for their favourite betting platform. An app will also make things easy for you when it comes to placing your bets as you will not be required to log into the platform every time you want to place a bet. Let's just hope for an iOS YoBetIt app.
---
Review of Mobile site Version
Even though YoBetIt does not have any applications for the Android and iOS users, they have a mobile site that you can access from your phone's browser. Having a mobile website is incredible since one is able to make bets on their favourite teams without having to wait until they are in the office or home to do it from their desktop computers.
You might think that you will have limited features from your mobile site, but this is not the case. Even from the mobile site, you will access as many features as you would in the desktop site. It is possible for you to make your deposits from the mobile site, make a bet, view your betting history, and bet with as many markets as they're available.
What are some of these markets that you will be able to bet? You have markets like away team to score, under/over bets, double chance bets, full time results, correct score bets, Asian handicap, European Handicap, both teams to score and number of corner kicks in a myriad of more.
---
Mobile Sports Betting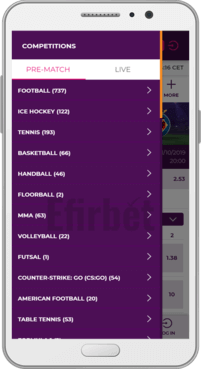 With the popularity of sports betting, YoBetIt would not want to miss out on placing your favourite bets. This is the reason they have made sure that you access their platform any day and at any time. With the mobile betting facility, you are able to make bets on almost all sports and on a range of markets. From the platform you get odds on different sports like soccer, cycling, snooker, rugby, hockey and volleyball in a myriad of more. From the site's homepage, you will get a list of current events available for betting and any upcoming events that you can place pre-match bets on.
For the best entertainment on sports betting, you need to make sure that you are disciplined have limits before you indulge. To best achieve this you need to come up with a budget and have a bankroll that you set for use on a weekly or monthly basis.
When betting at YoBetIt, you will have a range of betting options and one of them is the live betting option where you are able to place live bets on your favourite sporting events. Go to the live betting section, and you will find a range of events that you can make live bets on.
---
Mobile Version features
When it comes to the mobile features of Yo Bet It, players will not find a lot of options, but that doesn't mean they are missing. In fact, customers will be able to do the same things as on the desktop version of the website. Some of the main mobile features of YoBetIt are related to its sports betting section, so let's take a look at them:
Live betting
The live betting platform is one of the most visited at Yo Bet It mobile. This is because their players could bet on real-time events while the markets and the odds are changing dynamically. There are different sports to bet on, and this will be a good feature for every bettor, while he/she will have the option to bet on the move.
Live statistics and animations
The following feature is straight connected with the previous one, but it can't be found everywhere. While players are enjoying their live betting experience, alongside with that, they will have the option to follow live statistics for most of the games. The live animation service includes information about how the game is going on, and players will be able to see all the moments from the game.
Cash Out
Another good feature from Yo Bet It is its cash out option. With it, players can close their bets before the end of the events. This will allow you to minimise losses or get an instant profit. With the Cash Out option, players can control their bets while they are on the move and betting through the mobile version of the bookmaker.
---
Mobile Bonuses
Bonuses play a huge role in motivating the player, and this is the reason YoBetIt has bonuses lined up for you when you choose to bet with them. They have a welcome bonus for you when you become a member with them for the first time. These bonuses can be accessed from your mobile devices and desktop, but they do not necessarily have bonuses meant for mobile users alone.
When you first become a bettor at YoBetIt, you will get a welcome bonus worth as much as €150 which is served as a match bonus of 150% your deposit amount. Before you can redeem the promo, be sure to go through the terms and condition to make sure that you can meet the requirements before claiming it.
---
System Requirements and compatibility
Since YoBetIt does not have applications for their players, they do not have a lot of system requirements for their mobile site. All you need to access their mobile site is a browser. This can be your Android or iOS Chrome, Internet Explorer or Safari browsers.
To run a browser on your phone, you do not need a superior phone, and this means that you will not require one to run YoBetIt's site on your phone. All you need is a good internet connection, and you will be ready to make your bets. All in all, if you want to have a great experience and quality graphics on your phone, it would be wise if you had a phone that runs the latest versions of Android, Windows or iOS.
What are some of the popular phones that will work great with YoBetIt's site?
Huawei
Samsung
HTC
LG
Lenovo
Motorolla
iPhone
iPad
iPod Touch
Sony Xperia
iPad Mini
Galaxy Tabs
---
Payment methods
When it comes to handling your payments, you can conveniently make them from your mobile devices. All payment methods will be available to use on the mobile site as well as desktop.
Sharing your financial and personal information online is something a lot of people are concerned about. But with the encryption technology employed by YoBetIt in their platform, you are able to have all information secure and cannot be accessed by hackers.
Below is a table with all payment options and limits applied to them.

| Payment Method | Deposit Minimum | Deposit Maximum | Time for Deposit |
| --- | --- | --- | --- |
| Visa | €10 | €3000 | Immediate |
| Bank Wire Transfer | €10 | No limit | 1 – 5 bank days |
| Skrill | €10 | €1000 | 1 – 2 minutes |
| MasterCard | €10 | €3000 | Immediate |
| Payment Method | Withdrawal Minimum | Withdrawal Maximum | Time for Withdrawal |
| --- | --- | --- | --- |
| Visa | €25 | €500 per week | 2-5 days |
| Bank Wire Transfer | €25 | €500 per week | 2-5 days |
| Skrill | €25 | €500 per week | 24 Hours |
| MasterCard | €25 | €500 per week | 2-5 days |
Visa, MasterCard, Skrill, Bank Wire Transfer
Visa, MasterCard, Skrill, Bank Wire Transfer
---
About Yo Bet It
YoBetIt is a great sportsbook with more than thirty sports on offer and thousands of sporting events every month. They also have a lottery platform that will offer one of the biggest international lotteries with jackpots that will change your life. There are also plans to have a casino platform that will give the players new and entertaining casino experiences.
YoBetIt was established in 2012 but began offering online betting services in 2014. The platform has been established by iGaming enthusiasts who have been in the industry long enough to know what's best for you. The platform runs on class 2 licensed provided by the Malta Gaming Authority.
They are great services providers, and this can be confirmed by the accolades they have earned through their period of operation. In 2018, they were recognised by various institutions. They have earned Malta's Best Gaming Company of the Year title as well as the Best Gaming Online Betting Platform of the Year from the Malta Gaming Excellence Awards 2018.
---
FAQs
Does YoBetIt have a dedicated app for Android and iOS users?
At the moment they do not have any applications for Android or iOS users, but you can access the site from your mobile phone or tablet browser.
Will I be able to make live bets from YoBetIt's mobile site?
Absolutely; making live bets is possible from your mobile devices.
What bonuses will I get for using their mobile site?
There are no special bonuses for mobile users, but you are able to access all bonuses available on the bookie from your mobile device.
Will I be able to make a deposit at YoBetIt through my mobile phone?
Yes. This is possible and very easy, choose your preferred deposit method and make the deposit you desire.
How many sports events will I access via my mobile devices?
The mobile site is not limited in any way. This means that you are able to access all available sporting events from your mobile phone.
How safe is YoBetIt mobile?
YoBetIt mobile platform is safe. You need not to worry when sharing your personal or banking information. They have the best encryption technology to makes sure that you are safe at all times.
Can I redeem the welcome bonus for a second time through the mobile site after redeeming it from the desktop site?
This is not possible. YoBetIt's platform is only one; the only difference is that you will either be accessing it from your mobile or desktop. This means you only get one chance to redeem the welcome bonus after creating an account with YoBetIt.

---
Conclusion and Rating
From the review, we have compiled and our interactions with the customer support team, it is evident that YoBetIt has your welfare in mind. With their comprehensive mobile platform, you are sure to get the best gaming experiences anywhere. All you need to access their platform is your phone's browser, and you will be good to go. With a phone that has better software and speeds, you can be sure of good updates on your live odds. This will make sure that the live betting process is easy and that you get the latest odds in good time. The only downside with the platform is that they do not have independent apps for Android and iOS users.