Last update by Efirbet :
There are numerous gambling operators available to people worldwide, but only a few offer as many products as Betway. The latter is often considered one of the leaders in online betting, especially when it comes down to wagering on sports. Punters in South Africa and other countries can avail themselves of an impressive sportsbook. Interestingly, Betway also provides a dedicated horse racing section, daily jackpots, Betgames, eSports, a casino, and more. Home to a wide selection of table games, the brand is capable of satisfying the most niche tastes.
Regardless of whether you want to test the sportsbook or any of the other options, you need to sign up. Registering as a new user can be complicated, especially for inexperienced punters. In fact, some bettors may wonder how to login into their Betway account if we are from South Africa because the process takes a few minutes. Fortunately, this guide will point out everything you have to be aware of, so let's go over the specific steps.
---
How to register in Betway South Africa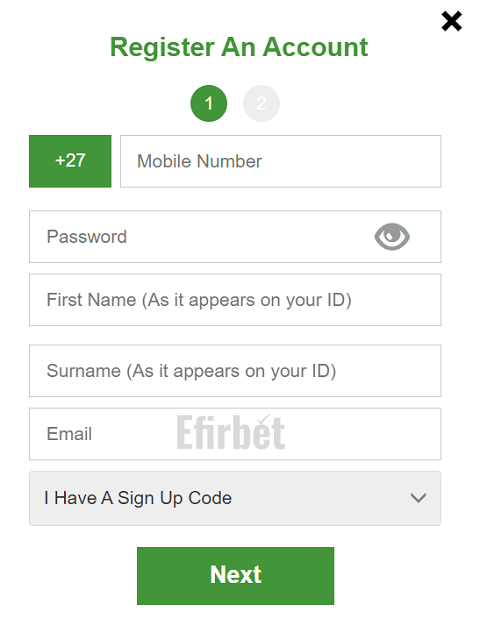 Step 1: You can 👉 register at Betway once you open the company's website. Fortunately, it doesn't matter whether you use the brand's mobile or desktop site. Both will allow you to start the registration process.
Step 2: After you complete step 1, select the "Sign Up" option to create your new account. Usually, the option will be above the betting sections, near "Login".
Step 3: Once you select this button, Betway will show you all of the steps you have to go through. First, you need to provide a valid phone number, followed by your password, email, and your two names as they appear on your ID.
Step 4:Needless to say, you can also use a promo code by selecting the option "I have a Sign Up Code".
Step 5: Press "Next" and continue filling in your data.
You will reach the second page of the registration process. Here, you will have to provide the day when you were born, your ID type, and, interestingly, the source of your funds. Furthermore, Betway will require you to choose your preferred language. You can choose from English, Sotho, Xhosa, and Zulu.
Lastly, you need to get familiar with the Terms аnd Conditions, as well as the Privacy Policy. Once you tick the box, you can also subscribe to Betway's newsletter. Now that you're ready, press "Register", and wait until the iGaming operator shows your account number.
---
How to Login to our Betway Account (Quick Steps)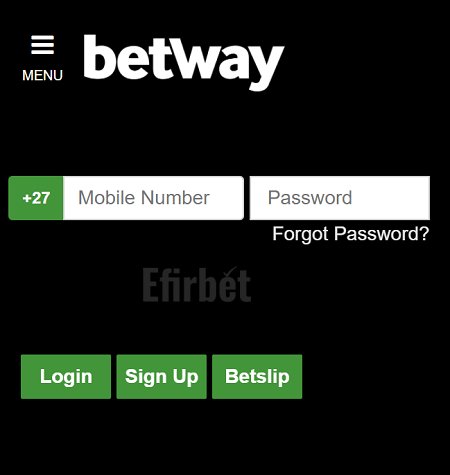 Even though some people haven't registered yet, others already have an account at betway.co.za. Going through the login Betway account process is easy, regardless of whether you are using a computer or a handheld device. However, some browsers might require you to use your login details every time you open Betway's site, so keep that in mind.
Whether you live in South Africa or elsewhere, you have to open Betway's website.
Enter your mobile number and your account's password located next to the "Login" button.
Press the button once you're ready, and explore Betway's top-rated betting sections.
---
How to reset your forgotten password
Even though some people might think that they won't forget their password, there is always a chance for this to happen. That's why it is crucial to know the exact steps you have to go through to reset your password and access your account. If you're wondering how to do that, check the steps below.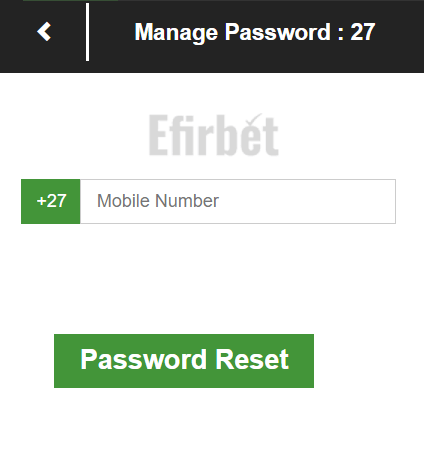 Open Betway's page on your Desktop or Mobile device.
Try to find the option called "Forgot Password?" and press it. Bettors from Ghana and other countries should find the button on the opposite side of Betway's logo.
Provide your phone number and press the green "Password Reset" option.
After you complete everything, this iGaming company will send you an SMS with more information. This will help you login into your account.
---
Betway Login Problems
Now and then, each player may experience issues with the betting account. If you do not manage to access your Betway account, the reason might be one of the following ones:
Incorrect Password
Unrecognised Login Details
Account is Blocked
Username not Found
If you see this alert, you should contact the support centre. The Betway crew will advise how to react.
---
If the Betway Site is Down / If the Betway App is down
If you cannot access the operator's platform at all, this means the Betway site is down, or (if you play on your phone/tablet) the Betway app is not working correctly. Usually, this is caused by the website's regular maintenance. However, there's a chance that this is a sign of a more significant issue, such as license problems or technical malfunction. Keep these possibilities in mind and try to reload the platform later. If the problem persists, contact the support's team.
---
Betway Problem Solution Centre
As we mentioned above, the best way to resolve Betway login problems of any kind is to contact the support's team. The operator's crew will assist you and will confirm what kind of actions you will have to take if you want to log in to your Betway account again.
---
Frequently Asked Questions
How do I verify my Betway account?
To verify your Betway account, you need to provide the required documents by sending a copy of them.
How to make a deposit after I login to my Betway account?
To make a deposit after you login to your Betway account, you need to head over to the payment section and choose one option.
Can I use by Betway South Africa account to bet on the go?
Yes, you can use your Betway South Africa account to bet on the go,
How do I make a withdrawal from Betway?
To make a withdrawal from Betway, login to your account, go to the payment options, and pick one of the alternatives.
Is the Betway login datafree?
Using the operator's app instead of the mobile version should cost you far less data when logging in to Betway account. However, no web operation is data-free.